It's hard not to be impressed by L'Atelier Robuchon.
Really hard.
If you aren't familiar with the Joël Robuchon brand, it helps to give you a quick tour of the man and his highlights – because he was probably the most influential French chef of the past century, helping to reinvent the nation's cuisine into what it is toady, and earning a frankly absurd 31 Michelin Stars across his various restaurants while doing so. And the thing that set him apart was, in essence, his utterly relentless perfectionism.
Well, despite his passing away in 2018, his ethos has been firmly baked into the restaurants that bear his name. And Mayfair's latest L'Atelier is no exception.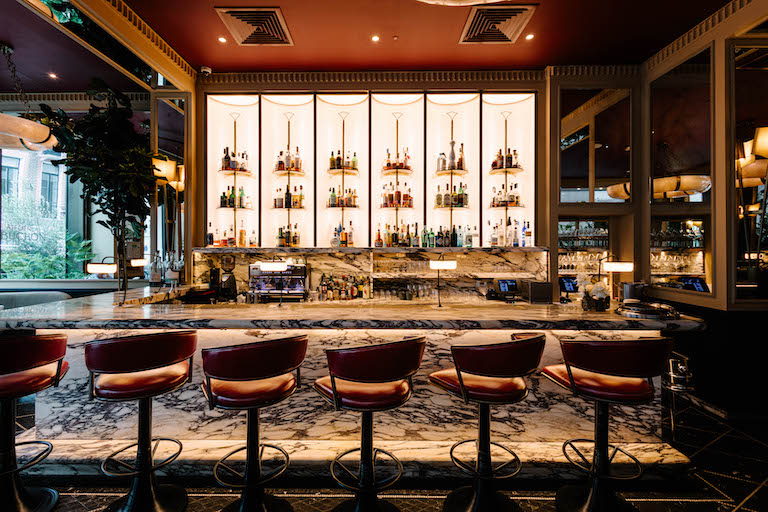 Walk inside, and you're likely to be greeted by name (assuming you've reserved) before you even cast a glance over the restaurant itself. Then, once you have a chance to go about casting that gaze, you'll find an elegant space with walls of greenery & Art Deco flourishes all arranged around the open kitchen lined with a supple marble bar. That's where the best seats are, with red leather seats overlooking the team of chefs diligently slicing, dicing, scorching and sautéing the dishes with surgical precision.
Speaking of – those dishes are every bit as elegant and ravishing as the space itself. It's all heavily French without being dogmatic about tradition – you can expect the likes of a small hill of caviar sitting on a bed of king crab, all surrounded by a moat of lobster jelly; or a peppered fillet of beef that's ebony black on the outside & claret red on the inside sided by a mille-feuille of crunchy potatoes; and finished by a cloud-like lemon soufllé with a juicy confit lemon centre & some rich vanilla ice cream.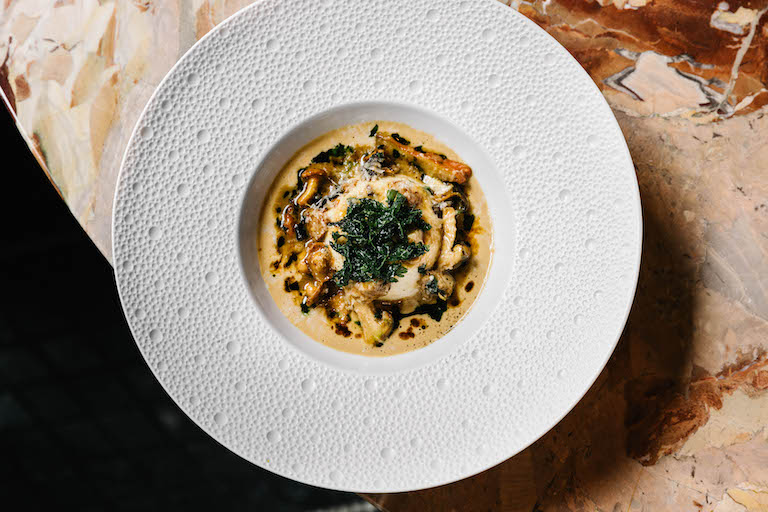 To wash everything down, there's a cocktail bar with some lovely originals (La Martinique pairs up some punchy Agricole rum with a smokey lapsang souchong), and of course there's a perfect French wine to pair with whatever you order.
The man may no longer be with us, but his legacy appears to be in good hands.
NOTE: L'Atelier Robuchon is open now, seven days a week. You can book a table and find out more at the website right here.
L'Atelier Robuchon | 6 Clarges St, W1J 8AE
---
Want to meet the neighbours? Here are the best restaurants in Mayfair…