MEATliquor N1 | North London Hotspot For Meat Lovers
The leaders of the dirty food pack, Yianni Papoutsis and Scott Collins, are showing no signs of stopping.
Their fourth London branch of MEATliquor, this Islington spot has made its home in an old Citroen garage space, a suitable tribute to the restaurant's humble beginnings in the back of a converted truck.
It was a real vehicle for success.
This place has a back door feel to it; you'll find it down an alleyway, past a cluster of picnic tables for al fresco dining, and head through a doorway tucked beneath a fire escape. Once inside, the full size of the space will become apparent – there's a huge vaulted ceiling overhead, a mezzanine dining level, and intimate booths packed along the side, all with ring-side seats to the theatre of the open kitchen. The decor's a rough 'n' ready mix of reclaimed furnishings, salvaged scraps of neon and slogans graffitied over bare breezeblocks, the first reminding you that 'WHAT HAPPENS TO YOU HERE IS FOREVER'.
Quite.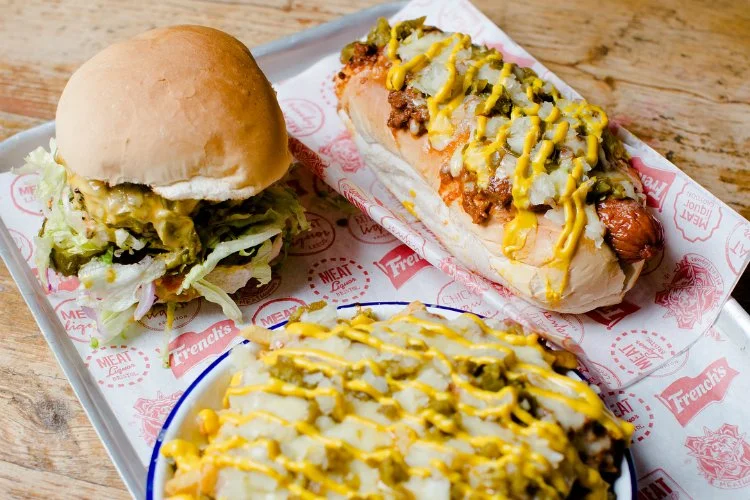 Debates on the nature of time flow and permanence aside, what you're here for is the food. And as a temple to meat, booze and excess, the menu at MEATliquor N1 lacks just one thing – restraint. Just as when you dine at any of its other branches, you can sink your teeth into Dead Hippies (burgers with a pair of French's mustard-fried beef patties, plus secret dead hippy sauce); buffalo wings and 'monkey fingers' (battered chicken fillets); black bean chilli fries with jalapeño and mustard; fried pickles; chilli dogs and jägermeister ice cream.
As you wait for your food to arrive, you can take a sip from a cool Meantime pulled fresh from the kegs perched above the bar, embarrass yourself in the photobooth, and embarrass yourself at table football.
Or go on the hunt to find the 'secret DJ'…
…hint: it's the guy spinning the records.
NOTE: MEATliquor N1 is open all week. You can find out more, and reserve a table, on their website HERE.
MEATliquor N1 | 133b Upper Street, N1 1QP
---
Like meat and liquor? Check out Smokestak