Not many pizza places have a section on their website which says 'awards'.
Well, Napoli on the Road does, and it delivers spectacularly – not only has it been listed in Europe's top 50 best pizza places every year since 2021 (currently sitting at No.8) but chef Michele Pascarella has landed the 'Pizza Maker of the Year' award, beating out competition from all over Europe to do so. And, friendly reminder, Naples itself is indeed located in Europe.
So, expectations are set extremely high, to put it bluntly. Does the place deliver? Short answer: yep. Longer answer: yes it does. You'll find it in Richmond (although the original is in Chiswick), where it occupies a sleeve of a space that's decorated with a strip of colourful Mediterranean style tiling runs through the centre of the space, overlooked by a dense canopy of glowing pendant lighting that are packed into a kind of trellis of faux lemons. It's like an Italian summer night made into a tangible reality.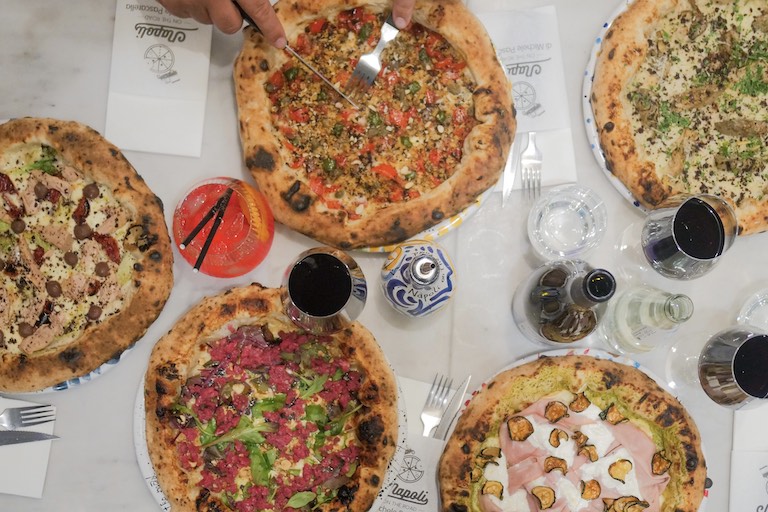 Of course this runway, flanked by royal blue velvet chairs, leads up to the venue's real prize: the pizza oven. This is where the magic happens. And looking at the menu, you get a clue as to why the the chef has had awards practically thrown at him – the pizzas are highly original and ever-changing. You'll find inventive toppings like crispy parmesan chips, cherry tomato jam, courgette cream, smoked mozzarella, black olive powder, aromatized park bread crumbs, sautéed red peppers, wild garlic leaf, and much more.
Of course, you can get classics too, which are taken to the next level by the underpinning of all great pizza dough. Here, it's a classic Neapolitan recipe with a few tweaks to make the crust rise to insane pillowy heights, with perfect flacks of black char.
Of course there's wine to wash it all down, as well as tiramisu and other desserts – but you're here for the pizza.
And the pizza is good.
NOTE: Napoli on the Road Richmond is open now. You can find out more, ad book a table at their website right here.
Napoli on the Road Richmond | 12 Red Lion Street, Richmond TW9 1RW
---
Want to meet the neighbours? Here are the best restaurants in Richmond…