Origin City is a farm-to-table restaurant with a slight difference – because Origin City actually own the farm.
And, for that matter, the tables too.
You'll find that farm up in the highlands of Argyll, where they have a tidy 600 acre parcel of Scottish pastureland populated by heritage breed cows, sheep & pigs. And you'll find the tables inside a black fronted bolding perched on the edge of Smithfield Market.
Moodily low-lit and decked out in pristine white tablecloths, the space exudes the refined ambiance of a high-end steakhouse with pale a wood floor & white ceiling punched through with red-painted cast iron pillars. And overlooking it all is the open kitchen at the back, whose fiery grill makes some delicious promises the moment the first hint of charred meat floats over to you.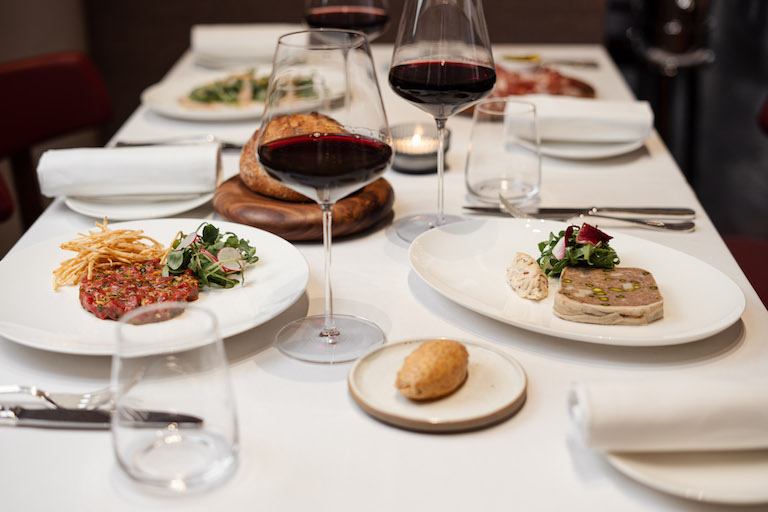 That kitchen is the domain of chef Executive Chef Graham Chatham, who has honed his craft over the course of some 35 years at places like Rules & The Langham. And here, he has quite a lot of room to put his creative hat on, thanks to the fact that they do all they butchery in-house. Thus, the menu is filled with innovative nose-to-tail, no-waste dishes.
Things kick off with her house charcuterie (which, naturally, is both made & aged in-house, and has an extremely rich taste as a result). Then there are plates of grilled Morteau sausage, with an intensely smokey flavour rested on a bed of puy lentils & mustard dressing; as well as some ultra-thin Tamworth loin pork tonnato with a tuna & caper-berry dressing. Of course, there are non-animal options, like the roasted beet salad with pickled pear & goats curd.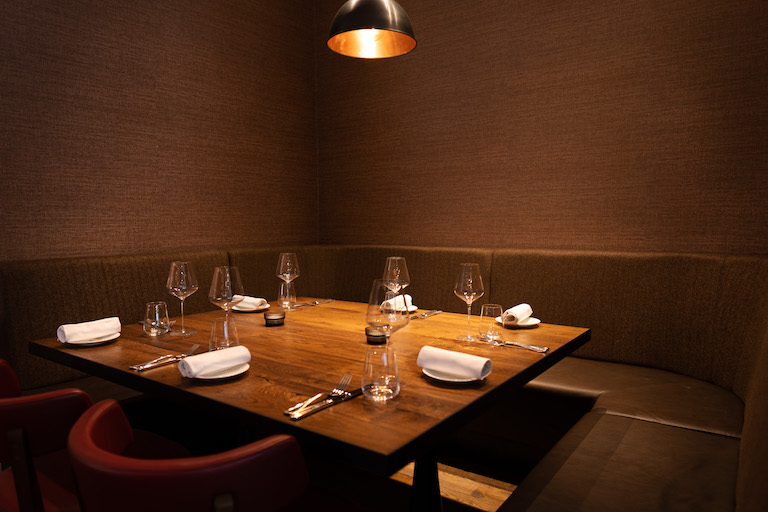 The lager goods generally come off that wonderful grill, and include an incredibly meaty BBQ monkfish tail with sweetcorn purée; a Texel hogget (that's a sheep, fyi) steak with merguez & salsa verde; and a dry-aged cut of Black Angus with tallow carrot, roscoff onion, and a whisky peppercorn cream.
Oh, and they don't just own their own farm – they also own a vineyard too (Château De La Cômbe over in France), which means they have grape-to-glass selection of low-intervention & organic wines, too. But if you fancy a cocktail, they can furnish one of those as well. There's a particularly refreshing number that blends Campari with cherry liqueur & rosso vermouth, called the Caledonian Blood.
It tastes quite tart…an?
NOTE: Origin City is open now, Tuesday to Saturday. You can find out more, and book a table at the website right here.
Origin City | 12 W Smithfield, EC1A 9JR
---
Want to meet the neighbours? Here are the best restaurants in Clerkenwell.