In December 1952, bus driver Albert Gunter found himself driving along Tower Bridge as it started opening up.
He decided to put the pedal to the metal and took the double decker, Bond-style, across a 3ft leap, landing safely on the other side and earning £10 for his act of bravery.
It's unlikely you'll witness anything quite so dramatic when you go to dine at Tavolino, but the view's pretty spectacular nonetheless. The bridge is unmissable, whether you're on the sprawling riverside terrace or tucked inside, where the floor-to-ceiling windows enclose two floors of sage green banquettes, terracotta walls and a warm glow from the antique-style pendant lighting.
Tavolino – Italian for 'little table' – comes to you from Louis Korovilas, the former head chef of Michelin bib-toting fresh pasta joint, Bancone. So it makes sense that this place is pretty big on dough too, with bread, pasta and pizzas made daily on-site.
You'll find the pasta in the form of tagliatelle, slathered in a spicy 'Nduja and pork ragù; flattened into 'silk handkerchiefs' with walnut butter and confit egg yolk; and rolled into bucatini for another well-rendered edition of London's favourite dish, cacio e pepe. And on the pizzas you'll find ingredients sourced from the length and breadth of Italy, from DOP buffalo mozzarella to a 24 month-aged prosciutto that literally gets its own festival in its hometown of San Daniele.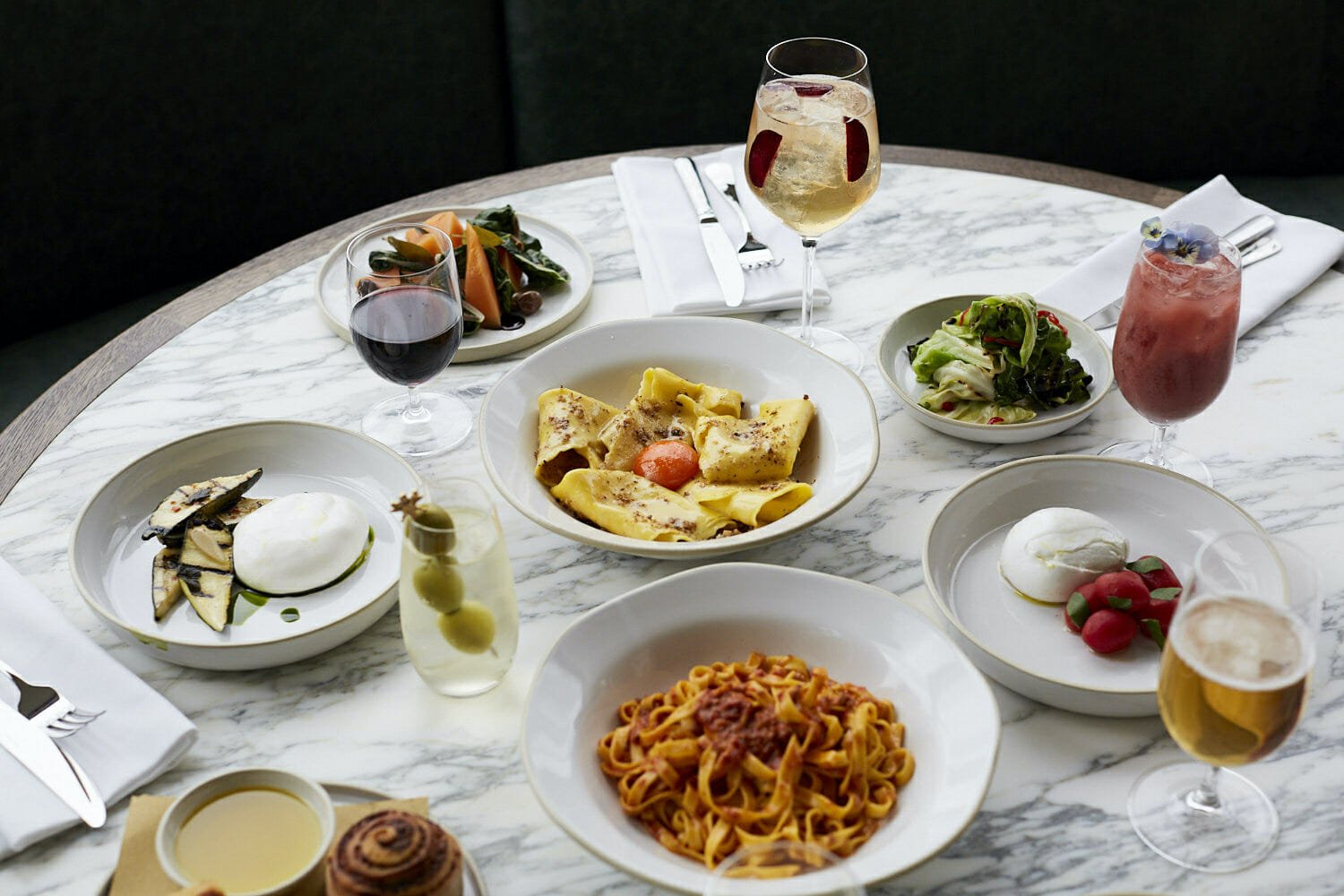 It's a hard act to follow, but the balsamic chocolate mousse and tiramisu manage it. The ice cream's also made on site – you can get a scoop of the lemon sorbet nestled on a blowtorched lemon meringue pie with a chunky, chocolatey base.
You can bookend your meal, of course, with a good ol' Italian aperitivo and digestivo – the former include miniature slushy cocktails and grappa-based negronis; the latter a list of quirky Italian bitters and 'liquid desserts' like the Amarena con panna; a sour cherry brandy cocktail with whipped cream.
There could be all sorts hopping over the bridge and you wouldn't even notice.
NOTE: Tavolino is open daily, 11.30am-11pm (10pm Sundays). You can find out more, and book a table, here.
Tavolino | Unit 1, Riverside, 2 More London, SE1 2DA
---
Like staying up to date on the latest restaurant openings? We have a whole list of them here.