The Black Sheep has grown up and become The Black Lamb.
Go figure.
It's the sixth London restaurant from the Gladwin brothers, who have made a name for themselves serving up some of the freshest, best quality produce grown on home soil, including their own family farm in Sussex.
Like its siblings – Chelsea's Rabbit, Battersea's Nutbourne, Soho's Sussex, The Shed in Notting Hill and The Fat Badger in Richmond – this Wimbledon spot focuses on showcasing the best ingredients of the season, which are whipped into dishes by exec chef Oliver Gladwin. The difference here, though, is that with room for just 65 diners, it's their most intimate spot yet (though if you really want to take that up a notch, there's a hireable private dining room, too).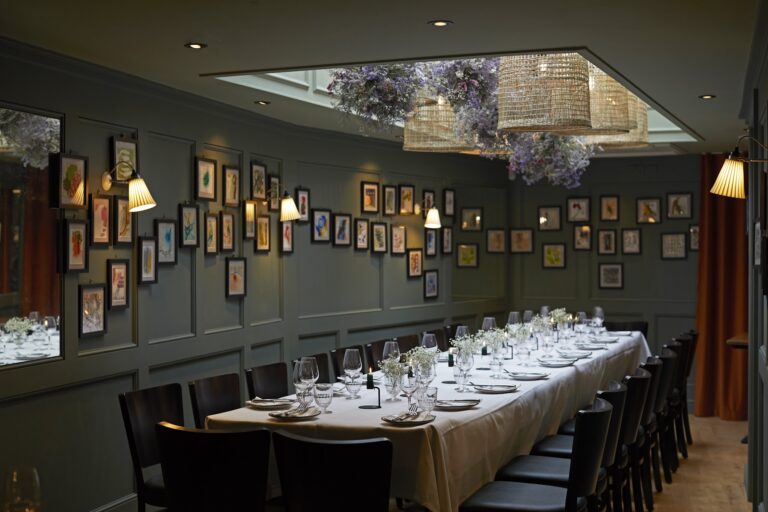 The Black Lamb is awash with calming shades of green, wooden flooring and table tops. The intimate dining space has partitions which give unexpected areas to look at in the layout, wherever you're seated. Bright pops of colour are provided via multiple artworks scattered throughout, taking the formal edge off and keeping the feeling casual. Check out the bathrooms for a more, ahem, colourful kind of wall art, care of naked farmers maintaining their bushes.
Everything the Gladwin Brothers can source from their family owned farm in Sussex, they do. Everything else is foraged. Or bought, we assume. A few of the standouts on the menu include hand dived scallops with sweet cured pork belly for crispy crunch, and an elderflower vinaigrette for a deeply sweet finish. Moving up to the mains, your palate will be woken up by the mix of south coast hake, zingy pickled purple cauliflower and rich chardonnay butter sauce. The pork chop is generously portioned with a fruity salsa… but the big finish is salted caramel chocolate torte which has unexpected crunch throughout, and glossy smooth creme fraiche sorbet. There are also plenty of veggie options (as you might expect from a farm-to-table restaurant), including a plate of heritage tomatoes & Hackney burrata covered in an elegant Champagne vinaigrette.
Whatever time of day you visit, check out the predominantly English wine list, including bottles plucked directly from their own Nutbourne Vineyard. The sparkling Nutty Vintage truly lives up to its name thanks to rich deep notes of hazelnut and a beautifully bronze colour and, by the way, it's delicious. Also of note is their Bacchus, which is a full flavoured white wine so be prepared for its herby, aromatic finish.
They're even teaming up with Wimbledon Wine School to run professional wine courses…
…where you actually do want to be at the bottom of your glass.
NOTE: The Black Lamb is open now. You can find out more, and book a table, at their website right here.
The Black Lamb | 67 High St, London SW19 5EE
---
Like being in the know? Check out our guide to London restaurants opening soon