The internationally renowned Nuno Mendes may have ended his tenure at The Chiltern Firehouse…
…but the place is still smokin'.
The restaurant's part of a five-star hotel in Marylebone's grade II listed Victorian fire station. When it opened back in 2014, it was outrageously exclusive and nobody without an Oscar could get in. A few years on, it's (marginally) easier to get a table, and – on the plus side – you'll finally get a break from all those paps.
As you'd expect from a grandiose 1889 building, the interiors are pretty damn impressive. The sprawling dining room is a stylish marriage of upmarket brasserie (studded leather banquettes, antique pendant lighting, Bentwood bar stools) and er, Victorian fire station, with the original glazed wall tiles, fire doors and firemen's poles left intact.
Sadly, playing on them is frowned upon.
Outside, you'll also find a secluded dining terrace, with monochrome striped awnings, plush seating, and an outdoor fireplace crackling with heat in the colder months.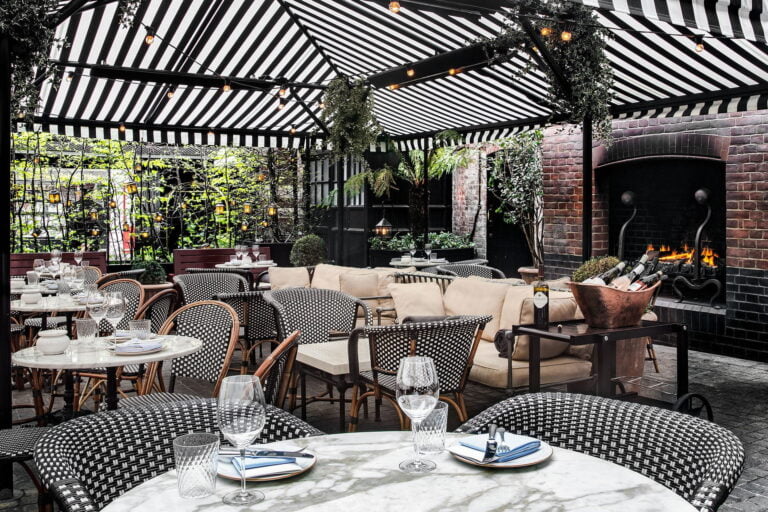 The menu at The Chiltern Firehouse – cooked up by exec chef Richard Foster – is described as 'ingredient-led', which means dishes like hand-dived scallops from the Isle of Mull and Cornish salted caviar from the oyster cart; Iberico pork with poblano chilli and hazelnut; grilled Carabinero prawns with Jerusalem artichoke, and burrata laced with Cantabrian anchovies. For diners that are hunger-led, there's a trio of high-end pizzas, too. It's worth knowing that weekend brunch only invites £20 blueberry pancakes along to the party, and – while they're probably going to be the best pancakes you've ever eaten – the Chiltern is probably best reserved for a celebratory lunch or dinner.
To that effect, there's a clutch of Champagnes available by the glass, and a host of signature cocktails like Dutch Frank's Milk Punch (with tequila, tea and milk clarification). If you're really looking to push the boat out, the wine list – organised by region – has some humdingers for those ready to part with £2500.
Which is when those firemen's poles come into good use for a speedy exit.
NOTE: The Chiltern Firehouse is open daily for breakfast, lunch and dinner. You can book a table, and find out more, on their website HERE.
The Chiltern Firehouse | 1 Chiltern Street, London W1U 7PA
---