It's inevitable that there'll be people who just stumble across The Devonshire in search of a cheeky half or a G&T thinking that it's just another pub.
But this is not just another pub.
This is a pub whose head chef used to run the multi-Michelin'd kitchens at The Fat Duck and Dinner by Heston which basically makes him a kind of culinary Gandalf. And whose landlords are Oisin Rogers (The man behind the Guinea Grill) and Charlie Carroll (the man behind Flat Iron), a pair of the city's true hospitality giants.
So when those unsuspecting punters push through the doors of this Soho spot, they'll find a buzzy, atmospheric, old school pub with people crammed into every cosy little corner, and plenty of cosy little corners to be found. The leather booths are all polished to a sheen, and come cloaked in the rich, deep hues of burgundy, while vintage lamps cast a soft, amber glow about the place. The meal of choice down here is a pint of Guinness, and at any one time there are at least half a dozen or so glasses of the stuff lined up by the bar, patiently waiting for their crowning top.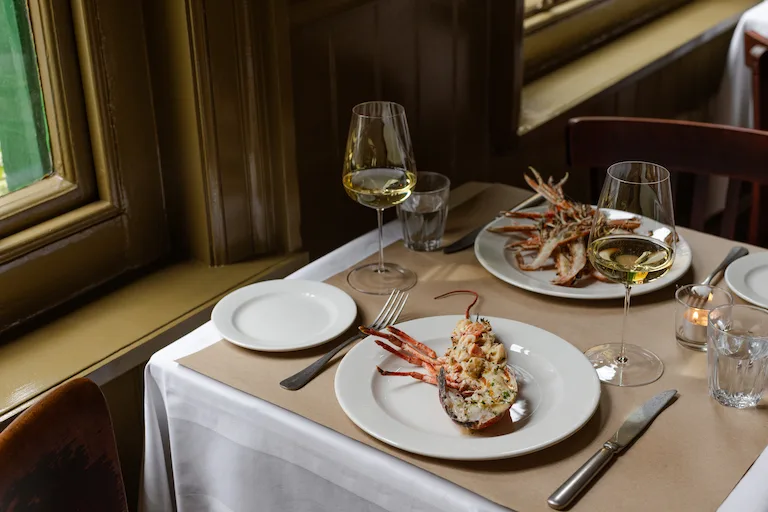 Upstairs is the restaurant, made slightly fancier thanks to the crisp white tablecloths. But that's about where any threat of snootiness ends, because they manage to keep things relaxed and convivial here too, with candles & hand-written menus on each table, and large windows overlooking the vibrant thrum of Brasserie Zedel & Moulin Rouge down below.
On those hand-written menus you'll find the works of Ashley Palmer-Watts. It's all classic British pub food, running from the likes of a simple ham & pea soup; to a gorgeous trio of scallops with bacon & malt vinegar; and some tender Iberico pork ribs (from the same farm as The Ledbury). Then, going up a size, there are lamb hotpots, beef chops on the bone, half lobsters, fillets of halibut, and a thoroughly classic beef cheek & Guinness suet pudding. If it's big, hearty, meaty, and satisfying, then you'll probably find it here.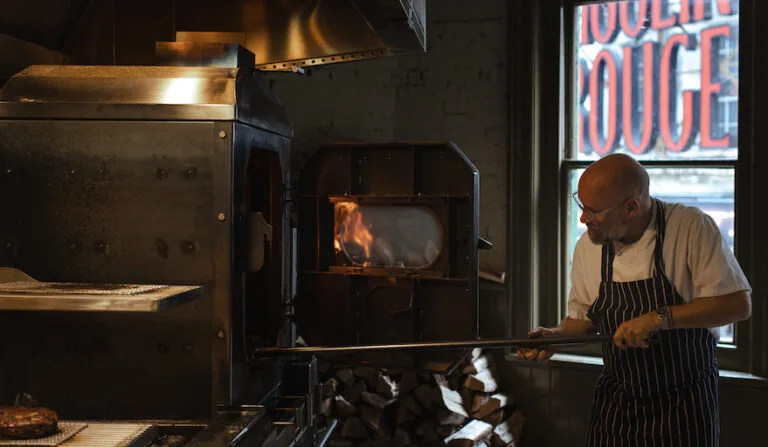 And speaking of satisfying, Ashley Palmer-Watts has apparently been working on the recipe for his chocolate mousse for months, only now perfecting it. And he has delivered something special, to add to a towering Grand Marnier soufflé and some comforting bread & butter pudding. But perhaps the best part of the entire affair, is that nothing on here is unreasonably expensive. Starters (£8-£16) and mains (£19-£36) are about what you'd pay at another pub nearby.
But this is not just another pub.
NOTE: The Devonshire is open now, every day. You can find out more, and book a table at their website right here. 
The Devonshire | 17 Denman St, London W1D 7HW
---
Want to meet the neighbours? Here are the best restaurants in Soho.