We've been to a lot of immersive theatre in our time.
And after joining cults, journeying to secret zone 11 locations and being chased by zombies… we pretty much decided to stop writing about them.
But Crooks is different.
It's from the highly esteemed COLAB Theatre company, who ran a version of this show back in 2016. Now they're winding it back to 1926 for a thrilling dive into the true history of London's gang underworld.
See, while this may look very much like a hit TV show (we won't name names, but it rhymes with Schmeaky Schminders), it's all very much rooted in local history. The 20s were a period of fierce gang warfare between the Elephant & Castle Mob and their rivals – the West End Boys and Charles Sabini. And walking into this old pub on a quiet corner of Elephant & Castle, it feels like you're genuinely stepping into a different era. Mobsters in shirt sleeves and flat caps stand pulling pints, while punters mull over the race horses in the day's papers. If you're feeling out of place, you can even rent a cap for a fiver.
As the show begins, you'll be hustled into the pub's back rooms: the gang's HQ. Here you'll be introduced to your leaders, the McDonald brothers, and Alice Diamond, head of the local Forty Elephants (another real, all-female gang, whose members wore diamond ring knuckledusters and stole fur coats). It soon becomes clear that tonight is going to be a very busy night for this lot, because Sabini wants £10,000 cash by the next morning, and he's not asking nicely.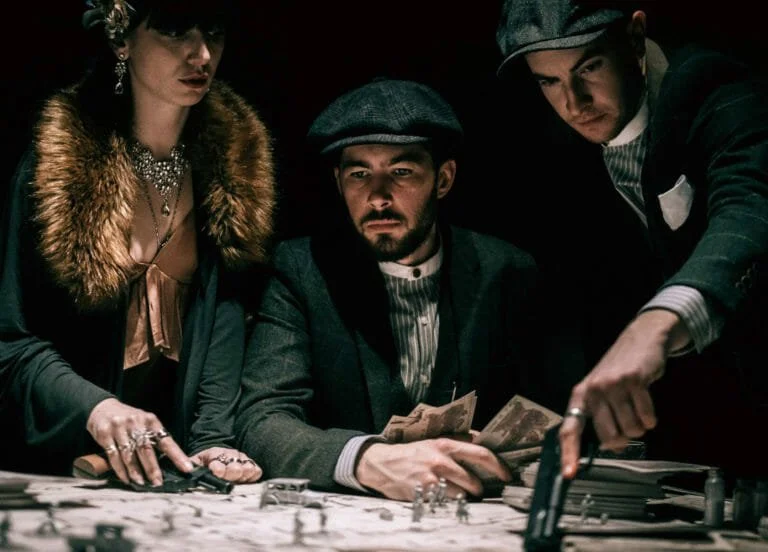 We don't want to give away too much, because the surprises are genuinely part of the fun. But rest assured this is a legitimately immersive experience, where you'll have a character to assume, clear missions to fulfil, and decisions to make that could affect how the rest of the evening plays out. You'll have to work out who you can trust and work together to smuggle wads of cash, plan heists, place bets, make phone calls, solve puzzles and blackmail your enemies to get the money together in time. Thanks to the intimate audience size, you'll always feel involved – and during the bigger scenes you'll realise how many different strands have been subtly interweaving across the show. Essentially, this is the kind of immersion you've been waiting for.
Plus, the bar's open the whole time.
Just to cap it off.
NOTE: Crooks 1926 is booking until 18th December – you can find out more, and book, HERE. Dressing up is heartily encouraged.
Crooks 1926 | COLAB Tavern, 16 Harper Road, London, SE1 6AD
---
Looking for somewhere to eat first? Grab some street food at Mercato Metropolitano.