Eltham Palace: why, it's just your classic medieval-palace-turned-Tudor-residence-turned-1930s-Art-Deco-masterpiece, really. Any questions?
Stephen and Virginia Courtauld were rich. And not just rich, they were rich rich. A scion of the immensely wealthy Courtauld textile family, Stephen and his wife lived lavishly and eccentrically – and, in the 1930s, the pair opted to acquire a crumbling medieval palace in south east London (as one does), and transform it into their home.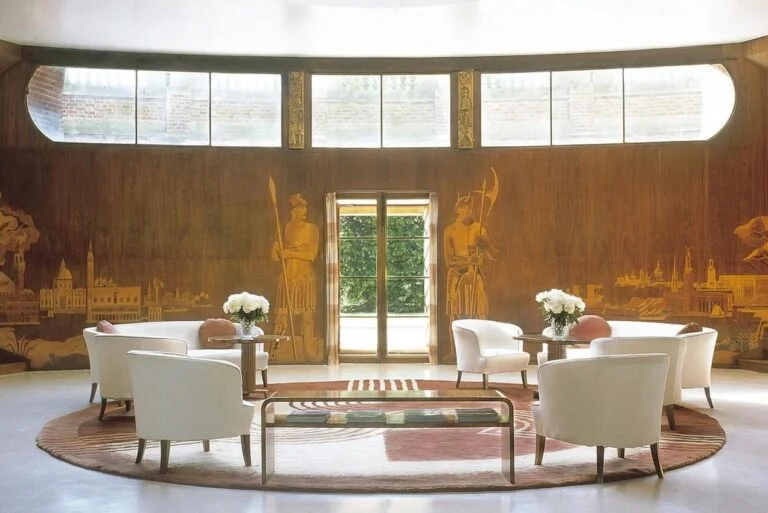 The building dates back to the 13th century – it began life as a manor house for King Henry III, and was expanded into a grand palace by King Edward IV, who added the magnificent great hall, with its intricately carved hammer-beam roof. When the Courtaulds acquired Eltham Palace in the 30s, they made the great hall the centre of the house, but commissioned architects Seely and Paget to create a stunning residence around it, drawing on an eye-popping range of influences – from Art Deco to Swedish to Classical Greek.
There's the panelled dining room, with its bird's-eye maple veneer walls, and black and silver doors depicting a selection of animals from London Zoo. There's Virginia's gold bathroom, lined with onyx and gold mosaic tiles, and featuring gold plated bath taps and a statue of Psyche, the Greek Goddess of the soul. There's the map room – you know, the map room, like the one in your house, where your secretary plans your world travels? Standard stuff.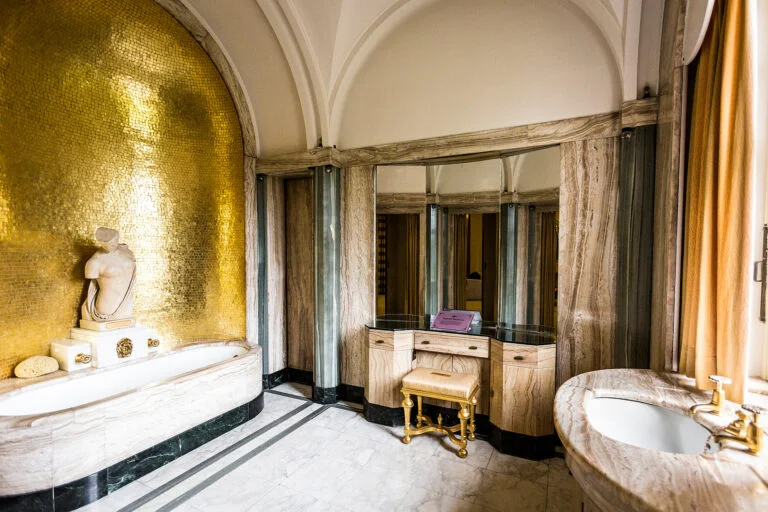 And then, of course, there's the centrally-heated bedroom that the Courtaulds created for Mah-Jong, who was… their beloved pet ringtailed lemur. The room is accessible by a tiny bamboo ladder, and features a cage designed by painter Gertrude Whinfield featuring Madagascan rainforests. Mah-Jong (Jongy to his friends) provided inspiration elsewhere around Eltham Palace, too – he appears in a mural in the billiard room, and in additional carvings added in the great hall. Yep. You see? Rich rich.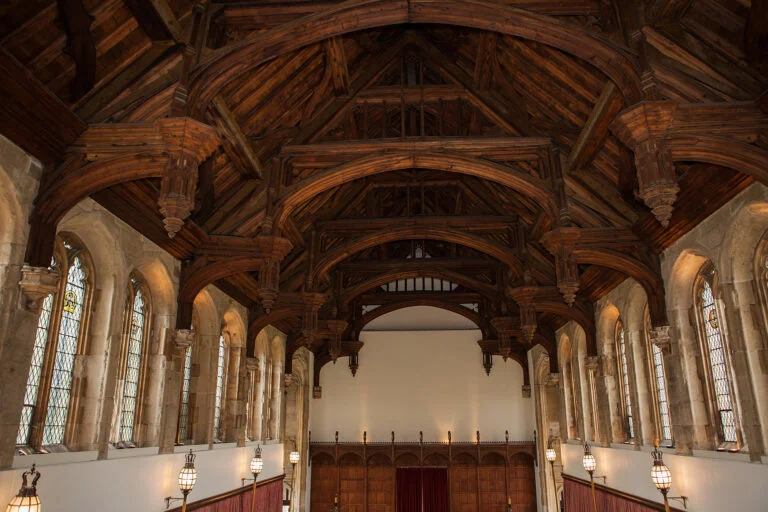 There's also, by the by, a sensational art collection, and plenty more to explore outside the building, too – with 19 acres of beautiful historic gardens set across two levels, a moat, and London's oldest working bridge – all of which is atmospherically draped in Christmas illuminations every winter for the Enchanted Eltham light trail.
Grab a coffee in the glasshouse café, and leave with some Art Deco-inspired gifts – as well as plenty of inspiration for how best to design the artisan bedroom of your beloved ringtailed lemur. Eltham Palace is a whimsical, fascinating day out.
NOTE: Eltham Palace is usually open Saturday & Sunday 10-4pm. Admission starts at £16; it's cheaper to book online. Opening times tend to change during public holidays and the winter season due to light displays, so best to check their website here.
Eltham Palace | Court Yard, London SE9 5QE
---
Feeling cultural? Have a peep at what's on at the best art galleries in London…