Welcome to Exploding Cinema, an anarchic collective of film-makers and enthusiasts staging monthly screenings that are basically the cinematic equivalent of an open mic night: anyone can submit anything they've made (as long as its under 20 minutes), and it will be shown.
The result is an entirely eclectic programme, with genre-spanning submissions shown in no particular order, and with no particular theme. It's a total lucky dip, aiming to surprise and inspire audiences, and knock down the barriers to film production and promotion. They're distinctly anti-state funding, anti-curation, and probably anti-write-ups on London recommendation websites (sorry).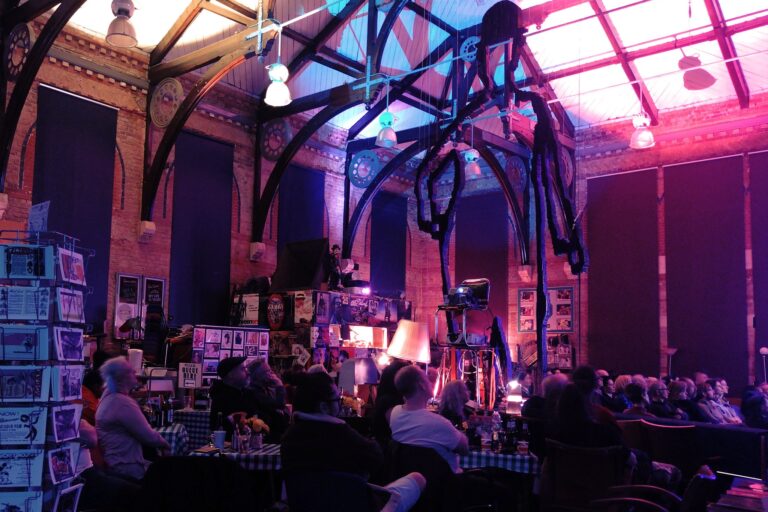 Exploding Cinema's history goes back to 1991, starting with screenings in a squatted building in Brixton. Over the years they've staged underground events at abandoned swimming pools, derelict churches, circus tents, school halls, gothic theatres and factory rooftops. But over the last decade they've staged recurring film nights at the Cinema Museum, a cineaste's paradise housed in an old Kennington workhouse where, it turns out, Charlie Chaplin went as a child.
It's an intensely atmospheric building, accessible only by guided tour or during events like Exploding Cinema. And whenever they stage a show here, every patch of wall and ceiling that isn't the film screen is covered with psychedelic projections, drenching the Victorian brickwork and vaulted steel beams in colour. There's also usually a live band, a bar, and flexible closing time depending on what runs out first: the booze or the crowd's enthusiasm.
But when one gets topped up, the other usually follows…
NOTE: Exploding Cinema runs screening nights at the Cinema Museum every month. You can check upcoming dates, and book tickets (£7.50) HERE, or buy on the door.
Exploding Cinema | Cinema Museum, 2 Dugard Way (off Renfrew Road), London SE11 4TH
---
Looking for an alternative night out? See more unusual things to do in London