Fire & Fromage | Unlimited Raclette on the Southbank
Along with ice skating, mulled wine, the Oxford Street lights, an abundance of Christmas markets and fairs, carol singing, and an inevitable shortage of turkeys, Jimmy Garcia's "Snow Globes" on the Southbank are becoming something of a winter tradition in London. And this year, they're complemented by a firepit-laden riverside cabana with unlimited raclette.
You'll settle in around the crackling fire with a welcome mug of mulled cider, before indulging in 90 minutes of as much raclette – that's the Alpine melted cheese dish – and sides as you like (including rosemary potatoes drizzled in confit garlic oil; sourdough baguette; salad; charcuterie and pickles). Then there's the dessert of white chocolate ice cream & mulled wine reduction, and then you'll be able to skewer a couple of marshmallows for toasting over the fire.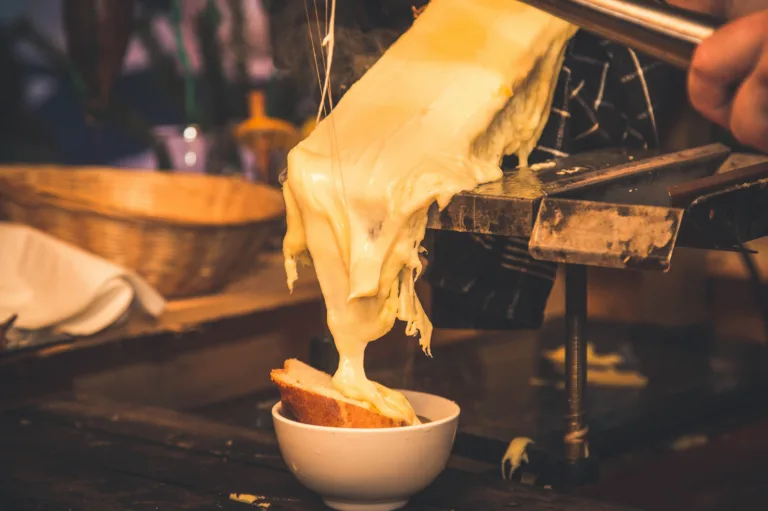 Meanwhile, Jimmy and his team of elves have a tried and tested formula for the Snow Globes – and it's one that they don't want to shake up. Ironically. Their recipe consists of filling each custom-made, elegant glass dining pod with a beautiful wintry floral display, festoon lighting, cosy rugs, furs, blankets… and then applying a minimum spend of £700. Which to be fair has worked pretty well so far, so as it ain't broke they're not fixing it.
While relatively pricey to book in, however, it's worth noting that each pod accommodates up to 10 guests – so if you're really good at maths you've probably already worked out that if you take 9 colleagues, friends or lovers along with you, it's going to work out at £70 p/head for which ye shall each receive crystal clear views of the river and a unique dining experience consisting of wild venison & mushroom terrine with crispy sourdough; then either steak to share (cooked on a hot stone at the table) or a traditional alpine fondue with charcuterie imported by Jimmy's dad himself; and an apple, cider & brandy crumble custard tart with blackberry compote to finish.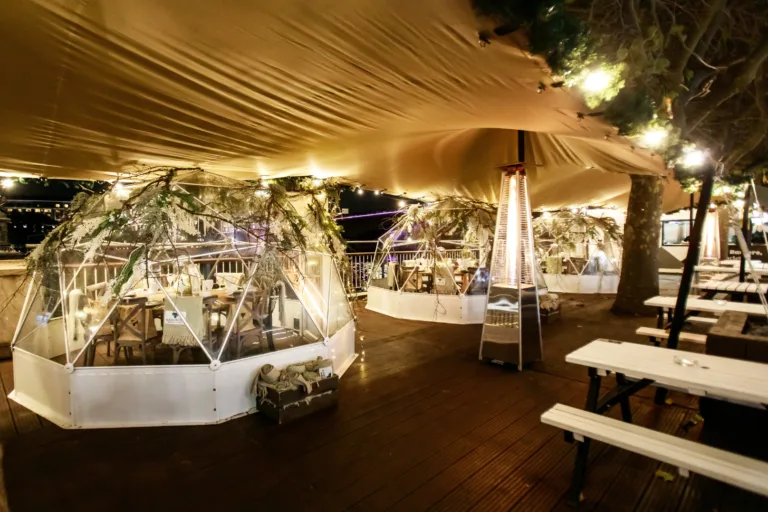 As always, the drop-in area where you can just rock up mid-Southbank stroll generously allows you to hang out al fresco and stay warm by virtue of the piping hot drinks served up at the bar which – beyond plain ol' mulled wine and cider – includes a hot chocolate with all the works (including vodka). And to complement all of that, there's also a street food hatch where you can score raclette burgers, wild game hot dogs and other Alpine delights.
You know, typical street food stuff.
NOTE: Fire & Fromage and the snow-globes are open on the Southbank from 2nd November – 31st December 2023. You can book a snow-globe (min spend £450-700, £250 deposit), and find out more, right here.
Fire & Fromage | Outside the Southbank Centre, Belvedere Road, SE1 8XX
---
Like winter pop ups? Check out the best ice rinks in London this year.