Itinerary Location: Dalston |  Duration: 4 Hours
---
Promising your date a 'feast for the senses' might sound at best arrogant, and at worst… just a bit creepy.
But the fact is that's exactly what lies in store if you embark on this offbeat date idea in Dalston. You'll start with a little light entertainment – quite literally – with a trippy art show created by your own brain, before being lavished with the scents and flavours of Eastern Mediterranean dishes, and end up with an intimate live music set in one of Dalston's most atmospheric bars. Which, you might have noticed, only leaves one sense remaining…
…unless you count balance. But don't worry, they'll be falling for you soon enough.
Your date night begins at Hackney Downs studios, about a 7 minute stroll from the Rectory Road overground station…
–
➊ DREAMACHINE | 6.30pm
Yes, inside this seemingly innocuous set of workshops by Hackney Downs is an experience unlike any other. The Dreamachine was dreamt up in the 50s by an artist who discovered that flashes of light pitched at the right frequency can actually create patterns and visions in your own head. And now it's been given a little 21st century polish, and has opened as a semi-permanent installation here in Hackney.
You and your date will enter a round, retro-futuristic chamber with comfy reclining seats, and will be invited to close your eyes as the show begins. Over the course of 20 minutes, your brain will then generate a completely unique experience just for you, with pseudo-psychedelic visions popping into your imagination. All the while, an ambient soundtrack seems to envelop you, and you'll end up feeling connected to everyone in the room although you're all seeing different things.
Afterwards, you'll probably have a lot to talk about. So from here, head right out of the studios and left down Shacklewell Lane, for about five minutes, to reach:
–
➋ OREN | 7pm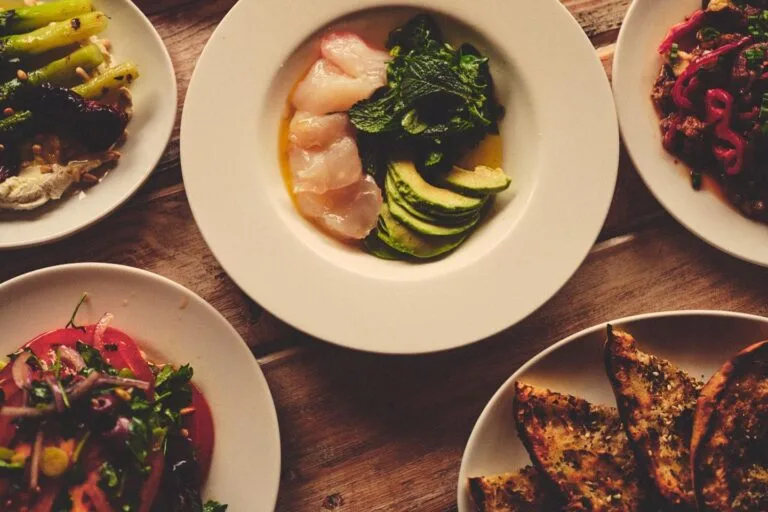 Chef Oded Oren ran a slew of sell-out supper clubs before finally opening a place of his own – one he'd be happy to put his name on. You'll find Oren tucked away on a quiet street, the heady aromas of Eastern Mediterranean cooking suffusing the earth-toned dining room that's a little cramped in a good way. You'll cosy up in a corner with your lover and pour a glass of wine as you pore over the menu. It's a gift of a date spot, particularly if this is early days and you're not really sure what they're into. Vegetarian? Tuck into elegant dishes like oak leaf, baby gem & white peach, BBQ'd sweetcorn or a flavoursome heritage tomato salad. Devout carnivore? Share the smoky barbecued onglet and lamb sweetbread skewers. Adventurous type? Try the grilled ox heart, or some whole butterflied mackerel.
Don't worry about overeating, you've got a ten minute evening stroll to walk it off: continue down Shacklewell Lane, turning left onto Kingsland Road, and head right down Bradbury Street, just before the station…
–
➌ SERVANT JAZZ QUARTERS | 9pm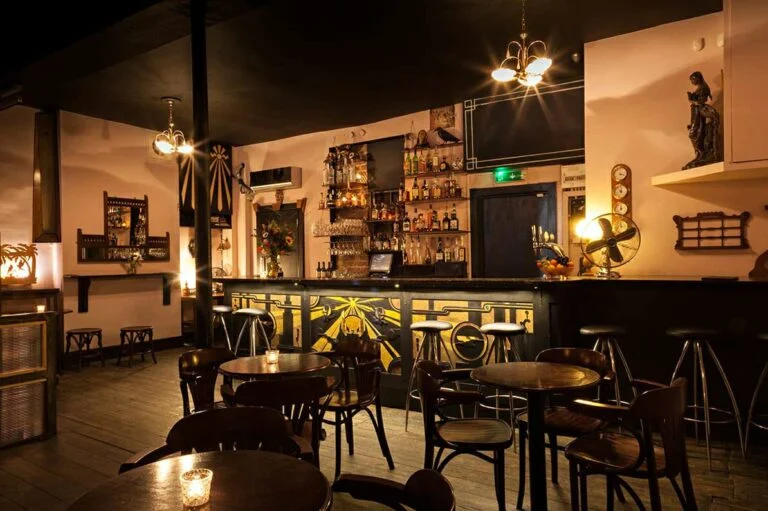 If life were a movie, every date would wind up with you stumbling, unsuspectingly, into a low-lit bar abuzz with live music, dancing, and potent cocktails. But this is the real world, and so you'll need to purposely coordinate your stumbling directly into Servant Jazz Quarters, a fantastic little spot just behind Gillett Square. Despite the name, it a) doesn't have any servants – that would be weird – and b) doesn't only do jazz: the eclectic programme here ranges from intimate acoustic sets to kora music by Kadialy Kouyate (he's basically Senegalese music royalty) to the alt-pop multi-instrumentalist Sol Paradise. And on weekends, the electric atmosphere continues long into the night, with DJs playing the best of funk and soul to an enthusiastic dancefloor.
The crowd gets pretty into it, too.
---
The Itinerary:
➊ Dreamachine | Hackney Downs Studios, 17 Amhurst Terrace, E8 2BT
➋ Oren | 89 Shacklewell Lane, Hackney, E8 2EB
➌ Servant Jazz Quarters | 10A Bradbury Street, London N16 8JN
---
Enjoyed this? Leaf through more date ideas right here