Merry Men | Tom Sellers Pop Up
Tom Sellers is closing his flagship restaurant.
But don't worry: this isn't where the Story ends.
It's merely a brief pause while he refurbishes his Michelin Starred diner, ready for the next chapter. In the meantime, he'll be holding an immersive popup called Merry Men (to reflect the upbringing he had in Nottingham, and his understandable love of Robin Hood). It'll be held nearby in a three-story former Victorian tannery, that they're currently busy transforming into a verdant Sherwood forest-style hall complete with vine-covered ceilings, and candle-lit feasting tables.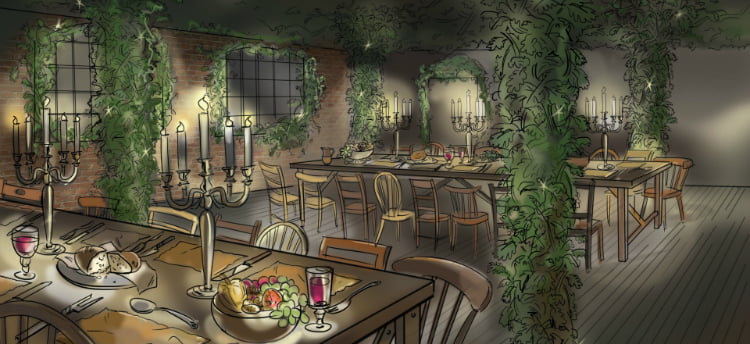 So, what to expect?
Well, it'll have a banquet-style menu, with four courses of historically inspired dishes (turning much of its attention towards traditional meats), plus booze selected by Story's Head Sommelier, and some "music and entertainment", which we assume will be part of the "immersive" element.
Menu-wise, dishes will include the likes of bone marrow, eel, and parsley; smoked haddock in milk; braised & hot smoked lamb leg with anchovies and capers; beef cheeks in hay; and lardy cake with salted blackberries and cultured ice cream. And every Wednesday it'll change up considerably, as Sellers will be bussing in a guest chef (including such luminaries as his mate Jason Atherton, who is booked in for April the 18th – to get tickets, email them directly HERE) to cook alongside, and collaborate with on the night's menu.
And given the enormous space on offer, they're also throwing in a 40-person, enchanted-woodland-style bar just for good measure(s), with a forest-themed cocktail menu created by near legendary mixologist Matt Whiley.
Which should make for some very merry people indeed.
NOTE: Tickets for Merry Men are on sale now. A portion of each ticket goes towards the charity Hospitality Action, and you can get them right HERE.
Merry Men | 32 Southwark Street, SE1 1TU
---
Want to check it out? Share with a merry friend on Facebook…