PLEASE NOTE: This event has now passed.
We're holding a festive party, and it's going to be totally over the top…
…of the Oxford Street John Lewis, because it's happening on their rooftop.
It's all going down (sorry, up) on November 22nd at Willows on the Roof where you'll find yourself, cocktail in hand, gazing over the glittering streets below – almost eye-to-eye with the Christmas lights – while a roaming '20s style band fills the air with toe-tapping jazz, wending their way between fairy-lit igloos and cabins, while delicious festive canapés circulate throughout.
And tickets? Are only £20.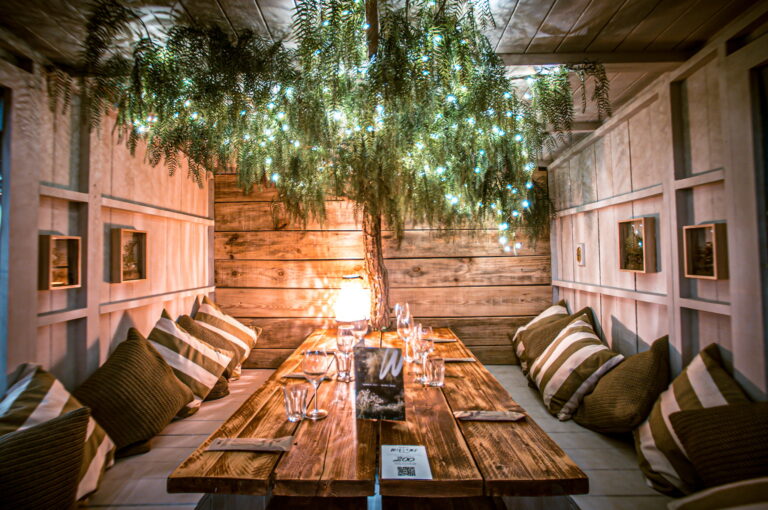 They include 2 welcome cocktails as well, from our own bespoke menu on the night, featuring:
Gingerbread Sour: Gin, Gingerbread Syrup, Lemon, garnished with Gingerbread Biscuit Crumbs (Served in a Rock Glass)
Frangelico Old Fashioned: Wild Turkey Bourbon, Frangelico Hazelnut liqueur, Angostura bitter, Sugar, Orange
Mure Bellini: Crème de Mûre Liqueur, Prosecco, garnished with a Brown Sugar Cube dipped in Mure Liqueur (Served in a Flute Glass)
And then there are those canapés that will be floating around the space, which will include the likes of Ho Ho Hummus (served with diced beetroot and roasted spiced carrots); some Christmas Mistletoestie Bites (crispy chicken breast topped with grated apple cheddar & chopped basil served with blackcurrant jam); Beetroot Ravioli Bites (handmade ravioli, creamy beetroot sauce topped with parmesan, basil, tarragon and black pepper); Noel Nibble Nuggets (Nashville holiday spices coating delicious chicken nugget bites topped on a bed of rainbow slaw); and PepperJam Burger Bites (beef burger with homemade burger sauce, house pepper jam, white onions, oak smoked cheddar, bib lettuce and pickles).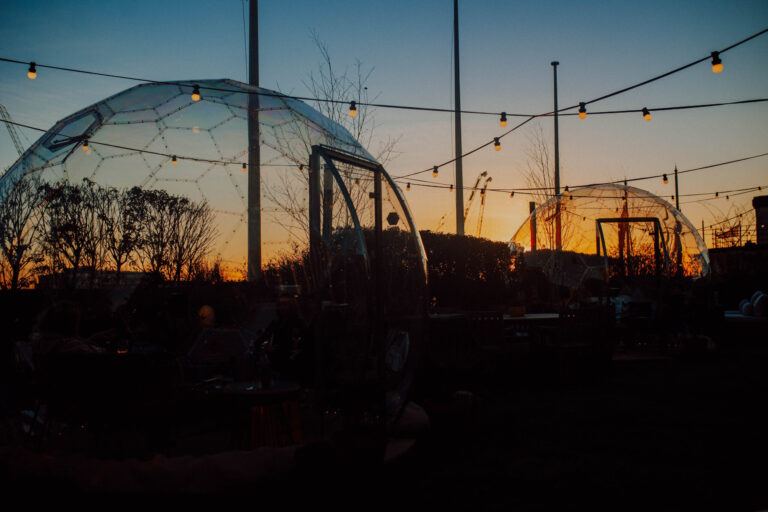 But if you want an actual dinner, then you can book yourself into the Willows On The Roof restaurant on the night itself too, which is conveniently, you know, right there. You can book yourself one of those igloos, a cosy cabin, or a simple table, and order from a considerably wider menu, with a few more Christmas cocktails on offer, too.
And lastly, about that band: they're an upbeat Dixieland-style trio called Twenties Again who'll be playing fun, Christmassy, jazzy tunes while they wander the rooftop all night…
…and they'll definitely be hitting some high notes.
NOTE: Willows On The Roof is open daily, 12-10pm (9pm Sun). You can check out their website, and make a booking right HERE. Nudge Members are invited to an exclusive party at the venue on Wednesday 22nd November 2023. To secure tickets, head to the Locked Members' box at the top. Not a Nudge Member, join now and get your first week free.
Willows On The Roof | John Lewis Rooftop, 300 Oxford Street, W1C 1DX
---
Feeling peckish? Peruse these fine restaurants near Oxford Circus