The Nutcracker is a time-honoured, heartwarming fable in which a young girl fantasies about the military battling giant, mutant rodents.
It's a Christmas classic.
And now it's been reimagined in style thanks to The Tuff Nutt, a pop up jazz bar that's here for the festive season. It comes to us from the team at The McOnie Company, who are led by Olivier Award-winning choreographer Drew McOnie & Mercury Prize-nominated jazz artist Cassie Kinoshi. And they might rack up a couple more awards here too, because by all accounts this show is a fun, jazzy, Christmas treat.
You'll find it underneath the Royal Festival Hall, accessed via the Southbank Centre Square on Belvedere Road in what used to be their subterranean bar, Spiritland. Well, that bar has been transformed into an intimate, colourfully lit space that sort of feels like a speakeasy. Grab a drink, settle into your seat, and watch as Tchaikovsky's orchestral confection gets going in smooth style as the jazz quartet – all dressed in pyjamas – take to the stage.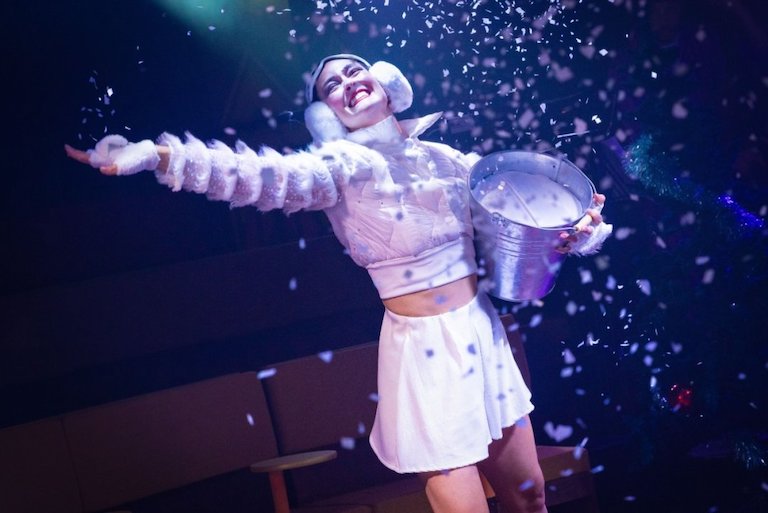 Here, the story has been given a slight twist – Clara is now Clive. Clive want to play with the Sugarplum fairy. Clive's dad wants Clive to play with an Action Man. So that's what Clive gets for Christmas. Understandably upset with this desperate, Hail Mary injection of heteronormative values, Clive stuffs the Action Man under the stairs and forgets about him. Until that is, he comes to life.
The rest of the story proceeds with swift, snappy, upbeat enthusiasm, all underscored by an energetic soundscape courtesy of those pj-wearing musicians. And if you happen to go to one of the late shows from Thursday to Saturday, those musicians will stay on for an extra hour after the show to give you a chance to take the dance-floor for a spin, too.
It's well worth a visit, and it's sticking around until the 6th of January. So unlike other festive treats…
…this one gets wrapped up after Christmas.
NOTE: The Tuff Nutt Jazz Club is popping up until January 6th. You can get tickets (£35+) and find out more at the website right here.
Tuff Nutt Jazz Club | Level 1, Royal Festival Hall
---
Like improvised music & non-improvised drinks? Here are London's best jazz bars.