Secret Bars | The Ultimate London Speakeasy Guide
What follows is a list of the finest tucked-away, secret, hidden, or otherwise nearly-impossible-to-find bars.
Or, if you're reading this for a second time, what follows is a list of bars that were tucked away, secret, hidden, or otherwise nearly-impossible-to-find …but are now as familiar to you as the back of your own hand.
And you should visit them all.
NOTE: It's important to clarify at this point that while most of these bars are hidden behind bookshelves, mirrors, and fridges, some of them are simply very difficult to find. Such is the way of the speakeasy.
---
JUMP TO: EAST LONDON | WEST LONDON | SOUTH LONDON | NORTH LONDON
---
SECRET BARS IN CENTRAL LONDON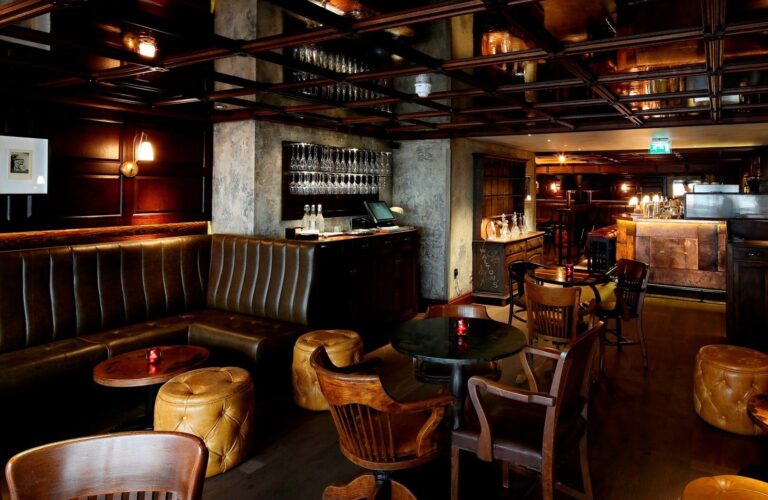 This smart, NYC-styled speakeasy sits proudly above Jason Atherton's Social Eating House in Soho. It boasts both classic and signature cocktails (like the Mi Casa Es Tu Casa with tequila, rhubarb, kumquat and caramelised white chocolate), and they'll bring you food up from the restaurant below. If you've ordered it.
How to get in: Look for the "Opticians" sign on Poland Street, then push the door beneath it with the pig-shaped knocker. Head on up…
Details: 58 Poland Street, W1F 7NR | Book here
–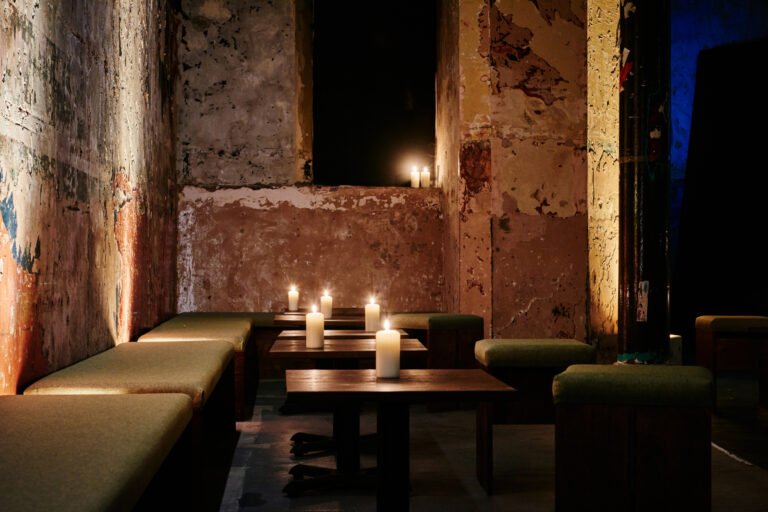 Lit only by candlelight and sporting a slim, but expertly-concocted menu of cocktails, beers and natural wines, Below Stone Nest is everything a good speakeasy should be. Including being hidden beneath a deconsecrated 19th century church on one of the busiest streets in the city.
How to get in: You're looking for a place called Stone Nest, which is the boarded up old church on Cambridge Circus. When you get there, head below…
Details: 136 Shaftesbury Avenue, W1D 5EZ | No bookings
–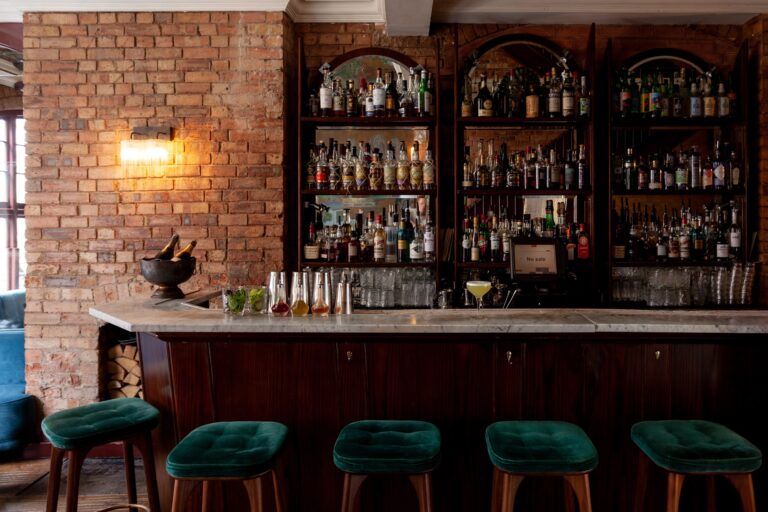 Hidden behind a scruffy-looking, easily-missable door in the bustling heart of Chinatown is this: a moody, legendary, Parisian, prohibition-style speakeasy cocktail den lit almost entirely by candlelight.
How to get in: A booking helps. Otherwise, find a door on Gerrard Street that doesn't lead to a Chinese restaurant, and smile politely through the peephole.
Details: 13a Gerrard Street, W1D 5PS | Book here
–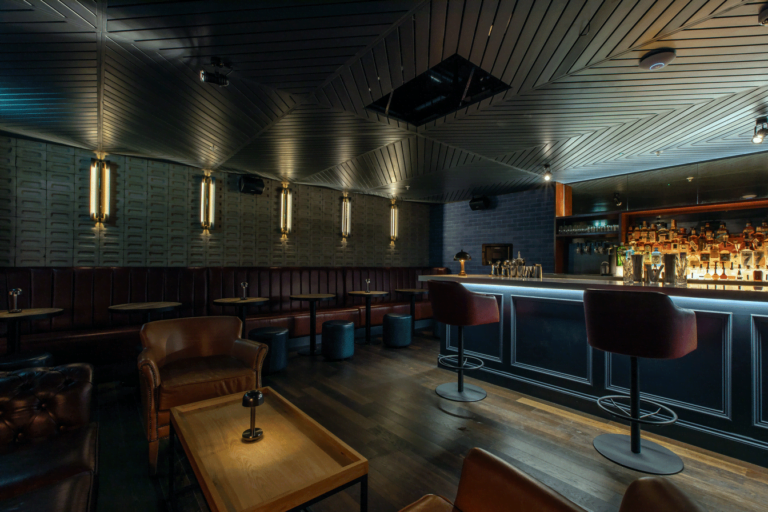 Not all those who wander are lost… but many of those who wander round Brewdog Waterloo are looking for Lost Property Office, an intimate cocktail oasis hidden, miraculously, within what has to be one of the loudest pubs of all time. Come here for off-the-charts cocktails by mixology pioneer Rich Woods and his crack team of bartenders.
How to get in: Scour Brewdog for a vintage black telephone, and pick it up. There are no bookings here, so cross your fingers and wait for someone to let you in…
Details: Inside Brewdog Waterloo, The Sidings, Waterloo Station, London SE1 7BH | No bookings
–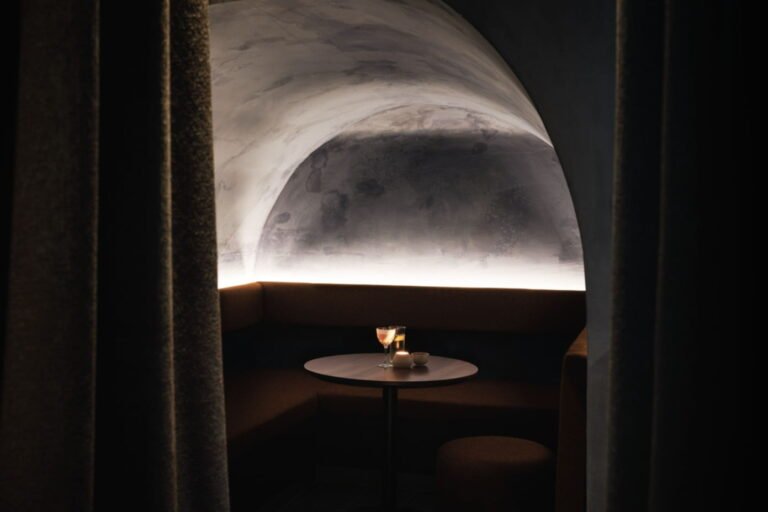 SOMA comes to you from the same duo behind London's family of brilliant Anglo-Indian restaurants, Kricket. And a good deal of their passion for Indian ingredients makes its way into the cocktails, with blisteringly good concoctions like a Curry Leaf Gimlet and Jaggery Old Fashioned on the menu.
How to get in: Make for the buzzy, packed-out restaurant that is Kricket Soho on Denman Street. But instead of joining the merriment in there, go through the extremely boring, office-like doors to the left, and trust that you will be justly rewarded…
Details: 12-14 Denman Street, Soho, W1D 7HL | Book here
–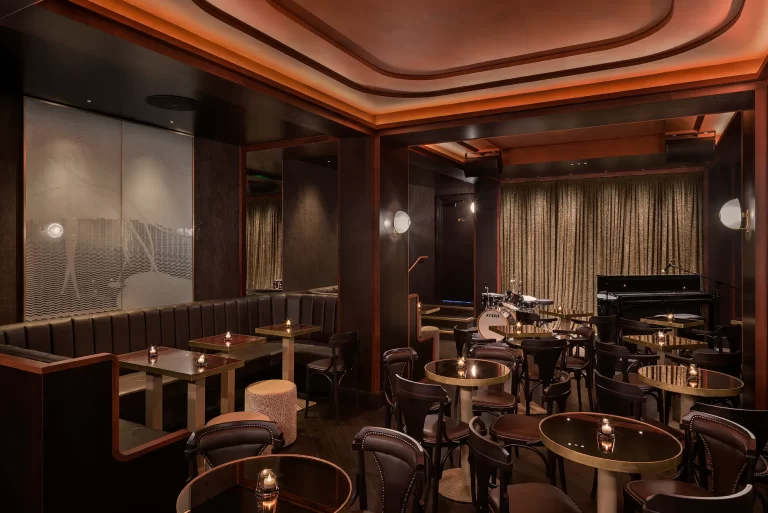 The younger sibling to possibly the best speakeasy in London (more on which later), Nightjar Carnaby is a louche underground lair hidden below Kingly Court, serving up theatrical, inventive cocktails with a garnish of nightly live music…
How to get in: If you're in the courtyard of Kingly Court, you've already gone too far. Go back and look for the plain doorway in the entranceway, with a considerably smarter doorman stood beside it.
Details: Kingly Court, Soho, W1F 9PY | Book here
–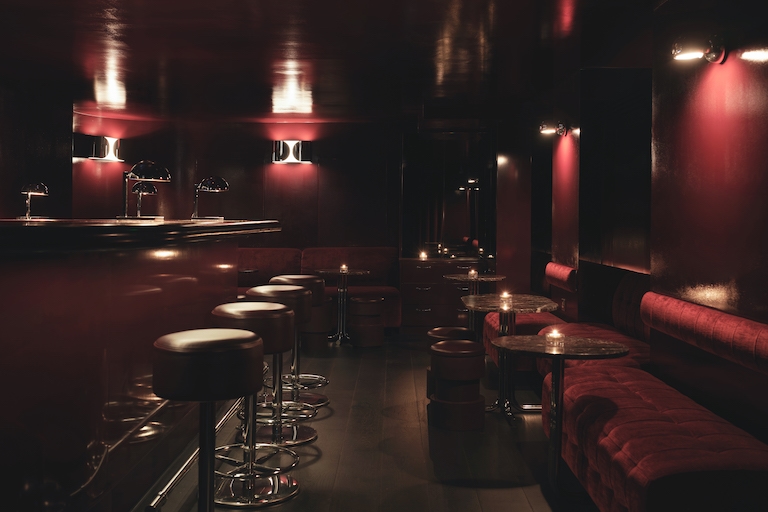 You know Lina Stores? Sorry, we'll rephrase that. You know Lina Stores. It's the iconic mint-green Italian deli sitting on a corner of Brewer Street in Soho, whose shelves are packed with hand-made pasta, colourful panettone, biscuits, coffee and other continental delicacies… and whose basement is secretly home to an after-hours speakeasy with sumptuous burgundy walls & seating, mouthwatering bar snacks, and an all-Italian cocktail list.
How to get in: Go shopping after hours – and make a reservation. Furtively.
Details: Underneath Lina Stores, 18 Brewer Street, W1F 0SG | Book here
–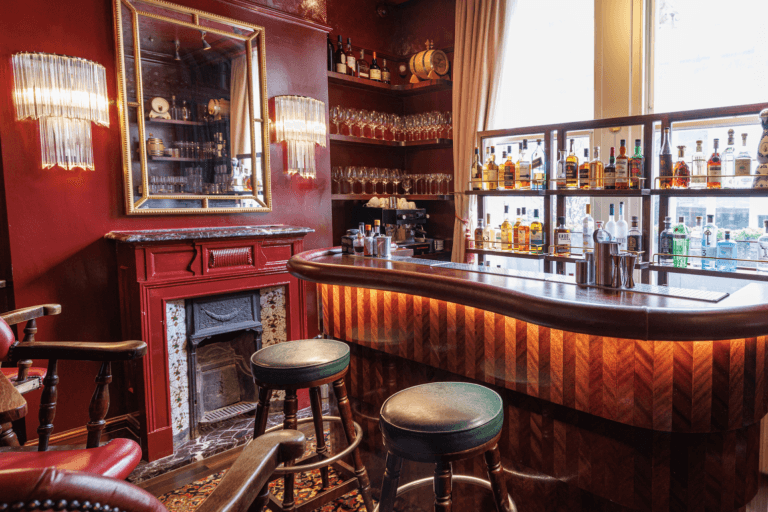 The George is one of the most handsome pubs in Fitzrovia, having been recently taken over by the hospitality legends at JKS (Gymkhana, Trishna, BAO, etc). And aside from bringing in a stellar cocktail list and food from James Knappett (of the triple Michelin-starred Kitchen Table), they've also had the good sense to install a tiny bar hidden away from the main pub. It's called The Gluepot, and while it takes walk-ins of 2-4 people, you can also hire the whole place out, complete with your own private bartender…
How to get in: Head into The George, and ask for a seat in The Gluepot.
Details: 55 Great Portland Street, Fitzrovia, W1W 7LQ | Book here
–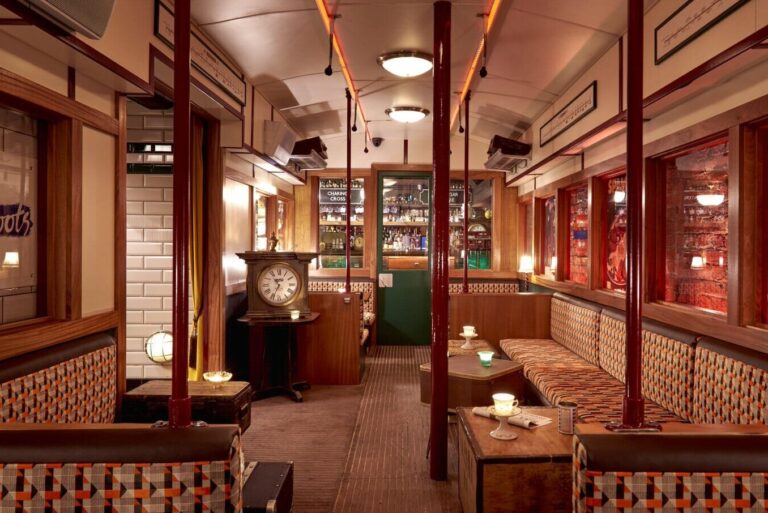 A discreetly hidden, underground, Underground-themed bar serving Blitz-era cocktails alongside wartime singalongs, swing dancing and boozy afternoon tea. Or at least, as discreetly hidden as something like that can be.
How to get in: Look out for a retro Underground sign saying 'To The Trains', and sweet-talk the lookout on the door. For more dancing space, try their other hidden bar, Ticket Hall & Signal Station across the street…
Details: 13 Kingly Court, W1B 5PW | Book here
–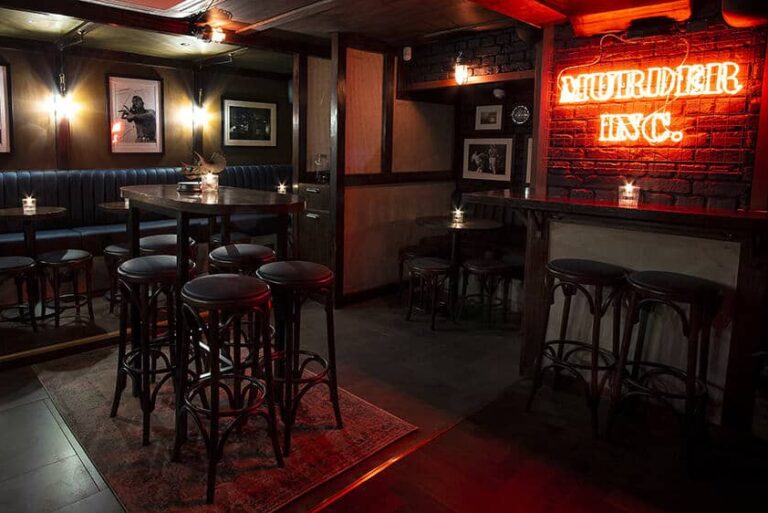 The folks behind Cocktail Trading Company are at it again. Their secret bar in central London swaps out the extravagant presentation for inexpensive but excellent drinks like the Silk Punch (Chivas 12, walnut, Vermouth, coffee, and salted Horlicks cream). And you'd never know it was there… until now.
How to get in: An inconspicuous brown door on Hanway Street will reveal a staircase, which you should descend.
Details: 36 Hanway Street, Soho, W1T 1UP | Book here
–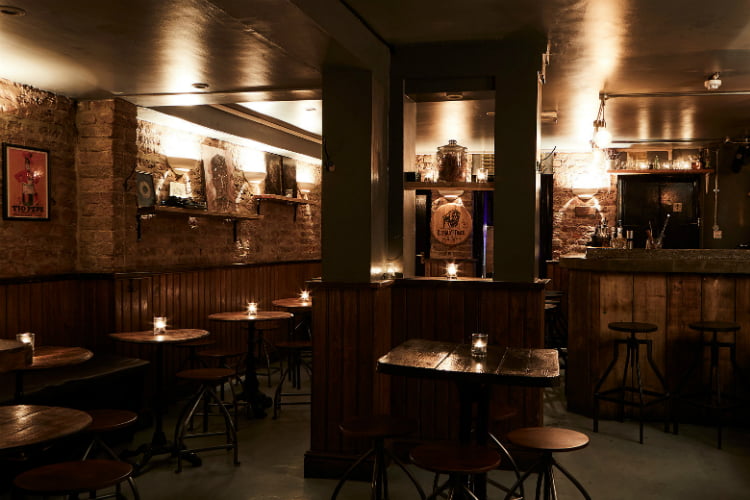 Milroy's was London's first ever specialist whisky store. And now, it's London's first ever brooding, underground, candlelit cocktail bar with bare brick walls, chesterfield couches, and live music on Mondays. That's called The Vault.
How to get in: Peruse the whisky shop, and find the bookshelf at the back. Open it, and head on down. 
Details: 3 Greek Street, W1D 4BD | Book here
–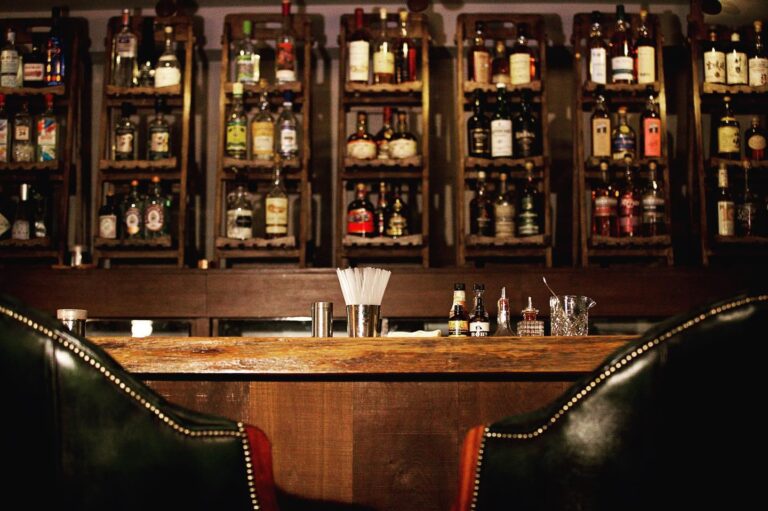 You know how the best bit of dinner is always cocktails and dessert? Well, Basement Sate have finally capitalised on this truism by serving only cocktails and dessert. The first of its kind in London, this secretive bar is exactly the place to go the next time you feel that all-too-familiar desire to lounge in a dimly-lit, dark wood-panelled subterranean hideout in Soho listening to music by cutting edge DJs, drinking salted caramel cocktails and eating desserts perfectly designed to complement them.
How to get in: Get yourself onto Broadwick Street, and find the place that has the number 8 above it. No, not the sandwich shop. The one next to it. That's Basement Sate.
Details: 8 Broadwick Street, W1F 8HN | Book here
–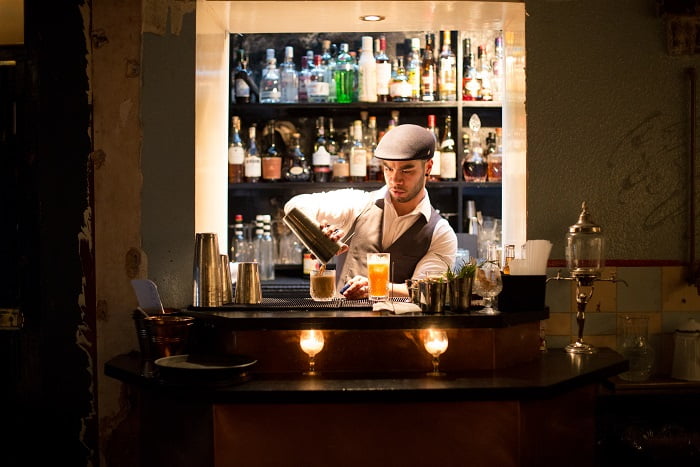 A vicar lived at this site 30 years ago, hence the name. And this is what he preached: "If you want inventive drinks from a former Bourne and Hollingsworth cocktail inventor, you've come to the right place. There's even one called the Babka, Baby!" Amen.
How to get in: Yet another nondescript black door – but this one you can just pull open. And it does have its name above (albeit in small letters).
Details: 32 Goodge St, London W1T 2QJ | Book here
–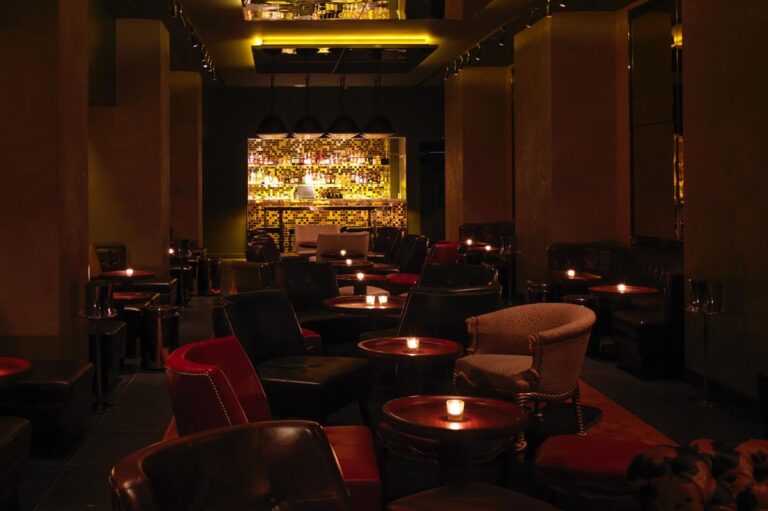 Housed within the St Martin's Lane Hotel, this secretive, swank-laden late-night lounge infuses many of its globally-inspired cocktails with tea and hosts regular live music nights from jazz and swing to electronica and dance.
How to get in: Head into the hotel, and go to the boutique tea counter (hint: it's where most hotels keep their boutique tea counters). Behind it, you'll see a golden hand jutting out of the wall, inviting you to shake it. Do that. And it will reveal a hidden door. 
Details: St. Martin's Lane Hotel, 45 St Martin's Lane, WC2N 4HX | Book here
–
Greek spot Meraki is so determined to keep the bar area a secret, that it's not even inside the restaurant. Find it, and you'll be rewarded with cocktails, acclaimed Greek food, and private booths set in brick-lined vaults where you can control your own lighting.
How to get in: Leave the restaurant, and head instead to the dedicated entrance round the corner, which will lead you to a bar. This is still not it. Seek the hidden entrance and head on down…
Details: 30 Foley Street, W1W 7TJ | Book here
–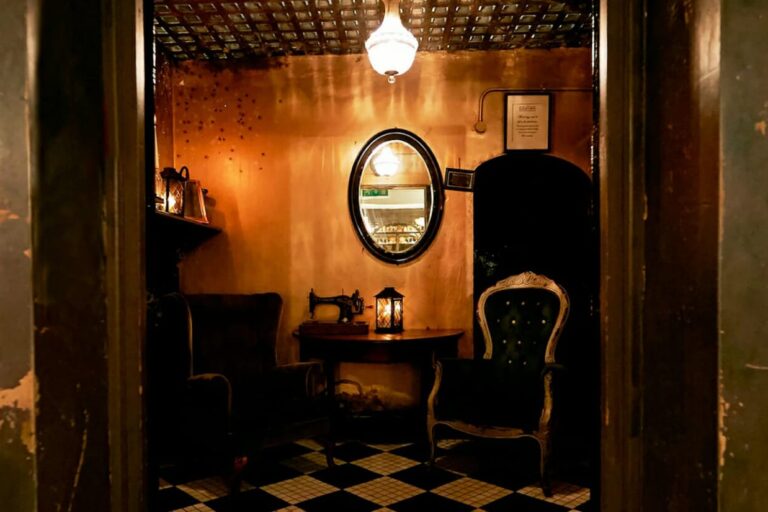 An artfully ramshackle secret drinking den filled with odds and ends, sumptuous Chesterfields and an array of concoctions harking back to the Prohibition era.
How to get in: Look for the unmarked staircase with a gas lantern by the door.
Details: 5 Clipstone Street, W1W 6BB | Book here
–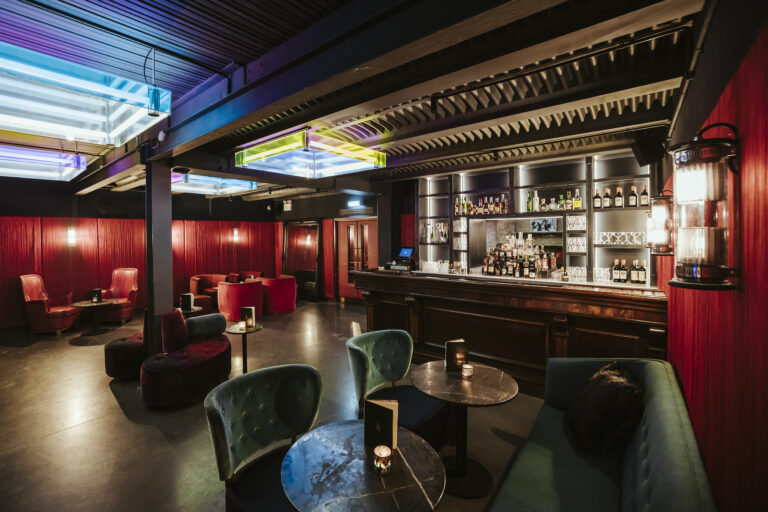 A surprisingly vast subterranean bolthole filled with velvet booths, whisky-leaning cocktails, raucous live music and DJs in the heart of Soho.
How to get in: Look for the after-hours deli, and ring the buzzer. If you're going past a lot of meat, you're in the right place.
Details: 41 Windmill Street, W1D 7NB | Book here
–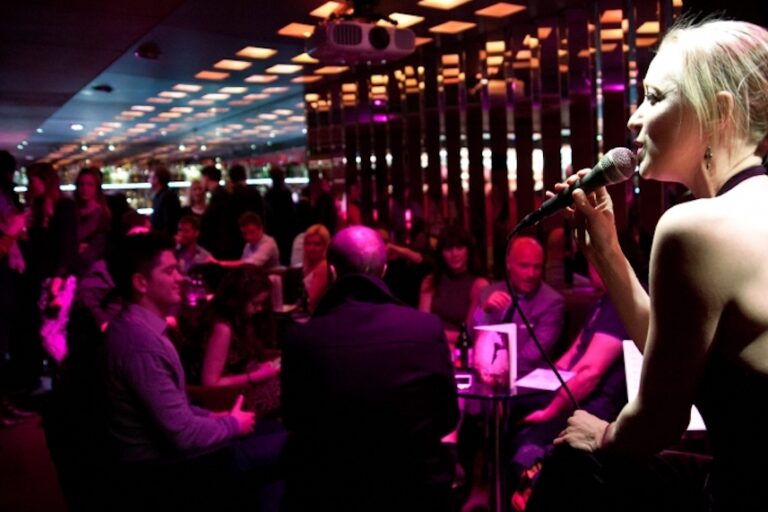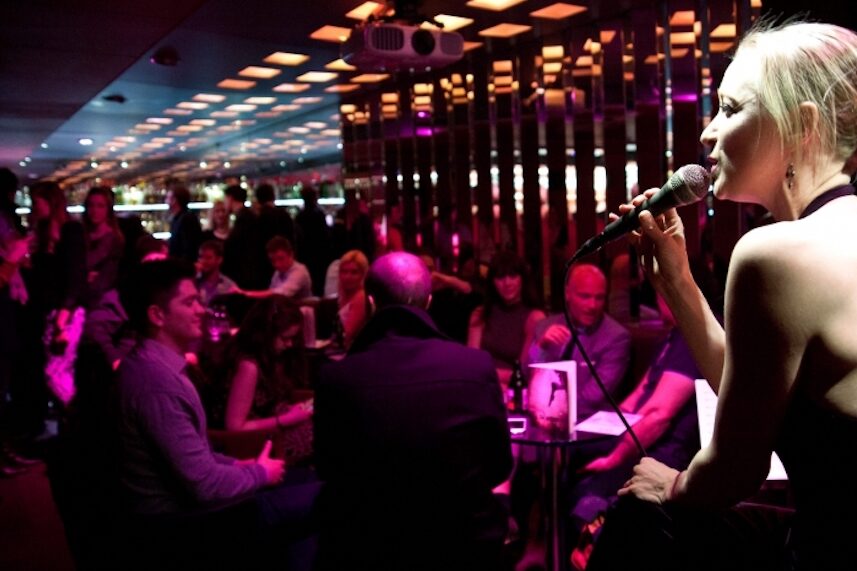 This tiny, low-lit lounge below the Strand has mirrored walls, purple seating, nightly live music, and even the occasional cinema night.
How to get in: Just look out for the weird-looking unmarked staircase that descends literally into the pavement on the Strand.
Details: Zero Aldwych, WC2R 0HS | Book here
–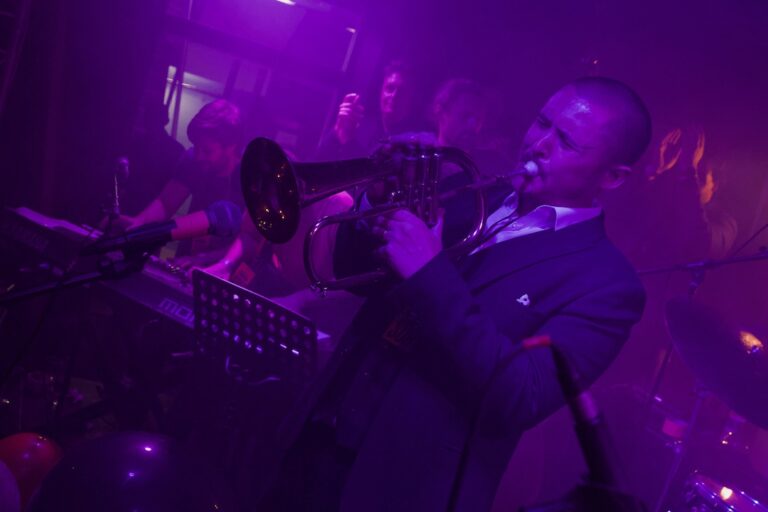 Technically a secret bar, though you might be able to track it down simply from the noise, the Piano Bar is named for the permanent ivory-tinkler they have installed. There are regular live bands besides, classic cocktails, and even a screening room.
How to get in: If you're not a member, you'll need to make a reservation, after which you simply need to find the door at 16 Carlisle Street that looks a lot like someone's house.
Details: 16 Carlisle Street, W1D 3BT | Book here

SECRET BARS IN EAST LONDON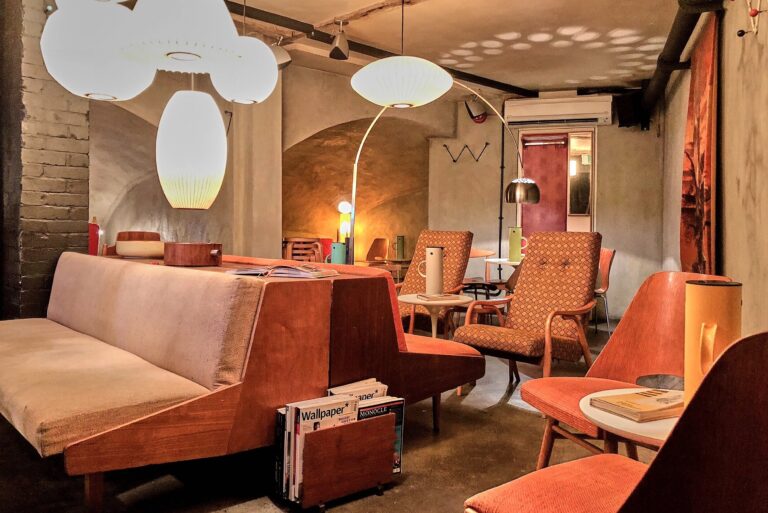 This Soviet-styled, 50s era, underground Czech drinking den has some of the most interesting cocktails in the city; expect them to come in perfume bottles, toothpaste tubes, and more unexpected vessels. And expect them to be delicious, too.
How to get in: First, book ahead (0772 070 7000). Second, don't wear a suit and tie (they WILL kick you out). Third, find the unmarked door next to the kebab shop, and head down the stairs.  
Details: 1e Great Eastern St, EC2A 3EJ | Open 'by appointment'
–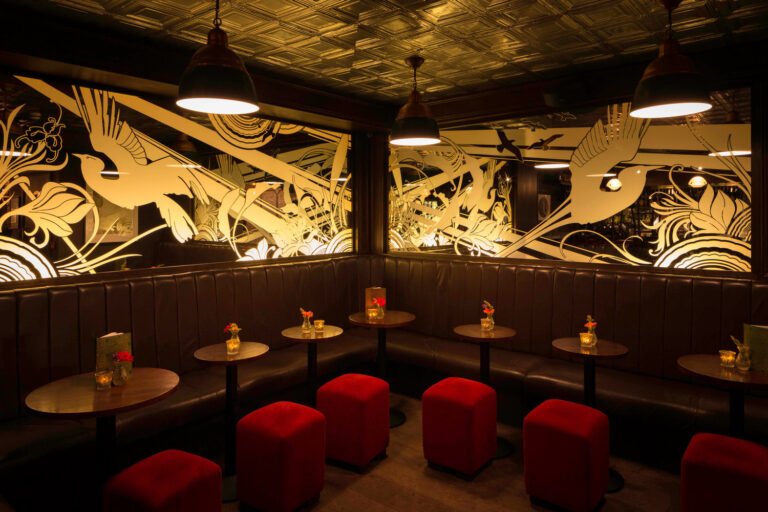 Nightjar is an actual, bona fide speakeasy. It's the type of place that all of the other speakeasies want to be when they grow up. It's got rose-tinted mirrors, leather chairs, and illicit, darkened corners. You'll hear the hum of live jazz emanating from the flat-capped band on stage, and winding its way through the shadows to the bar where Nightjar's award-winning cocktails are created.
How to get in: The address should lead you to an innocuous-looking wooden door parked between two fast food joints. Head inside, and down the staircase… and book if you can.
Details: 129-131 City Road, EC1V 1JB | Book here
–
The staff at this candlelit, subterranean den of iniquity know their stuff, and are capable of magic. The cocktail list changes frequently too, so break with the tradition of the place and remember what you have each time so you can demand it again.
How to get in: Look for the chalkboard next to an unmarked stairwell, and step into the candlelit boozehouse.
Details: 8-9 Hoxton Square, N1 6NU | Book here
–
Found

| Shoreditch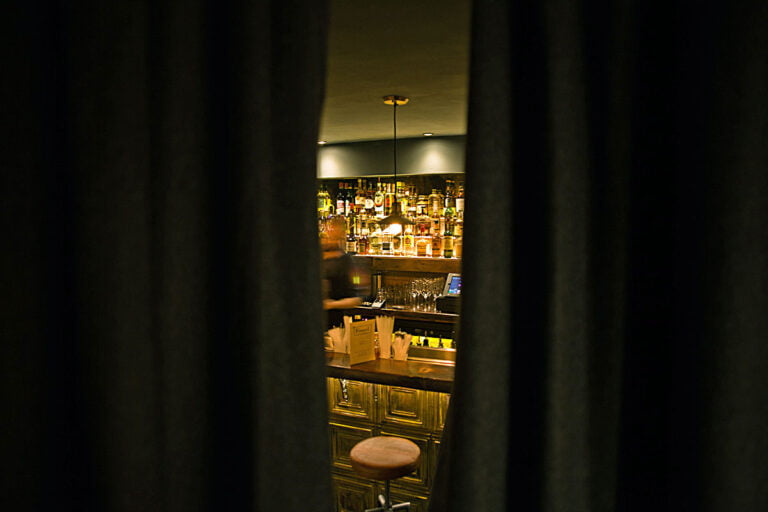 Even if Found had a big neon sign pointing to the entrance, it would still be tricky to stumble across. It's buried in the muddle of alleys south of the Old Street tube, but it's worth seeking out for the simple, delicious cocktails alone. The space itself is a dark, moody den with secluded nooks to sit in on either side of the bar that almost feel illicit. Also, before you go home, pop to Home bar right above it, and get a tequila shot followed by their house concoction of pineapple, coriander, and chilli.
How to get in: Head down to Ravey Street, and you'll see a lantern with the letter 'F' on it. Head into the doorway, down the narrow steps, through the velvet curtain, and you'll have found Found.
Details: 5 Ravey St, EC2A 4QW | Book here
–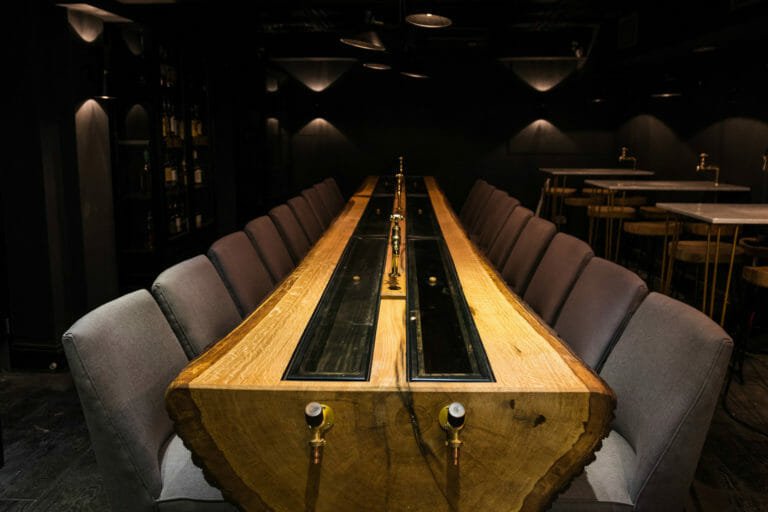 Sometimes you can't see the wood for the trees… and sometimes you can't see the tree either, because it's been lopped in two, filled with whisky, and stowed in a secret basement bar in Shoreditch.
How to get in: Keep an eye out for a barrel standing on a corner of Christopher Street, and follow the staircase next to it below the pavement…
Details: 9 Christopher St, London EC2A 2BS | Book here
–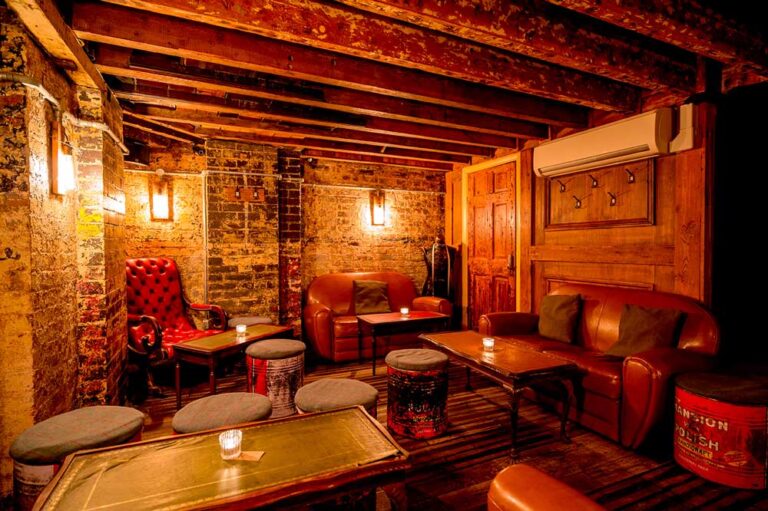 Enter a dimly-lit neighbourhood cocktail bar entirely composed of exposed brickwork, scaffolding planks, Victorian floorboards and Motown records. There you'll find head bartender Dorian – a man who returned from travelling the world completely fluent in the language of mixing killer drinks – serving up their signature cocktails.
How to get in: Head for the black door next to an 1980s tailoring shop with a ramshackle wall sign.
Details: 29A Wentworth Street, E1 7TB | Book here
–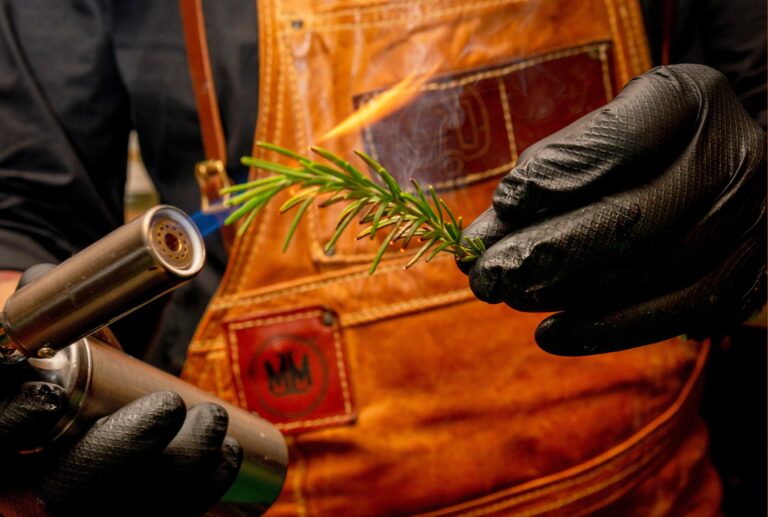 BYOC may stand for 'bring your own cocktail'… but thankfully, all that's really required of you here is to bring along a bottle of your favourite hooch. Then the crack team of bartenders will take care of the other bits, including your standard herb blowtorching.
How to get in: Getting in isn't too difficult… navigating the City's medieval maze of streets after a couple of cocktails is considerably harder.
Details: 59a Carter Lane, EC4V 5DY | Book here
–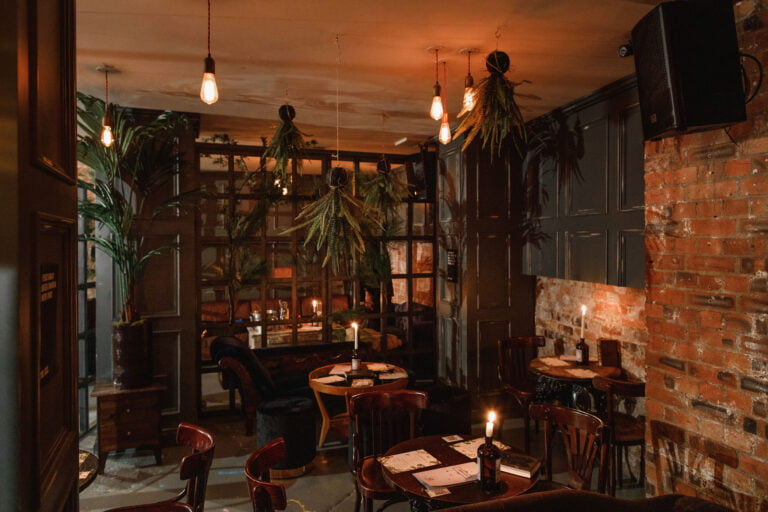 The reason this Hackney cocktail bar is called the Looking Glass Cocktail Club is because of all the looking glasses (that is, mirrors) strewn around the place. And behind one of them is a second, secret, drinking joint filled with Victorian furnishings, bare brick walls, and a vintage piano.
How to get in: To the right of the bar, you'll see someone who looks exactly like you. Don't panic, this is a mirror. Pull…
Details: 49 Hackney Road, E2 7NX | Book here
–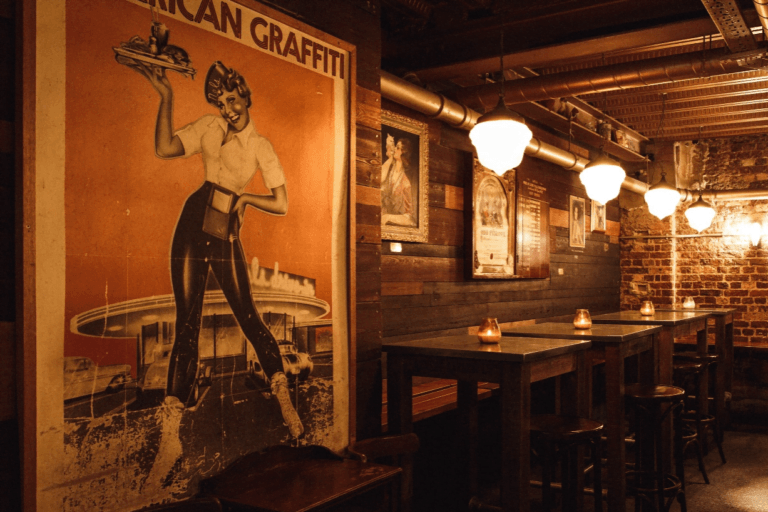 The Breakfast Club Shoreditch houses somewhere within it a moodily-lit cocktail dungeon that has exposed brickwork, great music and a wide selection of cocktails, from the Peachy Keen to The Basic Kitsch.
How to get in: Through a fridge door. Yep, really. Just ask a member of staff to see the Mayor.
Details: 12-16 Artillery Lane, E1 7LS | Book here
–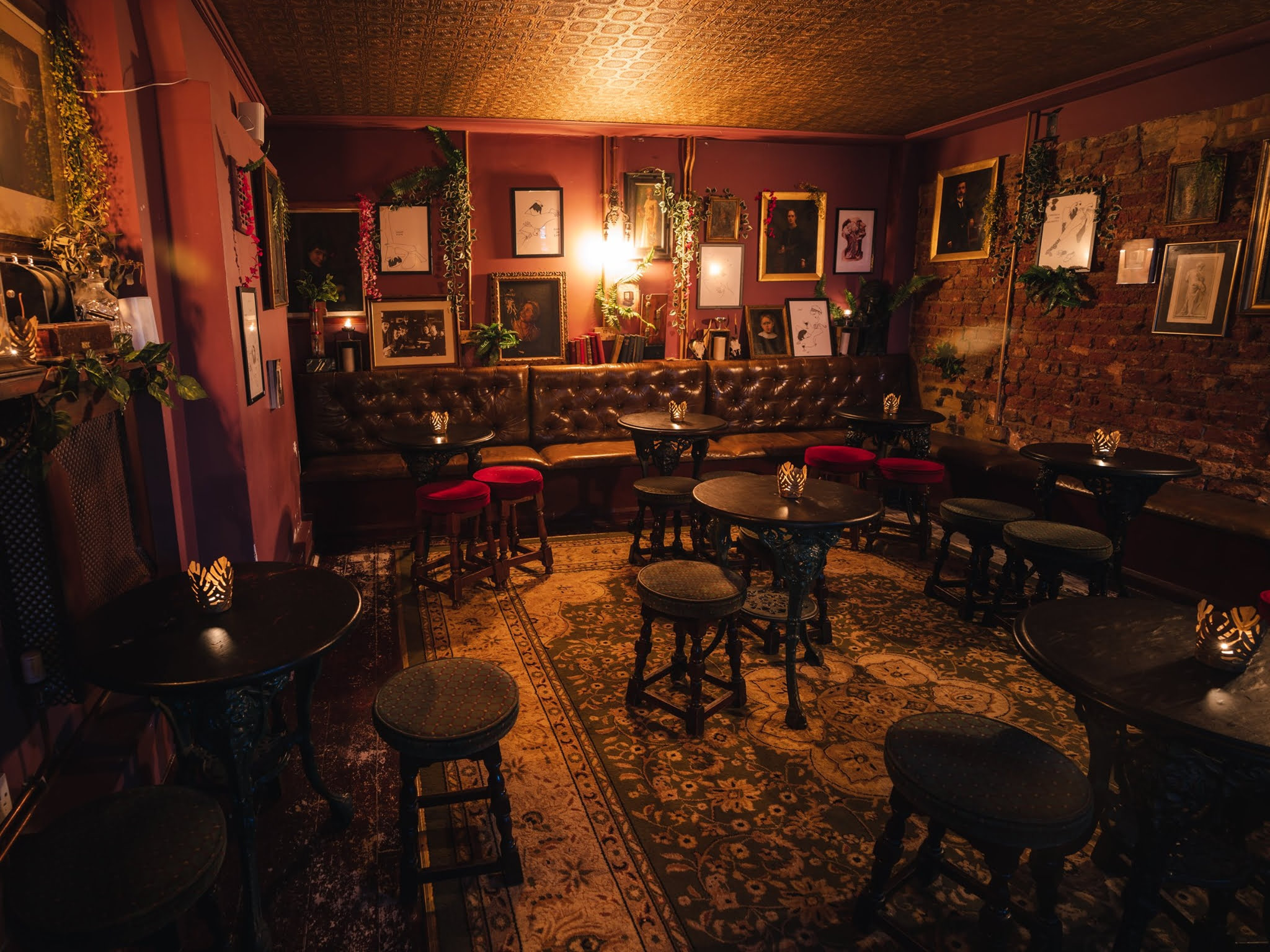 The Natural Philosopher is spread over three separate rooms, the likes of which you won't find elsewhere. There's The Mac Museum, which as its name suggests, it's a museum of everything Apple Mac. With cocktails. Then there's the The Living Room, a cozy, rug-strewn, welcoming snug also containing cocktails. And finally, there's The Basement, a Hobbit-sized room which – at just 5 feet tall, and located at the base of a tiny set of side stairs – is the perfect little date spot.
How to get in: Find the Macsmiths computer repair shop around the corner from Cambridge Heath station. It's housed within.
Details: 489 Hackney Road, E2 9ED | Book here

WEST LONDON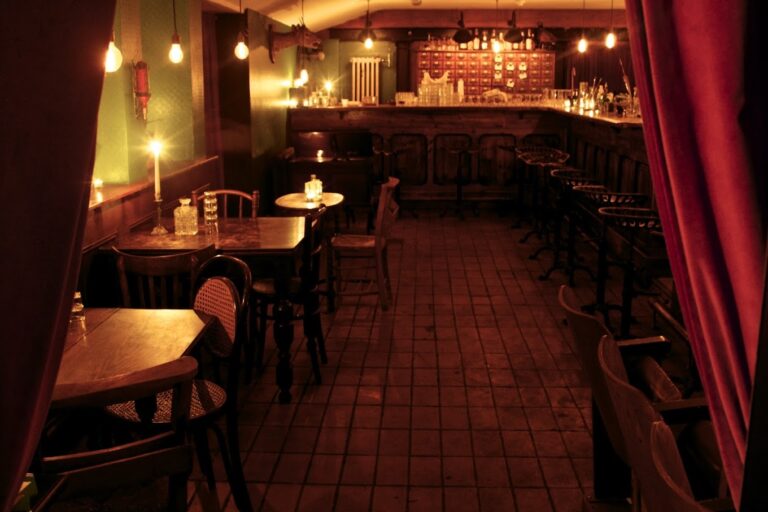 One of the most genuinely undercover-feeling speakeasies in London. A bar filled with exposed brickwork, beaten white tiles, dickie-bow-clad bar staff and soft lighting, where you'll be served bottles of booze in brown paper bags, and illegally good cocktails.
How to get in: Buzz the door, head down to the detective's office and state your case…
Details: Earls Court Road, SW5 9BA | Book here
–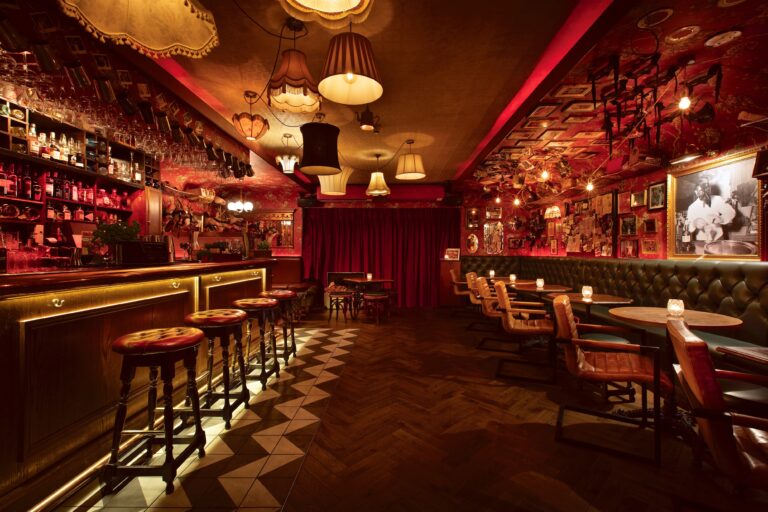 Proudly declaring itself "London's worst kept secret", Barts is made up of one modestly-proportioned room tucked inside an apartment block, which is filled with peculiar pictures, alternative ornaments and a dressing up box – plus DJs every Friday & Saturday night.
How to get in: Wander through the Chelsea Cloisters until you see the Mickey Mouse wallpaper. Then ring the bell, and hope that the person on the other end of the peephole likes the look of you.
Details: Chelsea Cloisters, 87 Sloane Avenue, SW3 3DW | Book here
–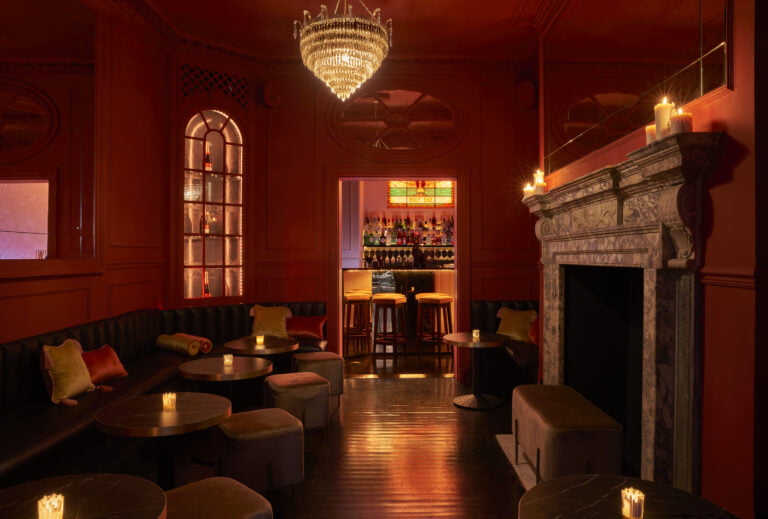 A cosy, candlelit cocktail den where the menu is a pack of tarot cards. Choose your destiny printed on the back… or just go for the ingredients you best like the sound of. Whichever you plump for – Devil, Magician, Lovers – will arrive with suitably impressive theatrical pomp.
How to get in: Look for the Urban Retreat wellness & aesthetics clinic on Hans Crescent. Go into the lobby, then the restaurant, then finally through the old, heavy doors. It's the last place you'd expect to find a cocktail bar, and therefore quite possibly the ultimate speakeasy…
Details: Urban Retreat, 2-4 Hans Crescent, Knightsbridge, London, SW1X 0LH | Book here
–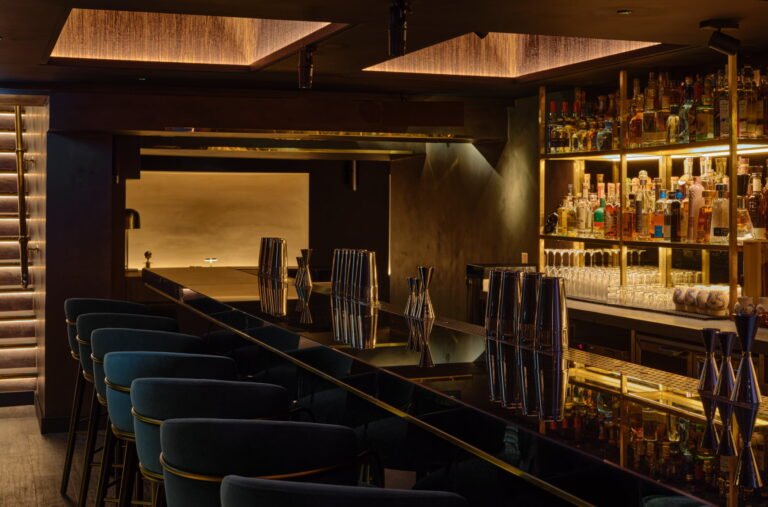 You don't have to look hard for a good time in Notting Hill. But you do have to look hard if you want those good times to take place in a subterranean, lunar-styled agave bar serving up inventive tequila & mezcal-based cocktails from an award-winning bartender…
How to get in: Look for the modest doorway next to the Gate Picturehouse, and head on down…
Details: 87 Notting Hill Gate, London, W11 3JZ | Book here
SOUTH LONDON SPEAKEASIES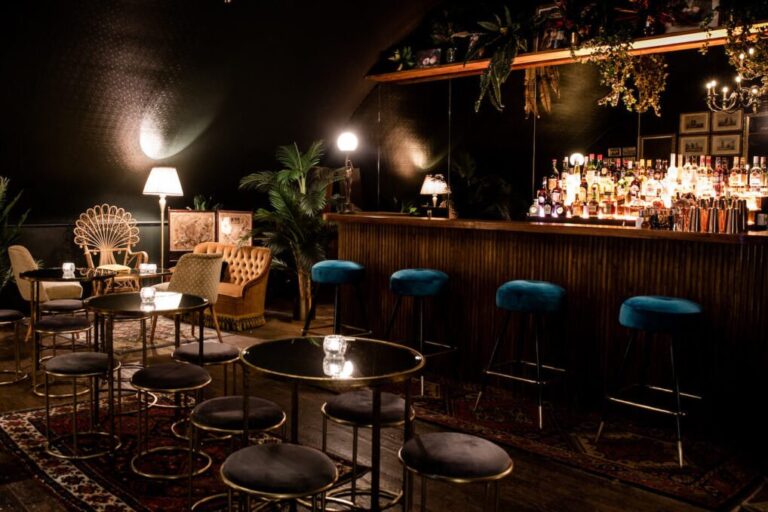 A pair of moody, low-lit cocktail dens with eclectic furnishings, both hidden within restaurants dedicated to peri peri chicken. Cheeky.
How to get in: Head to the second floor of Casa do Frango in London Bridge or Casa do Frango Piccadilly, and search for the unmarked door at the back (eating chicken en route is optional).
Details: 32 Southwark Street, SE1 1TU | Book here
–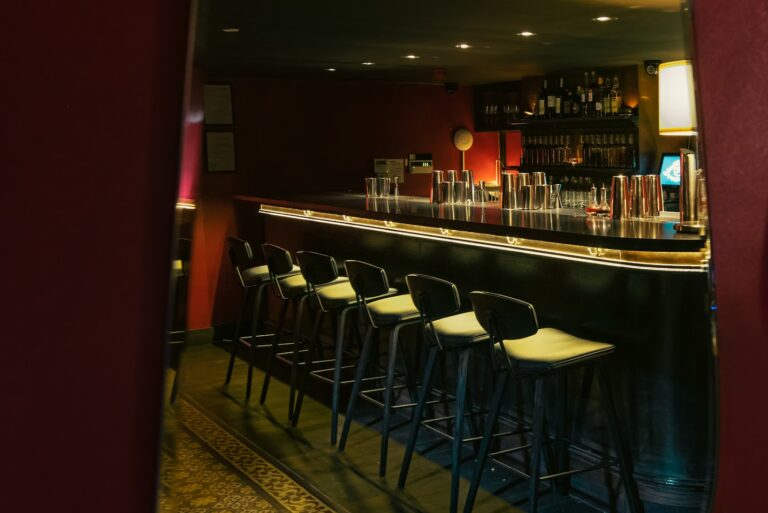 For their sophomore bar, the people behind Peckham's award-winning Funkidory have gone underground. Specifically, under an (incidentally fantastic) Italian restaurant, where they're serving signature cocktails in a rosy-hued bunker…
How to get in: Start by hunting down Forza Win on Camberwell Church Street, then head through the door that's giving you the eye.
Details: 31 Camberwell Church Street, Camberwell, SE5 8TR | Book here
–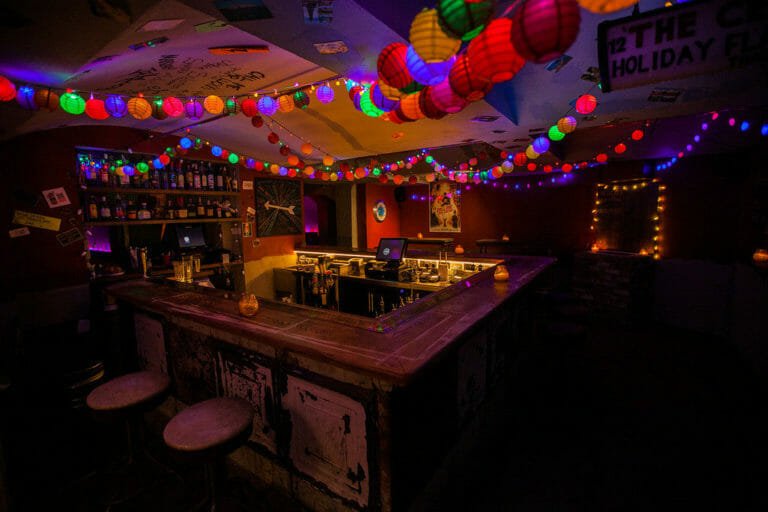 Found deep within London Bridge's Breakfast Club, the music's loud, the lighting's low, the drinks are strong… and there's a makeshift Wheel Of Fortune on the wall which – when someone spins the arrow to land in the right place – wins a round of shots for everyone else in the bar.
How to get in: Tell a member of staff you're "here to get lucky". You'll be immediately whisked Goodfellas-style through the private door, down the stairs, through the kitchen and straight into the secret drinkery.
Details: The Breakfast Club, 11 Southwark Street, SE1 1RQ | Book here
SECRET BARS IN NORTH LONDON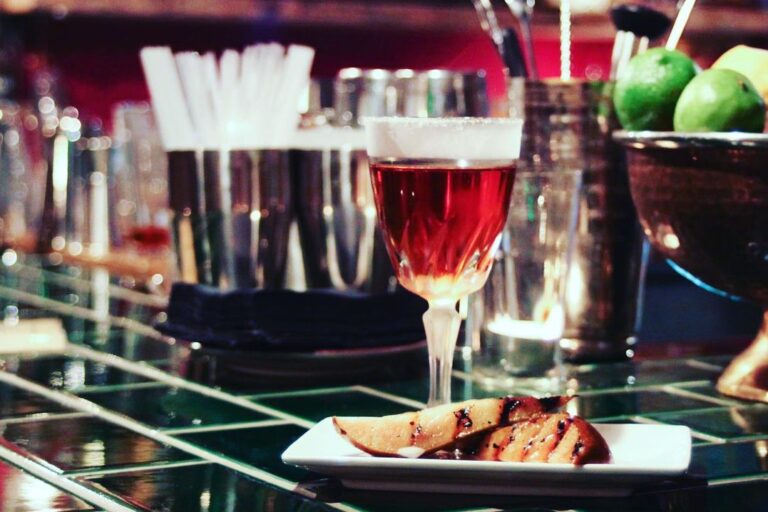 This place is just being modest. Knowhere Special is a neighbourhood cocktail den set in what feels like someone's living room, with Persian rugs and eclectic furnishings scattered about the intimate basement space. Only the experimental molecular cocktails are there to remind you this is actually a bar…
How to get in: Look for the plain door between a pub and a café.
Details: 296 Kentish Town Road, London NW5 2TG | Book here
–
System

| Newington Green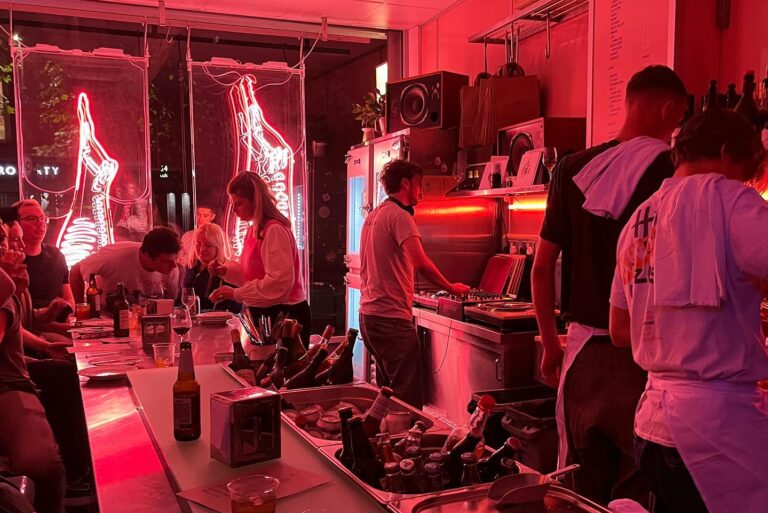 System is a bar disguised as a butcher's shop on Newington Green… because by day, that's exactly what it is. But when the end of the week rolls around, the surfaces are wiped down and reset with buckets of beers, cocktail stations and vinyl decks…
How to get in: Keep an eye out for the luminous neon pigs – always the sign of a good night out.
Details: 101 Newington Green Road, N1 4QY | Open Thursday – Saturday nights, no bookings
–
BYOC

| Camden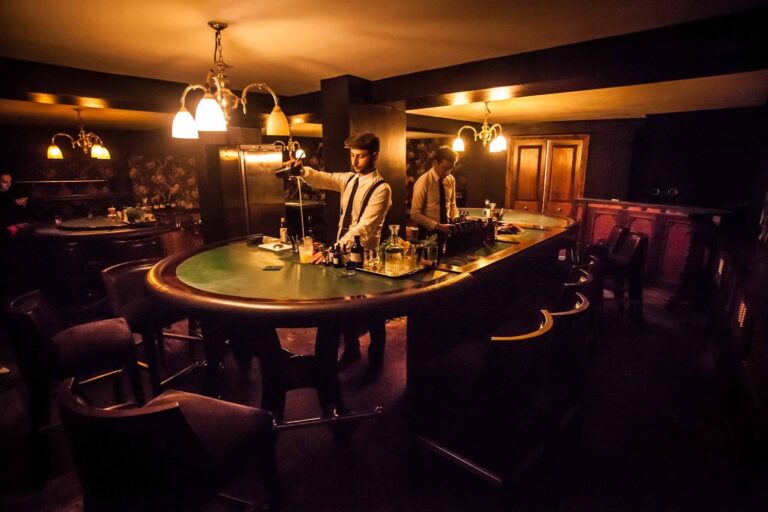 Know what you deserve? A break from the modern world; from the 21st Century. And while we're at it, you deserve a break from having to pay for cocktails too.
How to get in: Just make a booking, then track down the unassuming door on Camden High Street…
Details: 11-13 Camden High St, NW1 7JE | Book here
---
Already visited every secret bar in London? Get back above ground with these winter rooftop bars…