Kingly Court | Bustling Al Fresco Courtyard Surrounded by Restaurants
Take the right turning through an archway off Carnaby Street, or a small passageway between buildings on Beak Street, and you'll find yourself in a hidden Soho courtyard.
At which point you'll wonder how Kingly Court has managed to remain so hidden, given that it's a huge, multi-coloured, festoon-lit  courtyard lined by three storeys of restaurants, bars and shops. In summer, it's a buzzy al fresco hangout with plenty of tables for outdoor dining; in winter, giant umbrellas shelter the entire quad, and the place becomes a blissful retreat from the bustle of Carnaby and its dazzling Christmas street lights.
Kingly Court has 21 restaurants and bars in total, but, being the discerning type, we've picked out the places here that are always worth a visit:
–
THE BEST BARS IN KINGLY COURT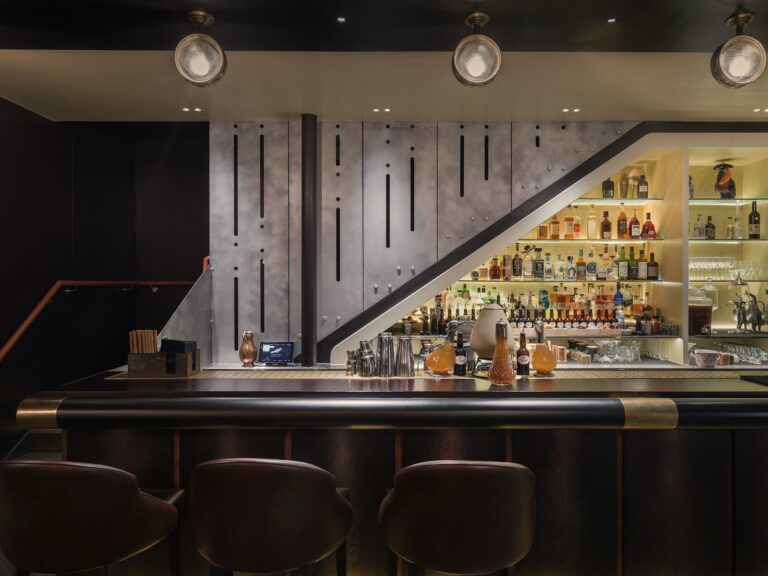 Tucked right at the entrance to Kingly Court (and easily missed), Nightjar Carnaby shares all the same subterranean glamour, award-winning cocktails and nightly live music as its forebear, Nightjar Shoreditch… but with a Central London postcode. The aesthetic here is more 70s than the art deco of the original, combining cabaret tables within touching distance of the glitter-curtained stage with low-lit, conspiratorial nooks. Book a table
–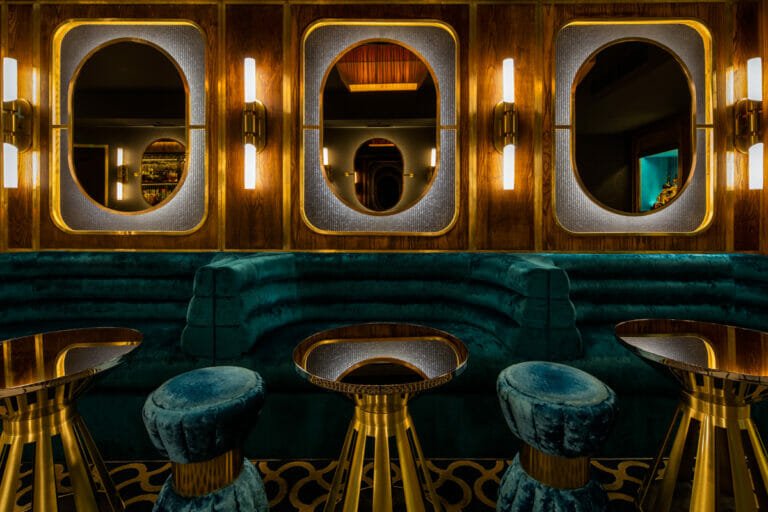 Ludicrously beautiful, Disrepute looks like a cross between a 1920s train carriage and a Stanley Kubrick-designed space station. All low ceilings, secretive corners and velvet-boothed archways, it's home to an enigmatic cocktail list where the drinks are described by short stories, not ingredients – which, if you could read them, would include the likes of Babycham reduction, honey mead and peach cognac. Book a table, or just walk in
–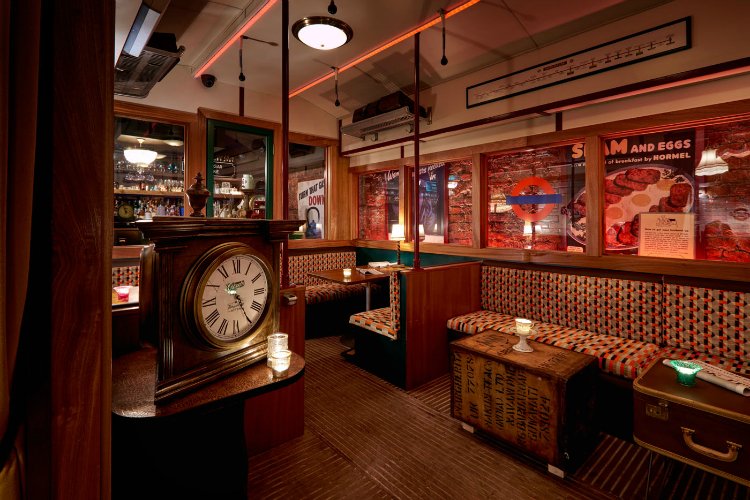 Underground-themed bars: a great spot to get a roundel in.
Especially Cahoots, a cocktail bar hidden beneath the fictional Kingly Court tube station, complete with subway tiling, old tube memorabilia and an entire vintage train carriage inside. Peruse the daily paper – where you'll find their creative cocktails inspired by the Blitz era – before joining the lindy-hop dancers swinging to vintage DJ sets. Book a table
PS. Check out their sister bar just across the way on Kingly Street, Ticket Hall and Signal Station

THE BEST KINGLY COURT RESTAURANTS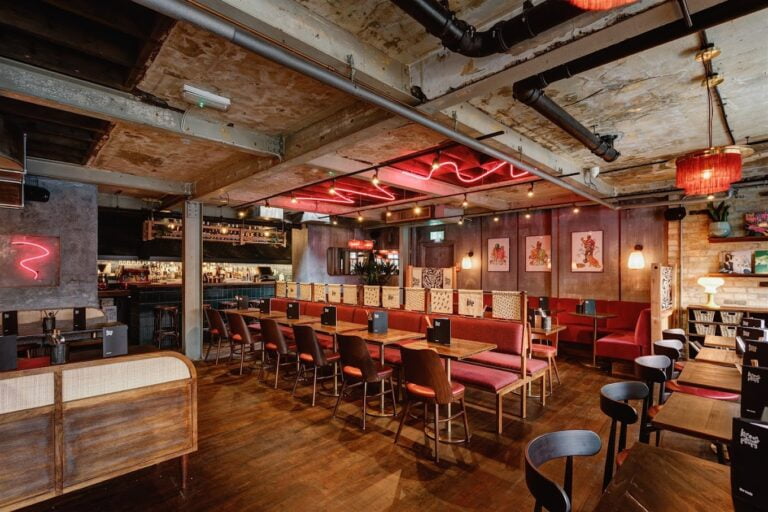 Korean Dinner Party isn't your average dinner party. Firstly, the menu comes from the duo behind Mr Ji, Ana Gonçalves and Zijun Meng. Secondly, there are many great Korean restaurants in London, but KDP is unique in bringing a bit of LA's Koreatown to Kingly Court with ketchup and mustard smothered corn dogs, DIY tacos and creative dessert cocktails (including one that incorporates soju and champagne into a Yakult base). Thirdly, It's acceptable to show without an invitation (though it would also be wise to book a table).
–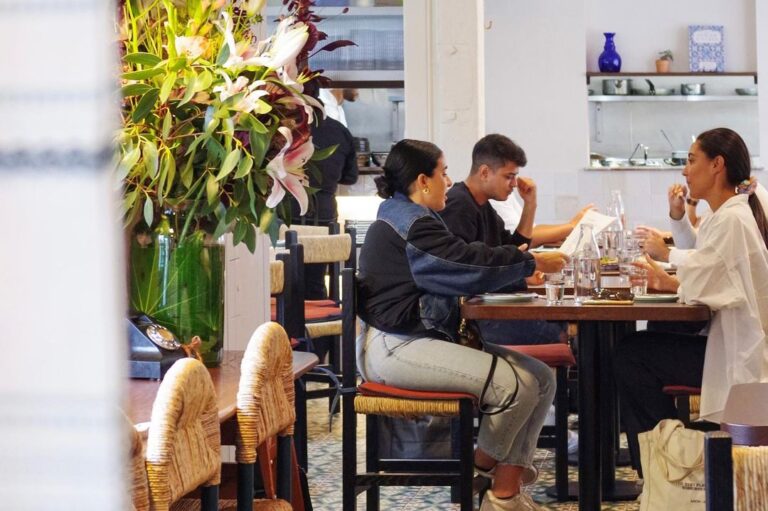 Imad's Syrian Kitchen is run by a Syrian refugee named Imad Alarnab. And his story's pretty extraordinary. He was one of the most famous chefs in Damascus, then civil war forced him to flee to Europe, eventually making it to the UK where he started a pop up restaurant and donated the proceeds to charity. Now he has a permanent restaurant, and it's so relentlessly popular that he's just upscaled to a larger place in Kingly Court. And what a place it is: friendly staff; great food; and Imad's often there welcoming guests himself. Book a table
–
A trio of chefs from Michelin-starred eatery Le Gavroche now devote their time to the art of the gourmet kebab. Housed in an elegant and spacious dining room on the top floor of Kingly Court, with blue tiled walls and a sharp concrete counter surrounding the open kitchen, Le Bab is the place to head whenever you have the very specific, and yet common craving for pork shawarma and pickled kohlrabi kebabs, with fondue-slathered double-cooked fries, frothy pink cocktails and an ice cream sandwich. Book a table
–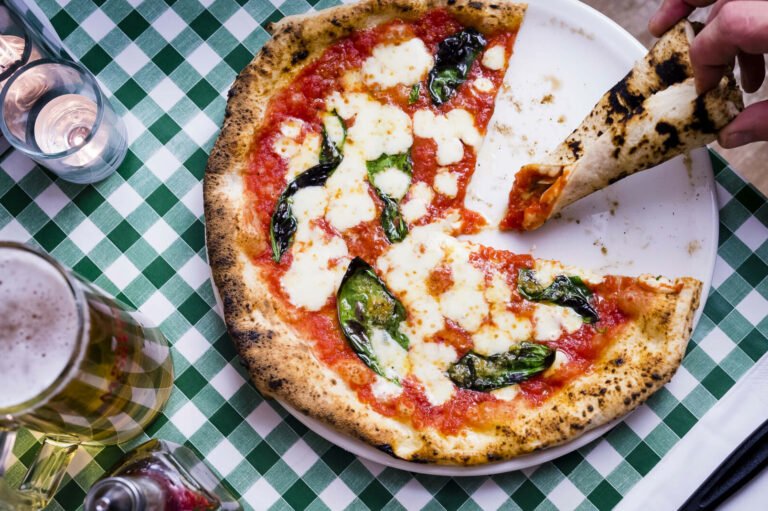 Your pizza pilgrimage is over. See, the duo behind Pizza Pilgrims made a painstaking trip across Italy, learning how to optimise every aspect of the pizza-making process from local artisans and pizzaioli, meaning that the bakes they offer here are pretty much scientifically proven to be the best possible pizzas. Choose your topping, like fennel pork sausage or mushroom and truffle; order a house-made limoncello; and savour the fruits of their labour. Book a table
–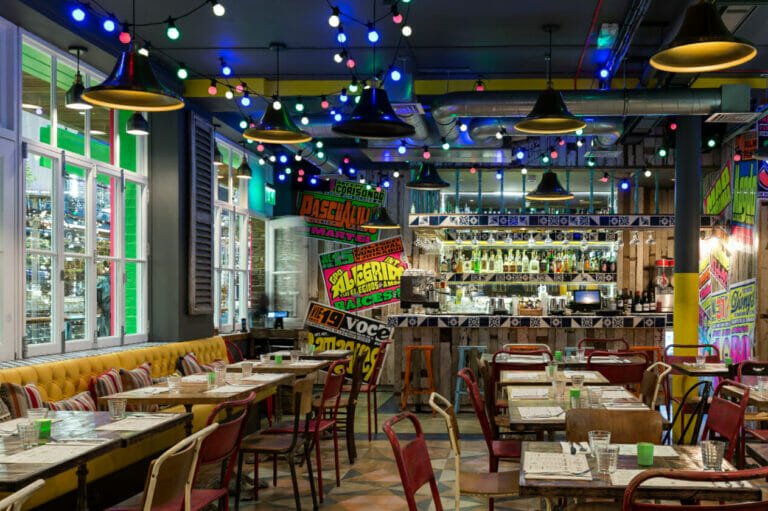 Señor Ceviche is only marginally more colourful on the plates than off them – the interiors of Kingly Court's Peruvian diner are an eclectic, fluorescent mix of mosaic-patterned flooring, festoon lighting, Peruvian posters and primrose yellow banquette seating. Which should go some way to preparing you for the wackiness on the menu, like marinated beef heart skewers; BBQ Jerusalem artichoke ceviche; sweet potato profiteroles and Old Fashioneds made with cherry, mushroom and pine tree-infused pisco. Book a table
–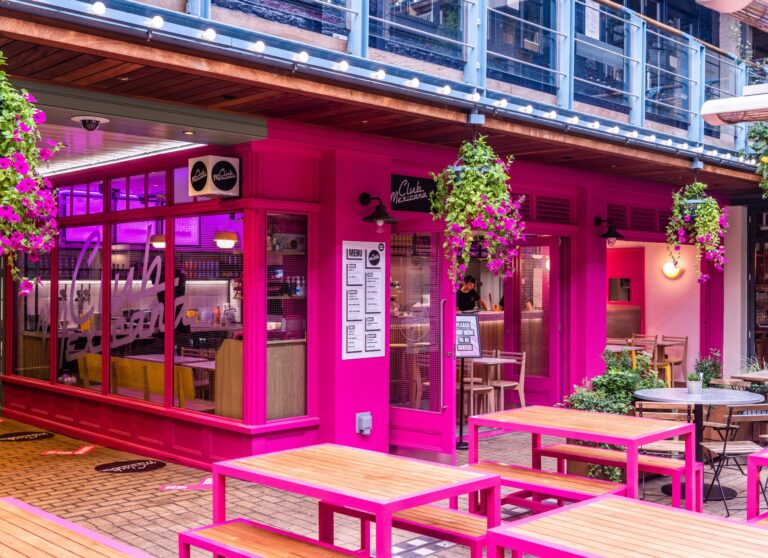 Tucked on the ground floor of Kingly Court, Club Mexicana is an all-thriller, no-filler, violently pink-hued joint that serves up entirely plant-based Mexican treats. The taqueria's 'no-chickpeas' approach to meat-free food makes it one of the most exciting vegan restaurants in London, packing tacos full of flavour with annatto-glazed fried chik'n; jackfruit 'ribs' with hickory-smoked BBQ sauce; and sweet potato with chipotle mayo and pico de gallo. And on top of that, Tuesday evenings offer up you can get all-you-can-eat tacos for £20… Book a table
---
Like discovering great places to eat? Check out the best restaurants in Soho