Gymkhana | Michelin-Starred Indian Dining in Mayfair
Gymkhana has been of the best-loved Indian restaurants in London since opening in 2013. It took just a year to win its Michelin star, and marked the beginning of a beautiful friendship between the Sethi siblings (aka the JKS restaurant group) and the city: big-hitters Lyle's, Hoppers, and BAO, all followed.
And when the restaurant suffered a fire in 2019, the Sethis decided to reincarnate Gymkhana from scratch – after all, you only live once.
And so it was that, like a phoenix rising from the literal ashes, the already unspeakably elegant venue only became more unspeakably elegant, with a full top-to-bottom refurb. And they took the liberty of improving Gymkhana's already delicious menu while they were at it, too.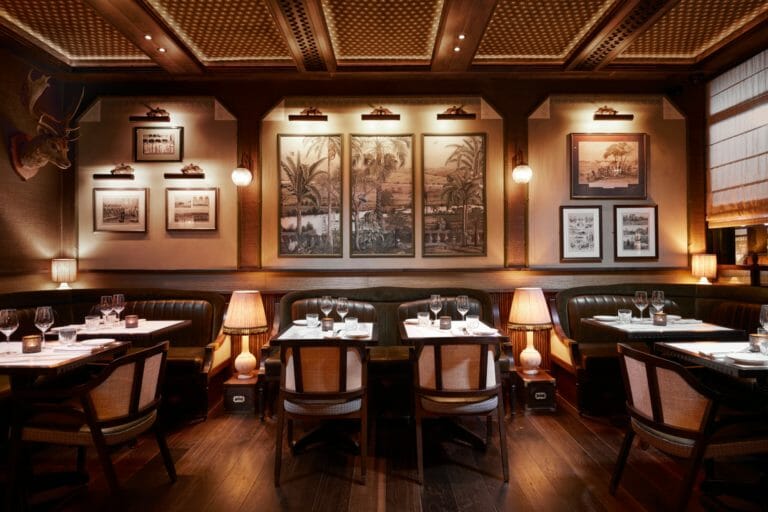 Traditionally, a gymkhana was a place for people to gather and soak up impressive displays of skill whilst enjoying a languid lunch or raucous dinner, raising a glass and conversing with friends, in the Indian subcontinent. And at this Gymkhana… well, you can pretty much do the same thing, but in Mayfair.
On the ground floor, the Edwardian gentleman's club vibe has been taken up a couple of notches: its colonial-era refinement has been upscaled with brass-buttoned leather seating, vintage steamer trunks, and polished dark timber. There are personal touches, like Grandmother Sethi's antique barometer, alongside genuine hunting trophies from the Maharaja of Jodhpur. In the basement, the cocktail bar flaunts some striking Kashmiri chilli-red seating, and tiger-striped wooden walls covered in elegant art prints from the subcontinent. It's also where you'll find Gymkhana's private dining rooms – two gorgeously cosy vaulted rooms where you can feast on your own bespoke banquet.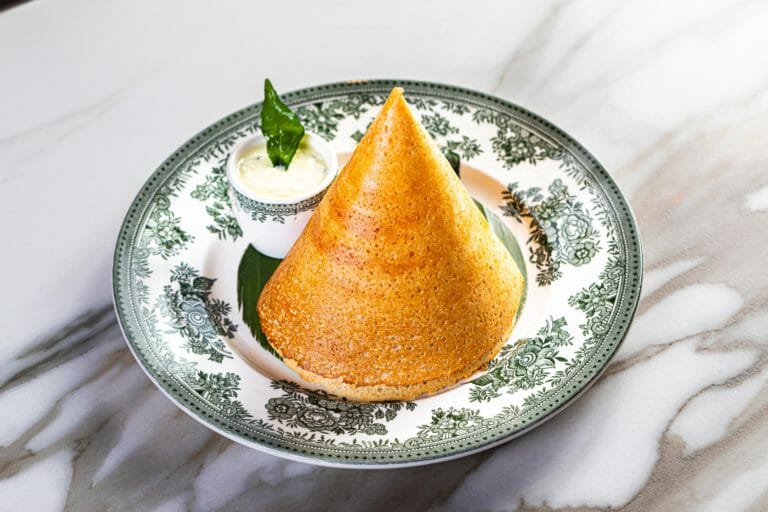 The food at Gymkhana is designed for sharing – which is good on one hand, because it means you get to try your friends' dishes, like wild muntjack biryani flavoured with pomegranate and mint raita; the fragrant kid goat methi keema; and the duck egg langoustine bhurji, but which – on the other hand – is also not so good, because it means they get to try your boozy wild tiger prawns (inspired by Keralan toddy shops); game bird baida roti served with girolle achaar pickle; and a Bombay Gymkhana club vegetable cutlet with masala ketchup. The must-order has to be the beautifully conical Chettinad duck dosas, which appear to be a minor engineering miracle.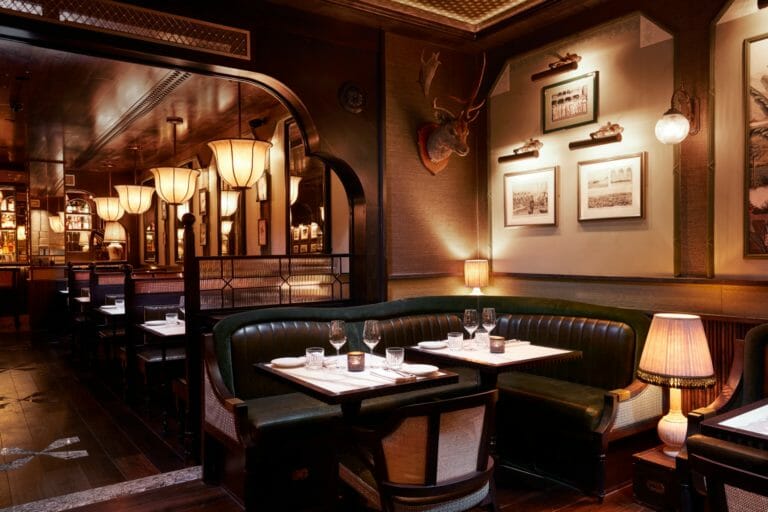 As well as a long, considered wine list and a sommelier on hand to pair it, Gymkhana also has an exemplary cocktail list, for which you might head downstairs to the bar after dinner and settle into your own chesterfield loveseat. Open until 1am each night, it's the home of a fantastic Peach Blow Fizz (made with gin, green mango, and frozen yogurt), as well as a dirty-style martini served with an olive brine poppadum. In fact, such is Gymkhana's dedication to the juniper juice, there's a dedicated G&T menu, a gin 'flavour map' (allowing you match your booze to the perfect mixer) and they even make their own tonic water. There's no shortage of other drinks to be had, but if you like gin…
…you'll think you've been born again.
NOTE: Gymkhana is open daily for lunch (12-2.30pm) and dinner (5.30-10.30pm). You can find out more, and book a table, HERE.
Gymkhana | 42 Albemarle Street, W1S 4JH
---
Like high-end dining? Peruse our guide to the current list of Michelin Star restaurants in London