Psst… it's a little frosty out there. Perhaps you'd rather take a look at our guide to London's best winter rooftops.
---
If there's one thing that's better when done on a rooftop, it's literally everything.
And that includes drinking.
Which is why we've nobly taken it upon ourselves to put together a comprehensive guide to the very best rooftop bars in London for 2023. And so get ready to raise your glass…
…several floors up.
---
JUMP TO: EAST LONDON | NORTH LONDON | WEST LONDON | SOUTH LONDON
---
CENTRAL LONDON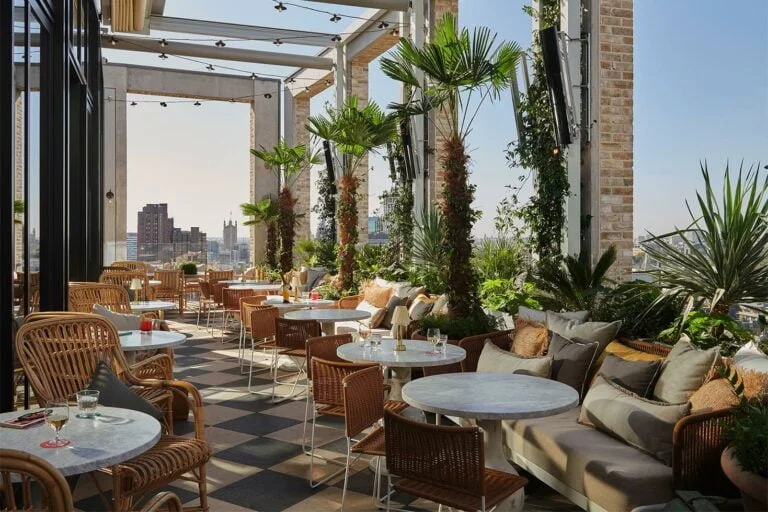 This stunning seafood restaurant is a collaboration with Brooklyn's Maison Première. And if those New Yorkers know how to do anything, it's swanky cocktail bars surrounded by skyscrapers. Also pizza and bagels, but you can't get those here.
Details: Top floor of The Hoxton, 40 Blackfriars Road, London, SE1 8PB | Walk-ins only for drinks
–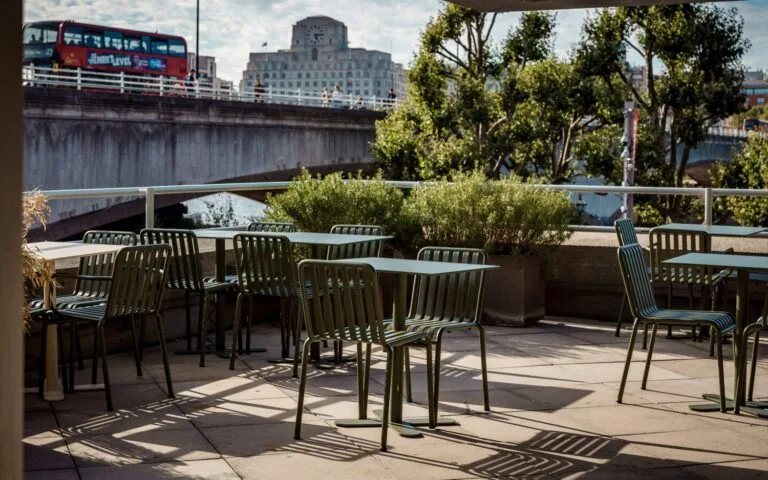 Sure, Forza Wine's new central London outpost may not share the same altitude as its Peckham predecessor – but the cocktails here are still at their peak. It's exactly the kind of stylishly relaxed pre-theatre spot the South Bank was missing, but it's worth coming here for the natural wines, Italian small plates and soft serves in their own right…
Details: National Theatre, Upper Ground, London SE1 9PX | Book here
–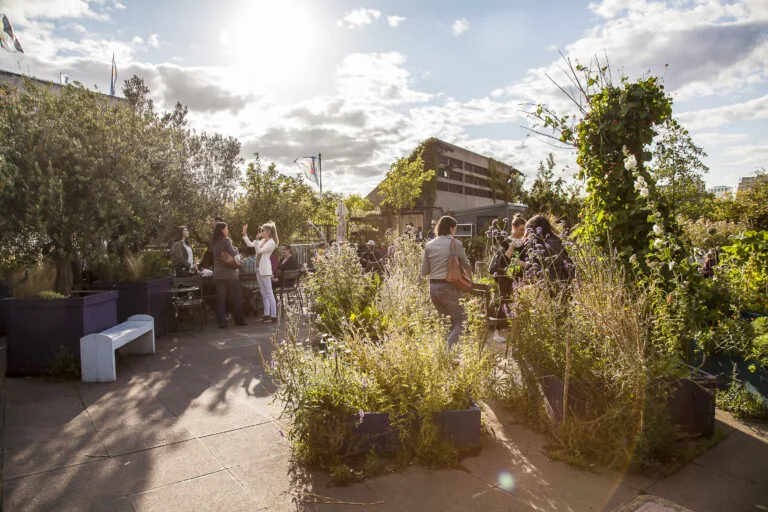 An unexpectedly verdant spot atop a brutalist landmark with riverside views, vibrant flower beds stocked with over 200 species of plant life, and a shed bar shaking up cocktails inspired by the garden itself.
Details: Southbank Centre, Belvedere Road, SE1 8XX | Closed until Spring 2024
–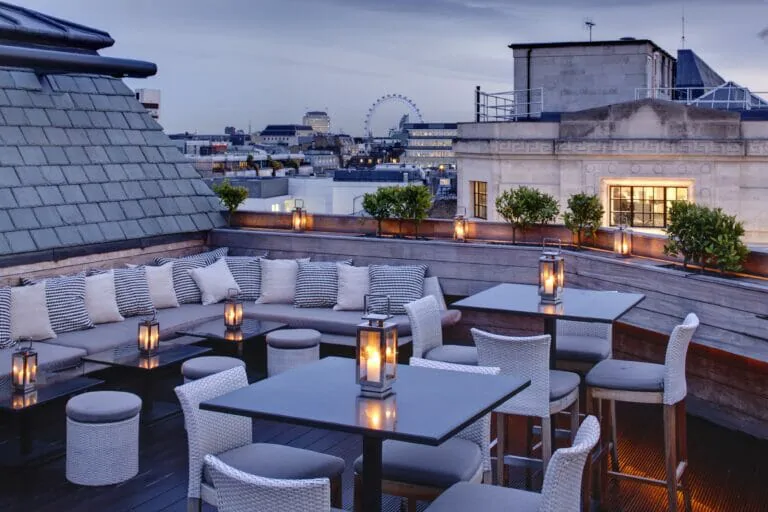 Like a tranquil island of booze-laced bliss in the chaos of Central London, Aqua sits high above Oxford Street ready for you to kick back, order a cocktail, and laugh haughtily at the lowly ground-dwellers below you (ironically, of course).
Details: 30 Argyll Street, W1B 3BR | Walk-in only
–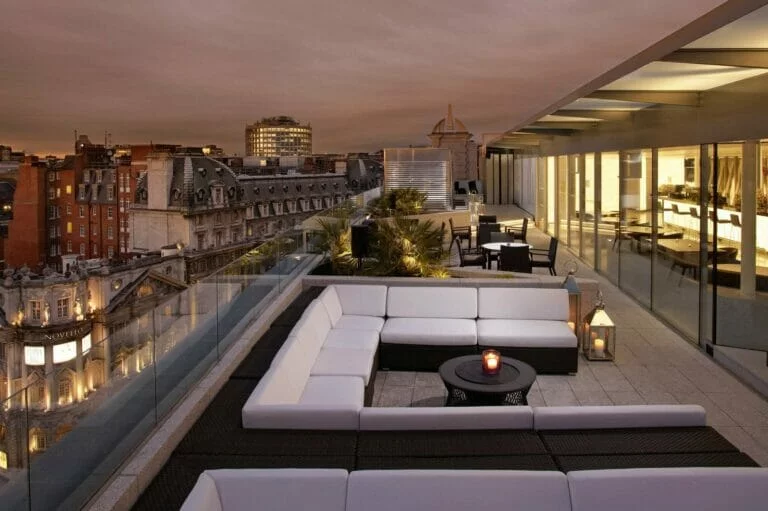 The cocktails lean towards the expensive side… but what you're really paying for here is the view: you can see Tower Bridge, The Shard, St. Paul's, Tate Modern, Somerset House, the London Eye, and the Houses of Parliament at the same time.
Details: ME London, 336-337 Strand, WC2R 1HA | Book here
_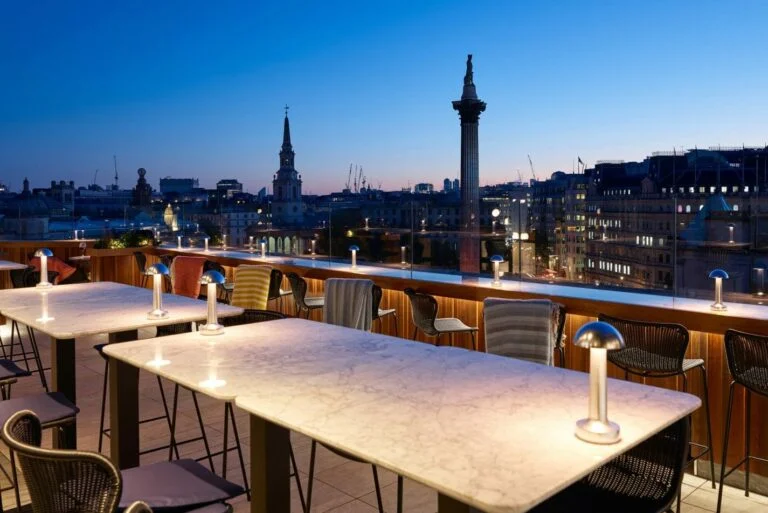 Now not only can you have a cocktail whilst practically locking eyes with Lord Nelson, you can do it all year round, thanks to the retractable canopies that have been stitched onto this super-central rooftop bar.
Details: 2 Spring Gardens, Trafalgar Square, SW1A 2TS | Book here | Please note there is a min. spend of £50pp
–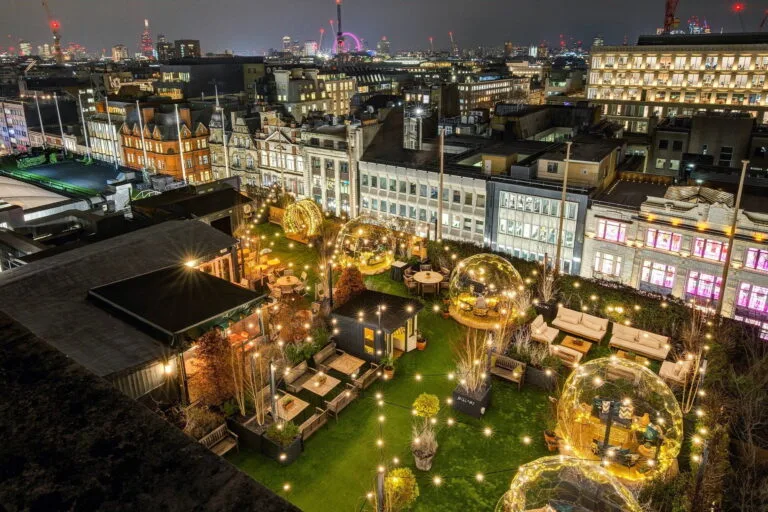 You can find pretty much anything you need at John Lewis – even a surprisingly charming rooftop garden, with a menu of sharing plates and seasonal cocktails to enjoy among the cascading greenery.
Details: John Lewis Rooftop, 300 Oxford St, London, W1C 1DX | Book here
–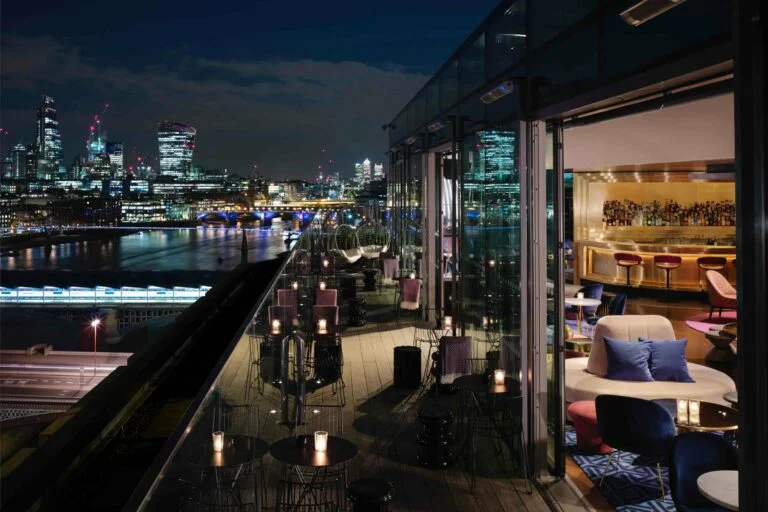 We're going to level with you here: 12th Knot has a very small outdoor area – it's just a balcony, essentially. But… the drinks are delicious, and the views take in one of the nicest bits of the Thames. So on balance, it's totally worth it.
Details: 20 Upper Ground, South Bank, SE1 9PD | Book here
ROOFTOP BARS IN THE CITY & EAST LONDON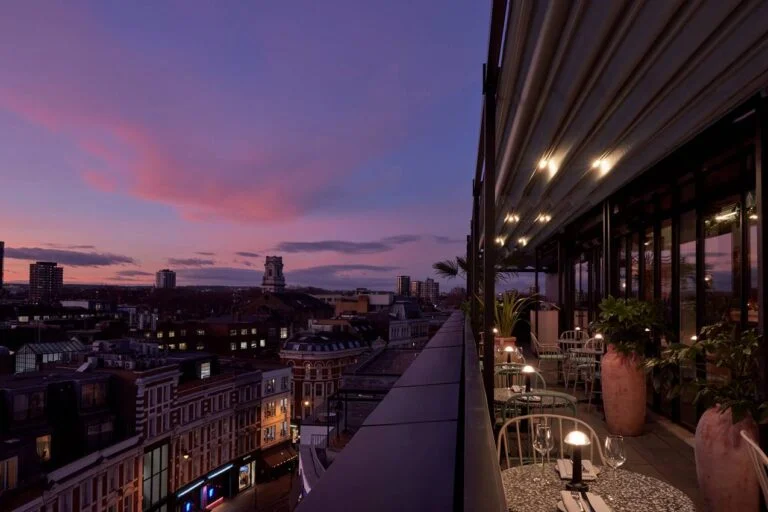 Another one to file under 'balcony', but this pretty pink-hued drinkery is set along a long stretch across the front of the stylish 100 Shoreditch hotel. If you step outside onto the terrace, you'll see a beautiful panoramic view looking out over the city across to the west, meaning you might catch a Grade A sunset while you're up there.
Details: 100 Shoreditch High Street, E1 6JQ | No bookings
–
Maene

| Spitalfields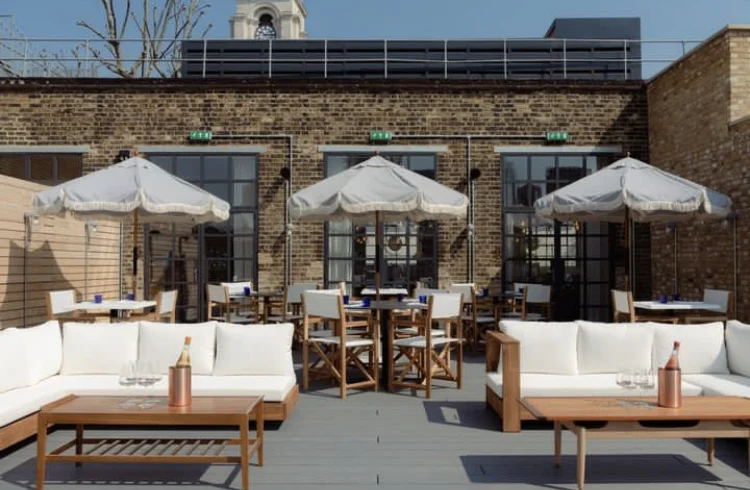 Maene is completely hidden away on the top floor of a yoga studio down a quiet Spitalfields side-street. But that slightly quirky location has paid dividends now that they've unveiled their rooftop bar, where you can enjoy some frankly phenomenal cocktails (and the non-alcoholic options are just as inventive).
Details: 7-9 Fashion St, London E1 6PX | No terrace bookings
–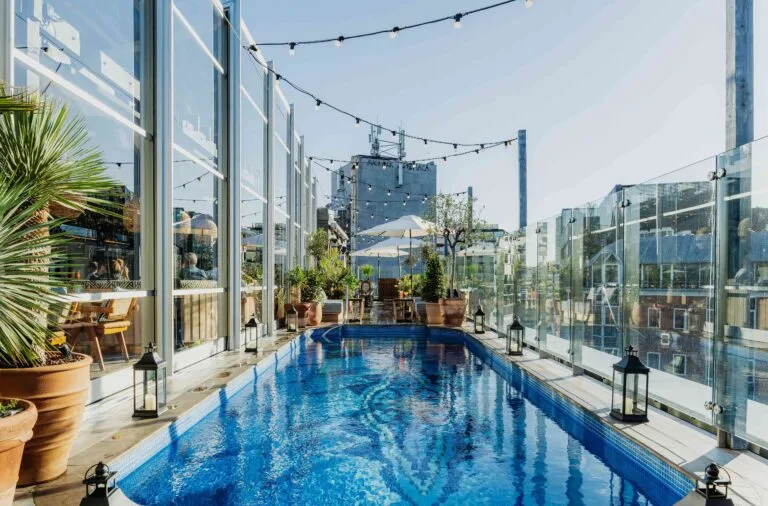 Laurel's on the Roof is inspired by the vibe of "Hollywood in the '70s". So it's appropriate that it's extremely high. You'll find it on the sixth floor of the Mondrian Hotel in Shoreditch, and the space it's taking up is a hell of a looker. Our recommendation? Go for the view, stay for the cocktails, and grab a bite to eat at Manteca, which is literally a few yards away from the hotel…
Details: 45 Curtain Road, EC2A 3PT | Book here
–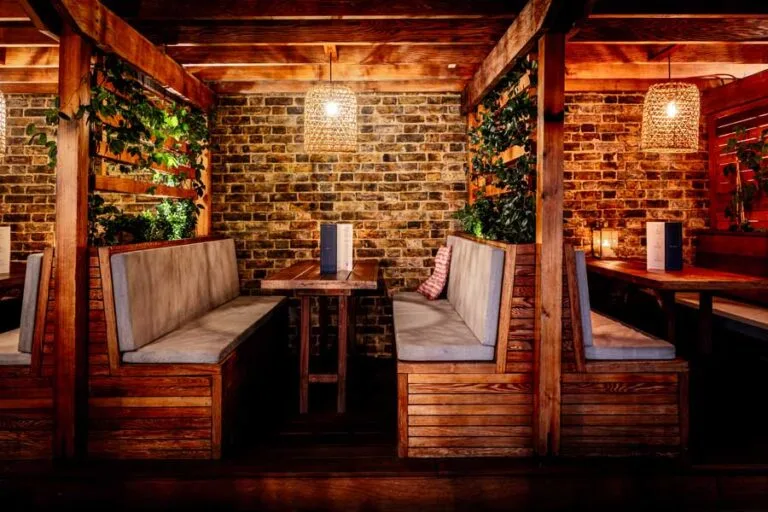 TT Liquor already has a cellar cocktail bar, a bottle shop, a dedicated cocktail workshop and a hidden cinema… but now they've added a festoon-lit rooftop bar for good measure, too. And on Sundays, you can get some delicious Aussie-Greek fusion BBQ up here, courtesy of esti…
Details: 17b Kingsland Road, E2 8AA | Book here
_
Roof East

| Closed until 2024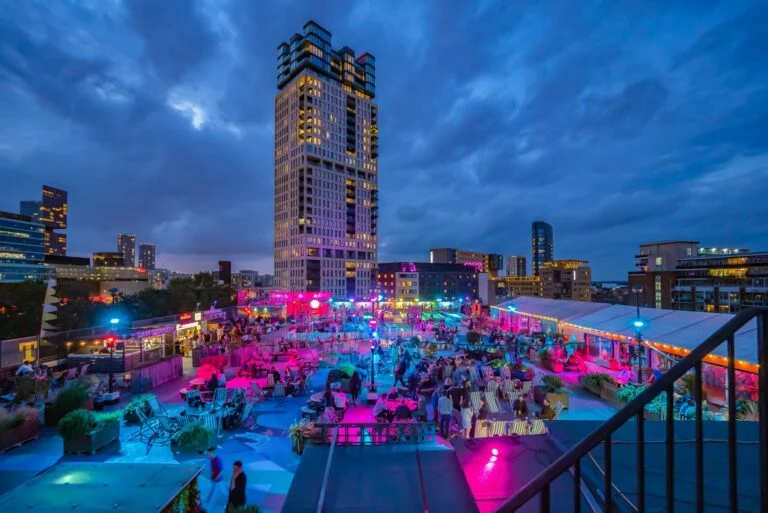 A high-altitude rooftop playground set on top of a car park, whose charms include a crazy golf course from Birdies, batting cages, giant jenga, 'disco' lawn bowls, ping pong, archery, and a cinema courtesy of Rooftop Film Club. Plus, a generous collection of three street food stalls and five bars.
Details: Stratford Multi-Storey Car Park, Great Eastern Way, E15 1XE | Closed until Spring 2024
–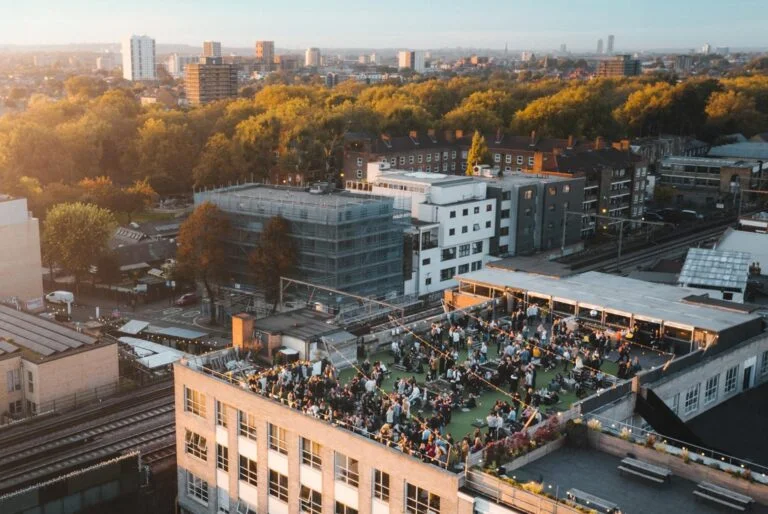 It's part workspace, part gallery, part café… but despite all their adorable attempts to get your attention, all you really care about here is the rooftop bar. It's a spacious, festoon-lit terrace with pizzas, pitchers of cocktails, and DJs. And if you want to switch it up halfway through the night, you can head down to the terrace a few floors down at NT's Loft.
Details: 1 Westgate Street, E8 3RL | Book here
–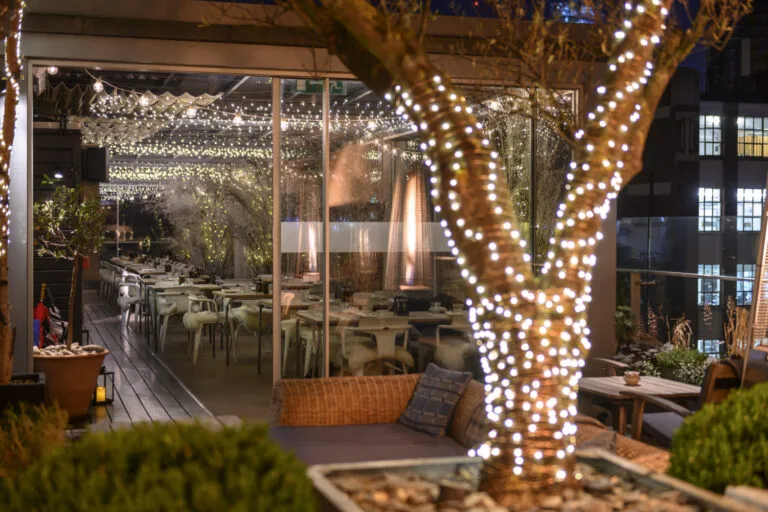 Shoreditch has seen it all: nuns, factory owners, criminals, and prostitutes. Now it boasts a firepit-laden roof terrace with 360-degree views across the chimneys of the East End. And hipsters.
Details: 2-4 Boundary Street, E2 7DD | No bookings for drinks
_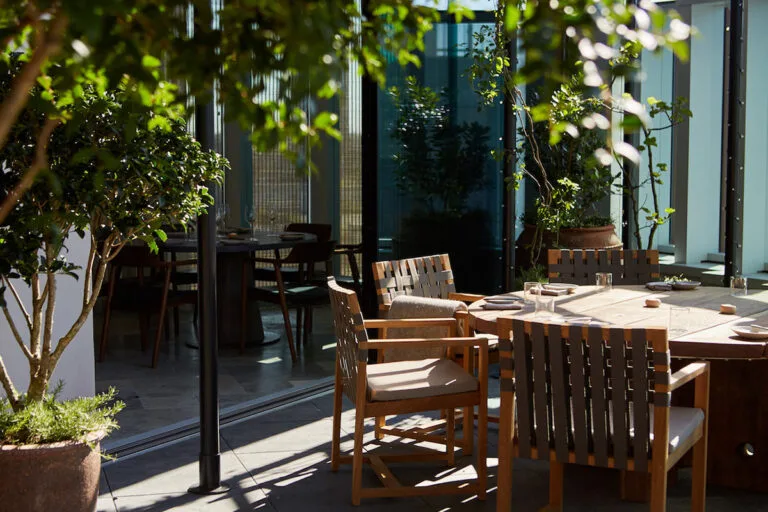 Despite being on the 7th floor, Allegra's terrace isn't technically a rooftop bar – because the rest of The Stratford Hotel is somehow magically floating above it, which makes it one of the more architecturally unusual spots to get a couple of high-altitude drinks in…
Details: The Stratford, 20 International Way, London E20 1FD | Book here
–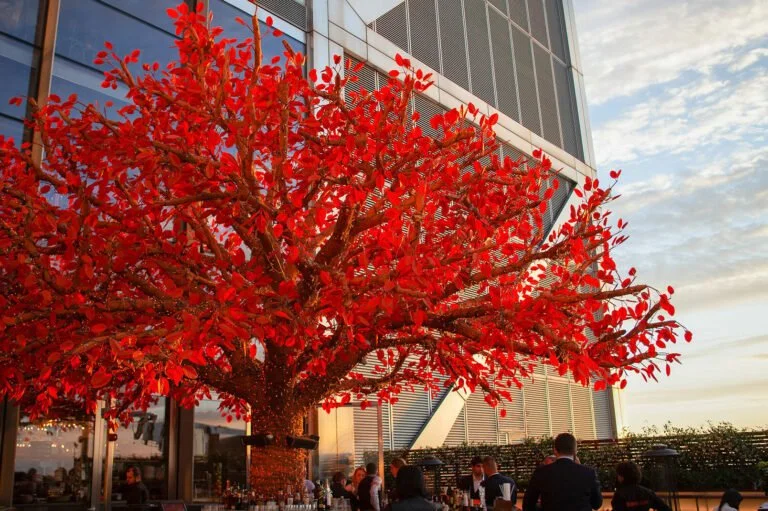 Perched atop the Salesforce (née Heron) Tower by Liverpool Street, Sushisamba's rooftop bar combines Japanese cocktails with incredible city views. And a bright orange, life-size, tree.
Details: 110 Bishopsgate, EC2N 4AY | Bookings for meals, drinks on a walk-in basis
–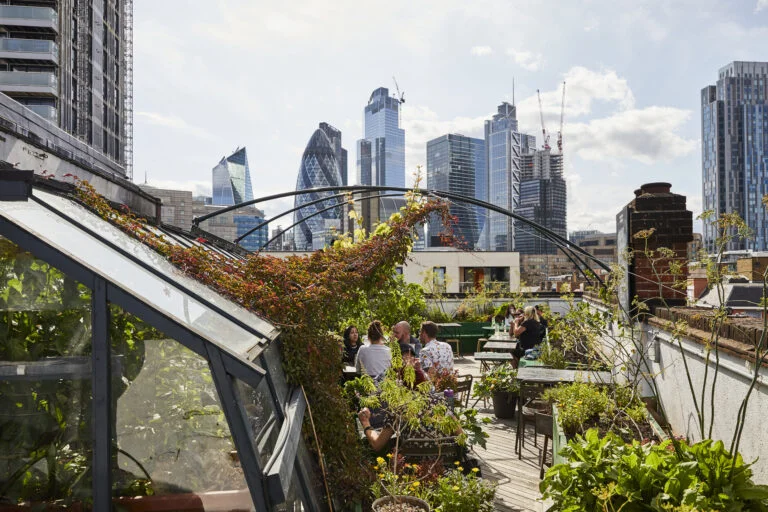 The Culpeper's rooftop has its own bar serving signature cocktails, a garden supplying herbal tinctures for said cocktails, a grill restaurant, firepits, urban gardening masterclasses, and a view of the City's towering skyline.
Details: 40 Commercial Street, E1 6LP | Walk-ins from 4pm
–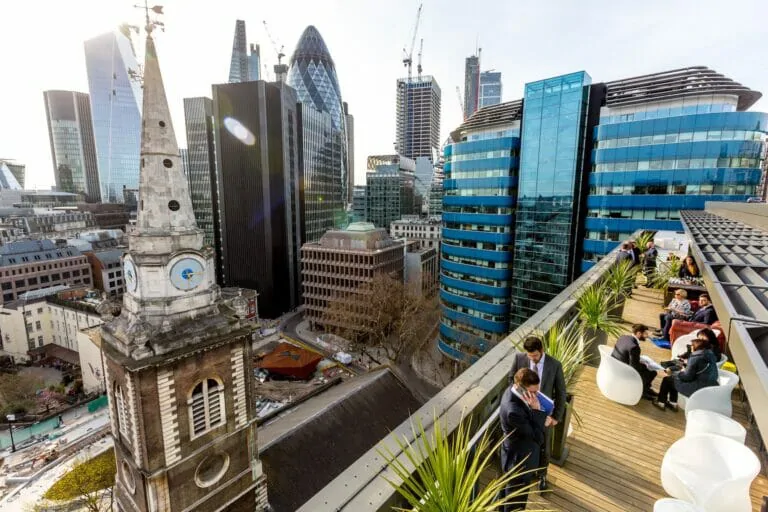 They say no-one's above the Jin Bo Law…
…probably because it's on the 14th floor of the Dorsett City Hotel in Aldgate. And while the inside view's pretty great (the bar is in the shape of an illuminated pineapple), the outside view drops you right in the middle of the City's eclectic skyline. Oh, and they have a contortionist… ready to serve your martini with a twist.
Details: 9 Aldgate High Street, EC3N 1AH | Book here
–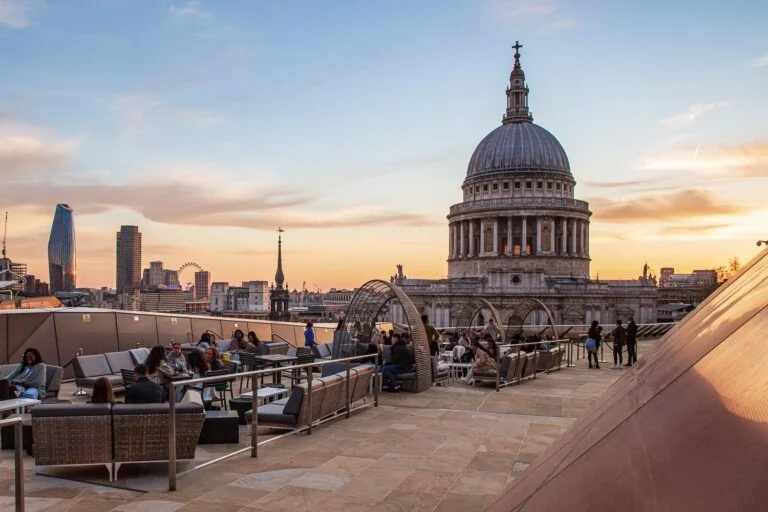 A rooftop bar directly overlooking St. Paul's Cathedral – where you'll also be treated to DJ sets, Josper grilled steaks & swanky cocktails like the Deluxe Pornstar Martini, which comes with white chocolate angel wings and edible gold.
Details: Rooftop Terrace, One New Change, EC4M 9AF | No bookings for drinks, £20 entry may apply at busy times
_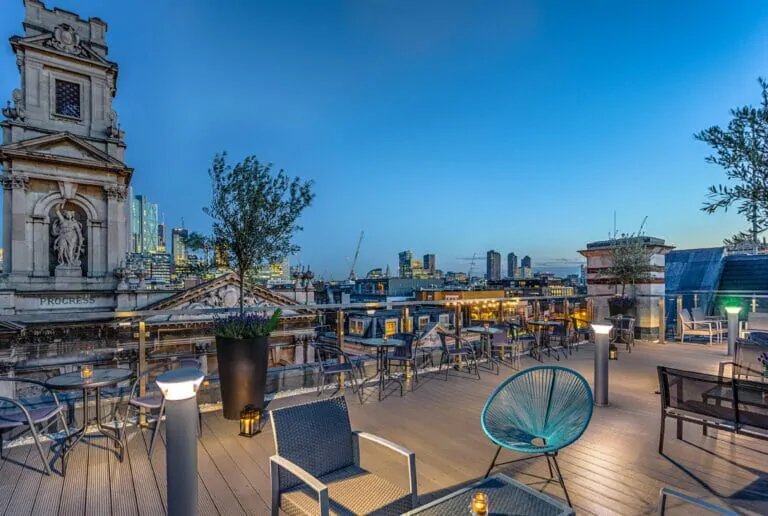 This Shoreditch rooftop bar is one of those places where you can sip on expertly-mixed signature cocktails (including originals like the Red King, with local Hoxton gin, Campari, port and raspberry) and listen to DJ sets while nibbling on bar snacks and soaking up not only the sun's rays, but also an unlimited quantity of photo opps in front of a beautiful panoramic view across London's rooftops.

Details: Courthouse Hotel Shoreditch, 335-337 Old Street, EC1V 9LL | Walk in, or book here

ROOFTOP BARS IN NORTH LONDON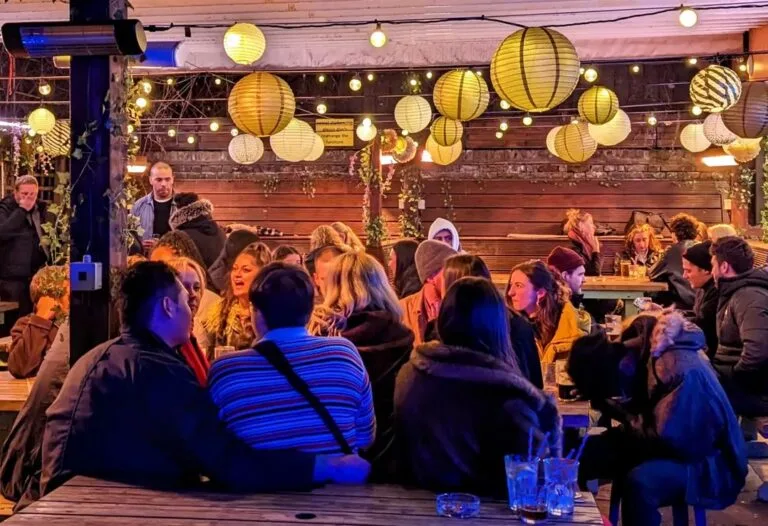 As well as a spacious beer garden and a truly excellent lineup of craft beers… the Abbey Tavern also has a chilled-out roof terrace. It's the very nearly literal cherry on top.
Details: 124 Kentish Town Road, NW1 9QB | Book here
_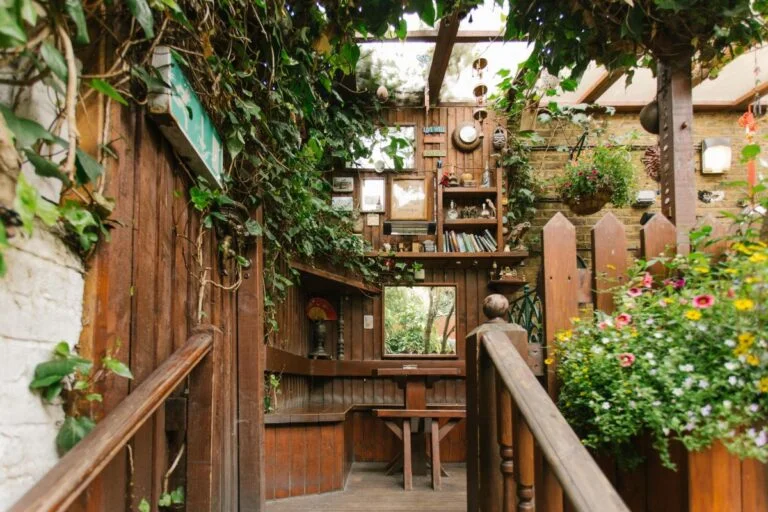 One of the quirkier, more unusual pubs in London, the FF is virtually hidden within its own foliage. Soak up the atmosphere inside, then soak up the sun outside across its multi-storey beer garden.
Details: 19 Perth Road, N4 3HB | Walk-ins only
–
ROOFTOP BARS IN WEST LONDON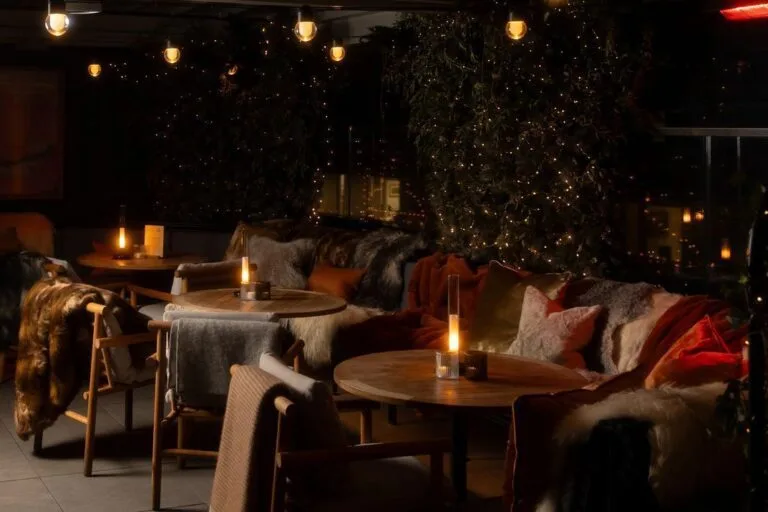 Studio Franzen is already a pretty incredible restaurant, so adding a roof terrace really is just gilding the lily. And as gildings go, this one's absolutely lovely. The top floor space is awash with wood, stone, and greenery, all illuminated by the glow festoon lighting. And the view? Well, you're on top of Harrods overlooking one of the prettiest parts of London, so it's not terrible. The drinks are all inventive & delicious, ranging from the punchy Nobel (with cherry wine, aquavit, and liquorice), to the Hartass, which involves lingonberry, blackcurrant, sloe gin, yuzushu, champagne, and gold. Oh, and it's got a roof juuuust in case.
Details: Harrods rooftop, 87-135 Brompton Road, SW1X 7XL | Book here
–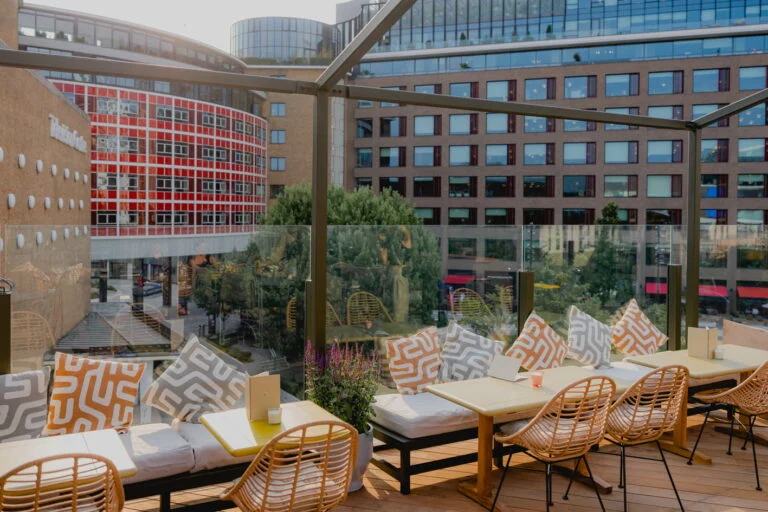 The Broadcaster pub & restaurant comes to you from the people behind The Lighterman, and sits in the White City development that was once home to the legendary BBC telly studios. Head on up to the venue's open-air rooftop, and you'll find a large, wood-filled space lined by tables & olive trees, and covered with an extremely useful retractable roof. It all looks down over the iconic courtyard below, and you can see the BBC's familiar white-dotted Television Centre logo right there at eye-level…
Details: The Broadcaster, 89 Wood Lane, W12 7FX | Book here
–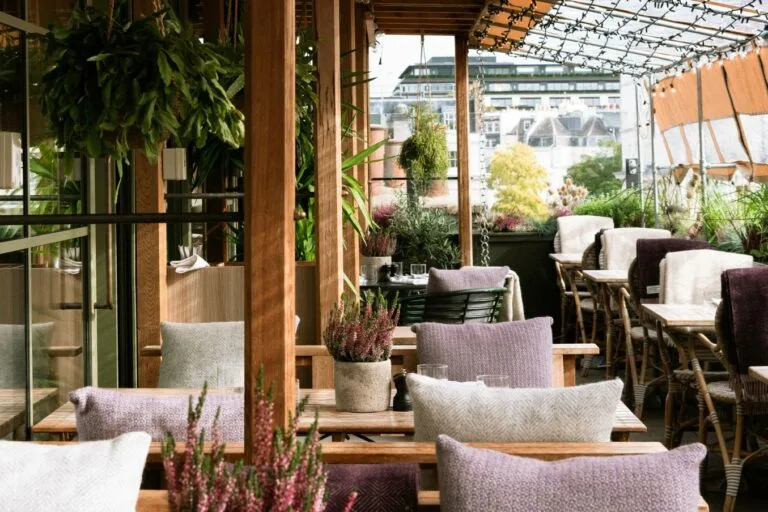 One of our favourite rooftop bars in West London, partly because you'd never expect it to be there. It's perched on top of Pantechnicon, a five-storey hub of all things Japanese, filled with shops, cafés, bars and restaurants – the loveliest of which is right at the top. It's always buzzy with drinkers and diners, and what it lacks in views (being only a few storeys off the ground), it more than makes up for with excellent cocktails, music and dishes.
Details: 19 Motcomb Street, London SW1X 8LB | Book here
–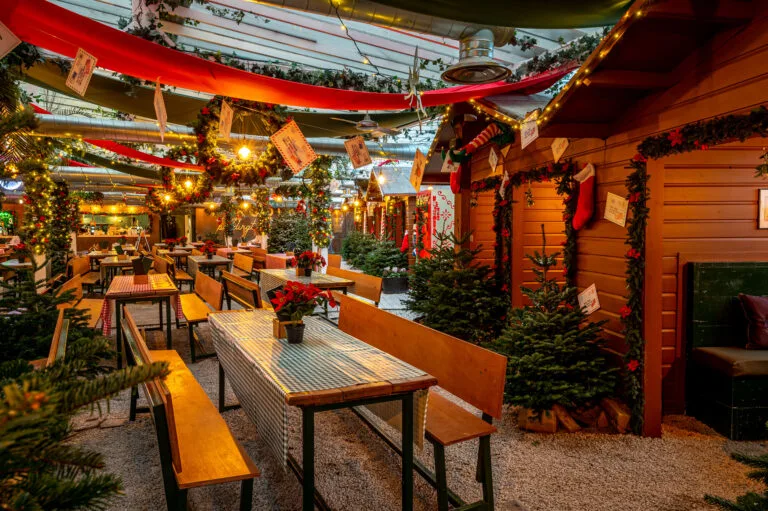 Pergola Paddington has commandeered a sprawling, canal-side, 850-capacity space for its aerial shenanigans, with festoon lighting, DJs, live bands, and a truckload of festive decor for the winter. Book one of their cosy miniature chalets, order a couple of mulled wines, and feast on street food from resident stalls Salt Shed, Temaki Bros and Wursthaus, hawking Alpine treats like bratwurst and melted camembert.
Details: 5 Kingdom Street, W2 6PY | Book here
–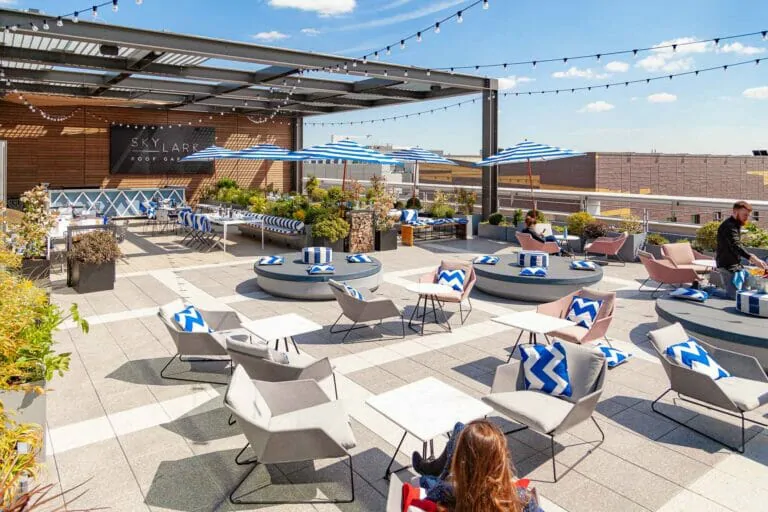 With its frozen cocktails and jaunty striped parasols, Skylark would feel a million miles from London – were it not for the rooftop views of the city all around you.
Details: 10th Floor, 4 Kingdom Street, London, W2 6BD | Book here
–
Perched on top of the Lyric Hammersmith, the theatre's roof terrace threatens to steal the show with verdant palms, booze, and a healthy dose of sun.
Details: Lyric Hammersmith, Lyric Square, W6 0QL | No bookings
ROOFTOP BARS IN SOUTH LONDON
Joia

| Closed until Spring 2024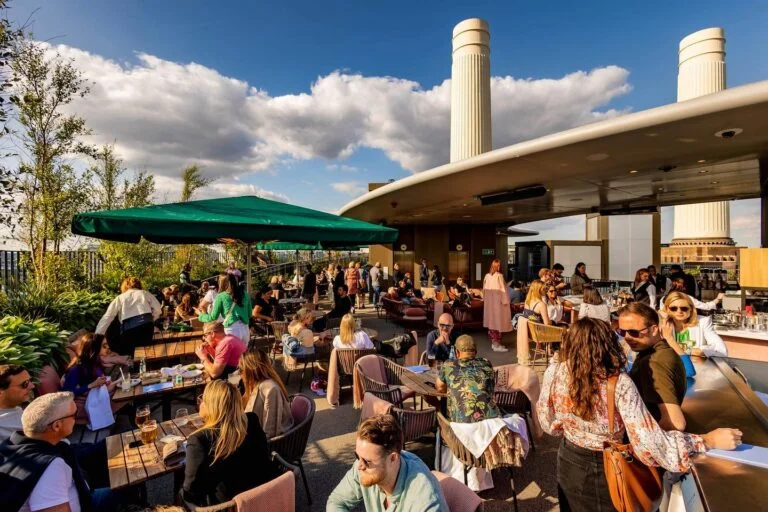 It's another of those uber-swish hotel rooftops where the swimming pool is just a room key beyond your reach. But it's just as well, because going for a swim would only leave you with less time to enjoy the live music, frozen cocktails, and Portuguese dishes by laurelled chef Henrique Sá Pessoa.
Details: art'otel Battersea, 1 Electric Boulevard, Nine Elms, London SW11 8BJ | Closed for winter
–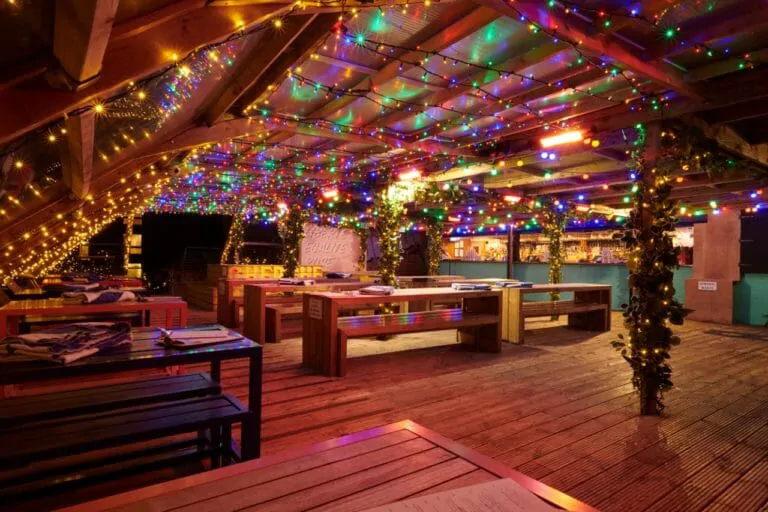 Setting itself apart from other rooftop bars, Elba (named after the island that Napoleon was exiled to, naturally) combines sweeping views of the London skyline with a festively themed bottomless brunch featuring mass carol singing and a drunk Santa.
Details: Mercury House, 109-117 Waterloo Road, SE1 8UL | Book here
–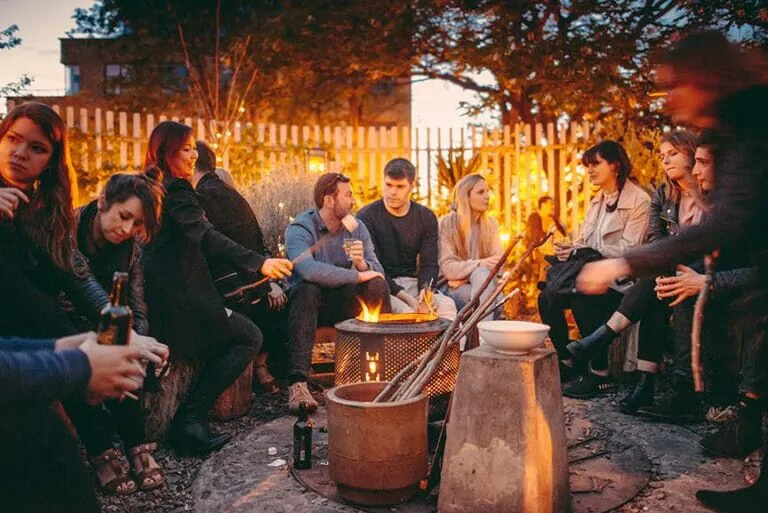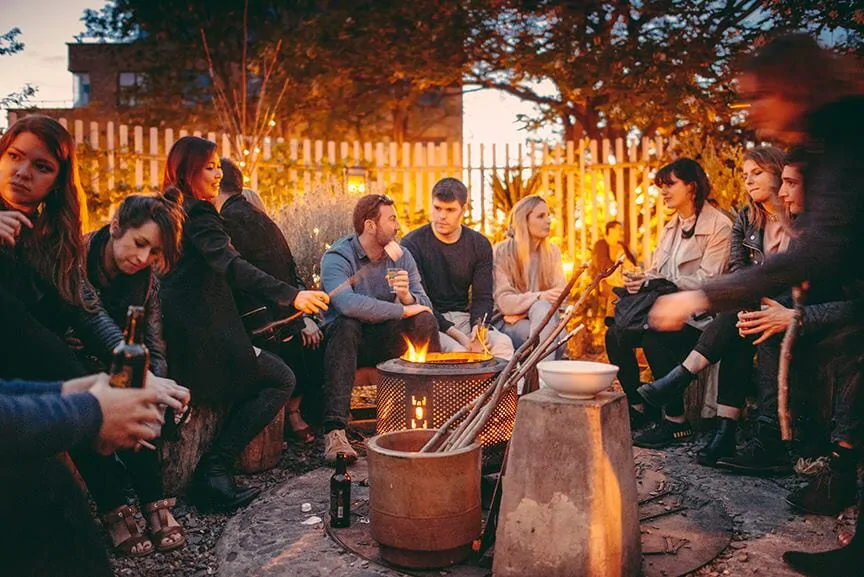 The term "rooftop campfire botanical cocktail bar with marshmallows" gets thrown around a lot these days. Oh, wait, we're thinking of the other one. It gets thrown around almost never. But in the case of Midnight Apothecary, it's justified.
Details: Brunel Museum Rooftop, Railway Avenue, SE16 4LF | Open Fridays & Saturdays | Book ahead, from £8
–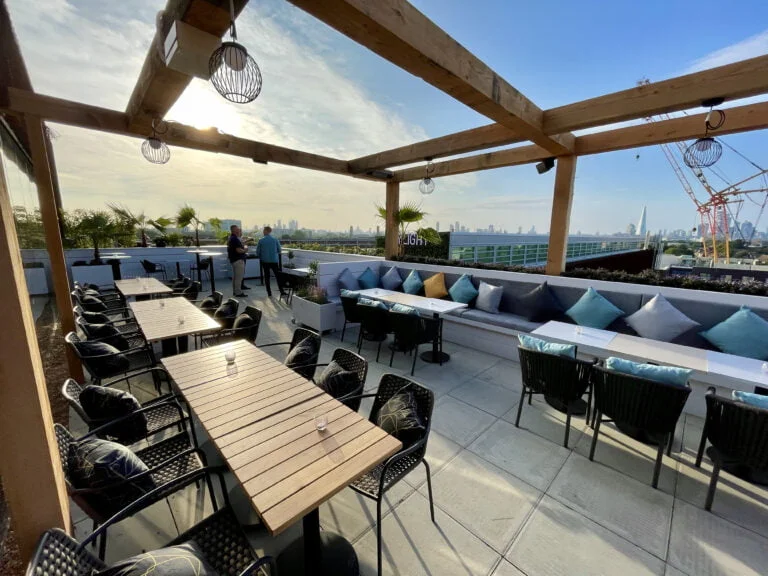 Skylight took everything that was great about their Wapping rooftop bar, gave it a little spit and polish, and set it down on top of a rooftop in Peckham. Their sophomore spot is a little smoother round the edges than the original, with plenty of seating and some truly spectacular views. For winter they've bussed in a snow machine for daily flurries, and there's DJs every Thursday, meaning you can get down, very high up, until 1am.
Details: 120 Peckham Hill Street, SE15 5JT | Book here
–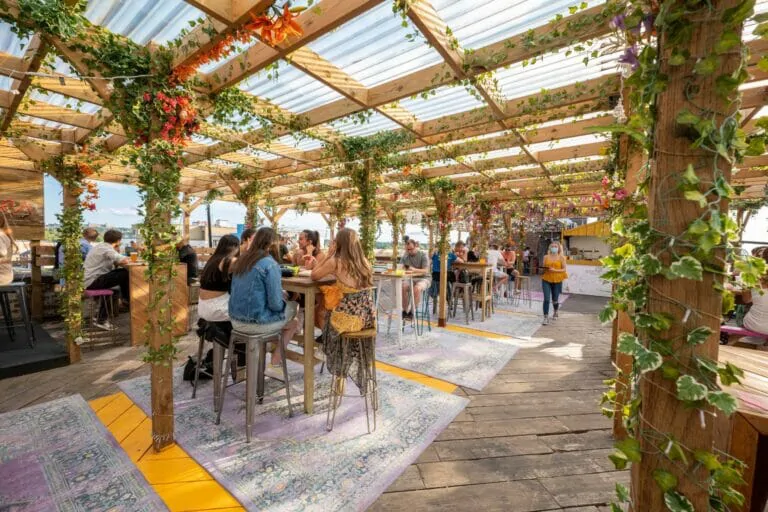 The Bussey Building's rooftop bar has everything a good rooftop bar should have: cocktails, street food (from Share A Slice), and several floors beneath it.
Details: Copeland Park and Bussey Building, 133 Copeland Road, SE15 4SL | Closed until Summer 2024
_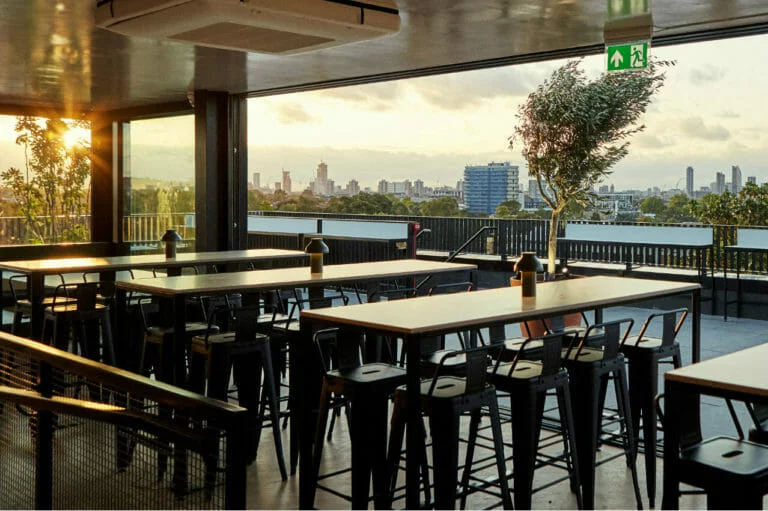 Sister to Camberwell's Forza Win, this rooftop bar also dishes up glorious Italian cooking, cocktails and natural wine. And the panoramic views are alright, too.
Details: Floor 5, 133a Rye Lane, Peckham, SE15 4BQ | Book here
–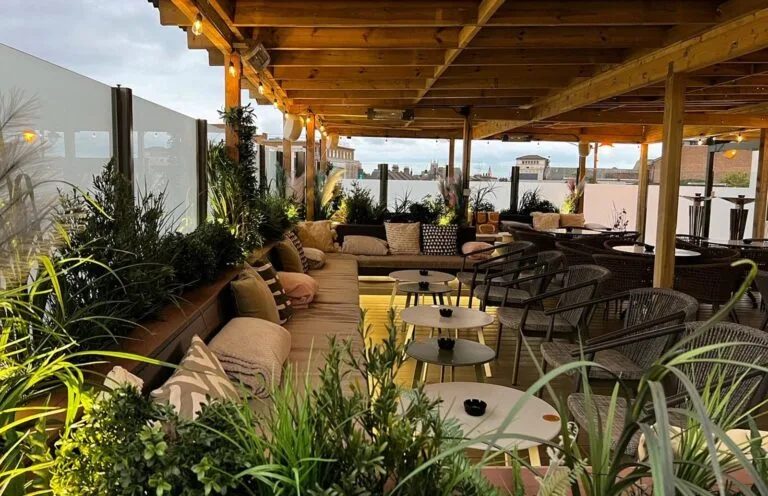 Sitting three floors above the busy Tooting Broadway intersection, The Corin not only boasts a pretty spacious and well-dressed roof terrace, but also frequently fills that terrace with live musicians. Add to that some interesting cocktails, pan-Asian dishes, and a retractable roof, and this bar wouldn't look out of place in Soho.
Details: 54A Tooting High Street, SW17 0RN | Book here
–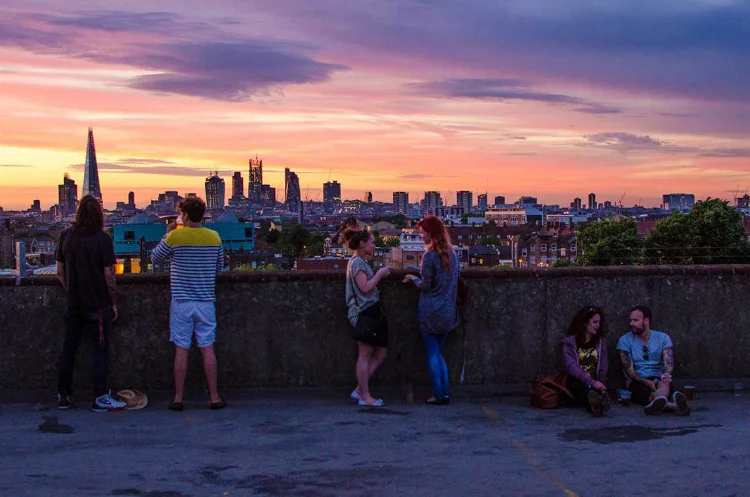 97% of the people who visit multi-storey car parks after dark do so with the primary intention of scoring a "non-pool related" eight-ball. The other 3% are there for Frank's Campari Bar: the original and best rooftop-bar-on-top-of-a-Peckham-car-park-specialising-in-classic-Italian-aperitivi, where you can take in the setting sun over the London skyline with a negroni in hand.
Details: 10th Floor, Multi Storey Car Park, 95A Rye Lane, SE15 4ST | Closed until May 2024
---
If you like rooftop bars… then chances are you'll like these stunning viewpoints in London, too