The Shard Restaurants & Bars | Everything You Need To Know
Once upon a time a chap called Irvine Sellar tried his hand at smashing life… and so The Shard was born. He didn't just want to create a building, he wanted to create a vertical city – homes, offices, a hotel, shops, restaurants, and bars – which, with the help of architect Renzo Piano (and a sh*t ton of money), he did, all within a singular unicorn horn.
Rising dramatically right next to the station in London Bridge, The Shard has seven restaurants and bars in total: Bar 31, Aqua Shard, Oblix, Hutong, TĪNG, GŎNG, and Sky Lounge, all of which boast floor to ceiling windows, plus 40 mile panoramic views over London. However, beyond that, they're all pretty different. Step inside and you'll find everything from a sports bar designed for post-work drinks to a once-in-a-lifetime Chinese restaurant, which is which is exactly why we've written you this all-encompassing guide to every bar & restaurant in the Shard – to make sure you know what you're getting and where.
Starting from the bottom:
BAR 31 | Shard Bar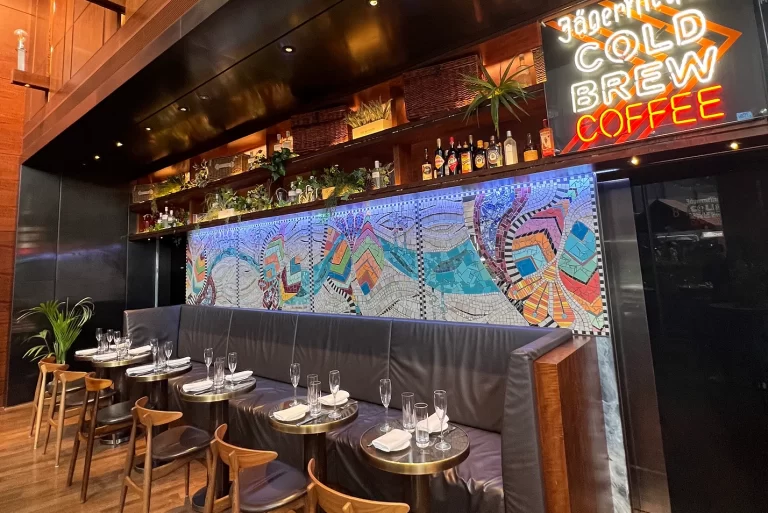 Set on the ground floor, Bar 31 is the most casual of the Shard restaurants, combining banquette seating, mosaic tiling and neon lighting – all wrapped by an outdoor terrace for the summer months. More relaxed than the upper floors, you'll find 82 inch sport screens and craft beers on tap, alongside wine, spirits, Champagne and G&Ts (which you can score for £6 during their G&T happy hour on Fridays, 4-6pm). The food, meanwhile, is centred around mini pizzas, with a supporting cast of bar snacks, cheese boards and ice cream.
Address: Bar 31, The Shard, 31 St Thomas Street, SE1 9RY | Opening times: Tues-Fri 3-10pm, Sat 12-11pm | Cuisine: Classic bar snacks | Price: ££ | Brunch? No | Afternoon tea? No | Sunday lunch? No | Book here.
–
AQUA SHARD | Shard Restaurant & Bar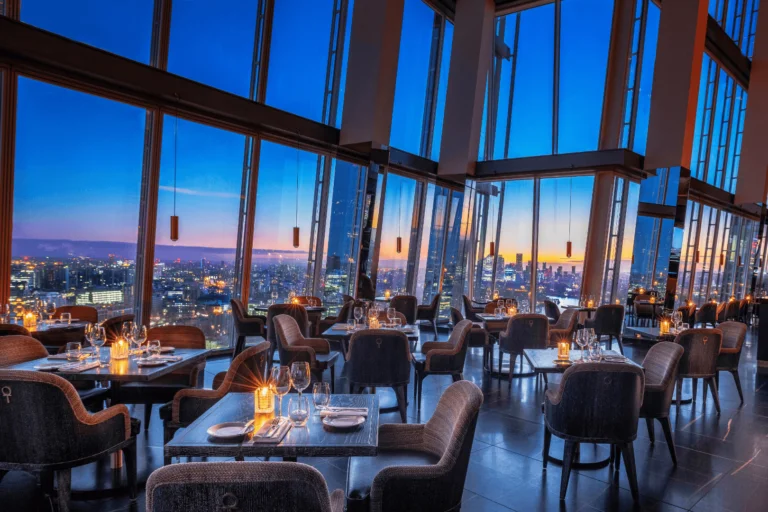 Take the Shard's lift up another 31 floors and you'll find yourself in Aqua Shard: an all-day affair fit for impressing. Head there on weekends to watch London wake up while you feast on brunch – they serve everything from a Full English to butter waffles with fresh berries, treacle cured streaky bacon, vanilla crème fraîche and maple syrup, and there's even the option of a sommelier-guided wine pairing throughout.
Of all the Shard's restaurants, Aqua also makes for an incredibly persuasive working lunch, or afternoon tea with the in-laws. And then there's dinner. Around seven, the lights dim, shifting the focus outside to the glittering London skyline spread-out below. At the centre of the room you'll find a large square bar, framing a pyramid of spirits, lit up in gold. Here you can sip of a mix of classic and signature cocktails, before sitting down to eat in one of the most romantic restaurant settings in London. Think Cornish red mullet with bay leaf butter sauce, charred leek, native oysters, and smoke bresaola or Black Angus beef fillet with sautéed snails, smoked bacon, crispy purple artichoke and red wine jus – all washed down by a long, colourful selection of wine which spans at least sixteen different countries. It's not possible to specifically request a window seat at Aqua Shard, but the views are exceptional enough from anywhere in the restaurant – including, strangely, the toilets.
Address: Level 31, The Shard, 31 St Thomas Street, SE1 9RY | Opening times: Open daily for lunch, dinner, drinks & afternoon tea, brunch on weekends 12-2.30pm | Cuisine: British | Price: £16+ for a starter, £40+ for a main, lunch set menus £44pp/£80 with wine | Brunch? Yes, £55/85 with wine | Afternoon tea? Yes, from £61/£30 for kids | Sunday lunch? No | Book here.
–
OBLIX | Shard Restaurant & Bar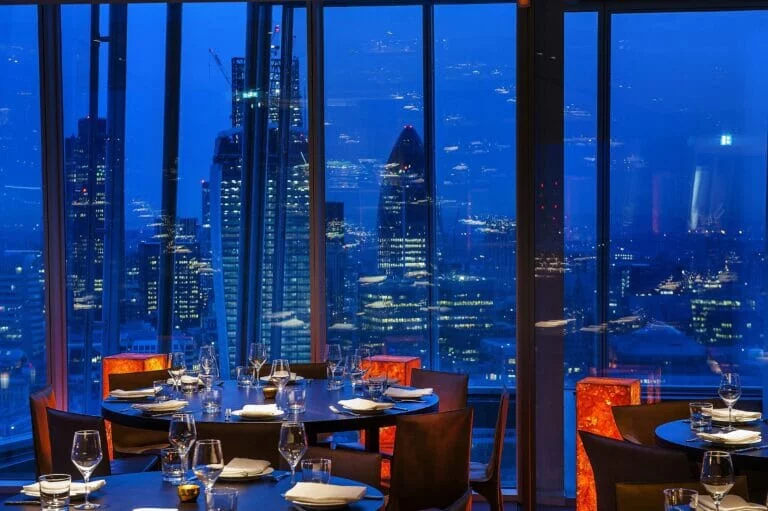 Level 32 of The Shard hosts Oblix. It comes from restaurateur Rainer Becker (the mastermind behind Zuma and Roka), although unlike his other two restaurants (and Aqua below), things here feel a little more relaxed. The space is actually split up into two sides: East and West. On the West side you'll find the restaurant, serving New York Grill inspired food – wagyu burgers, whole lobster, huge steaks to share – washed down by cocktails and wine. On weekends it also hosts bottomless brunches – and because this is a restaurant in the Shard, that means bottomless Champagne too. Over on the East side, there's more of a lounge bar vibe: think sofas and low tables, with more drinks and less food (although they do offer afternoon tea). On Thursdays – Sundays, live bands add a little fizz to those signature cocktails, with DJ sets taking over until late.
Address: Level 32, The Shard, 31 St Thomas Street, SE1 9RY | Opening times: Mon & Tues 6-10.30pm, Wed-Sun 12-10.30pm | Cuisine: NYC Grill | Price: £18+ for a starter, £37+ for a main/£98 tasting menu | Brunch? Yes, starting at an eye-watering £69pp for 3 courses or £125 to go bottomless | Afternoon tea? Yes, from £58 | Sunday lunch? No | For more information, or to book, visit their website here.
–
HUTONG | Shard Restaurant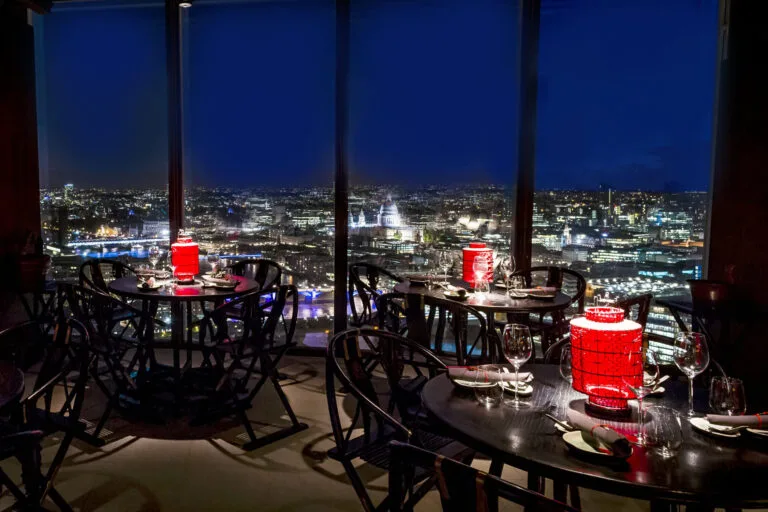 The higher up the restaurant in The Shard, the higher your bill. Which means Hutong is most certainly one for special occasions. However, if the dollar's there, it's a pretty special place. A near-replica of the original restaurant in Hong Kong, it's moodily lit and full of the same carved dark woods and red Chinese lanterns, not forgetting a wishing tree inviting you to take a punt at your hopes and dreams (like a couple of zeroes off the bill).
The menu is an eclectic mix of Sichuan and Northern Chinese dishes, so, as well as four different types of dumplings (one of which is stuffed with rosé Champagne-soaked shrimp), you'll also find all sorts of fried, sautéed, and slow-cooked meat; seafood (such as their Sichuan-style deep-fried lobster); plus a refreshing number of veggie dishes (the aubergine tempura and kung po tofu are definitely worth an order). Drinks too are equally as impressive, with cocktails aligned to your sign of the Chinese zodiac. Alternatively, the wine-list spans eleven pages (and the world), with a tidy 24 Champagnes.
Address: Level 33, The Shard, 31 St Thomas Street, SE1 9RY | Opening times: Lunch & dinner daily, 12-2.30pm and 6-10.30pm, bar open until midnight (1am Thur-Sun) | Cuisine: Northern Chinese | Price: Mains £35+, lunch tasting menu from £39pp, dinner tasting menu £105+ | Brunch? No | Afternoon tea? No | Sunday lunch? No | For more information, or to book, visit their website here.
–
Sky Lounge | Shard Bar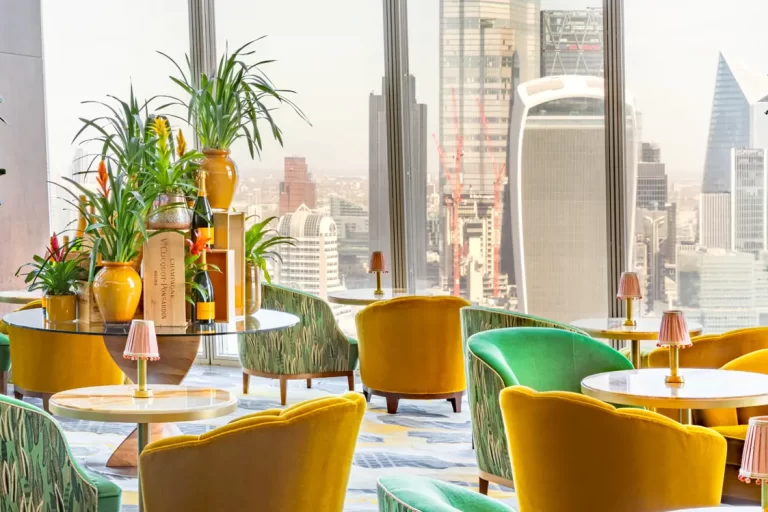 A relatively recent addition to the line-up, Sky Lounge is one of the more characterful bars in the Shard thanks to velvet tub chairs and cosy cabaret-style lighting at each table. As befits the more relaxed setting, the food menu's restricted to lighter bites on Friday and Saturday evenings (club sandwiches, miso aubergine salads and the like), but on Sundays you can indulge in a three-course, bottomless Champagne-fuelled brunch… if you've got £140 burning a hole in your pocket. Signature cocktails are intriguing – try a Carina with pear vodka, lychee water, yuzu and St. Germain – but again, you're paying a fairly big surcharge for the view at £25 a pop.
Address: Level 34, The Shard, 31 St Thomas Street, SE1 9RY | Opening times: Fri & Sat 2-9.30pm, Sunday brunch 11am-4.30pm | Cuisine: American club grub | Price: Mains £20+ | Brunch? Yes, £71 or £141 with bottomless Champagne | Afternoon tea? No | Sunday lunch? No | For more information, or to book, visit their website here.
–
TĪNG | Shard Restaurant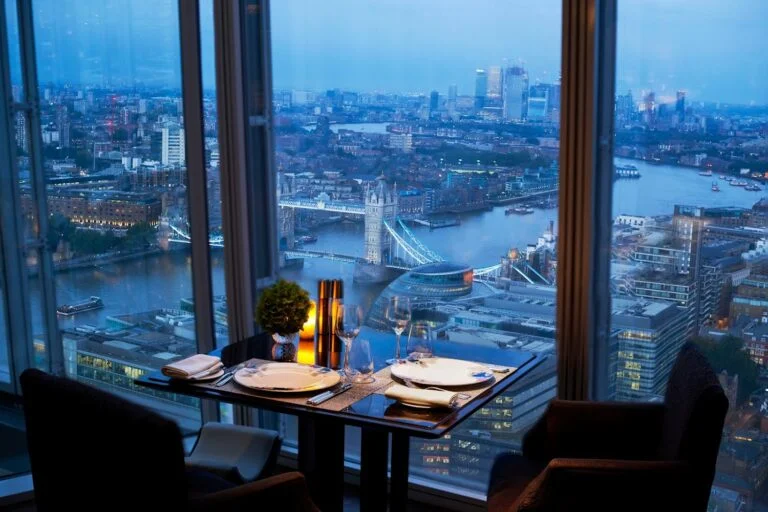 Whilst the name derives from the Chinese word for living room, beyond the occasional sofa strewn with pillows, Tīng doesn't bear much resemblance to your typical front room. That's thanks both to the impressive views, but also to the fairly bland decor which reminds you that you're sitting in a large hotel restaurant. Technically part of the Shangri-La hotel, it serves an intriguing mish-mash of British and pan-Asian dishes, from rollmops and steak to chicken satay and Pad Thai. They also have a pretty huge wine list, so whether you're just in it for a glass (starting at £15) or a £1,320 bottle of vintage Cristal, they've got you covered. See? Just like a regular living room.
Address: Level 35, The Shard, 31 St Thomas Street, SE1 9RY | Opening times: Open for breakfast, afternoon tea & dinner daily, plus lunch on weekdays | Cuisine: European & Pan-Asian | Price: Mains around £38 | Brunch? No | Afternoon tea? Yes, from £75 | For more information, or to book, visit their website here.
–
GŎNG | Shard Bar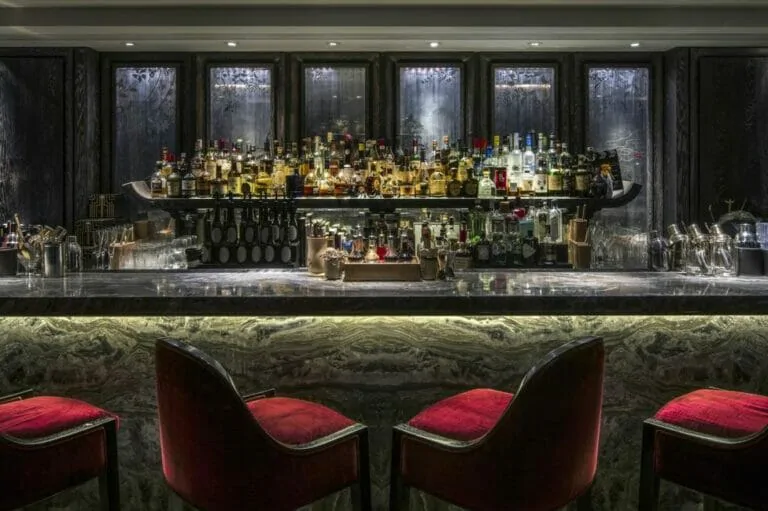 Found on the 52nd floor of The Shard, GŎNG is officially the highest hotel bar in Western Europe, the penthouse of hotel bars. And like any self-respecting penthouse, it's made up a number of 'intimate chambers'; a cocktail bar, a Champagne bar… and an infinity swimming pool (…sadly only open to hotel guests). GŎNG's interiors take inspiration from both the 'dragon red' walls of Chinese Imperial Palaces (made from cinnabar, a mineral believed to enhance positivity), and the boudoirs of the West. The bars are carved from grey marble, surrounded by scarlet red stools and decorated with tall silver vases filled with pom poms of red roses; or there's a number of low tables with tea lights and grey patent leather pouffes.
Wherever you're sitting, the drinks menu makes for pretty neat reading. Inspired by 'hues of culture', it features signature creations like the Regalia, with lavender vodka, ube, clarified butter and Champagne – and, should you get hungry, there are small plates too, like sashimi and maki rolls, prawn tempura and beef tataki.
Address: Level 52, The Shard, 31 St Thomas Street, SE1 9RY | Opening times: Mon-Tues 4pm-12.30am; Wed-Sun 12pm-1am | Price: Cocktails £25 | Brunch? No | Afternoon tea? No | For more information, or to book, visit their website here.
–
But Which Is The Best Shard Restaurant?
Drumroll, please… the answer is, it's hard to say. The Shard has restaurants for every occasion: if you're looking to impress a client or your future in-laws, the tasting menus at Hutong are a sure-fire win (especially if you hang a wish on the tree first). If it's show-stopping cocktails you're after, GŎNG's changing specials raise the stakes (and the prices to match).
On balance, though, our favourite Shard restaurant has to be Aqua Shard: you can head up for afternoon tea with panoramic views of London for a similar price to going up to the official (pricey) Shard viewing platform, or head in for early evening cocktails as the sun sets… or go for a dramatic dinner at night time and feel like you're in a film. It's the perfect all-rounder, and while it's not as high up the Shard as the other restaurants, the views are still absolutely breath-taking. And if you're looking to book a restaurant in the Shard…
….surely that's the point.
---
Enjoy high-altitude shenanigans? Check out our guide to the best rooftop bars in London