Aqua Kyoto | A Supremely Swanky Japanese Restaurant and Bar in the West End
Aqua Kyoto – like a tranquil island of booze-laced bliss in the chaos of Central London – sits high above Oxford Street ready for you to kick back, order a cocktail, and succumb to a sashimi coma.
And there are far worse places to find yourself incapacitated for the evening than the romantically lit roof terrace (which, you might want to know, almost immediately won a place on our list of the best rooftop bars in London) or the moody mirrored interior of the Japanese restaurant inside.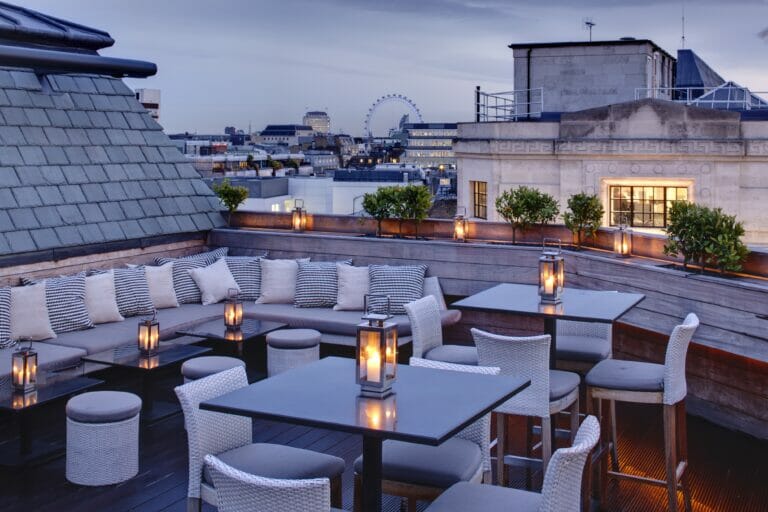 Set in a Portland stone building accessible from Argyll Street, Aqua Kyoto comes to you from the Aqua Restaurant Group, who are behind a pair of restaurants in the Shard (Hutong and Aqua Shard) and then everything in this complex: cocktail bar Aqua Spirit, Spanish restaurant Aqua Nueva, and of course, Aqua Kyoto. The latter is in the hands of executive head chef Anthony Garlando, whose CV includes Zuma, Sketch, and all 18 restaurants in the dining hall at Harrods… So essentially, the ideal training ground for perfecting high-end, deliciously luxurious Japanese food.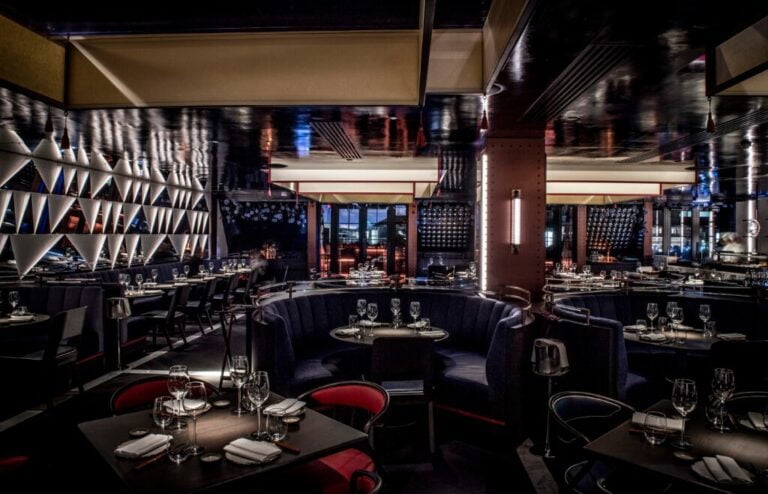 At Aqua Kyoto he has put together a menu with plates of every size to suit your appetite: smaller numbers range from rice dishes (like the marinated wagyu steak and vegetable rice cooked before your eyes) to bitesize tempura (like fried prawns seasoned with wasabi salt), while the larger offerings encompass fish and skewered meat scorched on the robata charcoal grill, and blowout dishes of sansho peppered duck breast, king crab with house-made noodles, and slow-cooked miso and garlic pork belly.
Then come the platters from the sushi and seafood bar, dishing out Scottish salmon and Orkney scallop with smoked daikon and beetroot caviar; mackerel and giant shrimp nigiri; and grilled eel with sweet potato. But if the choice is a little too overwhelming (and you've been wondering where you can order omakase in London), Anthony has put together a chef's choice menu of his signature dishes, leaving you to sit back and enjoy the plush surroundings and fine libations. And if you really want to push the boat out, Aqua Kyoto is home to one of the best bottomless bunches in London; a generous three-course dining menu paired with a bloody Mary to kick you off, and 90 minutes of unlimited wine, beer, cocktails or Champagne (starting at £75 for the wine and beer). And for the night owls? Kyoto Nights take place every Wednesday evening, with banquets of exquisite Japanese dishes served alongside free-flowing prosecco and wines while you bop your head to live DJs.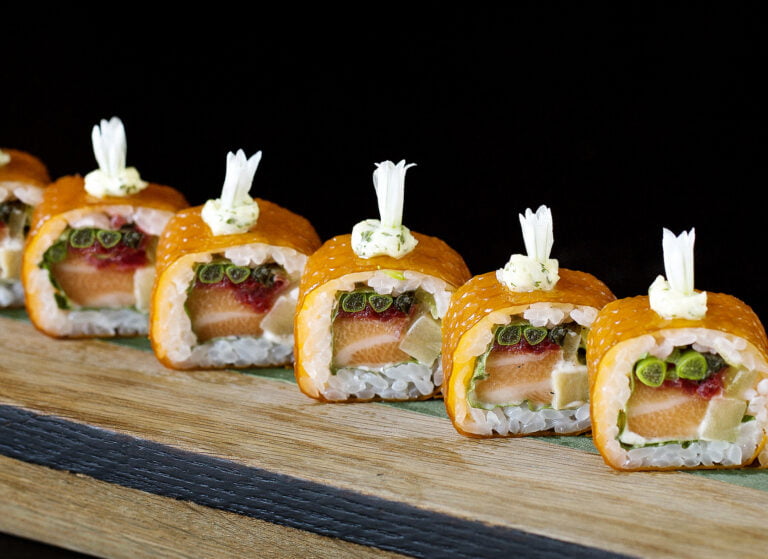 Speaking of cocktails… Aqua Kyoto lets you sip them around your table, at the theatrical circular bar upstairs or on the rooftop terrace, where you'll smugly nurse your Secret Ninja with gin, pear liqueur and orgeat, or The Emperor with whiskey, maraschino and Campari and laugh haughtily at the teeming masses below you.
Ironically, of course…
NOTE: Aqua Kyoto is open for weekday lunch, weekend brunch and dinner every night (as is the cocktail bar). You can find out more, and book a table, HERE.
Aqua Kyoto | 5th Floor, 240 Regent Street, (entrance on 30 Argyll Street), W1B 3BR
---
Want to eat raw fish for the rest of your life and nothing else? Start your mission by bookmarking our guide to the best sushi restaurants in London.