Aqua Nueva | High-End Spanish in Oxford Circus
The Spanish have a saying: Nada hay nuevo debajo del sol.
Or, there's nothing new under the sun…
…Unless that nuevo is Aqua Nueva, a restaurant that hits the hitherto uncharted combination of contemporary Spanish cuisine with the kind of moody, dimly-lit interiors more associated with high-end sushi joints.
Which, as it happens… it also is.
Tucked discreetly on Argyll Street by Oxford Circus, you'll escape the teeming masses into the glossy lobby, find yourself swept up in the lifts and into another world. They call it… Level 5.
Making your way past said high-end sushi joint, Aqua Kyoto – you'll pass down a long, low-lit corridor, nodding to the giant blue bull sculpture erupting from the wall at the end, and head into the complex's other dining room, Aqua Nueva.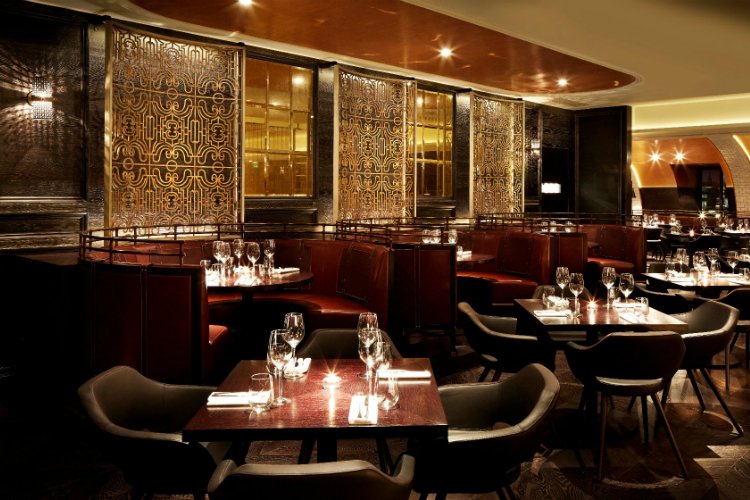 It's a dark, handsome space, with gently arching gold-leaf ceilings interspersed with stretches of subway tiling subtly glimmering in the candlelight; elaborate brass screens that could have been plucked straight out of the Great Gatsby; and smartly dressed barkeeps keeping the sleek central bar island humming like a well-oiled machine.
Perhaps you'll hole up here for a while, sipping Capsicum Cups (whisky, red pepper-infused vermouth, Galliano, lemon and cava) and snacking on slivers of hand-carved jamón Ibérico… or perhaps you'll slide straight into a sleekly curved leather booth to begin the task of deciding between salt cod fritters and blistered padrón peppers; creative cubes of empanada filled with oxtail and avocado; suckling pig tacos with mandarin and endives; a mosaic of cod ceviche with crunchy toasted corn; glazed lamb's brains; beef short rib; or grilled octopus with zingy sweet potato.
It's not an easy choice to make…
…but since you're already here, you're clearly someone who makes good decisions.
NOTE: Aqua Nueva is open for lunch and dinner on weekdays, and all day (12-11pm) on Saturdays. You can find out more, and reserve a table HERE.
Aqua Nueva | 5th Floor, 30 Argyll Street, W1B 3BR
---
Want to take your evening to the next level? Check out Aqua's rooftop cocktail bar