Brawn | A Modern Classic in Bethnal Green
We have a very strong feeling that you're about to discover your favourite restaurant in London.
Which is a coincidence, because we're also about to tell you about Hackney's elegant Modern European (and incidentally extremely dateworthy) restaurant, Brawn.
Housed in a handsome converted warehouse at the top of Columbia Road, it's a laid-back spot with seasonal, produce-driven small plates, most with a European sway. The brains behind this Brawn is head chef and founder Ed Wilson, previously of central London wine bar Terroirs. His no-fuss approach to cooking won the place a Michelin Bib Gourmand within a year of opening, and it's a personal favourite of many top London chefs. Here's how it goes down:
Fortunately Brawn takes bookings, allowing you to guarantee yourself a seat in one of the two white-washed rooms, the second of which is home to a big open kitchen. Decor-wise it's pretty relaxed: the first room boasts a big dark wood and marble bar, propped up by tan leather stools, but beyond that it's mostly a smattering of stripped-back wooden tables, mismatched chairs, and lashings of bohemian Hackney charm.
THE FOOD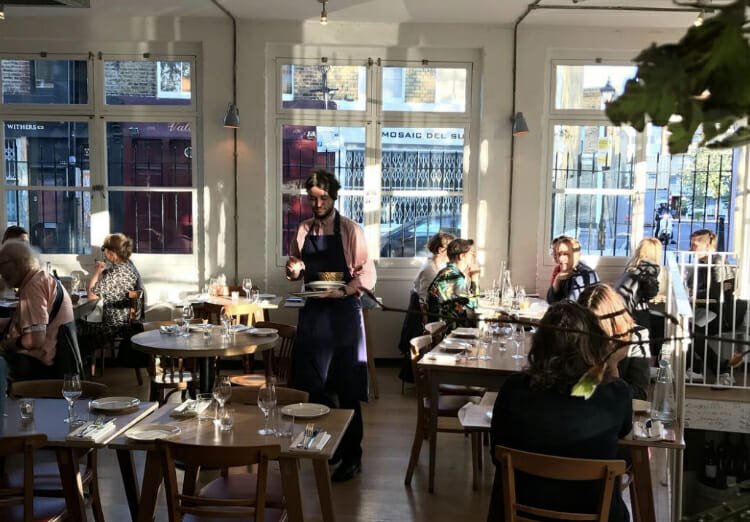 Brawn's menu changes daily, broken up into what those favouring tradition would assume to be nibbles, starters, and mains, or – for those better-versed in the newfound small-plates culture – small, medium, and large. Either way, you might kick things off a few Nocellara olives, or a taste or two of Cantabrian anchovies with lemon, mint and chilli. Next you might share half a dozen oysters, or gobble a plate of grilled duck hearts with summer cabbage and pickled cherries all to yourself. Larger dishes include pork and fennel ragu; ricotta ravioli with courgettes, pine nuts and pecorino; and lamb neck with borlotti beans and cime di rape. Again, sharing is optional, and last bites will be reluctantly given away.
THE DRINKS:
In particular, Brawn excels at interesting, mostly natural or organic wines. If you haven't got a clue, ask your waiter. It's a small team and everyone knows their stuff so they'll happily point you in the white…or red… direction.
NOTE: Brawn is open for lunch from 12-3pm, Tuesday to Saturday; and dinner 6-10.30pm Monday to Thursday, and 6-11pm Friday to Saturday. They're closed on Sundays. For more information, or to make a reservation, visit their website here.
Brawn | 49 Columbia Road, Bethnal Green, E2 7RG
---