If you'd just turned old enough to drink when Lina Stores opened their first deli, you'd be celebrating your 97th birthday this year.
And what a celebration it would be – because you'd finally be able to get a drink at Lina Stores' first standalone cocktail bar.
It's called Bar Lina, and it's taken up residence underneath the original deli on Soho's Brewer street. It's actually replacing the fresh pasta kitchen that made the place so zealously adored and which, since the emergence of their micro-empire of restaurants (in Soho, King's Cross, Clapham, Marylebone, and The City), has become supplanted by its newer & bigger siblings. So the show-runners decided to give the space a slightly more alluring change of pace.
And it turns out to have been an excellent call.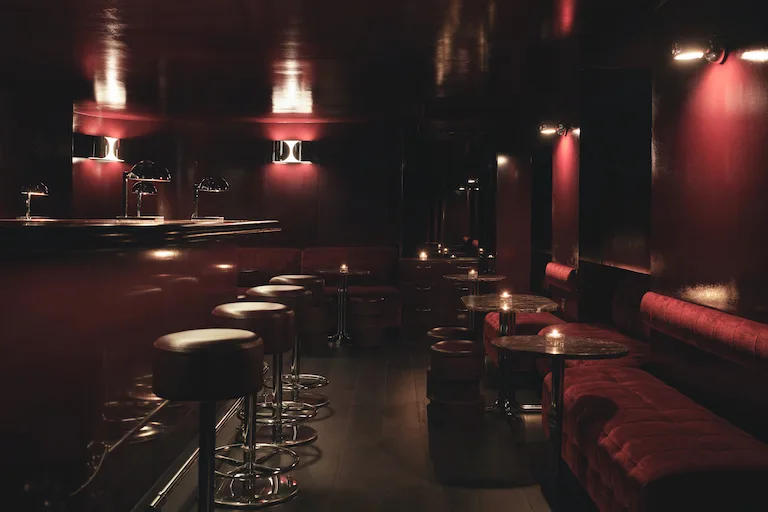 To get in, you'll still have to enter the deli the old fashioned way, escorting your date/companion past rows of biscotti & olive oil before finding the staircase at the back. It feels like micro-dosing the restaurant entrance from Goodfellas. Head down into the bar itself, and you'll arrive in a gorgeous, moody, and intimate little hideaway steeped in low-lit crimson & coffee-tones throughout. If you didn't know any better, you'd be forgiven for assuming that the place actually had been built back in the '50s and was waiting down there the whole time.
What's impressive about Bar Lina is that every ingredient lining the marble bar shelves is either made in-house, like the coffee butter and prickly pear syrup, or sourced from Italy – so alongside familiar names like Campari and Cocchi you'll get to know Bepi Tosolini's wild strawberry aperitivo, Villa Ascenti gin made with Piedmontese botanicals, and nocino, an unripe walnut liqueur.
They're all whizzed into innovative, Italian takes on classic cocktails, and naturally they lean heavy towards negronis (there are half a dozen twists, including one with chamomile liqueur) and several spritzes (they make a rosemary & honey infused Campari which they've mixed with grapefruit & Prosecco). Then there's the house originals – their Figlet involves housemade fig liqueur, Parafante fig liqueur, some more fig, and a little vanilla, while the extraordinary Basilico is a twist on a gin martini that adds clarified milk, salt and basil for a smooth, creamy feel and a herbal finish. It's a bit like boozy pesto, and you've likely never had anything like it before.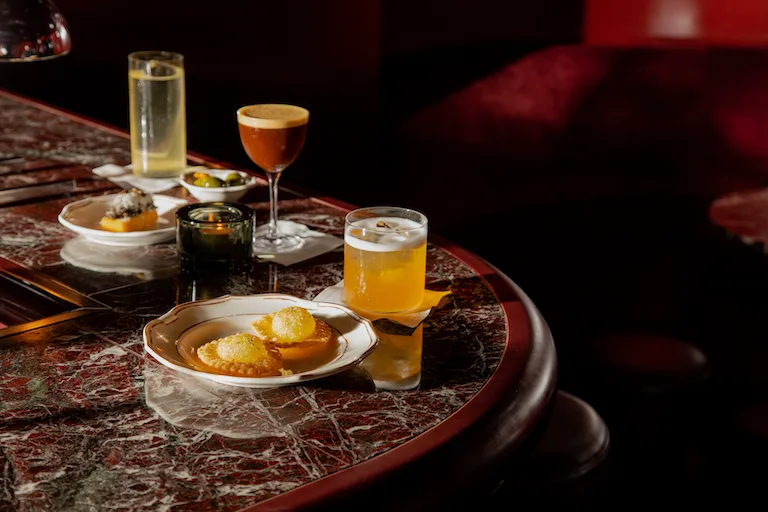 Since Bar Lina is right underneath a deli, there are bar snacks to be had too, with a whole array of charcuterie & cheeses, plus made-to-order bites ranging from ossobuco arancini to fried parmesan polenta showered with mushroom & truffle; seabream with lime & basil crudo; and some intensely moreish seada – little fried parcels filled with melted cheese.
And upstairs? The deli space will remain open, meaning you can go home with a bellyful of extremely fine alcohol, as well as an armful of pasta, amaretti, and aged balsamic vinegar.
Which still isn't quite old enough to drink.
NOTE: Bar Lina is open now, Weds-Sun. You can find out more, and make a booking at the website right here.
Bar Lina | 18 Brewer St, W1F 0SG
---
It's in good company… here are the best bars in Soho.