Self-driving boats.
They don't need a particularly good sailsman.
Which is why GoBoat is probably going to be booked solid this summer. They first anchored up at Paddington's Merchant's Square back in 2017, then opened a second location in Kingston riiiight at the start of 2020. The sea is indeed a cruel mistress. Luckily they remained afloat and thanks to the rule of six, they're actually available to hire right now.
THE CONCEPT
These boats, as we mentioned, are self-driving. That means it's just you and your chosen companions on there, with no boating experience necessary. They're all electric, made from 80% recycled bottles & sustainable wood, and can fit up to 6 people now, and 8 people from May 17th. You can hire them for anywhere between 1 and 3 hours a pop hour to sail either via the canals of Little Venice, or the stretch of Thames that takes you past Hampton Court Palace.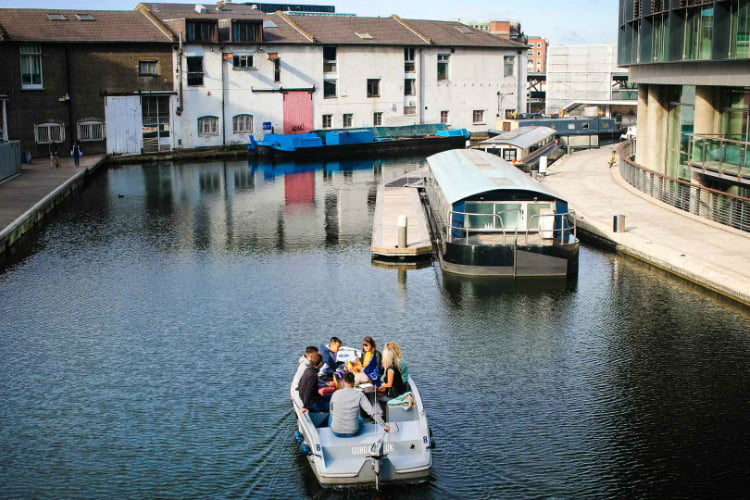 HOW IT GOES DOWN
Okay, so that was a poor choice of words. The boats stay afloat, they assure us. But the experience goes down as follows: first, you and your crew arrive. You'll get a brief safety chat, a few life vests, and a map for you to plan your route. And you can then unpack your picnic and booze – each boat is helpfully is fitted with a table – and take off, pootling along at a steady 3 knots (4mph).
So get ready to show off your prow-ess.
NOTE: GoBoats are available to sail every day, and can carry 6 people at a time (with social distancing measures). From May 17th, you can book up to 8 people per boat with no restrictions. Prices start at £79 for the first hour. You can find out more, and make a booking at their website right HERE.
GoBoat | Merchant Square, W2 1AJ & Kingston Road Bridge, KT1 1QN
---
Check out our massive article filled with all of our favourite outdoor restaurants in London