NOTE: Sadly, due to redevelopment of the Smithfield Market area, Oriole has now closed. It's planned to hopefully relocate sometime in 2023. Why not wait it out in one of these other excellent London cocktail bars…
---
Jizz.
That's how they pronounce "jazz" in New Zealand.
Which – you'll have quickly noted – is a fact that beautifully fuses our specialist subjects of music and geography together almost as seamlessly as the team behind Nightjar manage to achieve within their second bar, Oriole.
Though officially described as a "classic old-school nightclub with live jazz, blues and swing", this is actually the place to go for an exotic, extravagant, epicurean journey around the globe via the lesser-known mode of transport that is "The Cocktail". Located secretively beneath London's iconic Smithfield Market, its décor and menus draw on the explorative spirit of a bygone era in order to send you on a voyage around –
The Old World (Europe & Africa): Where you can start, literally, from your own back garden with the Garden of England (barley wine, milk vodka, and slow-cooked vegetable juice) before heading off to Malta for a Mare Nostrum with gin, pistachio leaf infusion and roots mastiha liqueur (made from the resin of Greek mastic trees).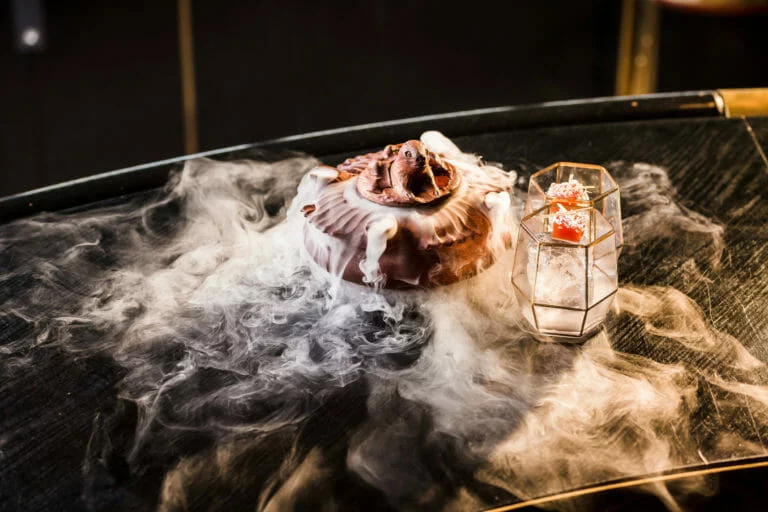 The New World (The Americas): Where you can stop off at a key stage on the Inca Trail by consuming an Miraflores; drench yourself in the wet wilderness of an Everglade; or get lost in a vast expanse of blue sky, rolling hills and vast lakes with a Bon Echo (the whiskey in which will assist your imagination).
The Orient (You Know This One): Where you'll be challenged to imbibe daring cocktails like the Cydonia Cup, inspired by the scenic Peach Blossom Pool of Xuancheng with strawberry tree curd and gunpowder tea aperitivo – or a Yonezawa, plucked from Japan's Hyogo region and laced with purple yam liqueur, bamboo leaf sake and electric bitters.
There's live music seven nights per week (including some great Calypso, Cuban Son, Brazillian Jazz, and regular performances from Nightjar's well-known roster of swing jazz musicians) plus space at the front for dancing. So… Jizz Hands at the ready. Ooh, and there's food too. It comes in the eclectic, worldly form of small plates like sea bass ceviche; crab causitas; Mexican chicken with miso corn; lomo salteado with pardon peppers; black truffle croquettes; chocolate textures with mullet wine and poached pear; and a bunch of other stuff.
We highly recommend the other stuff.
NOTE: Oriole has now closed but will hopefully reopen in a new location in future. Watch this space…
Oriole | East Poultry Avenue, London Central Markets, London, EC1A 9LH
---
Like hidden cocktail dens? Check our ultimate London hidden bar guide