Bold prediction: Dram Bar will probably be on the World's 50 Best Bars list within two years.
Okay, technically that was an italic prediction. But we stand by it – this place is an absolutely superb cocktail joint, and has all the finely-tuned elements that are like catnip for awards.
From the outside on Soho's Denmark Street, it just looks like a relatively innocuous six-seater. There isn't even a sign, just a small red logo with the tulip-shaped silhouette of a dram glass. But push through the door and you'll notice that its sleek, Blade Runner-esque interior stretches a lot further back than it at first seems, with a cool concrete bar & caged whiskey shelves (housing hundreds of bottles), all softened by warm diffuse lighting.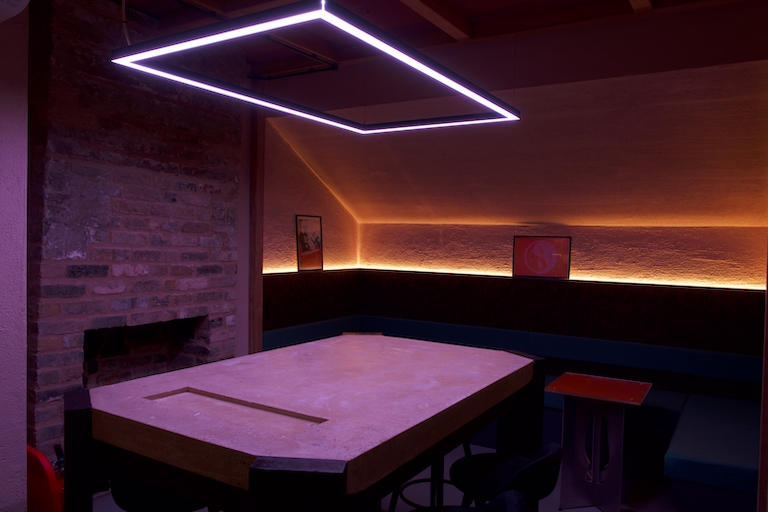 Then you'll notice that it just keeps going. through to a covered & heated terrace out back, with benches dyed black with Japanese tattoo ink (apparently it's both cheap & weather proof). Which leads onto a tasting room, again with its own bar. As well as a pool room (with a cocktail vending machine). And then an arched cavern that acts as a part-time laboratory, and part-time private dining spot. And that's not to mention the subterranean downstairs bar underneath it all, which doubles its size again.
The place seems to be an endless Aladdin's Cave of booze. Pull up a chair at any one of these myriad areas, and you'll find their short-but-perfectly-formed drinks menu. The first half is dedicated to their tapped cocktails, which include a ridiculously smooth & drinkable mezcal & coconut number – order one, and the barkeep will pull a pre-chilled & pre-iced glass from a fridge, and pour your drink in the time it takes you to wonder why everyone isn't doing this.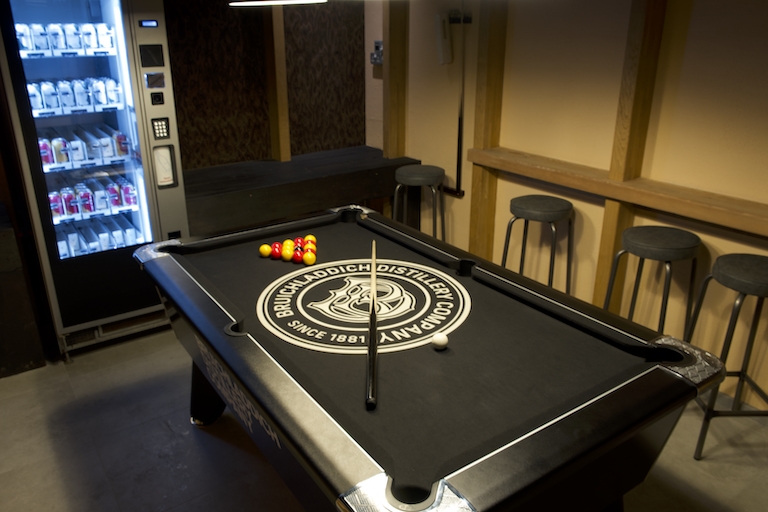 The intimate downstairs bar, with all its hidden nooks & private corners, is reserved for the slightly more complex drinks – the ones that involve a shaker. This is the domain of drinks like the mellow & complex Koji & Birch, which blends koji (the umami-laden base of miso, soy, and sake) with birch sap caramel and rum; or the Beetroot & Raspberry Wine, which involves cacao butter, whisky & almond.
If you're in the mood for something a little more casual though, you can always head up to the pool room. It's completely free to use, and there's a vending machine in there filled with simple whisky soda cocktails that they mix & can in-house. You just need to get tokens from the bar. And finally, if you're in the mood for a bite to eat, there's a small kitchen here too, with an ever-rotating menu of light bites like burrata, bread with miso butter, etc. All told…
…this place is really Dram good.
NOTE: Dram Bar is open now, Monday to Saturday. To find out more, and make a booking, just head to the website right here.
Dram | 7 Denmark Street, London WC2H 8LZ
---
Want to meet the neighbours? Here are the best cocktail bars in Soho…