When you go to Ogam, you have to try the cocktails.
And that's not some kind of rousing endorsement of the drinks (although they are excellent). No, at Ogam there's a one drink minimum, meaning you literally have to try the cocktails.
Partly it's because this is a bar first and foremost, but also because it's all headed up by Taeyeol Kim, a mixologist "with 12 years of experience as a national champion bartender in South Korea", and whose skill has seen him proclaimed as a "Korean Traditional Alcohol Ambassador" by his home country. Basically, he knows his way around a drinks shaker.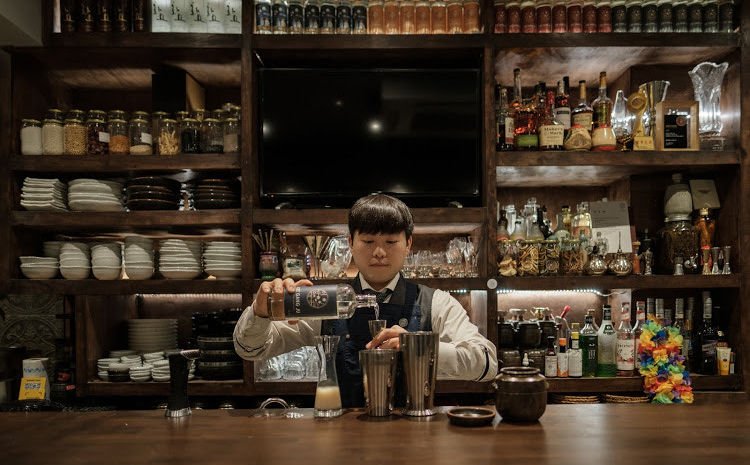 The bar itself is fronted by a modest slate grey exterior tucked away down Chapel Market, Islington. Inside, it's a simple sleeve of a space with a long bar, stone walls, and some quietly understated decor. But what it lacks in flashy design it more than makes up for in flashy flavours. The menu is tightly curated, and full of standouts. The fried chicken is particularly great – it's perfectly crunchy and seasoned with the restaurant's secret, homemade recipe, it's served as a five-piece sharing platter that you definitely will not want to share. Thick Kimchi pancakes, chargrilled pork and roasted seaweed glass noodles are all top choices or, if decision fatigue really takes its toll, opt for the set menu. Each one comes with three courses and a cocktail (of course) for under £20, highlighting traditional Korean flavours like kimchi jjim, omija-dressed salad and that fried chicken.
And as for the all-important drinks? You could order a G&T. Orrrr you could spring for one of the eclectic cocktails, like the Night Emperor, which blends house bitters with vermouth and yaguanmun infused gin (it's a Korean herb which, according to the bar, "helps men's stamina"); or a Miracle on The River Han, which pits lemon & grapefruit against leegangju, a traditional Korean liqueur made with pear & ginger.
All in all, it's a feast for the senses. Which in Korean translates to…
…Ogam.
NOTE: Ogam is open Tuesday-Sunday. To book, visit their website here.
Ogam | 10 Chapel Market, London, N1 9EZ
---
Love Korean food? Check out our run-down of the best Korean restaurants in London