Tamesis Dock is a place that will leave you feeling buoyant…
…and not only because this converted 1930s Dutch barge floats on the Thames. It's also an exceptionally popular pub, restaurant and live music venue.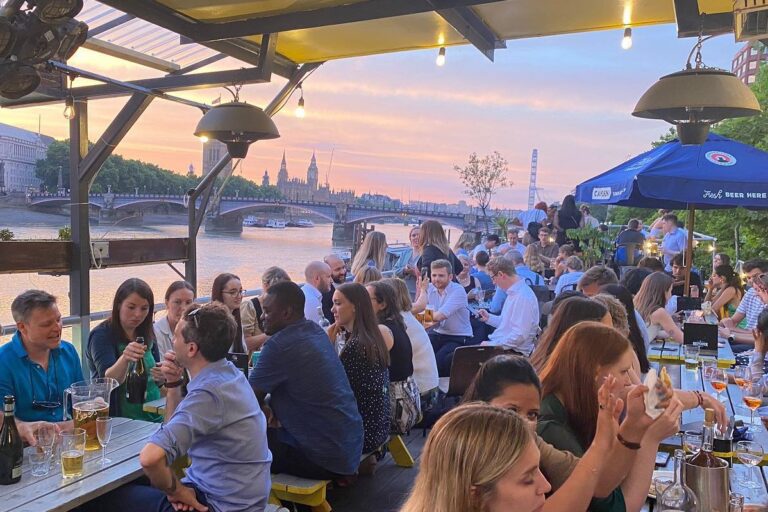 You'll spot Tamesis Dock permanently moored between Lambeth and Vauxhall bridges, sticking out like a sore thumb due to its bright green and yellow paint job. The on-board action takes place over three decks; up top where you've got one heck of a postcard view across the river with top London attractions like the Houses of Parliament and the new-and-improved Battersea Power Station in clear sight; in the middle for general dining; and then down below (for whenever the weather gets a bit choppy) where there's a hodgepodge of quirky furnishings (think a TV playing sports, leather sofas, a hanging egg chair, and an assortment of nautical memorabilia) and a stage for when they host live bands and events.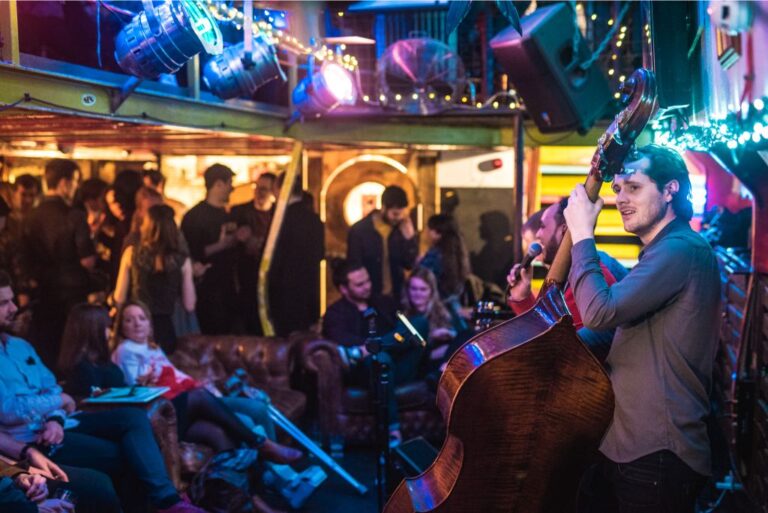 Food and drinkwise, there's nothing too out-of-the-ordinary. The novelty factor lies largely in the venue itself – you know, for the always-thrilling feeling of boozing on the water. There's your standard list of wines, 'docktails' (mostly the classics), ciders and beers, plus pub grub that runs from burgers to fish and chips and then slightly more upmarket stuff like hand-stretched pizzas (flavours including blue cheese & rocket; vegetarian chorizo, nduja and honey; and goat's cheese, caramelised onion and fior di latte). It all goes down swimmingly though, and when the tide rises there's…
Live music – which can be anything and everything really, enjoyed from either the mezzanine balcony or the dancefloor (capacity is around 150) where you're within touching distance of the acts; from local to national to international bands; rock to folk to jazz and blues gigs; and even the occasional boat rave where DJs, erm, hit the decks (we're talking Halloween ghost ship parties and silent discos, among others).

In this case, it's definitely okay to rock the boat…
NOTE: Tamesis Dock is open daily, 12pm-1am Mon-Fri and 11am-1am Sat-Sun. You can find out more, and book, on their website HERE.
Tamesis Dock | Albert Embankment, SE1 7TP
---
Big gig-goer? London isn't short of  excellent live music venues…