NOTE: Richoux has now closed on Piccadilly, but is set to reopen in Soho in Winter 2023 – watch this space.
---
When Richoux opened in February 2022, it was just over 110 years old.
See, it started as a small but elegant tea room in Baker Street back in 1909, then became a small but elegant chain of tea rooms with locations in Mayfair & Piccadilly. But despite surviving world wars, financial crashes, and Starbucks, the covid gremlin finally brought it down.
Or so it thought. Because now, the flagship Piccadilly branch has reopened under the able stewardship of chefs Jamie Butler & Lewis Spencer. They met at Moor Hall (two Michelin Stars) and have bounced around the kitchen at Eleven Madison Park (three Michelin Stars), L'Enclume (two Michelin Stars), and Le Manoir aux Quat'Saisons (two Michelin Stars). In fact it almost seems as if the universe is sending us a message about their talent.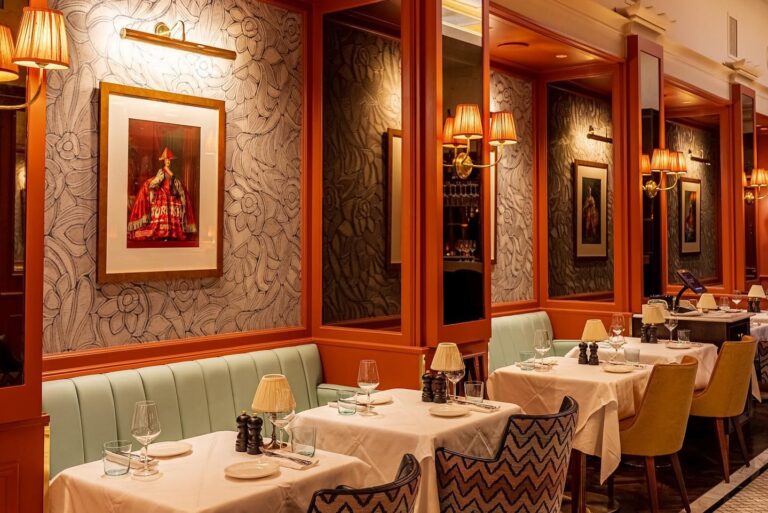 What they've created here is a little slice of affordable luxury. Taking the ethos of the original cafe, you can still get breakfast, lunch, and afternoon tea (when they all launch), but they're also adding the missing string to this delicious bow: dinner.
The space itself is on Piccadilly, a couple of minutes walk from The Wolseley. It's compact, but exudes a polished high elegance, with burnished mirrors, powder blue leather banquettes, and a parquet floor gleaming with chestnut brown varnish. But there are a couple of subtle modern flourishes too; take a closer look at the Old Master-style portraits on the wall, and you'll notice that they're dressed in sweets wrappers.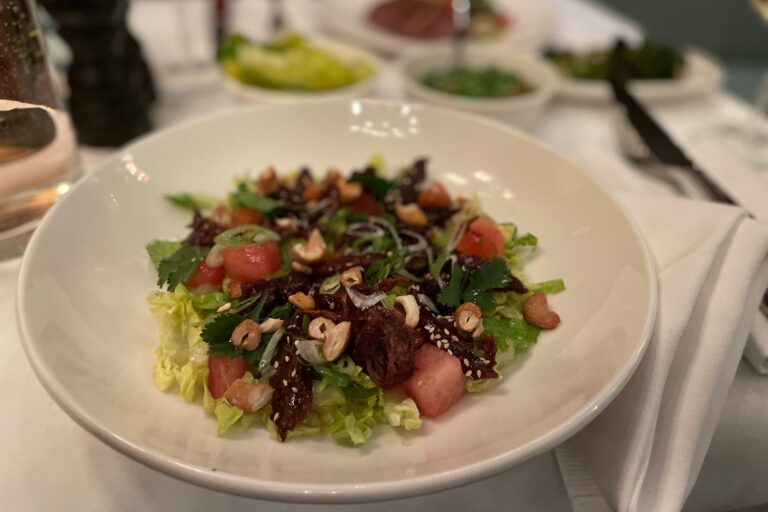 The menu is all extremely reasonably priced – the steak frites comes in at under £15, putting it on a par with Flat Iron, for instance. But beyond that, they also serve up a classic French onion soup, meltingly good salmon sashimi, a watermelon salad loaded with succulent parcels of hoisin-soaked crispy duck, a hearty club sandwich, and more.
Having the traditions of a tea room & patisserie means that there's also a sizeable dessert menu, too. The lightly seared domes of meringue you'll see in the cake display as you walk hide a cloud-like vanilla gateaux, which is ably offset by the neutron star-like density of the flourless 'Choc, Choc, Choc Cake' sitting next to it.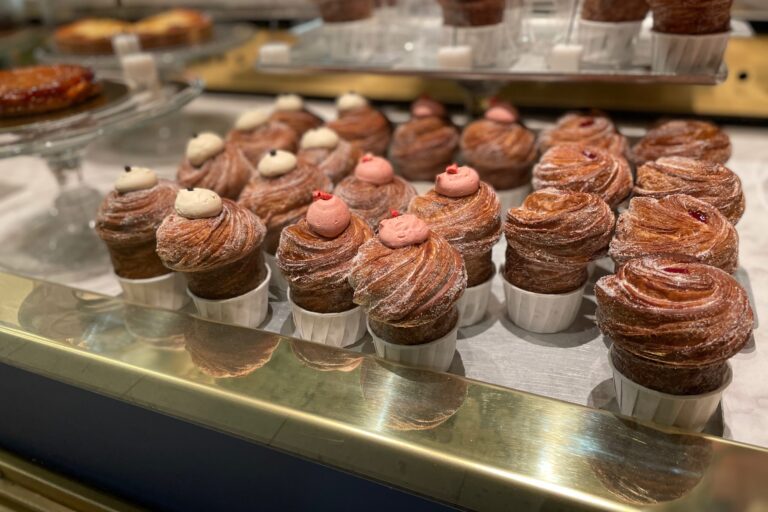 That cake display isn't just for the dessert menu, either. It's also home to their signature 'Cruffins' (available to take away) which are exactly what they sound like: a muffin made with croissant dough, then filled with the likes of sea salt & caramelised white chocolate, or vanilla bean & raspberry.
In fact at this rate, it looks like they'll easily see out the next 110 years.
NOTE: Richoux has now closed on Piccadilly, but is set to reopen in Soho in Winter 2023 – watch this space. You can visit their website HERE.
Richoux | 172 Piccadilly, St. James's, W1J 9EJ
---
While you're in the neighbourhood… here are the best restaurants in St James's