Tel Aviv, Tel Aviv.
It's so nice, you won't want to leave.
Just a little poem for you there, which we're going to suggest would be the literal incarnation of the new restaurant from ex-Ottolenghi chef Eran Tibi and popper-upper Sammy Shonn, which they describe as their very own "poem to Tel Aviv."
You'll find Bala Baya snugly tucked under a Southwark railway arch that somehow opens, tardis-like, into a bright expansive space inspired by Tel Aviv's Bauhaus architecture; with a white counter snaking around the open kitchen and a second mezzanine level laden with palms and blush pink seating.
When they throw open the doors at lunchtime,  Freshly baked in a custom-made bread oven (designed in Tel Aviv by none other than Papa Tibi), they're stuffed with the likes of braised beef shoulder, pork belly or caramelised cauliflower. And on weekends, there's brunch – a feast of blackberry pita French toast; aubergine shakshuka; spiced venison steak & eggs and Yemeni pancakes.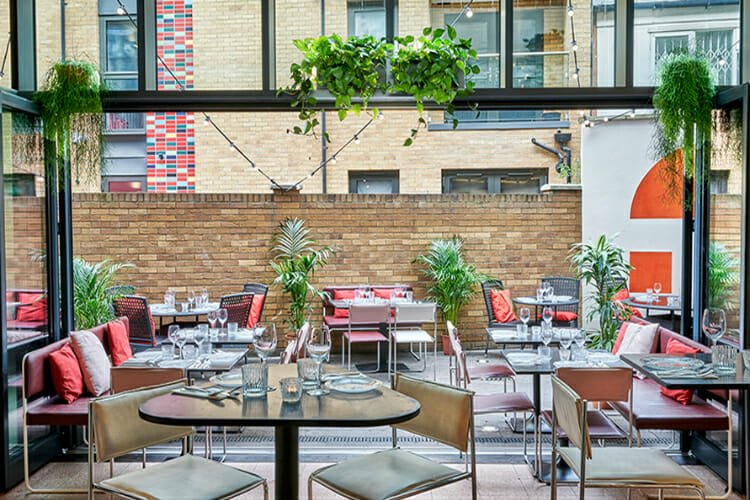 But come evening, it's all change, with moodier lighting and a more refined dinner menu featuring dishes like chicken thighs with bitter orange and sumac or baby octopus with blackened aubergine, and sod-the-diet puddings like smeared chocolate babka, or banana & pistachio cheesecake.
And if it's too hard to choose, you can always go for their seven-course tasting menu, which also comes in veggie and vegan options.
Just a little treat they've kept up their sleeve.
Tel Aviv, Tel Aviv…
Tel Aviv.
NOTE: Bala Baya is open weekdays 12-10pm, Saturday 10.30am-10pm & Sunday 10.30am – 4pm. Reservations can be made right HERE.
Bala Baya | Arch 25, Old Union Yard Arches, 229 Union Street, SE1 0LR
---
Like Middle Eastern food? Then you'll proooobably like The Palomar. After all, it's only one of the best restaurants in London.