If oyster bars were cars, Bentley's would be… well, the Bentley of them.
The place has been going strong since 1916, and has been in the capable hands of chef Richard Corrigan (the jovial Irishman behind Daffodil Mulligan and Dickie's Bar) since 2005. It's one of the most iconic restaurants in Mayfair, but thanks to its location just off the beaten track it's never too crowded, and you're always treated like royalty.
Duck away from the crowds of Piccadilly Circus, and you'll find it perched on the cobbles of Swallow Street. You'll recognise it by the neon-green oyster sign hanging above the door, and the covered tables spilling onto the street outside where, rain or shine, you'll see diners clinking glasses of Languedoc over a platter of shellfish.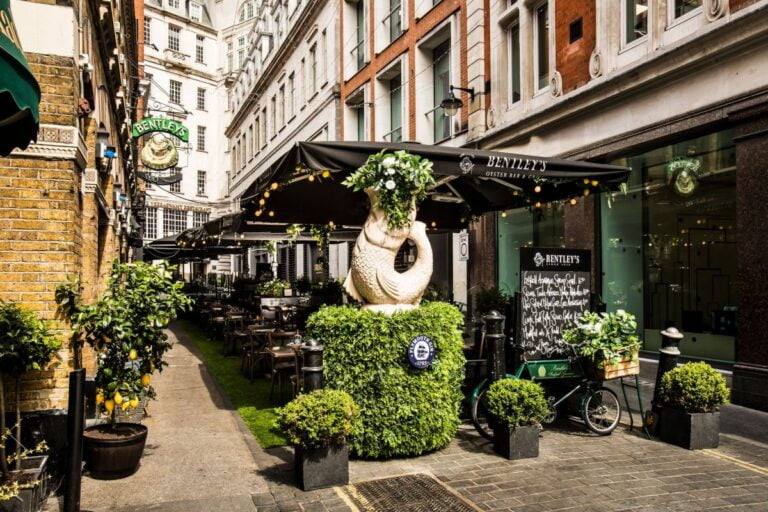 Inside, it's every inch the fine dining seafood restaurant but without any of the stuffiness you might expect. Sure, upstairs there are crisp white tablecloths and studded leather chairs, but downstairs you'll find the best seats in the house: stools pulled up to the marble dining counter, behind which a team of white-jacketed wizards shuck over 1,000 oysters every day. Also, there are napkins on little rails underneath the bar, which is nice.
Pop in for a half dozen, washed down with a glass of Champagne, or settle in for a seafood feast: shellfish platters loaded with crevettes, cherry clams, mussels, whelks and oysters; starters ranging from scallop ceviche to beef tartare with oyster cream; Dover sole (available three different ways); fish pie; fish and chips; and fish steak. If you've got any room left, keep it for the Apple Charlotte – pure comfort food made with apples, bread, and Calvados cream.
The drinks list sticks to the coastal theme with Breton cider and oyster stouts, alongside a (not extortionately priced) wine list, and a collection of classic cocktails, executed to perfection.
NOTE: Bentley's Oyster Bar and Grill is open daily, 12pm till late. You can find out more, and make a booking, HERE.
Bentley's Oyster Bar and Grill | 11-15 Swallow Street, London W1B 4DG
---
Check out our massive article filled with all of our favourite outdoor restaurants in London