If you fancy opening a restaurant inside Selfridges, you'll need to pony up.
And the team behind The Ivy have done quite literally that… by having a 30 foot wide, crystal-studded, Damien Hirst-designed giant Pegasus erupting from the double-height ceiling in their all-new Brasserie of Light.
Decide to visit and you'll make your way up a floating white staircase (which is best accessed from Selfridges' Duke Street entrance), arrive at pair of large, brassy 1920s-inspired doors, and then be ushered inside by a couple of doormen… who will, quite naturally, be dressed in top hats and bespoke Brasserie Of Light jackets featuring a diamanté Pegasus sewn on the back.
So far, so typical.
This very much sets the tone for what lies ahead – because you'll walk into a shimmering, pearlescent, glitter-bomb of a restaurant with dazzling lights, Art Deco mirrors and a sleekly curving polished metal bartop in the bar area in front of you (which has gold-leaf style ceilings of course). It's a bit like being inside a giant, gold 24-carat kaleidoscope – that, or Donald Trump's bedroom (shudder) – even the bathrooms are clad head-to-toe in pink marble.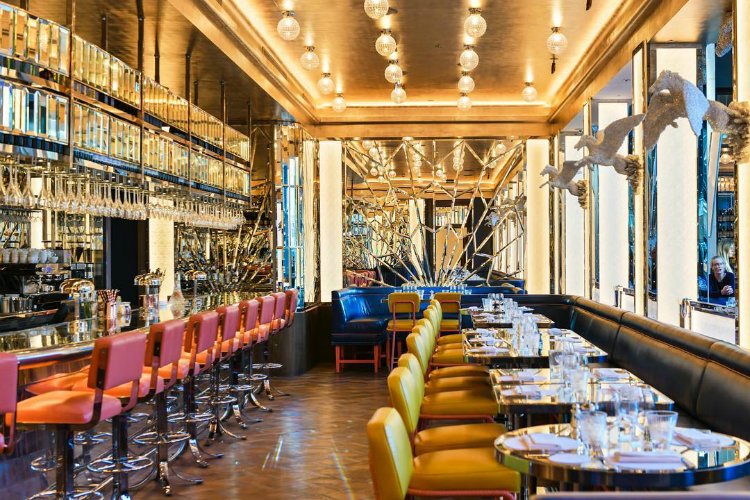 All this, however, is merely an amuse-bouche to the main event, because as you head right into the main restaurant you'll be struck by the grand ceiling (with huge windows overlooking St. Christopher's Place); the neat leather banquettes, the mirrored tabletops, the bespoke crockery…and that aforementioned flying horse.
The menu is, in a way, just as ambitious, drawing on cuisines from around the globe without ever straying too far from the upscale comfort food vibe that The Ivy team does so well. To start with, you might flit between hand-dived scallops with red pepper, fennel and capers; or chicken, truffle and citrus dumplings, before tucking into mains like chargrilled chicken paillard with avocado houmous; lobster spaghettini with blistered tomatoes; and burrata with smoked aubergines and purple basil. The desserts, however, are the real show-stoppers, including the Chocolate Bubbles (mousse, in a cocktail glass, with gold bubble wrap); the Pegasus Pie (sesame brittle topped with a yuzu coconut cloud); and the Orbit, which, well, looks like this: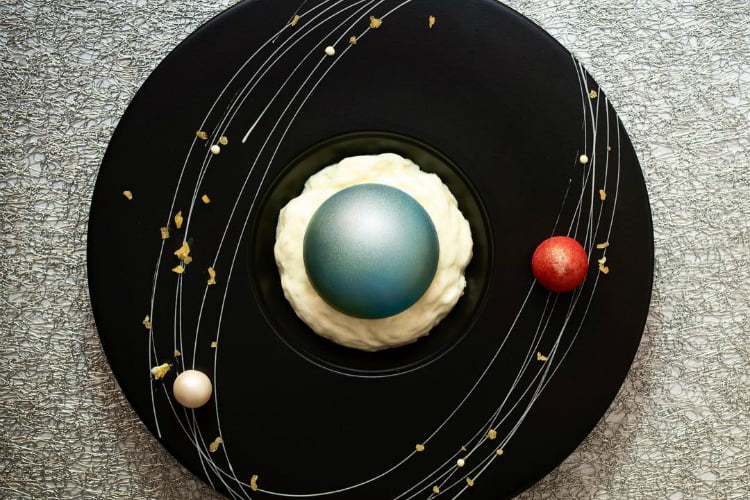 Appropriately, the cocktails lean towards the lighter side – there's a slick of specialist G&Ts, and cocktails based on Champagne and sparkling wines. Some of the more elaborate numbers include the Scotch Plum (with whisky, umeshu Japanese plum liqueur, sherry and whisky barrel bitters); or the Celestial Symphony dessert cocktail, with vodka, chocolate liqueur, amaretto, cream and a Champagne foam – which, strangely, has a lot in common with Pegasus itself.
It's legendary.
NOTE: Selfridges' Brasserie of Light is open weekdays 8am-midnight, Saturday 9am-midnight and Sunday 9am-11pm. You can access it via the Duke Street entrance outside of shopping hours. To find out more, and book a table, click HERE.
Brasserie of Light | Selfridges, Duke Street Entrance, 400 Oxford Street, W1A 1AB
---
Like glamorous brasseries? Check out Brasserie Zédel