Café Murano St James | A Laid-Back Sequel To Michelin-Starred Murano
Murano is a series of islands linked by bridges in the Venetian Lagoon, northern Italy.
And as much as we'd love to talk all about how back in the year 1291 all the glassblowers in Venice were forced to move there, and that glassblowing remains to this day the island's biggest industry, with its artisans heralded the world over…
…it's the food we're interested in today.
Mostly because it's the inspiration for Angela Hartnett's Café Murano, the slightly more laid-back sequel to her Michelin-starred restaurant Murano – both of which share her signature style of Northern Italian cuisine that she picked up from her Italian mother & grandmother, then refined under the tutelage of Gordon Ramsay.
Despite the alleged casualness of the place, she's graced this St James's restaurant with a low-lit, moody atmosphere, dark leather banquettes, parquet flooring, a few Art Deco touches, and a soupçon of Italian style.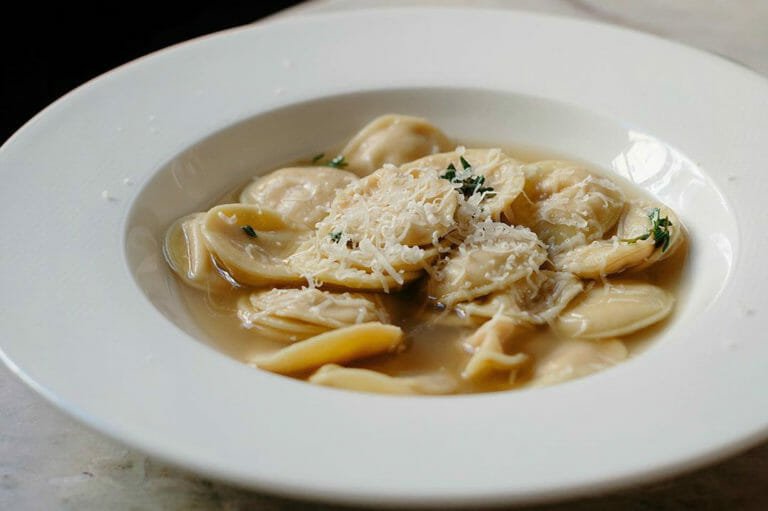 As you'd imagine, the menus rotate with relative frequency, but you can expect mainstays like her trademark arancini (fried risotto balls) with mushrooms; some creamy burrata with some pickled puntarella (it's like chicory) cutting though it; or a pigeon & celeriac salad.
Going larger, there's a good old pork chop with a cannelloni bean ragù; sea bream with broccoli and pancetta; or venison with parmesan polenta & black truffle. Of course, all of this depends on what day of the week it is. Because this place is famous for Sunday lunch.
It's called "Pranzo della Domenica", and, just like here, it's a family tradition. Here, it's a £30 feasting menu with four courses of risotto, braised chicken thighs, bruschetta, cake and a lot more.
And to wash it all down? A lengthy wine list, helpfully slimmed down by region and price at the top.
Buon appetito.
NOTE: Café Murano St James is open for lunch and dinner all week. You can find out more, check out the full menus, and make a booking at their website right HERE.
Café Murano | 33 St. James's Street, SW1A 1HD
---
Loved this? Peruse our pick of the best Italian restaurants in London