Anyone who's spent any time in Holborn knows that the central London legal district isn't exactly a mecca for diehard foodies.
But if there's one thing tired, overworked lawyers are in need of, it's good coffee.
Standing out amongst the caffeine merchants: Catalyst Café, nestled on a corner of Gray's Inn Road. From the outside, it looks like any other coffee shop in London, but to reduce it to that would be a big mistake.
You see, despite its unpretentious interiors, with communal tables and stool seating, Catalyst offers not just some of the best coffee in the area, but exceptionally good food, too. Allowing it to compete with the best restaurants in Holborn.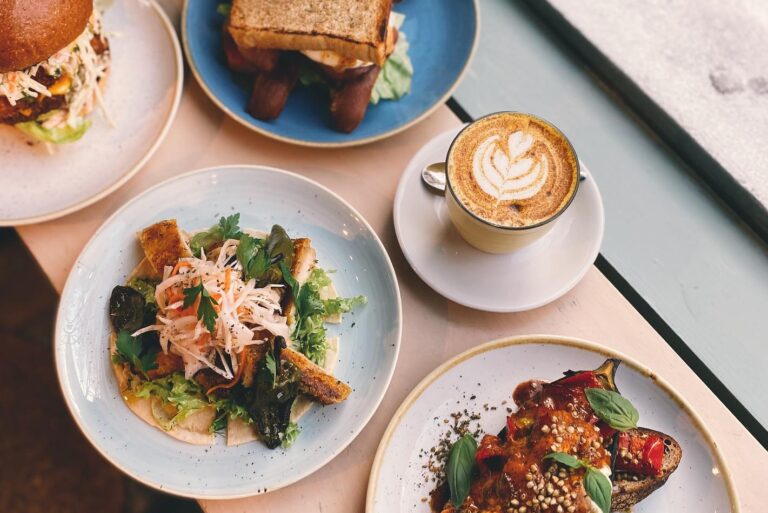 The coffee-obsessed team – helmed by co-founder Alex Gkikas – roast and grind their own beans in-house. Those beans make their way not just into flat whites and lattes, but also Catalyst's Coffee Sriracha, which is sold by the bottle. It's a unique hot sauce developed by Catalyst's former head chef Vasilis Chaman, made using fresh chillies and Catalyst coffee. Basically, it's a breakfast game-changer that will take your eggs to a whole new level.
In fact, Coffee Sriracha is the not-so-secret secret ingredient of some of Catalyst's most popular brunch dishes. It's drizzled generously over hunks of sourdough toast stacked with roasted aubergines and red peppers; mixed with hollandaise for particularly punchy eggs royale; and even smeared between the slices of pain de mie bread that bookend streaky bacon and a fried egg, for a twist on the classic bacon sandwich.
Gkikas' Greek roots shine through in dishes like kayanas (Greek-style scrambled eggs with feta and tomato); grilled chicken with house flatbread, padron peppers and tyrokafteri (a hot and spicy cheesy spread); and gigantes plaki with grilled halloumi. And just occasionally, Catalyst invites guest chefs in for one-off takeovers — recent visitors behind the pass include Chishuru's Joke Bakare; Kian Samyani of Berenjak; and ex-Smoking Goat chef Nick Molyviatis.
See, we told you: this is no ordinary coffee shop.
Just don't go spreading it around.
NOTE: Catalyst Café is open weekdays from 8am-5pm (11pm Fridays), and closed on weekends. There are no reservations, just turn up. You can find out more HERE.
Catalyst Café | 48 Grays Inn Road, London WC1X 8LT
---
Love brunch? Check out our Ultimate London Brunch Guide.