Eline is the kind of neighbourhood restaurant that you wished you had in your neighbourhood.
It's a beautifully intimate little space (tick), that's got great food (Michelin Guide listed, tick), and great wine (and its own wine shop, tick).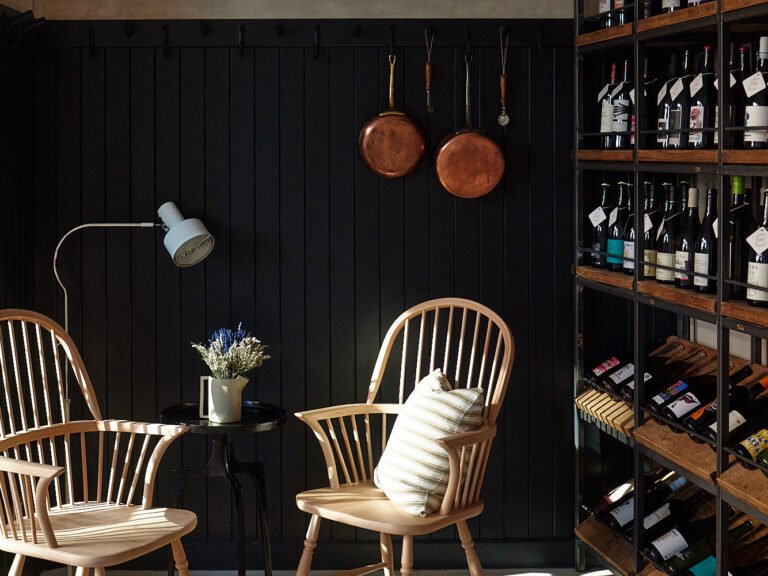 You'll find Eline in the Rosewood Building just across the road from Hoxton station (where it sits a few minutes walk in various directions from bars like TT Liquor and Equal Parts), occupying a fairly Nordic-looking space filled with pale wood & low-lighting. At the entrance, there's a small wine shop – really just a shelf – but it's got a pair of seats next to it that form a beautifully cosy little wine snug. It's there for people to wait with a glass if they get there a little early, which makes for a big incentive to get there a little early.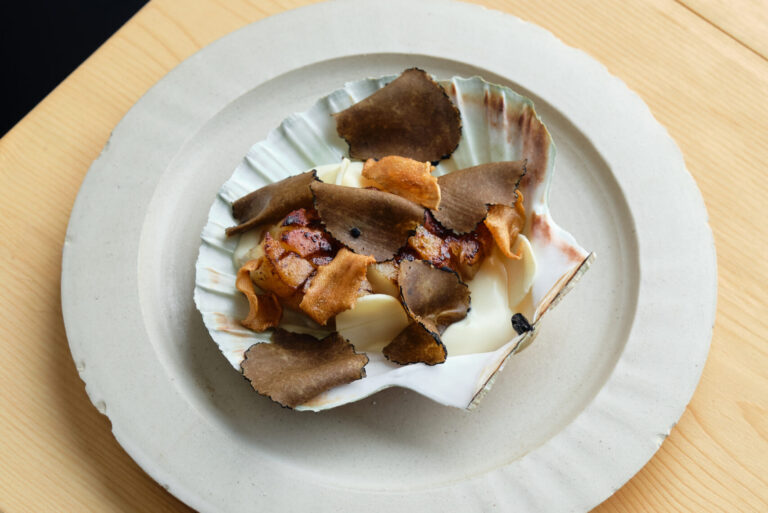 Alex Reynolds is in charge of the menu, which starts off with some of the finest bread you'll have had for a while. If you want to really make the most of it, ask for it to come with some of the ultra-smooth chicken liver parfait. After that, starters include burnt pumpkin with pickled ginger & silky herb hollandaise, and a smoked pork terrine on pork fat toast (which is sublimely moreish).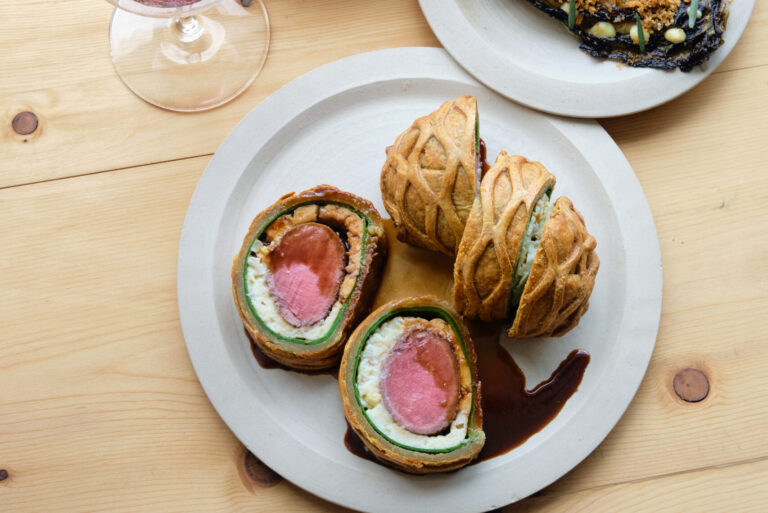 All this is before we've even seen a main course, which range from a showstopper of venison Wellington with celeriac & gravy, to as well as a dry-aged rack of halibut with crisp tempura mussels, and a Jerusalem artichoke pithivier pie with roast celeriac sauce. And to follow, you can't go wrong with their beautifully creamy Basque cheesecake. The menu isn't huge, but pretty much everything on it is a hit.
Of course, that wine shelf is there too, and it acts as a wine shop during the day (named Kimchi's). It's all excellently curated by co-owner Maria Viviani, who's chosen to draw most of the bottles from the Old World, and most of them from France. Which incidentally, is where Alex's late grandmother came from.
She's Eline.
PREVIOUS PERK: Nudge Members got 50% off the food bill from 18 November to 2nd December. 
NOTE: Eline is open now, Tues-Sat. Kimchi's wine shop is open 11am-10pm. You can find out more, and make a booking right here.
Eline | Rosewood Building, Gorsuch Place, E2 8HU
---
If you're in East London… you'll probably want to know what the best restaurants in East London are.