With restaurants like Brawn, The Clove Club and Lyle's in its number, East London is the unofficial home of the modern British small plates movement.
But it's also home to some striking examples of global cuisine; from buzzing Israeli restaurants to intimate Italian boltholes. There's nine-seater sushi dens, and nose-to-tail institutions.
So, with no further ado, behold the best restaurants in East London:
–
Crispin | Spitalfields
The striking glass pavilion isn't the only thing that makes Crispin stand out amongst other restaurants in East London. Chef Lewis de Haas is doing quite breathtaking things in the kitchen, whether for brunch or the seasonal tasting menus, or for the many collaborations he fosters with interesting guest chefs.
Details: Pavilion on The Corner, White's Row, Spitalfields, E1 7NF | Book here
–
Rogues | Hackney
Some people open a place because they love cooking. Some people open it for the drinks. Freddie Sheen and Zac Whittle opened their restaurant for the sheer love of restaurants, it seems – everything, from the ambient lighting to the relaxed but attentive service, has been meticulously designed to give you a really, really good time. Oh, and incidentally the food and drinks are really good too.
Details: 460 Hackney Road, Hackney, E2 9EG | Book here
–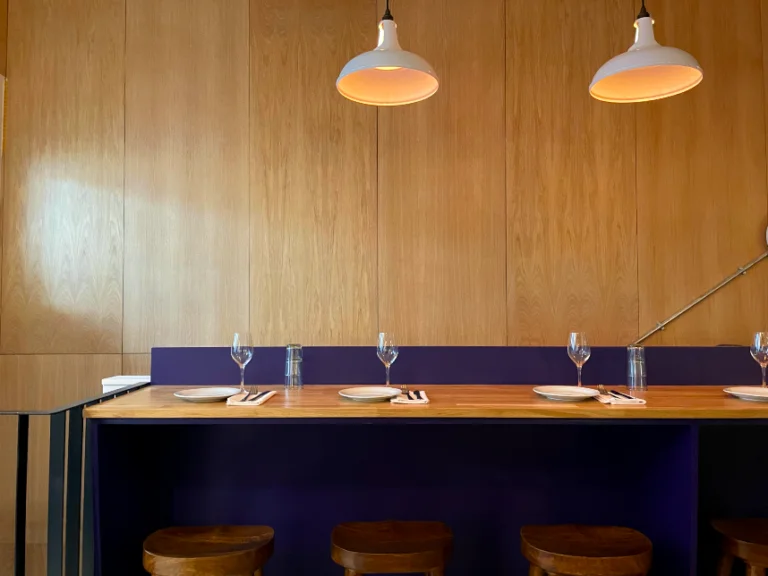 Hot 4 U's Matthew Scott has finally decided it's time to open an actual restaurant, which we are very hot for. It's called Papi, and, kind of appropriately, it's pretty much the wildly popular zero-waste pop-up in grown-up form – a simple and bare (in a cool Hackney way) space where every dish is a stroke of genius; from the smoked rabbit sausage to cheeseburger tartare to the skrei cod with leeks plucked from Scott's mum's garden in Walthamstow. He's managed to convince his pal Charlie Carr of Wingnut Wines to join him for the ride as well, and together the two are a match made in heaven with Carr's eye for little known natural wines combining well with Scott's insane creativity in the kitchen. Aside from those, there's also cocktails. But not just any cocktails. There's a Ribena Negroni, a Nesquik strawberry daiquiri garnished with sprinkles, a 'Spicy Disco Lagarita'. The point being, this is not the place if you're on a dry month…
Details: 1F Mentmore Terrace, E8 3PN | Book here
–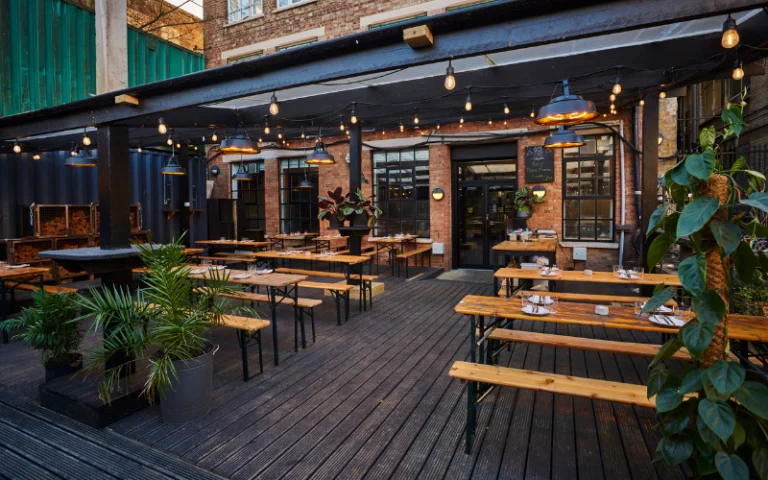 Abiding the laws of nominative determinism, Acme Fire Cult has inspired something of a cult-like following thanks to the grill skills of chef-owner Andrew Clarke. Housed in a brewery, and boasting a huge outdoor area, it's an intoxicating den of smoke, craft brews, and banging music.
Details: Abbot Street Car Park, Dalston, E8 3DP | Book here | More of the best restaurants in Dalston
–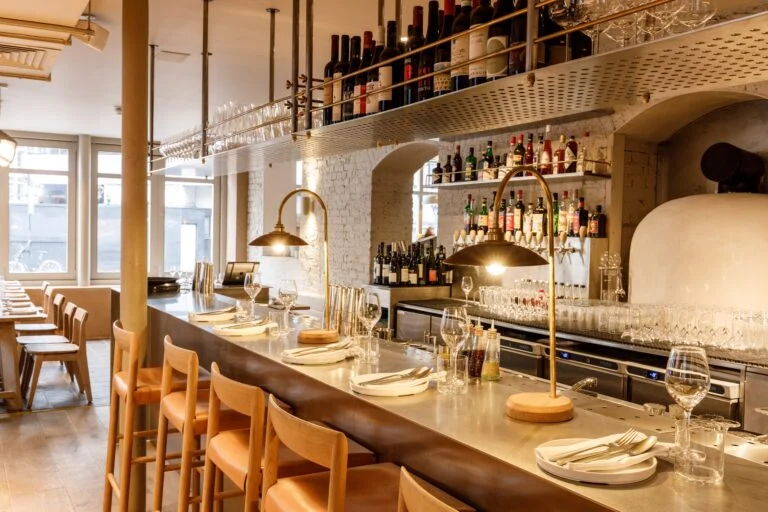 What do ex-Kitty Fisher's chef Chris Leach and Smokestak founder David Carter have in common? Lard. Or, to give it its Italian name, Manteca: their Italian nose-to-tail eatery that started out as a pop up and proved so outrageously popular that they moved to much bigger digs in Shoreditch, and still pack the place out.
Details: 49-51 Curtain Road, Shoreditch, EC2A 3PT | Book here | More of the best restaurants in Shoreditch
–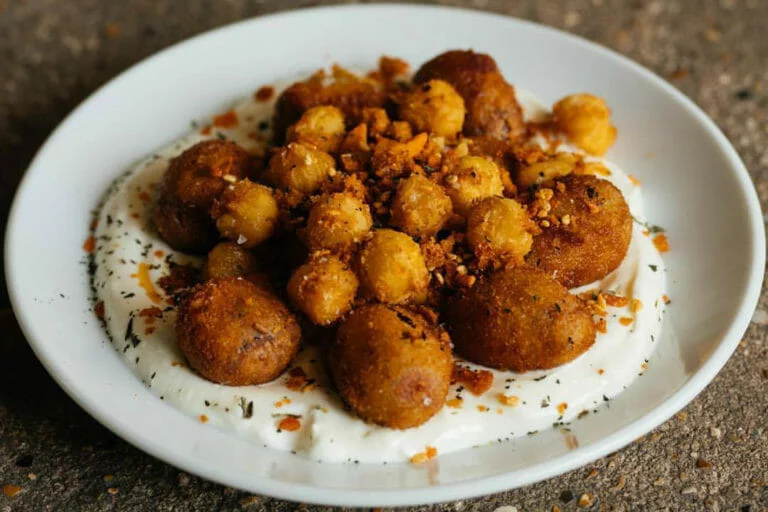 The definition of "that great little place". It's tucked down a side street off Old Street roundabout, and doesn't announce itself particularly obviously. But walk past Popolo's window and you'll see a crowd of diners sat up at a counter overlooking the kitchen, sipping vermouth and dining on Michelin Bib Gourmand-awarded Italian small plates. And you should join them.
Details: 26 Rivington Street, Shoreditch, East London, EC2A 3DU | Book here | More of the best Italian restaurants in London
–
St John | Clerkenwell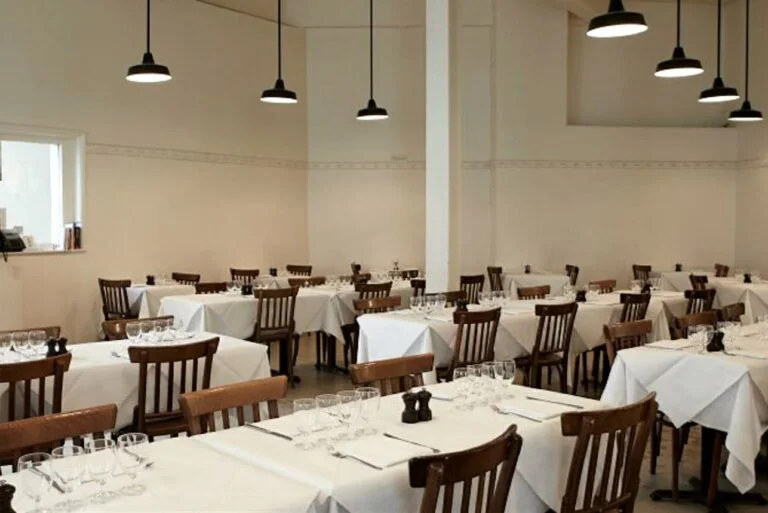 Ranked 55th in Restaurant Magazine's 100 best restaurants in the world. Ranked in no particular position in The Nudge's best restaurants in East London. We know which accolade we'd have on our website…
Details: St John St, Clerkenwell, EC1M 4AY | Book here | More of the best restaurants in Clerkenwell
One word: omakase. Entrust the chef. After you've entrusted yourself to make a booking; it only seats seven at a time.
Details: Jerusalem Passage, Clerkenwell, EC1V 4JP | Be aware it's incredibly difficult to get a reservation, but you can try your luck here
–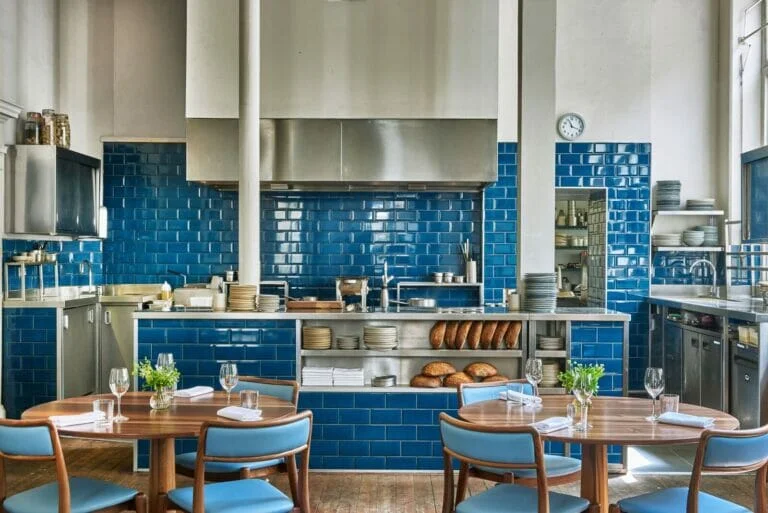 The Clove Club combine frequently overlooked ingredients in their set restaurant menu of innovative British food, placing them at #32 on the World's 50 Best Restaurants list. Call them beforehand to find out what's on offer, or for a chat – the staff are friendly.
Details: Shoreditch Town Hall, Old St, EC1V 9LT | Book here
–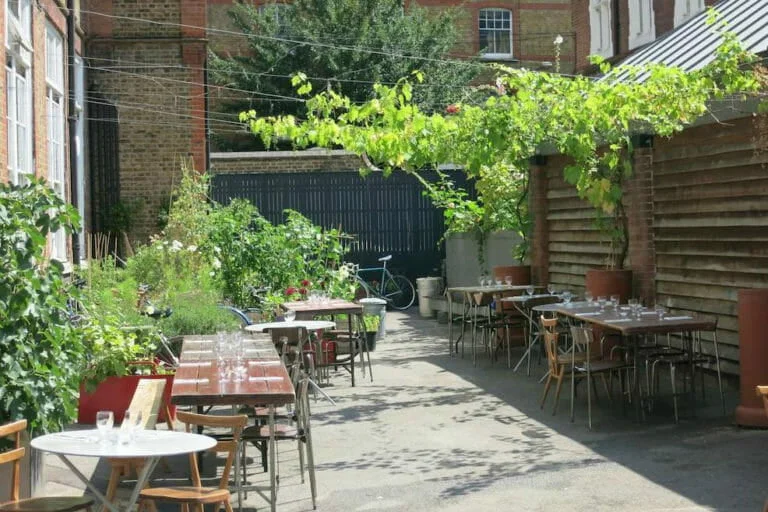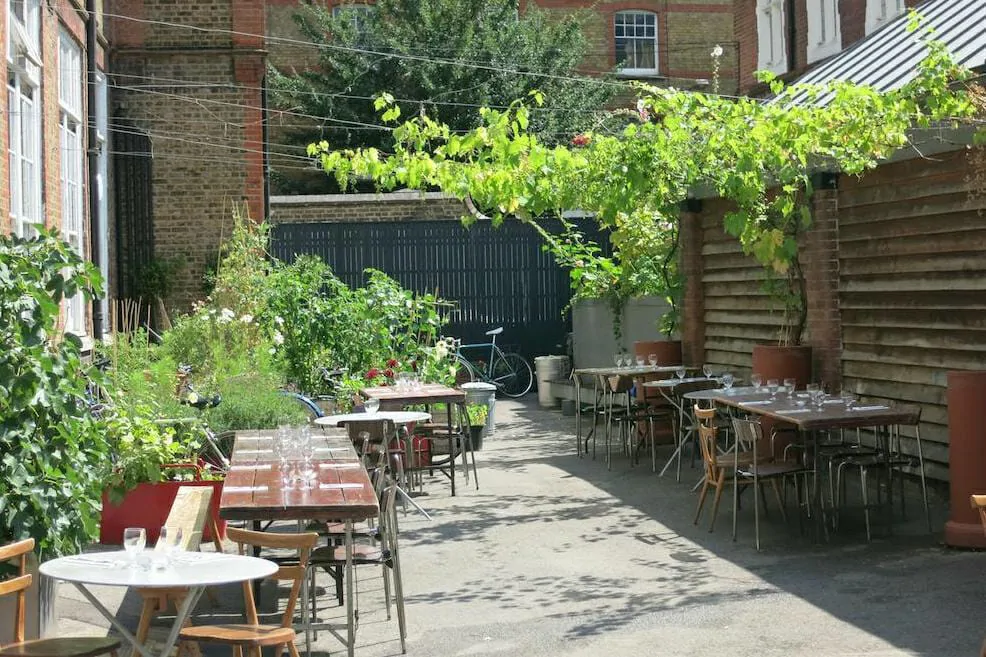 One of the best-kept secrets among London's lunch spots. Enter via a buzzer, where the day-only modern European canteen lies tucked away in the walled courtyard of an old Shoreditch school.
Details: Rochelle School, Greater Arnold Circus, E2 7ES | Book here
–
The Sea, The Sea Hackney | Hackney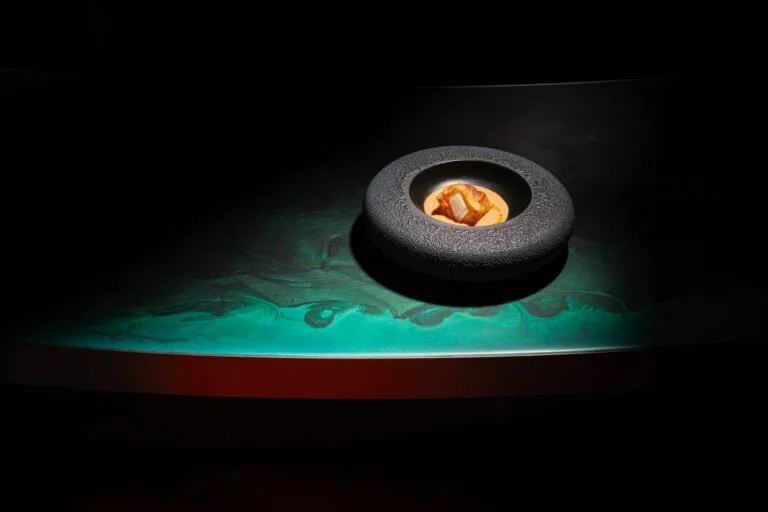 The Sea, The Sea, much like its West London counterpart, is part fishmongers, part restaurant. They take in daily shipments of swimmers fresh off the day boats, then descale, fillet, and occasionally dry-age them before sending them to some of London's top kitchens. Including their own. That's where chef Leandro Carreira puts together his highly inventive tasting menus, served up at their beautiful aquamarine bar…
Address: 337 Acton Mews, E8 4EA | Book here
–
Da Terra | Bethnal Green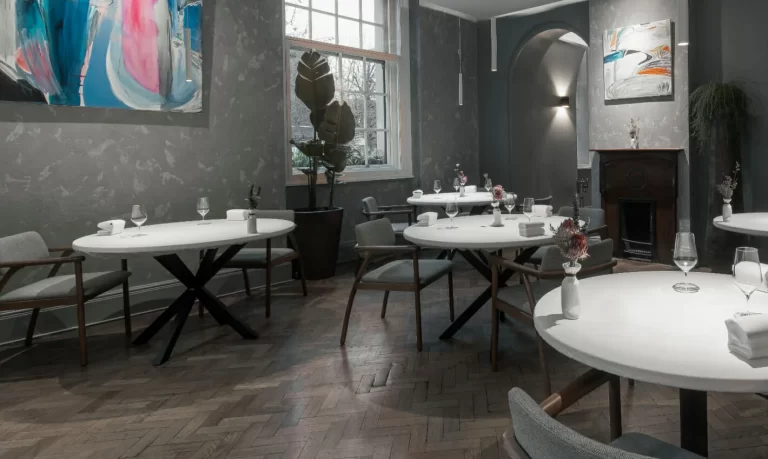 A double Michelin-starred restaurant housed in the grand Town Hall Hotel in Bethnal Green, where a couple of ex-Fat Duck chefs create nine-course tasting menus intertwining Italian and South American cuisine.
Details: Town Hall Hotel, Patriot Square, Bethnal Green, E2 9NF | Book here | More Michelin star restaurants in London
–
Oren | Hackney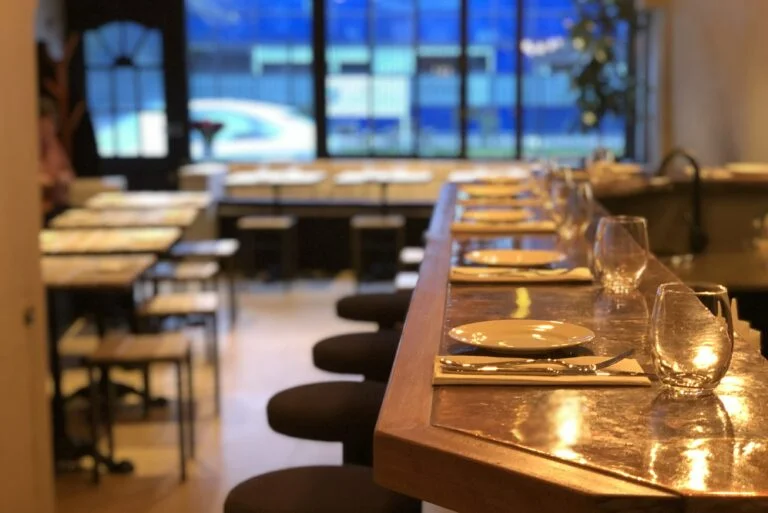 Situated in a cosy, unfussy bistro on Shacklewell Lane, Oren's one of the best restaurants in East London for it's mouthwatering Israeli dishes where you can nibble on ox cheek on a bed of hummus or brill tartare with Kurdish cheese, accompanied by a formidable wine list from Zeren Wilson.
Details: 89 Shacklewell Lane, Hackney, E8 2EB | Book here
–
Campania | Bethnal Green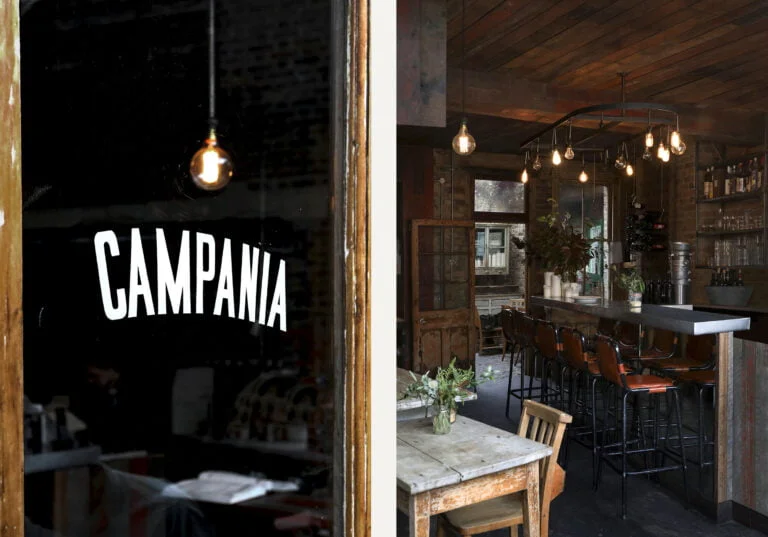 A warm, artfully ramshackle southern Italian restaurant housed in an old dairy on the corner of a courtyard tucked just behind Columbia Road. Hearty dishes combine with excellent wines, sunshine, and convivial chatter.
Details: 23 Ezra Street, E2 7RH | Book here
–
Eline | Hoxton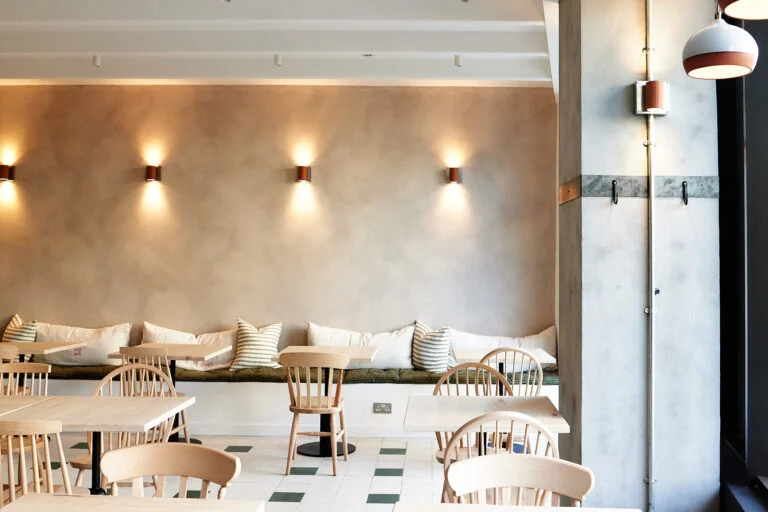 What happens when two Pophams alumni, Alex Reynolds and Maria Viviani, team up to form a restaurant? Well the bread is good, as you'd expect… but unless you've got a really deep-seated desire for bread, that's probably not why you're here. It's one of the best restaurants in East London for the top-notch food (done by Alex) in a pale-wood, low-lit space – very Scandi-chic – situated in the fancy new Rosewood Building, where there's also a wine shop (called Kimchi's and named in honour of their wine connoisseur dog, Kimchi) with old-world French wines curated by Maria (or maybe Kimchi…).
Details: Rosewood Building, Gorsuch Pl, E2 8HU | Book here
–
Bubala | Spitalfields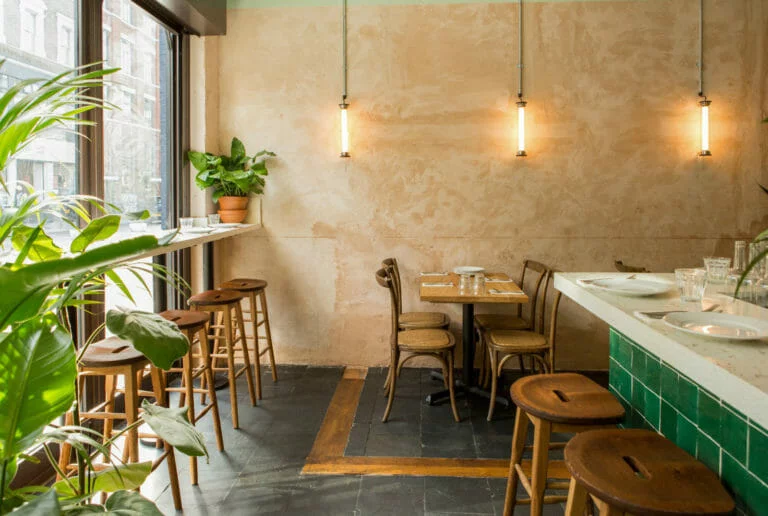 Simply put, one of the most exciting new restaurants in London. Israeli vegetarian small plates – burnt butter hummus; squidgy burnt aubergines and freshly made malawach (a Yemenite Jewish pancake) – are put together by Barbary and Palomar alumna Helen Graham.
Details: 65 Commercial Street, E1 6BD | Book here
–
Café Cecilia | Hackney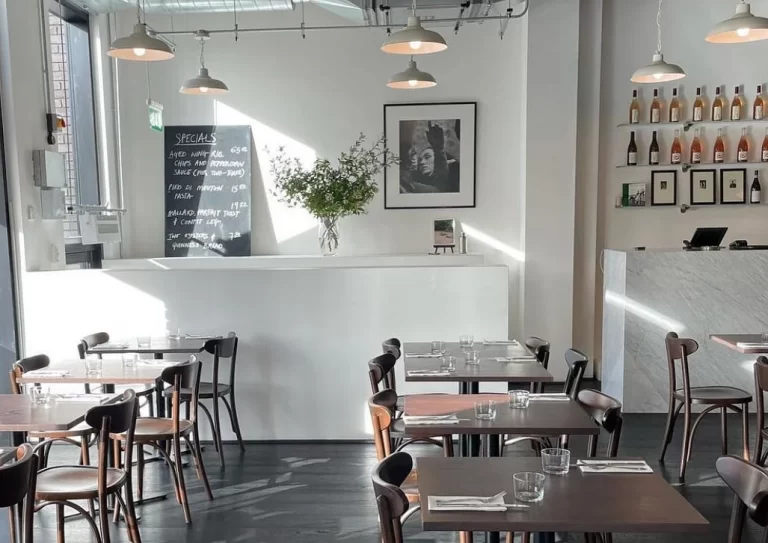 A restaurant in East London with considerable 'hot right now' status, entirely earned thanks to its canal-side location, snappy monochrome interiors and mouthwatering small plates menu, spanning from sage & anchovy fritti to Guinness bread ice cream.
Details: Canal Place, 32 Andrews Road, Hackney, E8 4FX | Book here
–
Brawn | Bethnal Green
A no-fuss, but highly fussed-over Hackney restaurant from Terroirs' Ed Wilson. Beautiful assemblies of seasonal ingredients are plated up in a minimalist dining room with a tender creativity that's won the hearts of several of London's top chefs and critics.
Details: 49 Columbia Road, Bethnal Green, E2 7RG | Book here
–
The Marksman | Hackney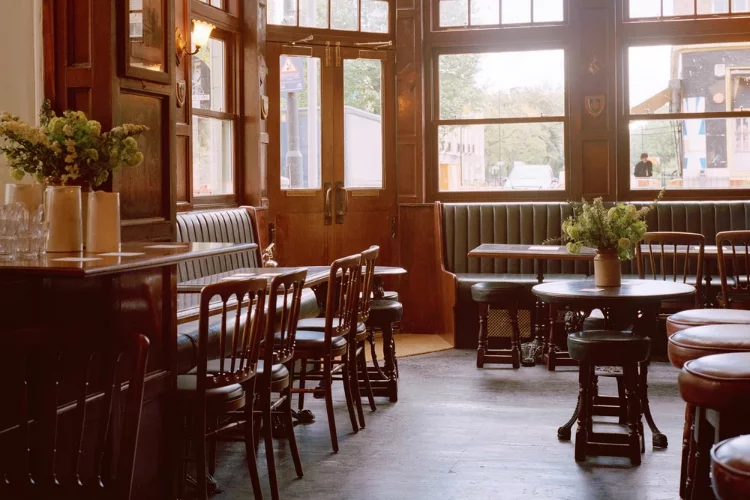 Everything you could want from a local, plus a little bit more. Namely, a roof terrace for breakfast buns and the Sunday papers; bar-setting roasts; and some of the loveliest food in town.
Details: 254 Hackney Road, E2 7SJ | Book here
–
Barge East | Hackney Wick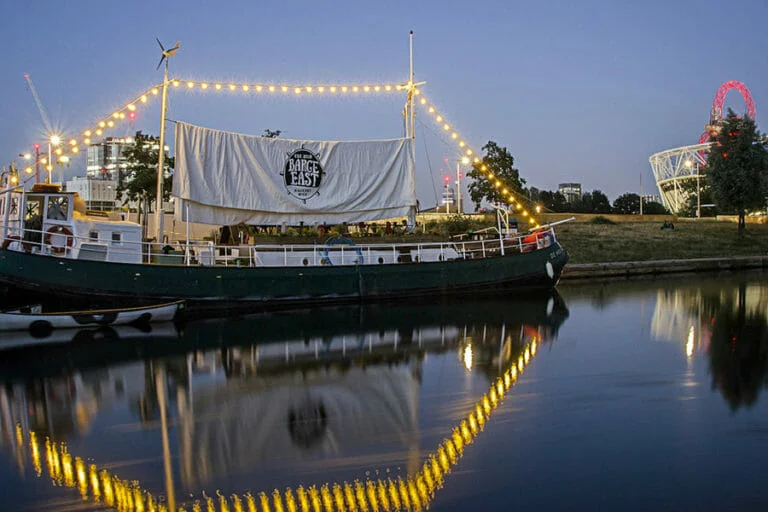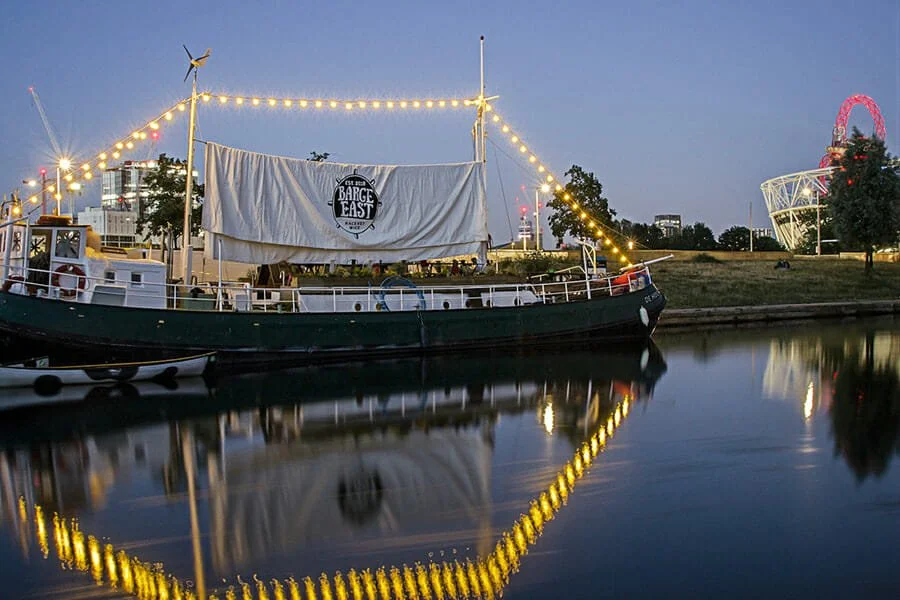 A 114 year old Dutch cargo barge moored up on the Hackney riviera, serving small plates of such impressive elegance, you'd never think they were being assembled in a kitchen the size of a captain's cabin.
Details: Sweetwater Mooring, River Lee, White Post Lane, E9 5EN | Book here | More of London's best restaurants by the river
–

The Water House Project | Hackney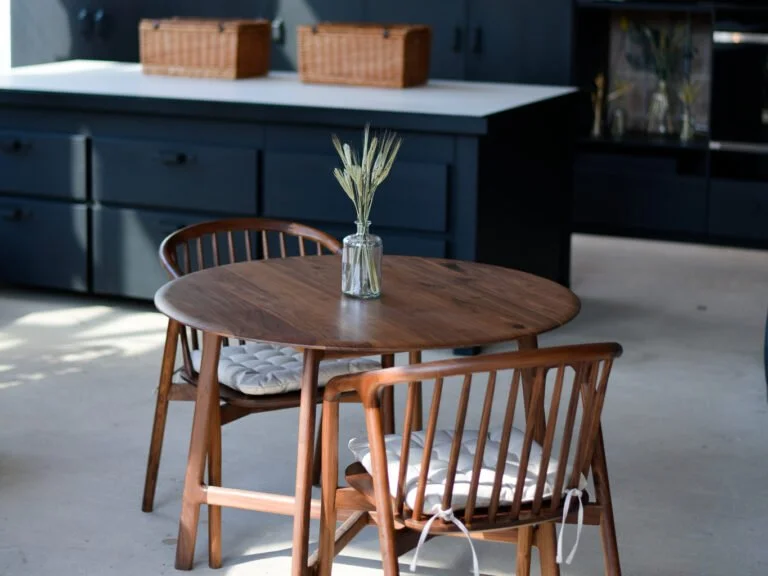 The long-awaited permanent incarnation of chef Gabriel Waterhouse's mind-blowing pop ups. His aim is to create a fine dining restaurant that has the same relaxed atmosphere as a supperclub. And he's totally succeeded.
Details: 3 Mare Street, E8 4RP | Book now
–
Nest | Hackney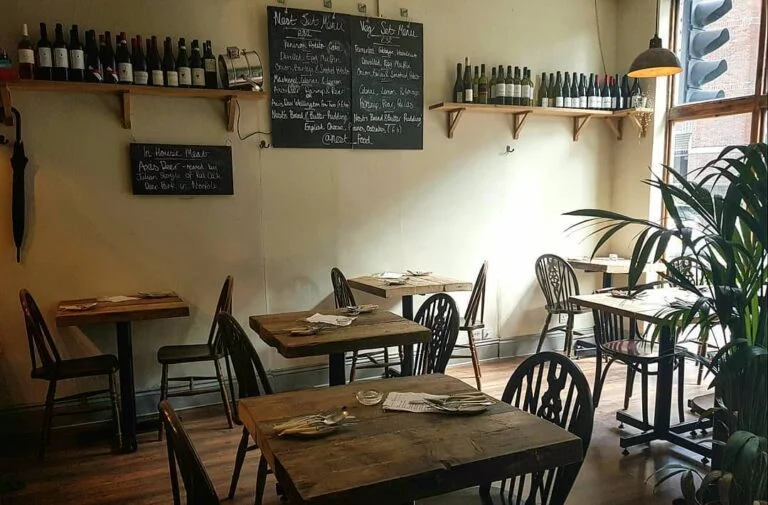 Nest has everything you need to be a top East London restaurant: a project conceived by three pals, sustainable principles, low-intervention wines and a wholly creative nine-course set menu that's dependent on seasons, changes every six weeks and zeros in on one meat, which would be a rare breed (think Mangalitza pork or Welsh wagyu) sourced from the UK's most esteemed suppliers. Ah, and it's in Hackney as well…
Details: 177-179 Morning Ln, London E9 6LH | Book here
–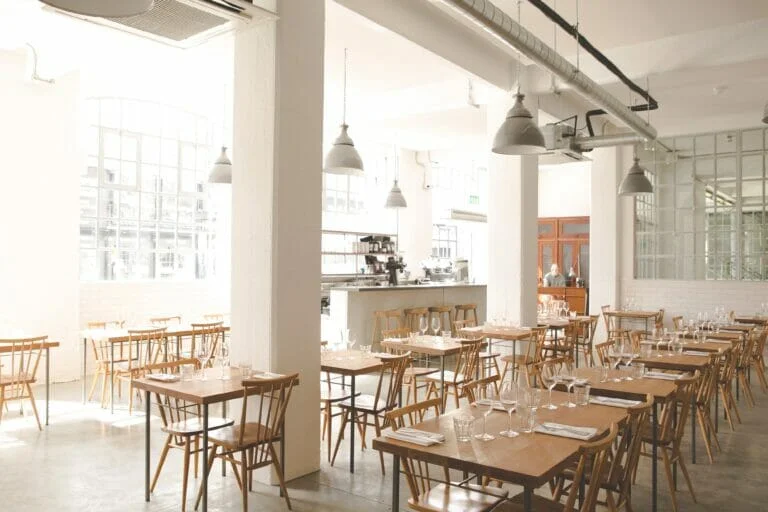 A Michelin-starred eatery serving up a £89 set menu for dinner which changes every day, put together by James Lowe (one of the founding members of 'The Young Turks' – a trio of chefs who were behind possibly the most successful pop up of all time, 'Upstairs at The Ten Bells').
Details: The Tea Building, 56 Shoreditch High Street, London E1 6JJ | Book here
–
Cornerstone | Hackney Wick
The first solo restaurant from Nathan Outlaw protégé Tom Brown, and a strong contender to being the best seafood restaurant in East London, thanks to the creative dishes and soothing, minimalist setting. And the Michelin man agrees.
Details: 3 Prince Edward Road, Hackney Wick, E9 5LX | Book here
–
Behind won a Michelin star within 20 days of opening. And if you still need any convincing, it's a chef's table dinner that puts you in the kitchen with Andy Beynon and his team of chummy chefs – only you get to sit around an 18-seat counter while they do all the work. They'll casually blow your mind with an eight-course tasting menu that turns the finest seafood from the British Isles into dishes like oyster tacos and octopus tortellini dressed with sherry foam..
Details: 20 Sidworth St, London E8 3SD | Book here
–
Morito | Hackney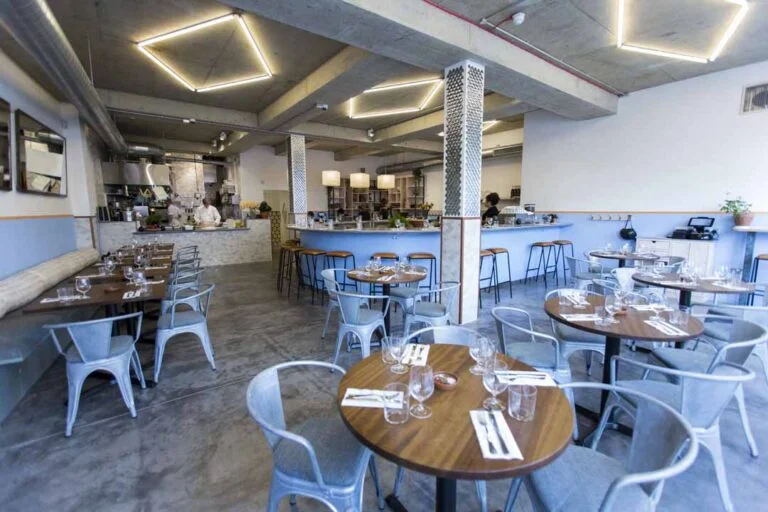 A mighty fine tapas spot, serving up Spanish-Moorish dishes like arak-cured trout, guinea fowl croquetas and slow-cooked pork shoulder in buzzy, beautiful surroundings.
Details: 195 Hackney Road, E2 8JL | Book here | More of the best Spanish restaurants in London
–
Berber & Q | Haggerston
Middle Eastern flavours. American BBQ. Berber & Q is a railway arch grill house mixing up menus in all the right kind of ways.
Details: Arch 338 Acton Mews, Haggerston, E8 4EA | Book here | Check out their second restaurant, Berber & Q Shawarma Bar
–
Bistrotheque | Bethnal Green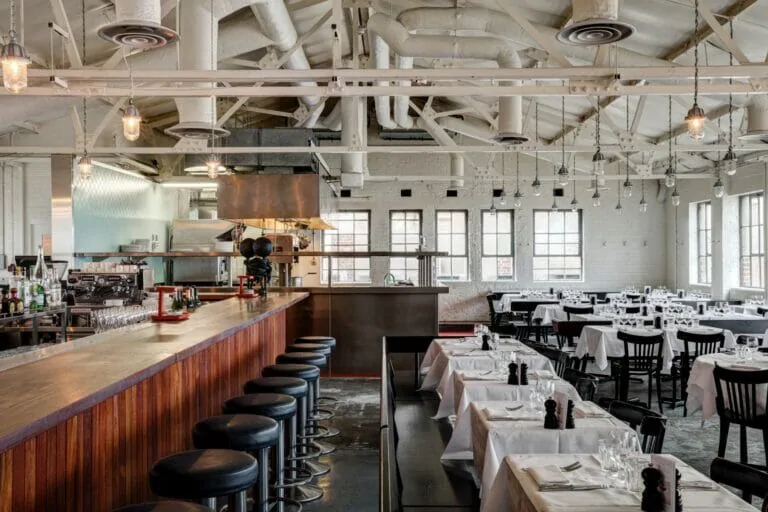 Another bastion of modern British dining, this time in a Bethnal Green warehouse. And before you roll your eyes, this place opened in 2004, so it's one of the true originals – and still great.
Details: 23-27 Wadeson Street, Bethnal Green, E2 9DR | Book here
–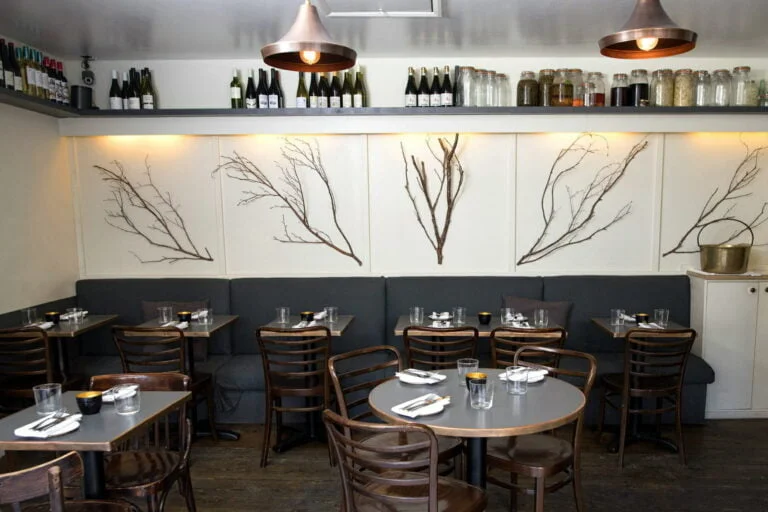 A Dalston restaurant where you have no say whatsoever in what you'll be eating. Luckily for you, it's guaranteed to be delicious.
Details: 52 Wilton Way, E8 1BS | Book here
---
Liked exploring the best restaurants in East London? You'll be needing a nightcap at one of the best bars in Shoreditch…