There have been quite a few discussions of late as to exactly which is London's best flower market.
So here we are, finally hoping to end the debate once and floral.
We're in the corner of Columbia Road Flower Market (feeding it water & massaging its shoulders) because it offers up blooms by the bucketload alongside a morning-turned-afternoon filled with fresh coffee, folk music, cold pints, and tip-top grub.
As the name suggests, it's to be found on Columbia Road – a picturesque Victorian street located in a little spot between Hoxton, Shoreditch High Street and Bethnal Green.
Every Sunday from 8am in the morning to around 3pm in the afternoon (regardless of the weather) Columbia Road springs awake with stall after stall of multi-coloured, often locally grown flowers, as well as house plants, garden plants, herbs, and seeds. Join the tightly-squeezed, single-file stream of locals and tourists alike, and you'll naturally be guided past 3-for-£10 bunches of peonies, hyacinths, daffodils, tulips, bluebells, and more.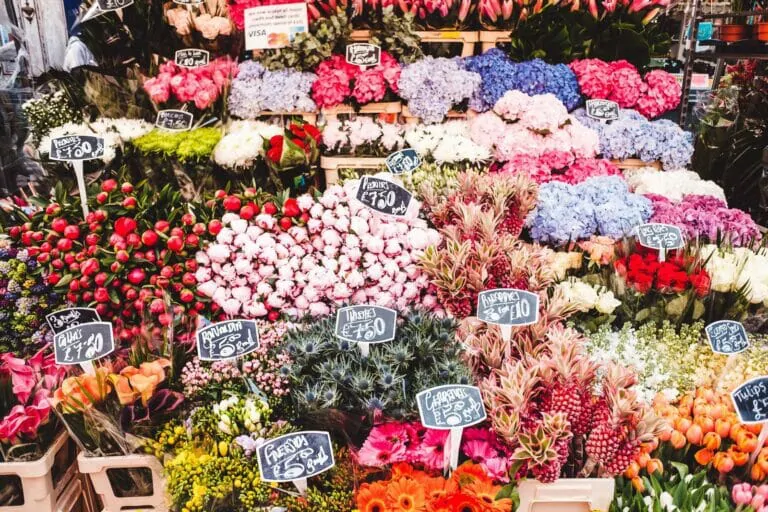 Many of the traders are second or third generation, meaning their families have worked the flower market for upwards of 35 years. They know their stuff. A lot of them are also proper East Londoners, sing-song-ing the days deals in cockney rhyming slang.
Giant hydrangea a' fiver. Where are ya.
Our loss, your gain. Wholesale money.
In our eyes, there are two main ways to tackle the market. Either get up early and score the best stems, or hold off until around two, when many of the traders start aggressively slashing prices, resulting in some serious deals.
Admittedly either way you're probably going to start, end, or start and end pretty exhausted, although this only brings us to another of Columbia Road Flower Market's big wins…
Dip in between stalls and you'll find both sides of the street lined with a whole range of independent cafes, restaurants, bars, and shops. For coffee we'd recommend Pavilion, or for a mid-morning cup of tea and slice of cake try Lily Vanilli. Campania makes for a delicious fresh pasta lunch, Laxeiro for tapas, or mosey down to The Marksman for one of London's best roasts (assuming you've booked ahead). Afternoon pints always go down well at The Birdcage, as do early dinners at Brawn…
… bloomin' lovely.
NOTE: Columbia Road Flower Market is open every Sunday from 8am until around 3pm, regardless of the weather. 
Columbia Road Flower Market | Columbia Road, London, E2 7RG
---
Best Sunday lunch you say? Indeed. And there's more where that came from in our best Sunday roast guide…