The Sunday Roast.
A meal so integral to our identity as Brits that the French literally refer to us as 'les rosbifs'.
Something that – with the whole 'frogs' thing – we probably started.
Fortunately though we've come to wear our crown with pride, turning what began as a humble piece of meat and veg to feed the whole family into a food-driven cultural beacon representing the entirety of Britain.
It is London that reigns supreme though, and we've outlined exactly where you can find out why.
Behold, London's best Sunday roasts:
---
CENTRAL
Blacklock | Soho & Shoreditch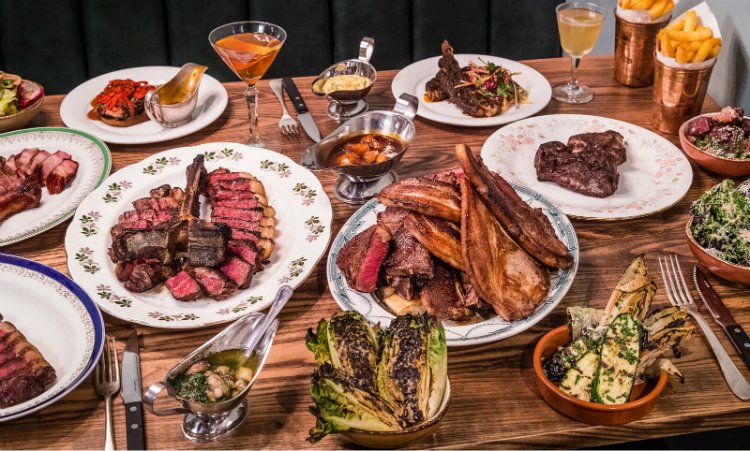 A Soho chop house opened by a trio of ex-Hawksmoor folk. Choose your meat – beef, lamb or pork – or don't, and get the 'All In' which has everything, with all the trimmings, and is perfect for sharing. Their gravy is the best in London; we said it. And it's all even better paired with one of their bloody maries or breakfast martinis. READ MORE
Details: 24 Great Windmill St, W1D 7LG | Sundays 12-6pm (9pm Shoreditch) | £16-£20 | Make a booking here
–
The George | Strand
A slip of a pub on the Strand that looks like it's been ripped straight out of Tudor England, with mullioned windows, cosy nooks and a carving on the outside of a naked man chasing pigs. Unconventional farming methods notwithstanding, that pork (and beef, and chicken) is whipped into an excellent Sunday roast with crispy roast potatoes, springy greens and possibly the best cauliflower cheese in London.
Details: 213 Strand, WC2R 1AP | 12-9pm | £16 | Make a booking here
–
The Quality Chop House | Farringdon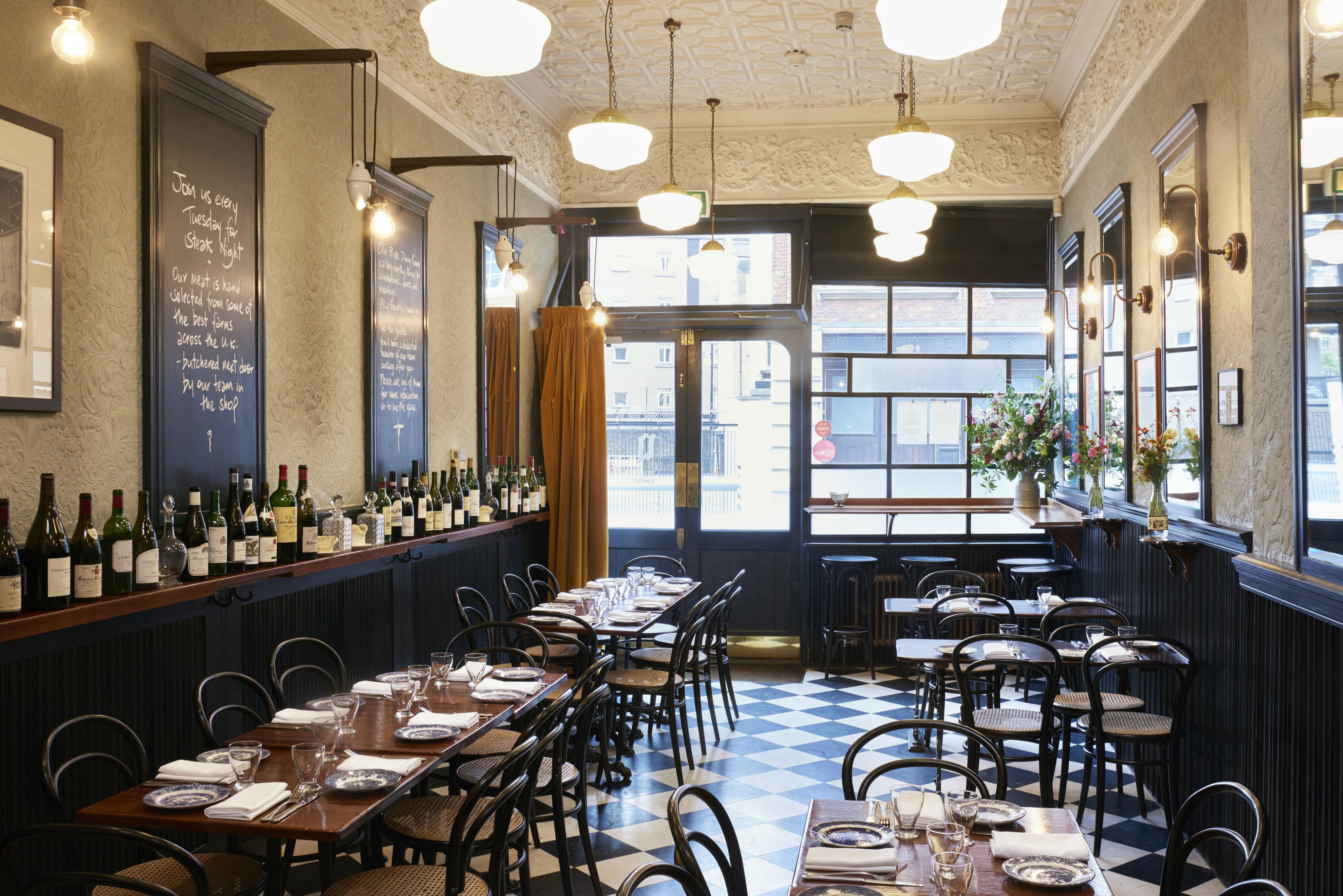 The Quality Chop House is a dining room, wine bar, butchery and butchers shop that has opened for lunch and dinner since 1869. Or, you could just call it an institution. READ MORE
Details: 88-94 Farringdon Road, EC1R 3EA | Sundays 12-4pm | £29.50-£35 | Make a booking here
–
Cora Pearl | Covent Garden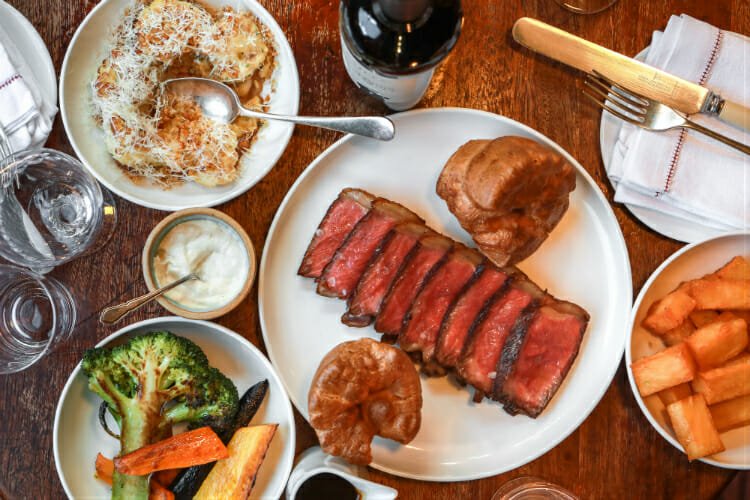 It's a super intimate, richly-designed space in Covent Garden, serving a small-in-size, big-in-flavour Sunday lunch menu, including the likes of roast beef with horseradish sauce, brought to you alongside bowls of seasonal veg, crispy rectangles of layered confit potatoes, cauliflower cheese, and of course a Yorkshire pud. They also do a second sweet Y-Pud for dessert, filled with sticky, cinnamony apples and a big dollop of vanilla ice cream. READ MORE.
Details: 30 Henrietta Street, Covent Garden, Central London, WC2E 8NA | Sundays 12-3.30pm | £25-£26 | Make a booking here.
–
---
EAST
Jones & Sons | Dalston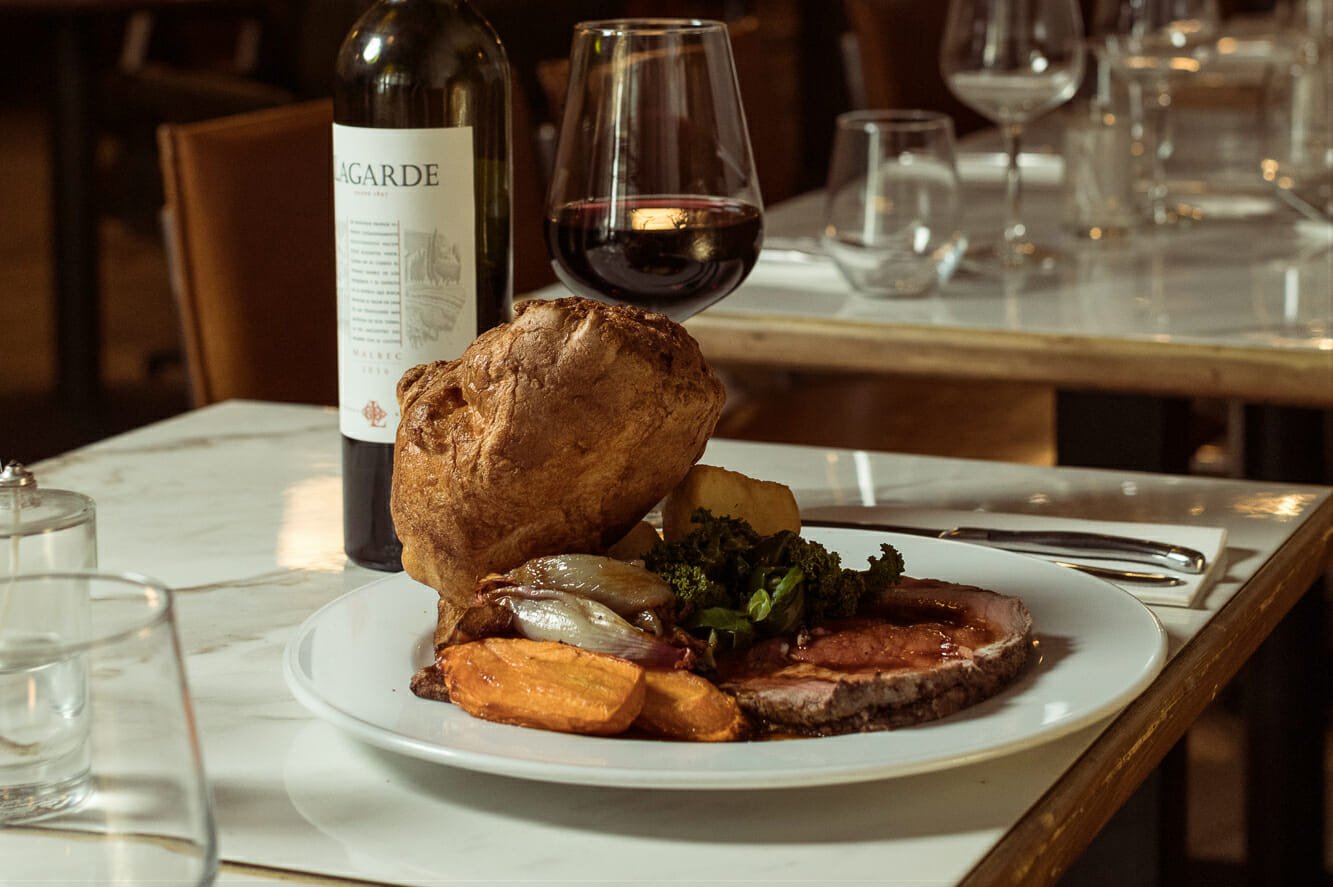 Just perfection. Starters of grilled peaches and Devon crab on sourdough give way to Welsh leg of lamb, slow roast pork belly and Herefordshire rib eye (and an actual choice of dishes for non meat-eaters), with all the trimmings in tow. READ MORE
Details: Stamford Works, 3 Gillett Street, N16 8JH | 1-5pm | £17 | Make a booking here
–
The Marksman | Hackney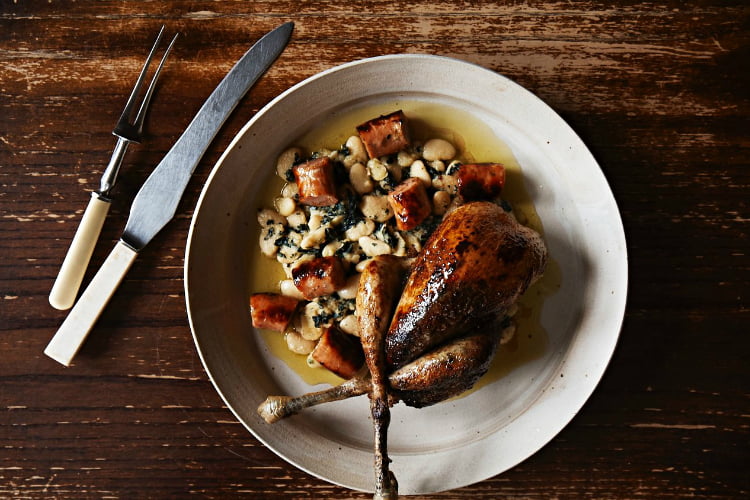 Hackney Rd's revamped Victorian pub serves up a cracking roast with universally admired Yorkshires. There's plenty of veggie and fish options too if you have a pescetarian or vegetarian to drag along with you. Doors open at 10am and coffee is served on their balcony, just around the corner from the Colombia Rd Flower Market. READ MORE
Details: 254 Hackney Road, E2 7SJ | 12-8pm | £24-£29 | Make a booking here
–
Hill & Szrok | Hackney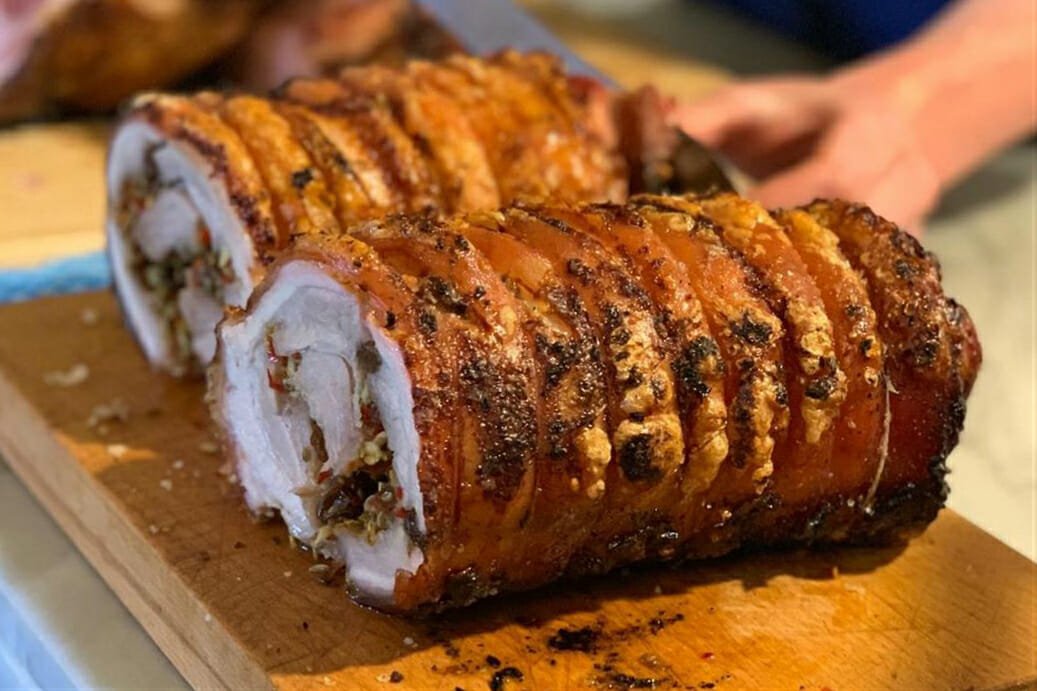 Butcher by day; communal, intimate steak eatery by night. Just like a restauranteering Batman. Chef Alex Szrok, previously of The Eagle in Farringdon, wipes down the chop table at 6pm, places 12 seats around it and – if you're lucky enough to nab one – cooks whatever he feels like. READ MORE
Details: 60 Broadway Market, E8 4QJ | 6-10pm | £20 | Make a booking here
–
The Jugged Hare | Barbican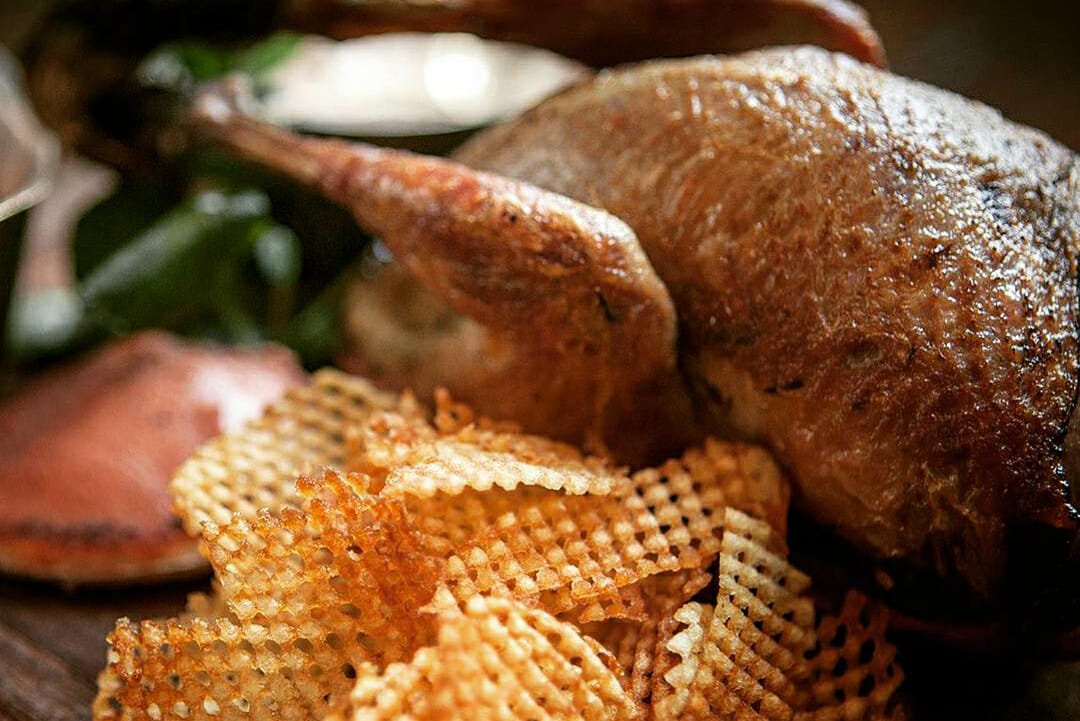 For the adventurous. Sundays at The Jugged Hare see the likes of half or whole-roasted chicken with sage stuffing and bread sauce; 45 day-aged rump with horseradish; leg of mutton; roast whole grouse (with liver pâté en croûte and game chips); or – for the brave – the eponymous dish of jugged hare. It's an old 18th century recipe that came from the original nose-to-tail philosophy; hare (here ethically sourced from Yorkshire) stewed casserole-style with red wine and a sauce made with the hare's blood.
Details: 49 Chiswell Street, EC1Y 4SA | 11am-10.30pm | From £23 | Make a booking here
–
The Culpeper | Spitalfields
An establishment named in honour of the 17th century herbalist, physician, astrologer and Spitalfields local, Nicholas Culpeper, and which under one roof(top) combines a pub, restaurant and urban garden – and one of London's best Sunday roasts. READ MORE
Details: 40 Commercial Street, E1 6LP | 12-6pm | £20 | Make a booking here
–
Barge East | Hackney Wick
A 114 year-old Dutch cargo barge moored up by the Olympic Stadium, that serves some of the best food in London. And like any respectable boat, Sundays are dedicated to formidable roasts, board games, and Sex With The Captain*. READ MORE
*that's a cocktail.
Details: Sweetwater Mooring, River Lee, White Post Lane, E9 5EN | 11am-7.30pm | £22 two courses, £27 for three | Book here
–
Galvin La Chapelle | Spitalfields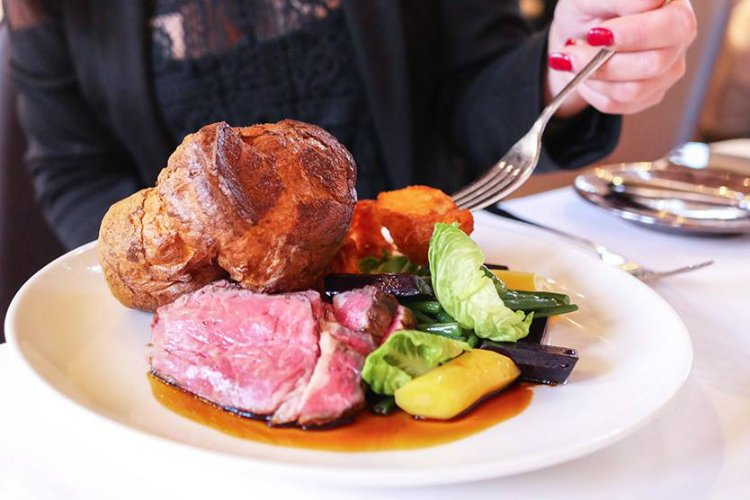 A Michelin starred Sunday lunch, served in the grandiose surrounds of a former Victorian girls' school chapel. Expect perfectly pink roast rump of Cumbrian beef, accompanied by fluffy Yorkshire puds and veg, alongside an à la carte promising roast cod loin and pigeon tagine. READ MORE
Details: 35 Spital Square, E1 6DY | 12-3pm | £38 for three courses | Make a booking here
–
---
SOUTH
Coal Rooms | Peckham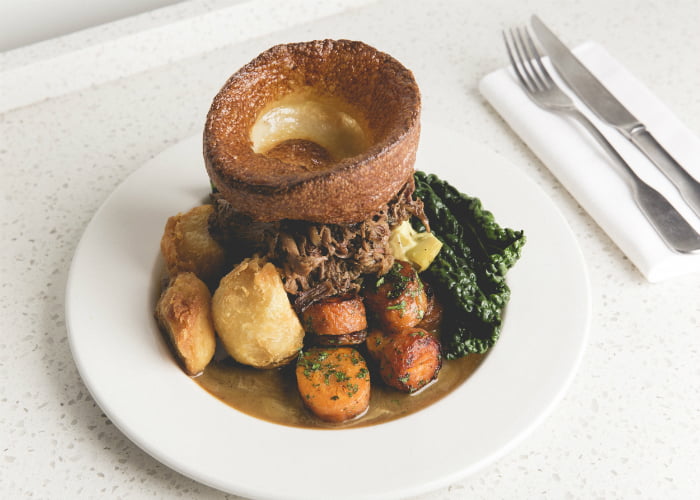 If you're looking for a great Sunday Lunch in Peckham, The Coal Rooms is just the ticket. Housed in a former ticketing office, right next to Peckham Rue station, it gently moves from cafe in the day – with fancy coffees & fresh pastries – to a fully-blown restaurant in the night. On Sundays they offer four varieties of a traditional Sunday lunch: 40 day-aged Hereford sirloin and smoked skin; smoked Cabrito goat shoulder; Gloucester Old Spot pork coppa & smoked shoulder; or, if there's two of you, a whole spit-roasted Yorkshire chicken with lingonberry jam, and sourdough bread sauce. All roasts come with a side of beef dripping potatoes, roasted carrots, spring cabbage, courgettes, and Yorkshire pudding, as well as floods of red wine gravy. READ MORE
Details: 11a Station Way, Peckham Rye Station, SE15 4RX | 12-5pm | From £14 | Make a booking here
–
Hixter | Bankside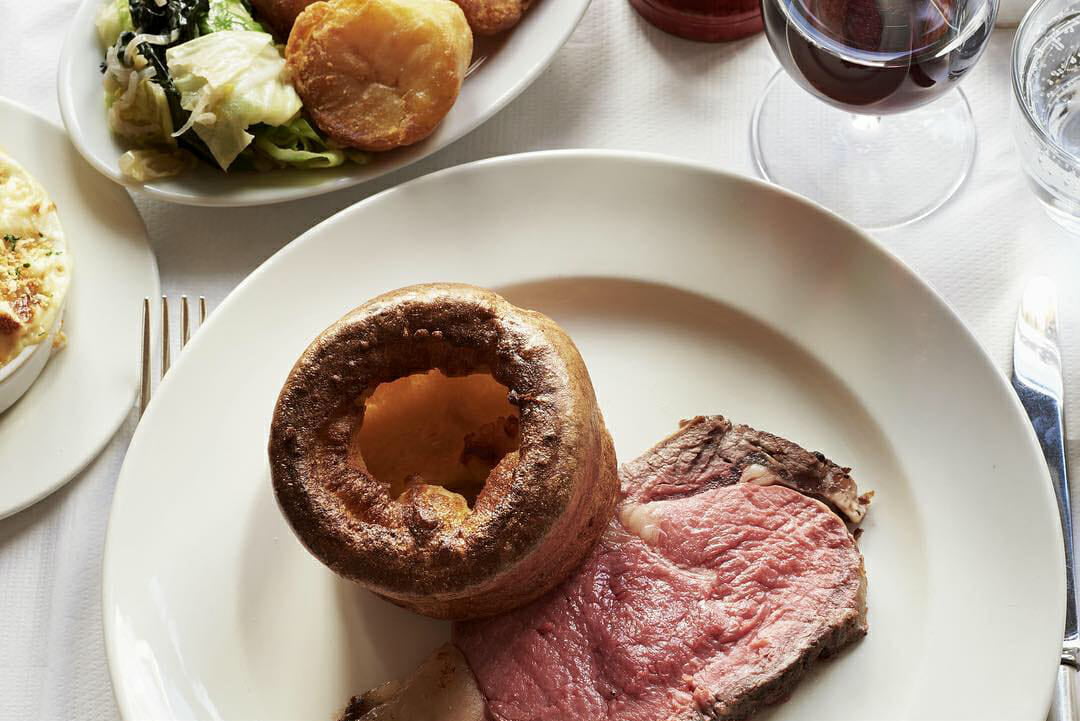 Choose between marbled sirloin or half a roast chicken; pile your plate with roasties, cauliflower cheese and Yorkshires – and settle in to endless glasses of red wine. READ MORE
Details: 16 Great Guildford Street, SE1 0HS | 12-4pm | £18-20.50, +£25pp for bottomless wine or mimosas | Make a booking here
–
The Camberwell Arms | Camberwell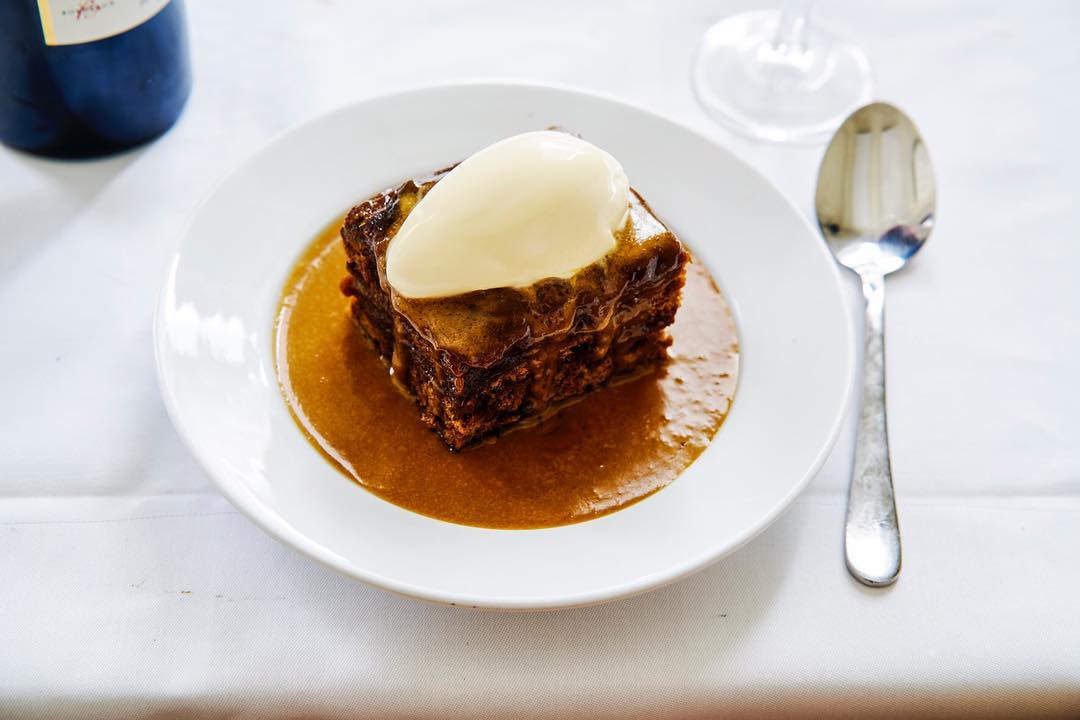 Dining at the Camberwell Arms is a test of willpower. Because you're going to have to either starve yourself for a fortnight beforehand, or somehow hold back on the starter of pork fat and scotch bonnet on toast; the side of legendary crispy brussels sprouts with pickled red onion; or the roast itself – whether it's the porchetta to share; the Hereford beef with ale and marrow pie; or the spit-roasted herb-fed chicken – if you want to have room for this bad boy. READ MORE
Details: 65 Camberwell Church Street, London, SE5 8TR | 12-4pm | £21+ | Make a booking here
–
The Anchor & Hope | Waterloo
No great shakes from the outside, but one of Waterloo's best restaurants within. The pub setting makes for a cosy atmosphere, and the roasts are top-shelf: seven-hour lamb shoulder to share, classic Highland beef, and roast skate slot into a lengthy Sunday lunch menu bookended by cheese soufflé and queen of puddings.
Details: 36 The Cut, SE1 8LP | 12-3.15pm | £18+ | Make a booking on 020 7928 9898
–
The Victoria Inn | Peckham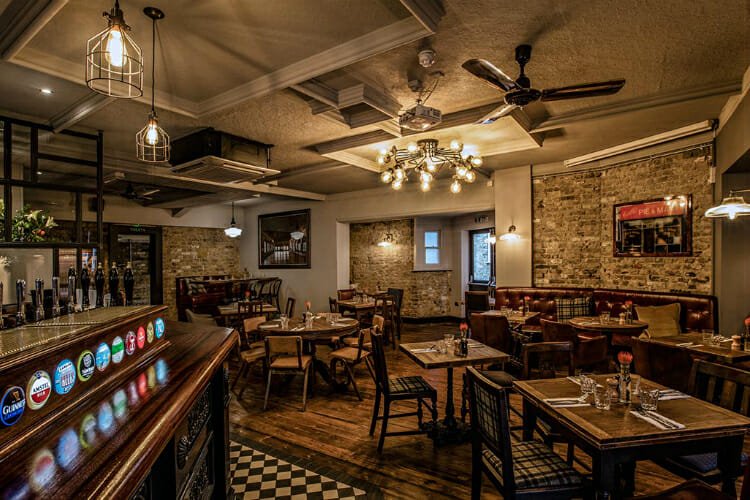 It's a handsome gastropub and hotel on Peckham's Bellenden Road where – alongside roast chicken, pork belly, and beef – they do one of the best nut roasts south side of the river.
Details: 77-79 Choumert Rd, Peckham, London SE15 4AR | £14-£17.50 | Make a booking here.
–
The Palmerston | East Dulwich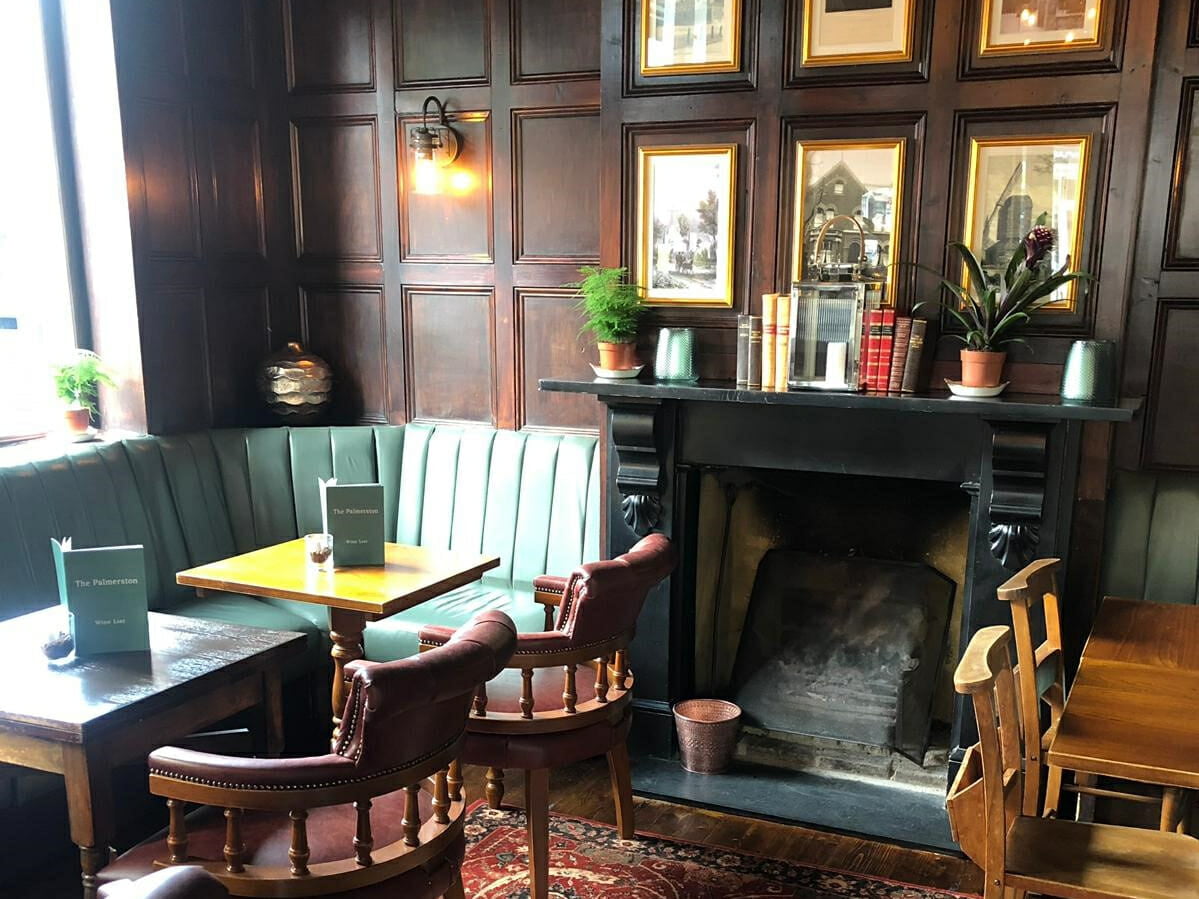 Get here soon. The lease isn't being renewed by the landlord, and the place is sadly closing in June. But between now and then, they're serving one of the best Sunday roasts in south London, with huge Yorkshires, 35 day aged Galloway beef (served pink), near-perfect veg, and potatoes that are like crispy little clouds.
Details: 91 Lordship Lane, East Dulwich, SE22 8EP | £17-£20 | Make a booking here.
---
WEST
Hawksmoor | Knightsbridge, Covent Garden, Piccadilly, Guildhall, Borough & Spitalfields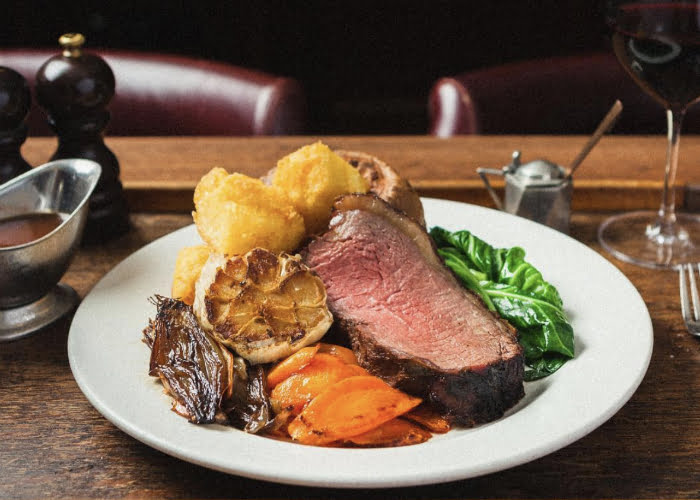 Simply the best steaks in London, and also a pretty strong contender for best roast, with 55 day aged beef rump started off on charcoal, finished in the oven and covered in lashings of bone marrow gravy. READ MORE
Details: Various Locations | Sundays 12pm-Late | £22 | Make a booking here
–
The Drayton Arms | South Kensington
Roasted. Spatchcocked. Lemon. Chicken. With gingerbread stuffing. And some other stuff, too.
Details: 153 Old Brompton Road, SW5 0LJ | 12-4pm | Make a booking here
–
The Harwood Arms | Fulham
The only Michelin-starred pub in London. And so unsurprisingly, the roasts here are rightfully lauded. The sides are just as impressive as the meat, with Yorkshires stuffed with braised beef, chicken and pork, and cauliflower-cheese croquettes. READ MORE
Details: Walham Grove, SW6 1QP | Sundays 12-2.45pm | £49.95 (three courses) | Make a booking here
–
The Hero of Maida | Maida Vale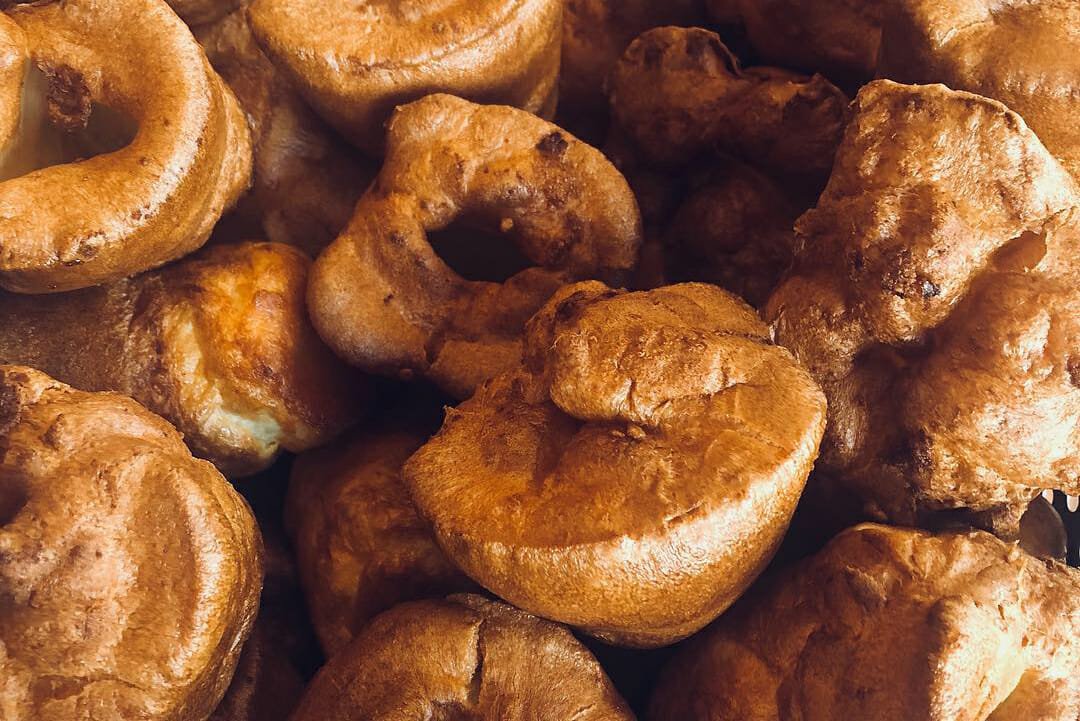 The food at this Maida Vale pub and dining room is excellent on any day of the week. But on Sundays, lunches begin with Jersey oysters; continue with veg wellingtons, pork shoulders and sirloin, lamb shoulder or spatchcocked chicken to share; followed by desserts like chocolate mousse, honeycomb and caramelised banana; and finish off with a pub quiz and a glass of peanut butter stout. READ MORE
Details: 55 Shirland Road, London W9 2JD | 12-6pm | £16-19.50 | Make a booking here
–
---
NORTH
The Old Queen's Head | Islington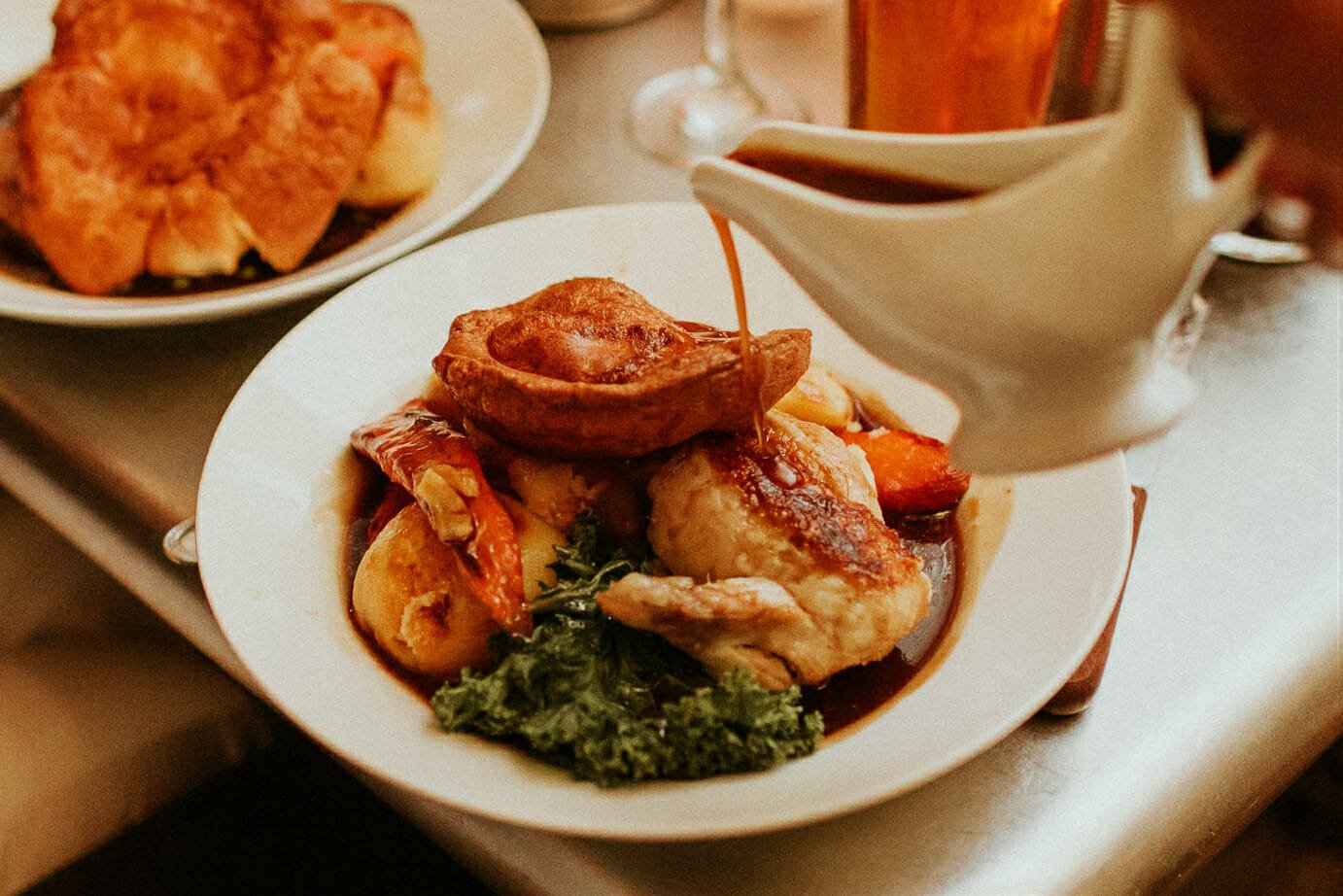 The OQH's four roasts jostle for first place – there's Gloucestershire leg of lamb with minted peas; roast corn-fed chicken with aioli and smoked gravy; just-pink 32 day aged Longhorn beef with marrow gravy; and an excellent veggie/vegan mushroom wellington, with all the trimmings.
Details: 44 Essex Road, Islington, London, N1 8LN | 12-7pm | £13.95+ | Make a booking here
–
The Pig And Butcher | Islington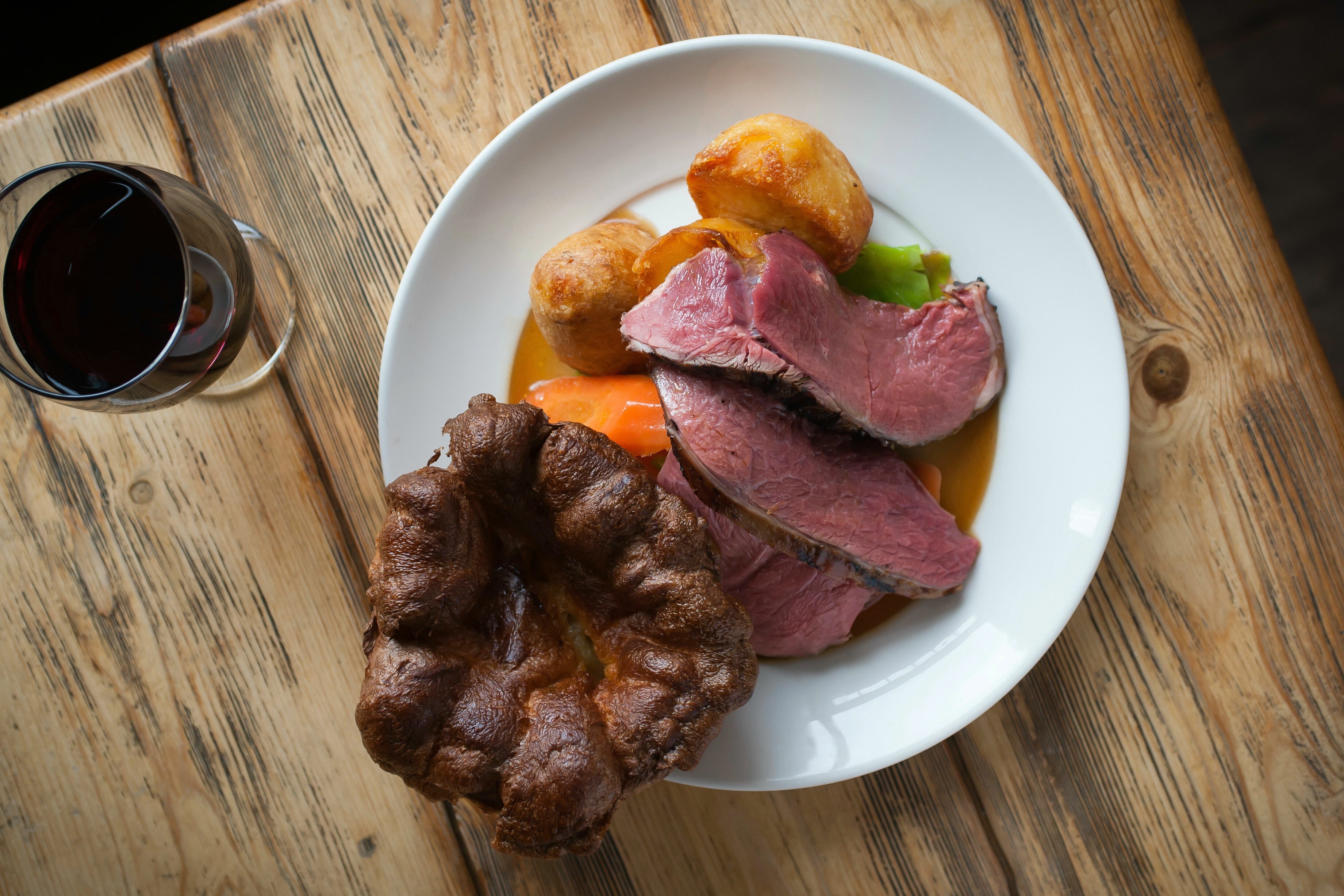 Perfect cuts, direct from the suppliers and butchered in-house, paired with beef dripping potatoes, creamed leeks, buttery carrots, three-day-simmered gravy and ballooning Yorkshire puds perched on top. Plus, dark chocolate hotpot and milk ice cream to finish. READ MORE
Details: 80 Liverpool Road, N1 0QD | 12-11pm | £17.50+ | Make a booking here
–
The High Cross | Tottenham
A Tudor-esque former public toilet hides Tottenham's smallest gastropub within: a cosy, independently run spot with a killer roast. Pork, chicken, beef, lamb and nut versions are served up every Sunday with all the trimmings, and a great beer list to match. READ MORE
Details: ‭350 High Road, N17 9HT | 1.30-6.30pm | £13+ | Make a booking on 020 8292 8115‬
–
1251 | Angel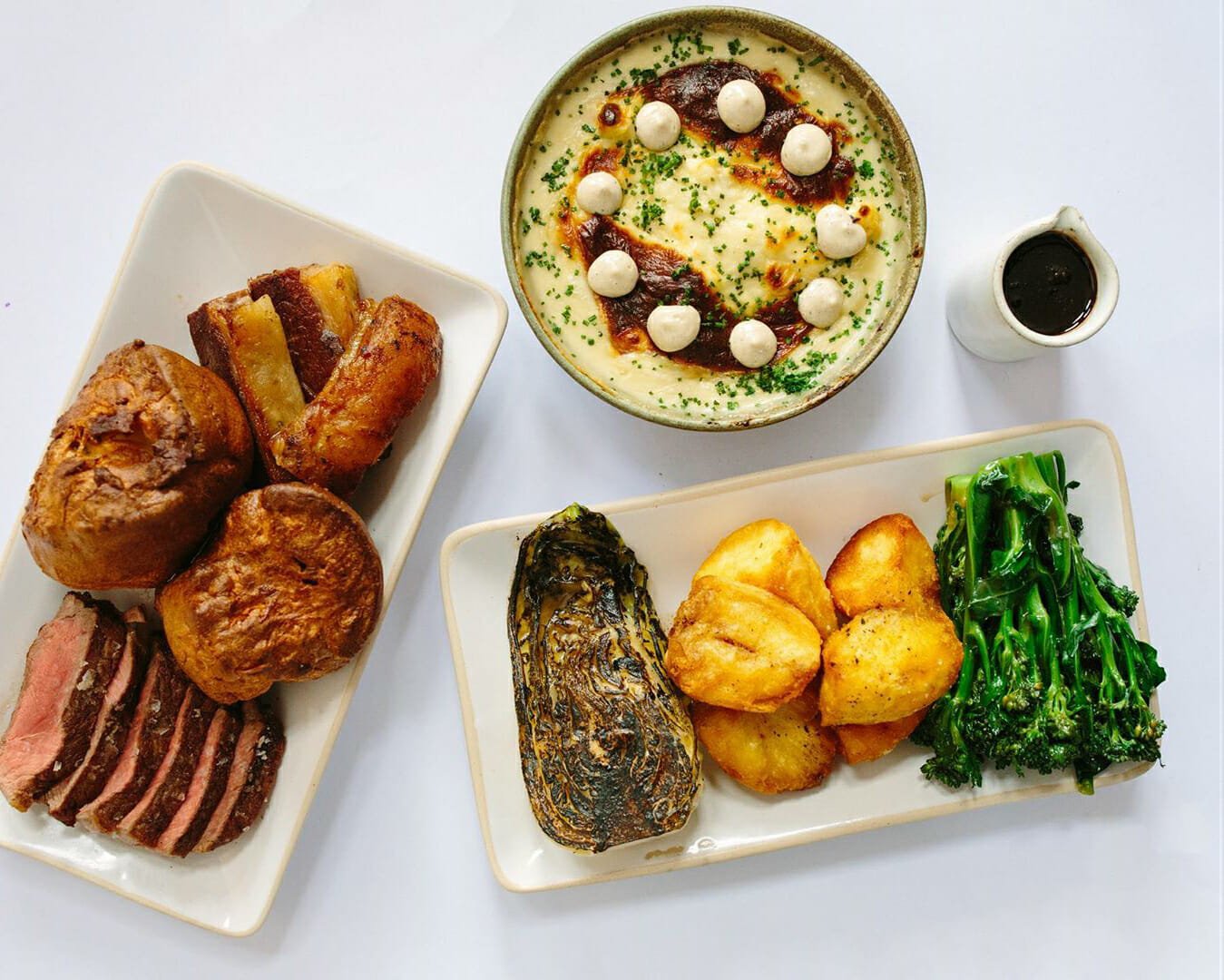 Keeping it simple, 1251 offer one roast, and one roast only: 60 day-aged Dexter beef sirloin and brisket to share between two, with roast potatoes and carrots, grilled hispi cabbage, smoked bone marrow, truffle mayonnaise, and Yorkshires as big as your fist. READ MORE
Details: 107 Upper Street, N1 1QN | From 12pm | £25pp | Make a booking here
Last Updated: 20th January 2020 | Main image: Blacklock
---
Like great restaurants? Check out our excellent guide to the best restaurants in every London neighbourhood.