Fallow's pop up is a hard act to follow.
It was only supposed to last 12 weeks, opening in March 2020. And given what else happened in March 2020, it may well have lasted zero weeks. But they survived, and indeed somehow flourished throughout the various lockdowns, ending up sticking around for over a year, and winning a Bib Gourmand in the process. Yes, a pop up won a Bib Gourmand. And it deserved it.
If you didn't get a chance to go, it's the work of a pair of crazily talented chefs – Jack Croft & Will Murray – who met while manning stoves at Dinner by Heston, where they bonded over their shared interests in both sustainability and possessing crazy amounts of talent. So they threw their chips on the table and started a sustainability focussed pop-up together. And we're happy to report that they've successfully completed the transition to a bigger, better, and more impressively chic permanent restaurant in St James.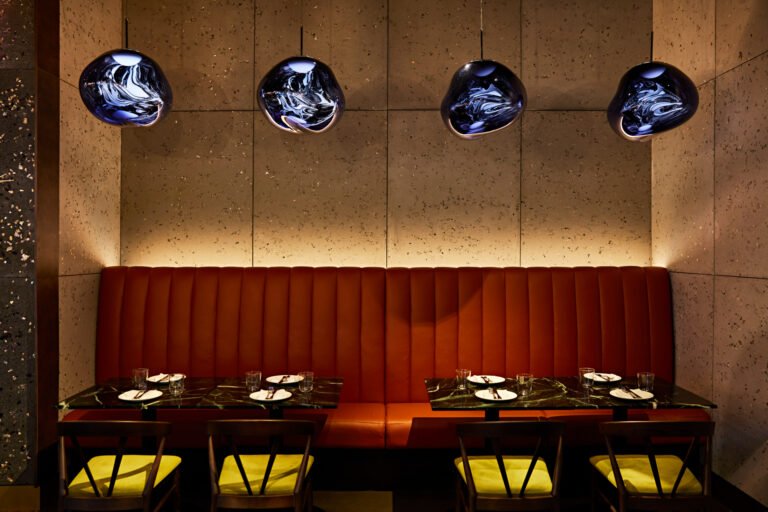 You'll find it rounding the corner into Haymarket – walk in, and you'll be immediately hit by the buzzing, vibrant energy of the place. There are bursts of flame from the open kitchen, the low hum of chatter from the diners, and bustling waiting staff gliding between tables with tray-fulls of elegant-looking food. It's all lavished with green marble & red leather, and the ceiling above you has been sown with dangling sea kelp & inverted planting boxes of heather. After you're whisked to your table, your host will point out the giant, dish-like mushrooms being grown in fat sacks of earth suspended above the kitchen itself.
That's the visual launchpad from which they can explain the place's dedication to sustainability, while taking you on a tour of the wonderfully creative menu. First up, you'll want to get the corn ribs – flash fried and dusted with an umami-laden kombu seasoning, they're devilishly good (and not just for vegan diners). Then there's the cod's head, a part that would otherwise have ben discarded, but which they've turned into a signature. It's brined, cooked over charcoal, and dressed with a sriracha butter sauce & green onion oil, and what comes out is tender & flavourful, like the best version of cod cheeks you've ever had.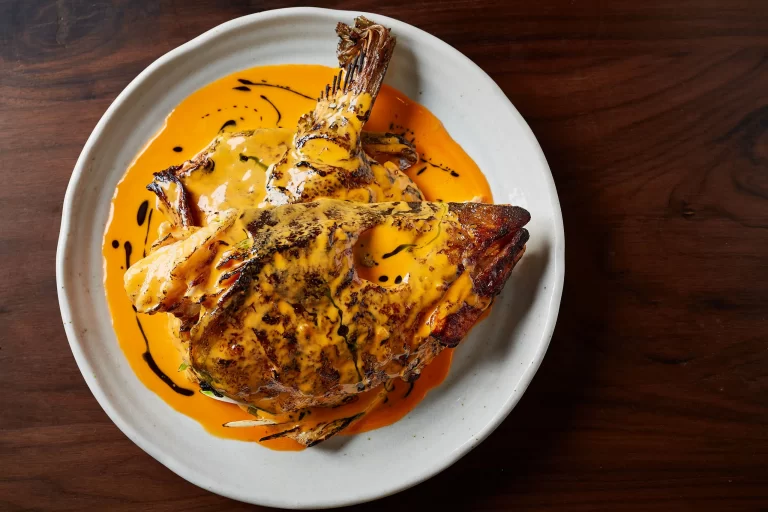 There's a lot more besides that of course. There are grilled steaks from retired dairy cows, with a rich flavour profile (and an even better sustainability profile); a creamy, cloud-like mushroom parfait made from the shiitake & grey oysters grown in the restaurant itself; and Boulanger potatoes with dozens of gorgeous, crispy, mille-feuilles-like folds. And for dessert? Try the sourdough soft serve ice cream. Or the Chelsea tart with caramelised whey. Or the lemon peel pudding. They're all made from otherwise discarded ingredients, and they're all fantastic.
To wash it all down, there's a list of biodynamic wines – including some from Renegade Urban Winery in Bethnal Green, where they ship over grapes from France and crush them into hooch within 24 hours – and classic cocktails including a good ol' frozen margarita.
Just be prepared to take a fallow day after.
NOTE: Fallow is open daily for lunch and dinner. You can find out more, and make a booking at their website right HERE.
Fallow | 2 St. James's Market, SW1Y 4RP
---
Like sustainable restaurants? The Seafood Bar would like a word…