Ah, the London beer garden.
Often, it's the perfect place to kick back with a nice refreshing pint of sunscreen. And London happens to have several truly excellent examples of these tipple-filled terraces – from perfectly formed pint-sized plots, to expansive lawns, to pergola-covered retreats and riverside decks, they're all here.
Now, let's take this outside…
---
JUMP TO: North London | East London | South London | West London
---
North London Beer Gardens
The Albion | Islington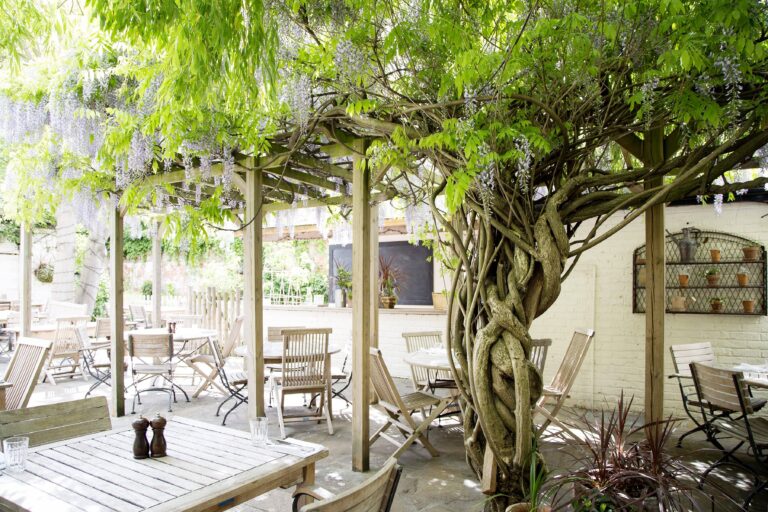 450 square metres of wisteria-covered garden – that's what you'll find when you step out the back of The Albion in Islington, a restored Georgian boozer offering up some of the best pub grub in the city. Floor-to-ceiling French windows mean that in the colder months you can sit inside and enjoy it form afar, whilst summer sees it heaving with people sunning themselves and swigging on everything from classic cocktails to locally-brewed beer. 
Details: 10 Thornhill Road, London, N1 1HW | Book here
–
The Terrace At Alexandra Palace | Wood Green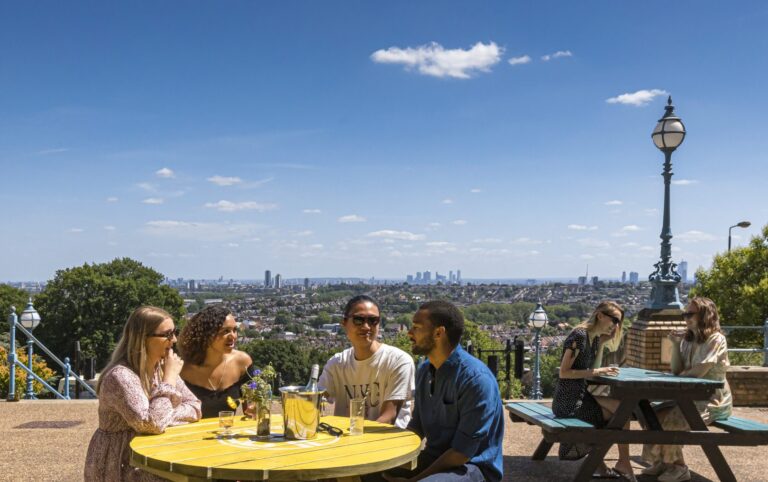 At a whopping 1,500sq m, The Terrace at Alexandra Palace takes the award for the biggest panoramic beer garden in London. It's not open all year – just for the summer – however, when it is, you'll find a lengthy list of everything from cocktails to craft beer, which you can enjoy whilst staring out at the city in front of you. They also do stone-oven pizzas and, on weekends, they're joined by a number of street food traders, all of which promises a royally good time.
Details: Alexandra Palace Way, Wood Green, N22 7AY | No bookings
–
The Garden Gate | Hampstead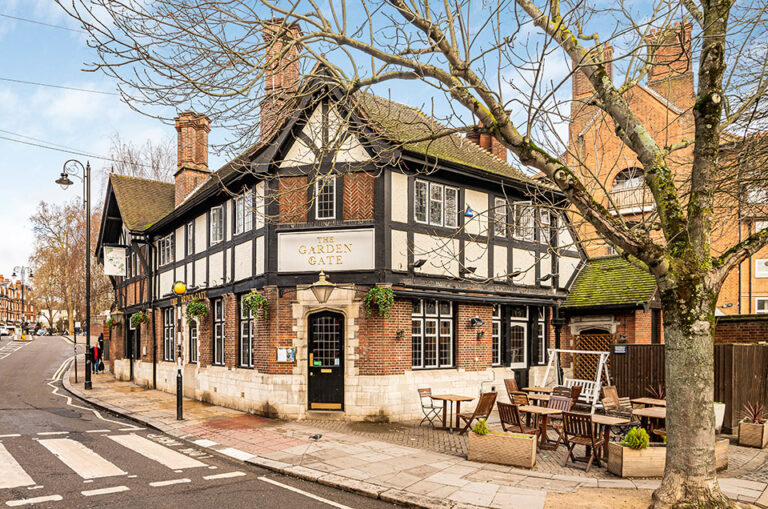 The Garden Gate sits right on the fringes of the biggest of all London's beer gardens: Hampstead Heath. But for the days when tinnies on the grass won't cut it, head for a civilised bev in the leafy back yard of this mock Tudor pub. There's loads of seating – some with brollies/heaters – and a healthy line-up of craft beers to explore.
Details: 14 South End Road, Hampstead, NW3 2QE | Book here
–
The Faltering Fullback | Finsbury Park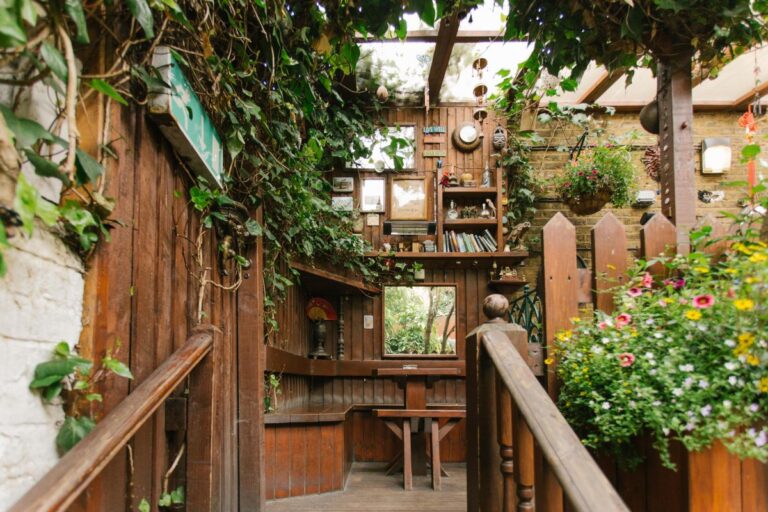 This bushy Irish boozer tucked away by Finsbury Park station has a beer garden at the back that will fulfil all your unrealised, impassioned childhood dreams of a treehouse. It's a sprawling wooden wonderland where staircase upon staircase leads to all sorts of nooks and crannies – some dotted with trinkets like books, clocks, mirrors, and bells – that are perfect for intimate conversations. Unsurprisingly they pour a great Guinness, whilst the kitchen dishes out some extremely reasonably priced Thai. Just be warned, they don't take bookings so turn up late (especially in summer) and you'll likely be met with a….fullback.
Details: 19 Perth Road, Finsbury Park, London, N4 3HB | No bookings

East London Beer Gardens
People's Park Tavern | Hackney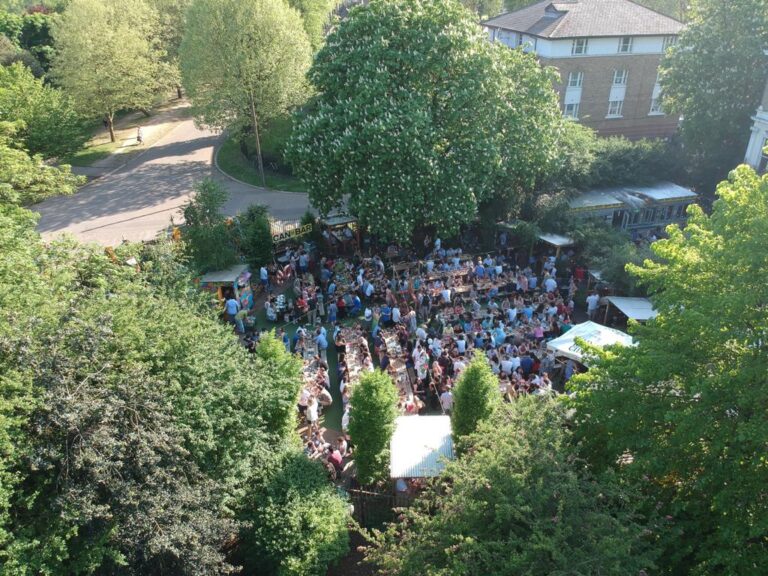 Part pub, part micro-brewery, People's Park Tavern boats one of the biggest beer selections in the city. And, as it happens, it also boasts one of the biggest beer gardens for drinking it in. Perched on the edge of East London's Victoria Park, it's almost the size of a park itself, with multi-coloured bunting and masses of picnic benches, live music, a pop-up can bar and an outdoor BBQ rustling up all the hits.
Details: 360 Victoria Park Road, London, E9 7BT | Book here
–
CRATE Brewery | Hackney Wick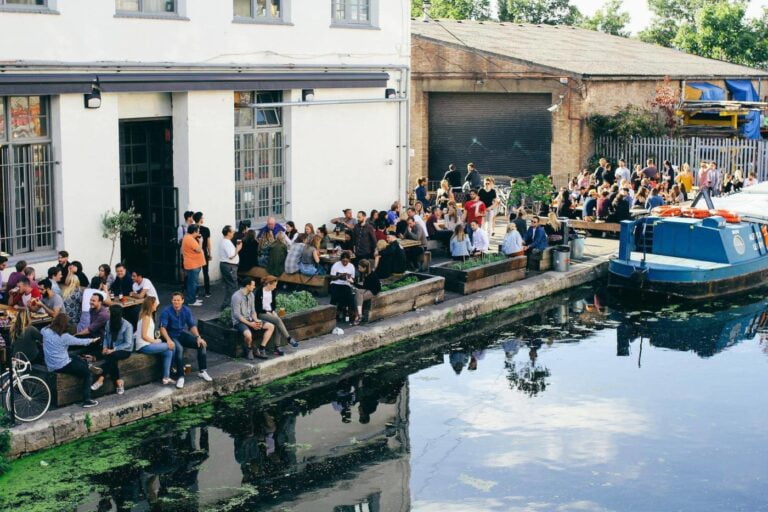 Like a lot of stuff in Hackney Wick, CRATE Brewery sits along the edge of the River Lea. Which means their terrace (a long concrete stretch of picnic benches) is waterside too. You can sit out and swig on a pint of lager, or a limited edition Citra Sour and watch the comings and goings along the water – ducks, canal boats, and occasionally the tired, thirsty faces of those kayaking their way to CRATE. You're also parked right next to the Alfred Leroy – a small, fairy-lit sailing boat that doubles up as a floating bar serving all of CRATE's beers as well as classic cocktails and Jarr Kombucha spiked with booze.
Details: Unit 14, Queens Yard, Hackney Wick, E9 5EN | No bookings for outside tables
–
Pub On The Park | London Fields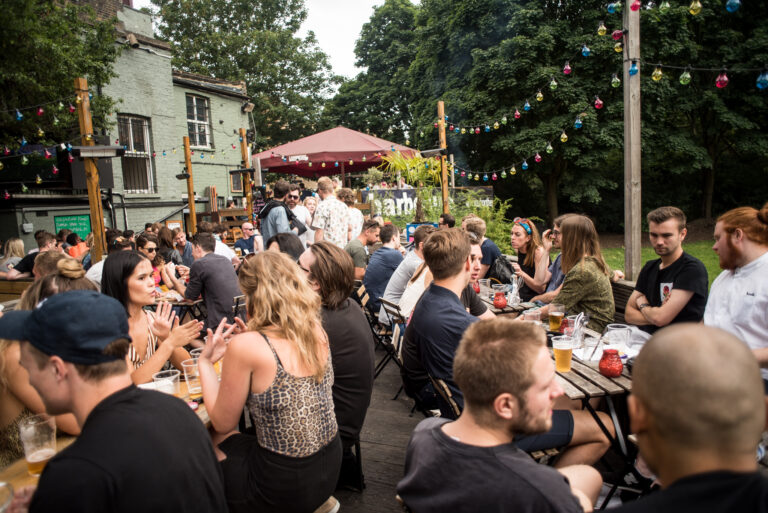 You'll find Pub on the Park, quite literally, on the park down in London Fields. Its stands out in its handsome coat of white and mint green, but also because of its terrace – a wooden, wrap-around number surrounded by the colourful glow of festoon lighting. Tables are bookable for groups of up to 10, making it a go-to for bigger gatherings, and you can all chow down on Bodean's BBQ while you're at it.
Details: 19 Martello Street, London Fields, E8 3PE | Book here
–
Barge East | Hackney Wick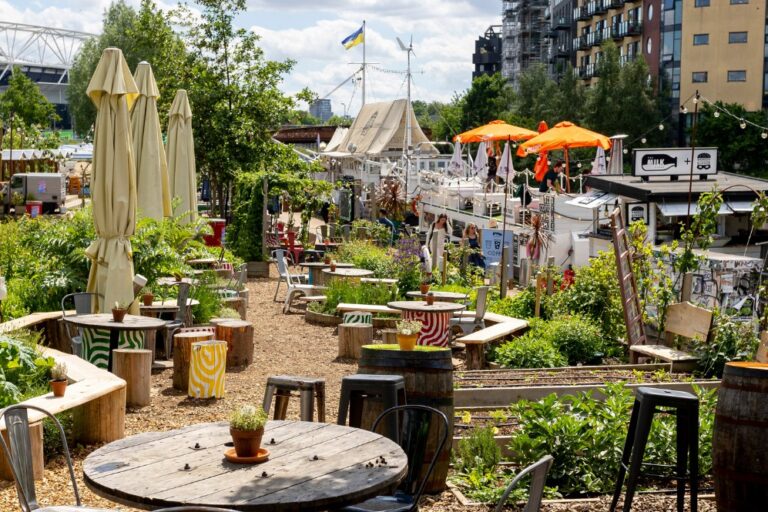 The restaurant & bar aboard this 118-year old Dutch cargo barge have proven so popular that they've had to spill out onto the banks they're moored on. And what started out as a casual picnic spot has since become a fully fledged beer garden, with shaded tables and chairs for groups; miniature plant beds growing ingredients for the kitchen; and even a vintage airstream caravan serving up pints, cocktails & street food.
Details: Sweetwater Mooring, River Lee, White Post Lane, E9 5EN | Book here
–
The Scolt Head | Dalston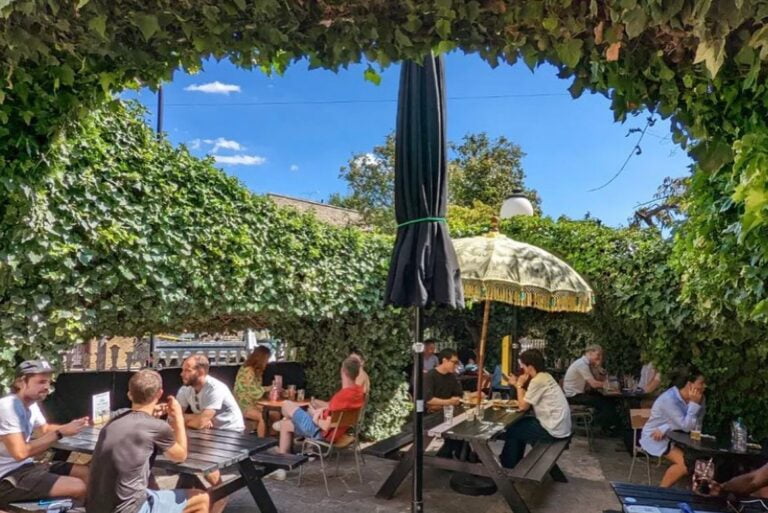 The beer garden is literally the point of The Scolt Head – it's a triangular nook set just behind the pub, with a scattering of picnic benches set amidst a hedge that's taken on a life of its own. It's a lovely, leafy spot – and when you've had enough, you can head inside for dancing and live music from the London Dance Orchestra.
Details: 107A Culford Road, London N1 4HT | No garden bookings
–
40FT Brewery & ACME Fire Cult | Dalston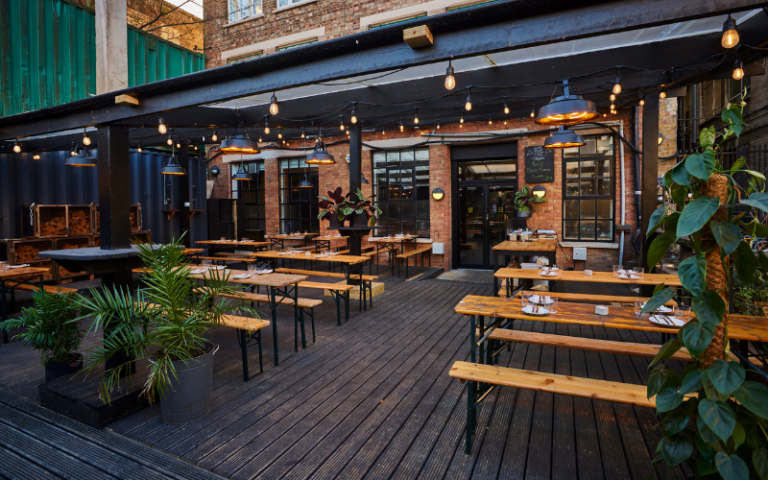 Slip down Abbott Street in Dalston and you'll find 40ft Brewery and Taproom, kitted out with a sprawling, 60-seater, heated terrace. Here not only can you choose form ten different beers (freshly brewed on site), you can also feast on all sorts of delicious, fire-licked meat and veg from ACME Fire Cult. Think coal roasted leeks with pistachio and romesco or BBQ'd baguette with ancho koi and pickles, all of which is cooked live in front of you by chef heavy-weights Daniel Watkins and Andrew Clarke.  
Details: Bootyard, Abbot Street, London, E8 3DP | Book here
–
Five Points Brewery Taproom & Courtyard | Hackney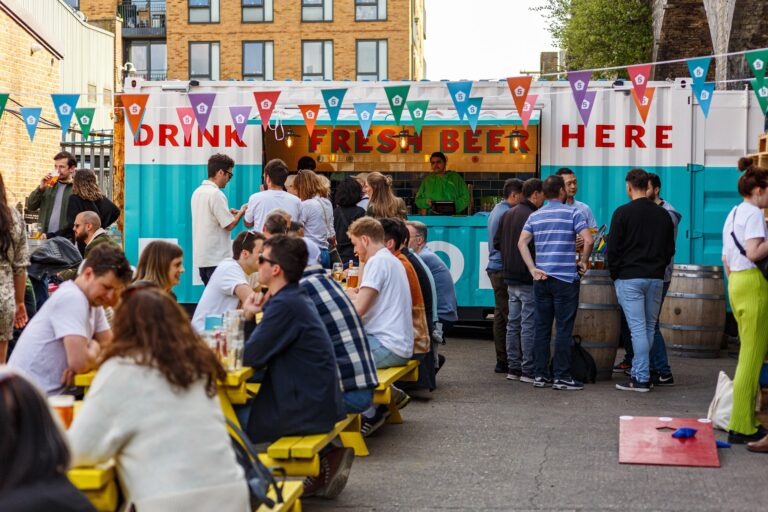 We might be pushing the boundaries of the term 'beer garden' here. But Five Points gains… points… for the sheer size of the open-air courtyard lining its East London taproom, even if the greenery is in short supply. There's plenty of tables (seating around 300, all in); street food from the esteemed Middle Eastern-taco slingers Anoosh and the lauded fire-tamers From The Ashes; and some of the cheapest post-work pints in the neighbourhood, with tank-fresh suds coming in at £4 on Thursdays & Fridays, 5-7pm.
Details: 61 Mare Street, Hackney, E8 4RG | Just turn up
–
Big Penny Social | Walthamstow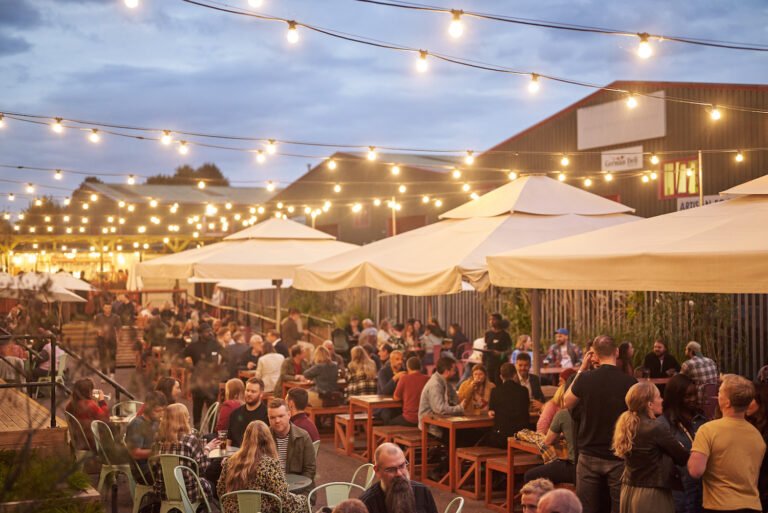 BPS is literally the largest beer hall in the UK. In fact, the inside space almost feels more spacious than the outside space. And while it's all lovely, boasting plenty of street food, 20 beers on tap, and regular large-scale events, the one thing that they can't fit inside that vast hall… is the sunshine. And if you're really making a day of it? Make it stop 1 along the Blackhorse Beer Mile…
Details: 1 Priestley Way, E17 6AL | Book a table here
South London Beer Gardens
Bermondsey Bar & Kitchen | London Bridge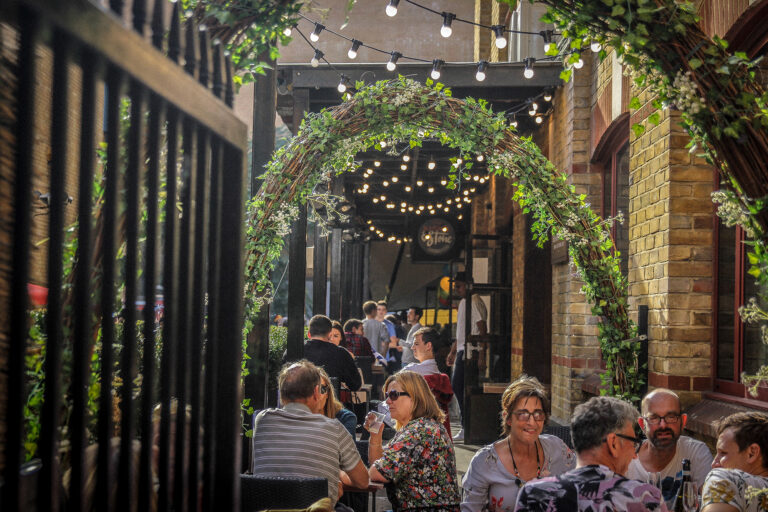 Perched at the top of Bermondsey Street (just next to fellow al fresco drinking behemoth, Vinegar Yard), Bermondsey Bar & Kitchen is almost more garden than venue, starting at the front and wrapping around to the back where it opens up in to a massive fairy-lit and semi-covered space, loaded with picnic tables. You can sit out with a beer, or a cocktail (available by the pitcher), and enjoy some of the fantastic cooking from resident Donnelly's. There's also a massive sports screen outside, where they play all the biggest games, and they stage the occasional live gig too. 
Details: 40 Bermondsey Street, London SE1 3UD | Book here
–
The King's Arms | Wandsworth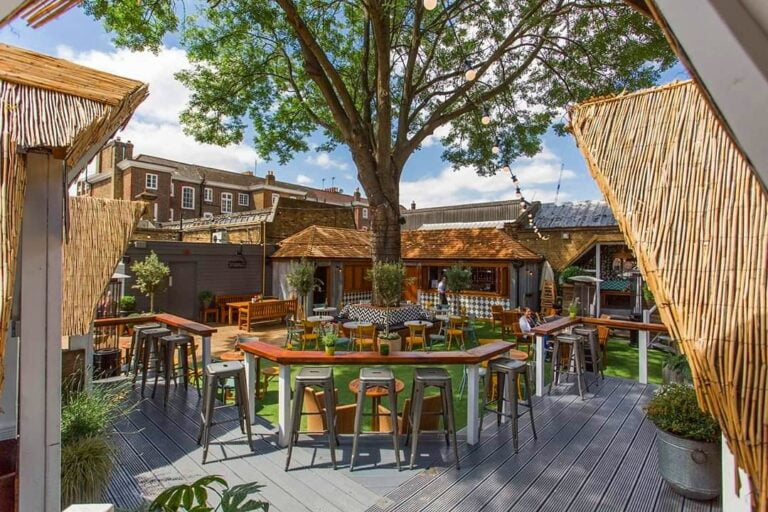 Want to be outside, but sill want to shield yourself from the scorching sun and/or ill-timed rain? Well, the King's Arms lets you have your cake and eat it too, thanks to a collection of (bookable) huts surrounding their already pretty lovely beer garden. And just FYI they have brownies too, if all that cake talk got you excited.
Details: 94-96 Wandsworth High Street, SW18 4LB | Book here
–
The Ship | Wandsworth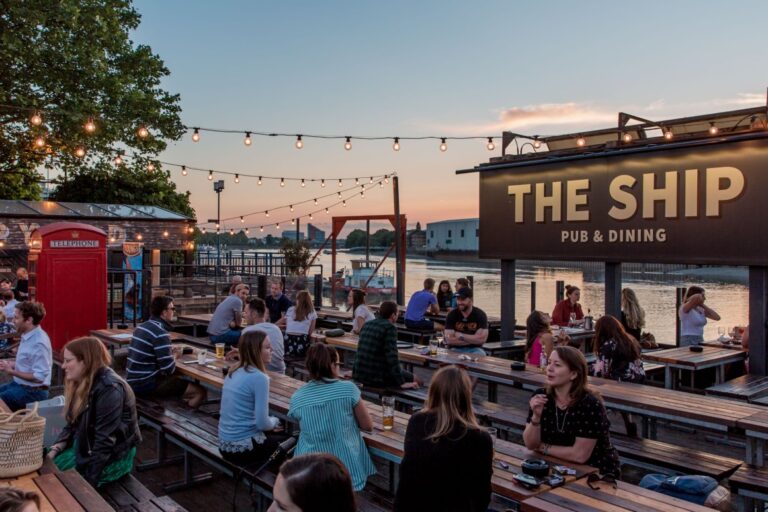 As you'd expect, The Ship is right on the water. Wandsworth's nautical pub has a sprawling terrace overlooking the river – it even has its own dock, and you can literally access it by boat. They've also added some riverside cabins, and a nice little pergola too, just for good measure.
Details: 41 Jews Road, Wandsworth, SW18 1TB | Book here
–
The Understudy | Southbank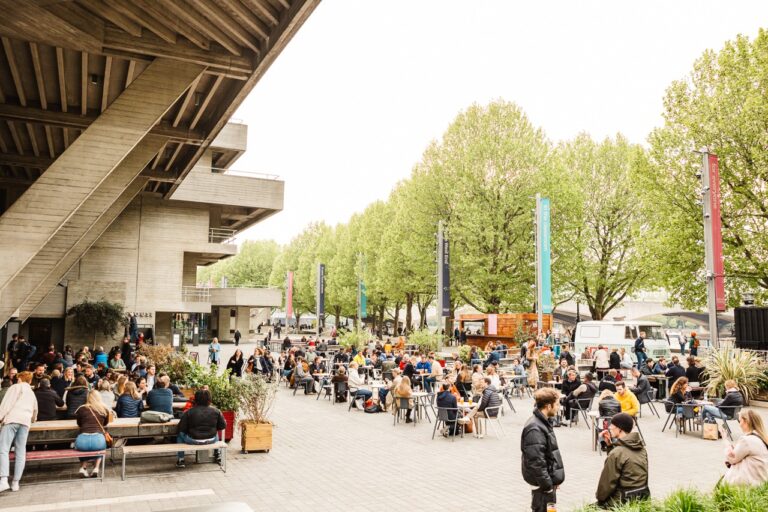 With its line-up of Gipsy Hill beers and guest ales; in-house menu of street food from KERB traders Lucky's Hot Chicken, Bad Boy Pizza Society and Mumbai Mix; and sprawling riverside drinks terrace that's 100% certifiably the least stressful way to 'do' the South Bank… we're not really sure how The Understudy could perform any better.
Details: National Theatre, Upper Ground, South Bank, London SE1 9PX | Just turn up
–
Hope & Anchor | Brixton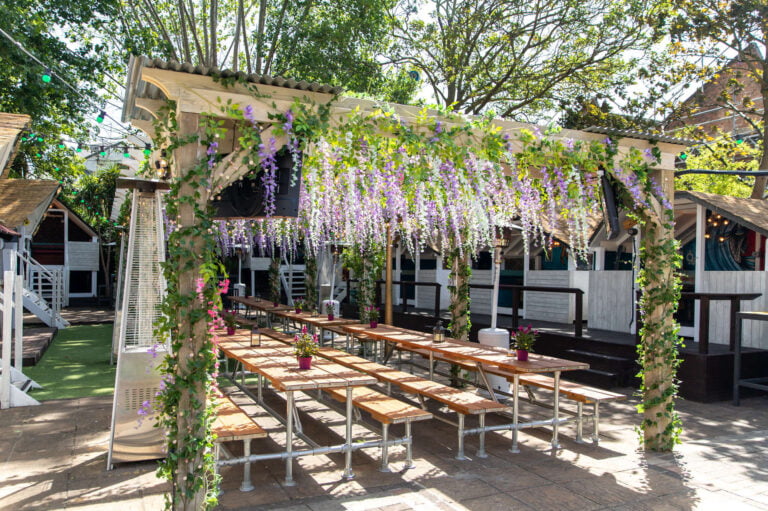 You know you're in London when the pub has its own private Tiki huts. Set on the Clapham-Brixton border, the Hope & Anchor's beer garden is a blur of fairy lights, open mic nights and general party vibes. It's also probably the only place where you'll find a vibrantly coloured disused vehicle alongside a romantic, floral-framed pergola and 20+ TV screens all within a few steps…
Details: 123 Acre Lane, Brixton Hill, SW2 5UA | Book here
–
The White Horse | Peckham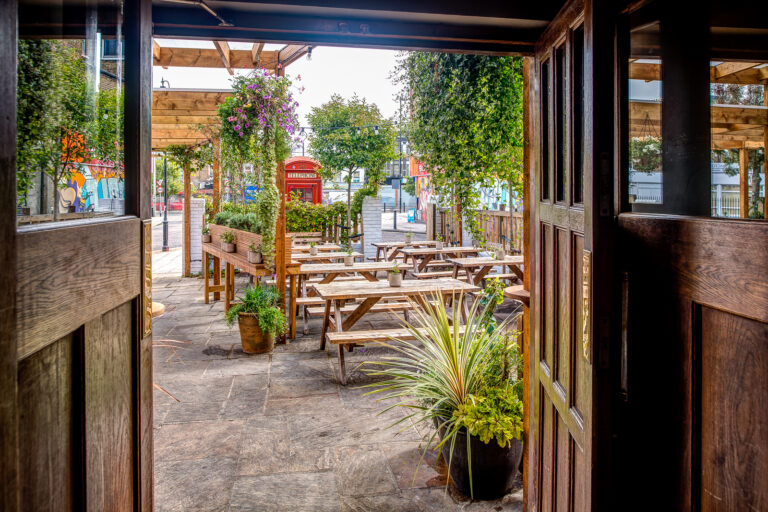 If you live anywhere near Peckham Rye, there's very little reason to leave The White Horse all weekend. You can come here on a Saturday to sizzle in the beer garden, popping in for the occasional game of pool and stuffing yourself with the fantastic Mondo Sandwiches until evening – when they turn the disco ball on and the DJ turns the whole pub into a dancefloor. Then you can come back and do it all again on Sunday, this time with a recovery roast.
Details: 20–22 Peckham Rye, SE15 4JR | No outside bookings
–
Brew By Numbers | Greenwich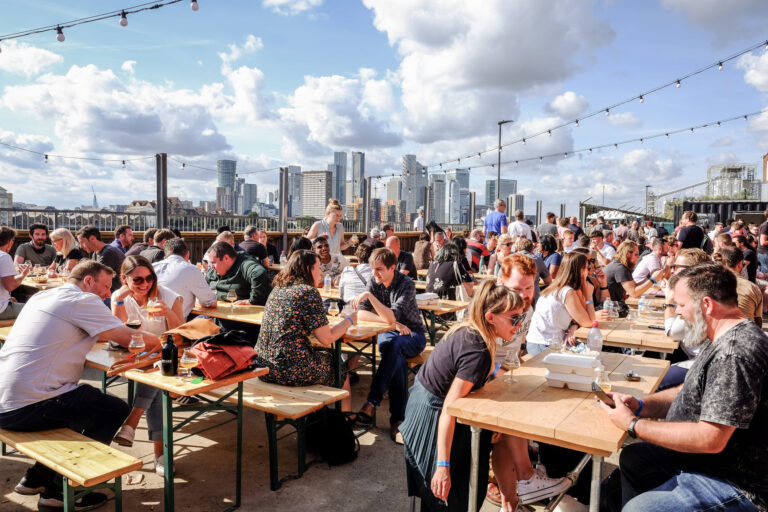 BBN's huge, industrial brewery & taproom comes with a riverside outdoor space populated with rows of wooden benches, a food truck slinging slices of gourmet pizza and a juicy lineup of craft beer fresh from the tanks. What more could one possibly ask from a beer garden? Highly snappable views of the Thames and Canary Wharf? Well, they've got that too. They also host a beer festival every summer and they're not far from the O2 either, in case you needed a spot for a few pints before a show.
Details: Southern Warehouse, Morden Wharf Rd, SE10 0NU | No bookings
–
The Crown and Greyhound | Dulwich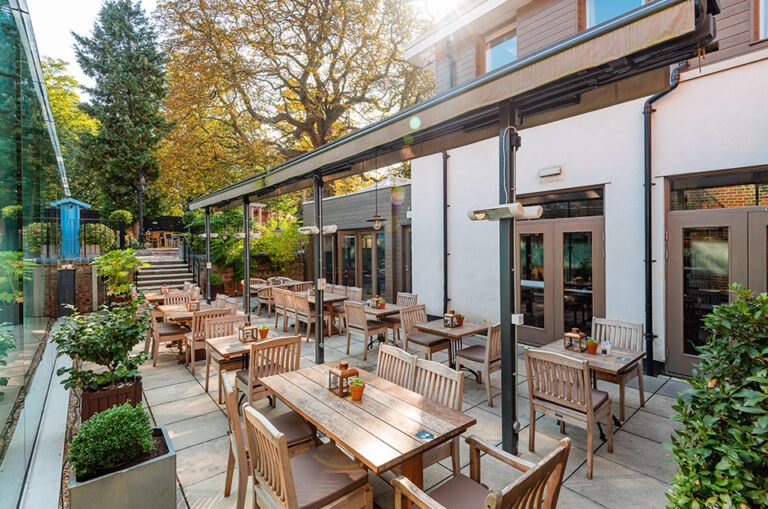 If The Crown and Greyhound sounds like an odd combination, that's because this used to be two pubs – before the late Victorians had the bright idea of knocking them both down and creating one super-pub in their stead. And because a decent beer garden would be one of the first things on your list when building a super-pub from the ground up, that's exactly what they did – it's got space for 200, a little sheltered seating, and a BBQ set-up. Actually, that last one might not be Victorian.
Details: 73 Dulwich Village, SE21 7BJ | Book here
–
The Duke of Edinburgh | Brixton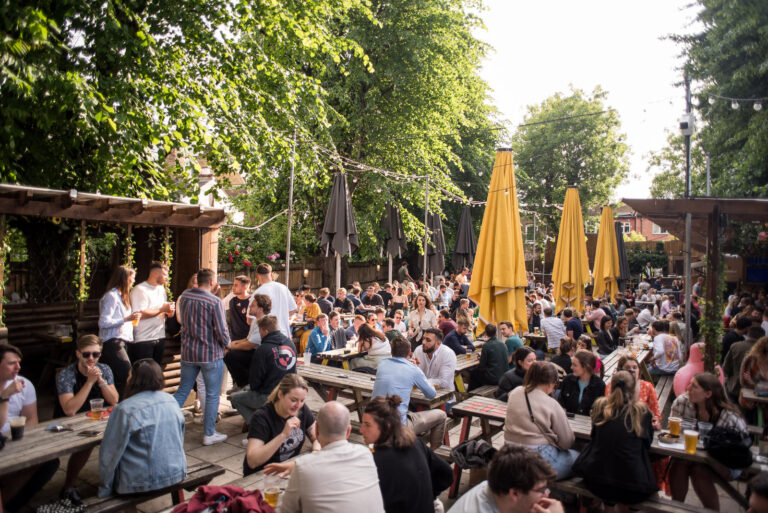 The Duke claims to have South London's biggest beer garden, which in itself doesn't automatically make it one of the best. But it helps. As does the lovely trellised pergola seating, the festoon lighting, the sports screens and the excellent BBQ residency from Bodeans.
Details: 204 Ferndale Rd, SW9 8AG | Book here
West London Beer Gardens
The Prince | Earl's Court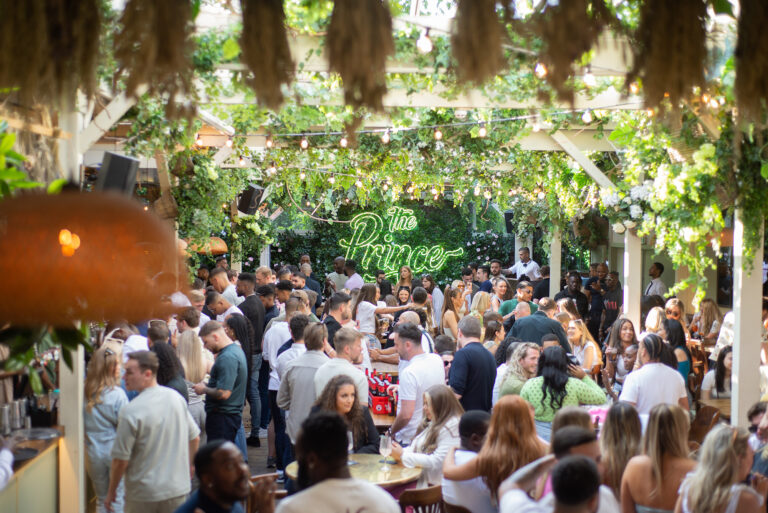 It was an old boozer, and four buildings all with gardens. It's now a new boozer and four restaurants, all with one big garden, whose flower-strewn pergola has an incredibly handy retractable roof for summer, and heaters for winter. You can stop by for a cocktail or craft beer, before tucking into street food from Crust Bros (pizza), Utter Waffle (stuffed savoury waffles), BBQ or classic pub grub. And towards the end of the week, they bus in DJs and live musicians.
Details: 14 Lillie Road, London, SW6 1TT | Book here
–
Hawk's Nest | Shepherd's Bush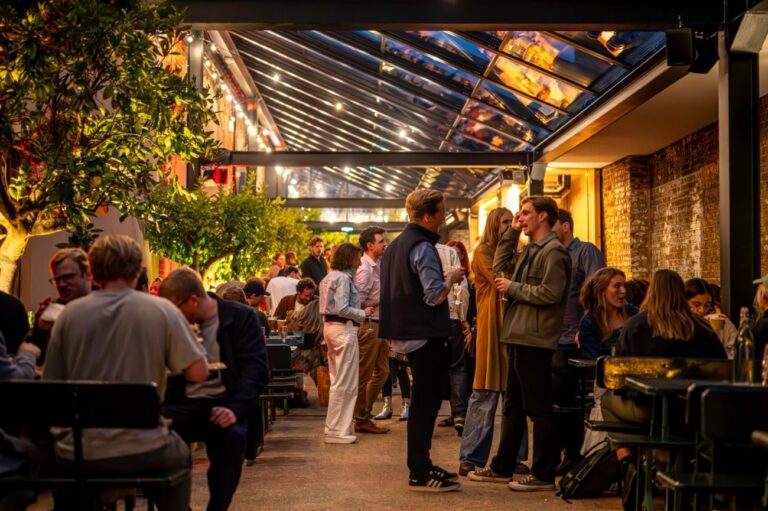 Hawk's Nest in Shepherd's Bush is basically just a beer garden with a small bar attached to it. The whole area's decked out with beautiful greenery, atmospheric lighting, and – crucially – a retractable roof to make it entirely weather-proof. Which is just as well, because their stonebaked pizzas, cocktails and craft beers go down well at any time of year.
Details: Goldhawk Rd, Shepherd's Bush Market, W12 8DF | Book here
–
The White Swan | Twickenham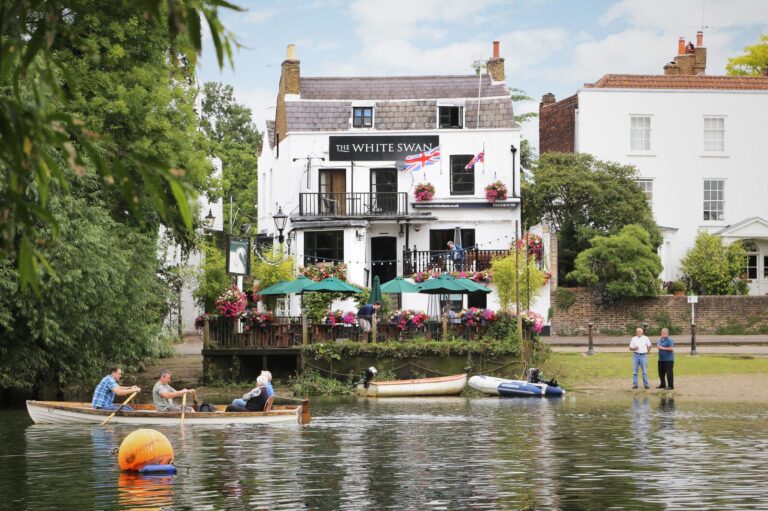 If you're just meeting up with a mate and don't fancy sharing a picnic table with throngs of beer-swilling hooligans (the type you were just a few days ago), head for The White Swan. This tiny, historic riverside boozer has a terrace right on the Thames – the ground literally slopes into the water either side of it – and plenty of tables for two. Perfect for enjoying a civilised pint or glass of English sparkling wine while watching the boats and swans sail by, before reverting to your usual party animal self next weekend.
Details: Riverside, Twickenham, TW1 3DN | No riverside bookings
–
Stein's | Richmond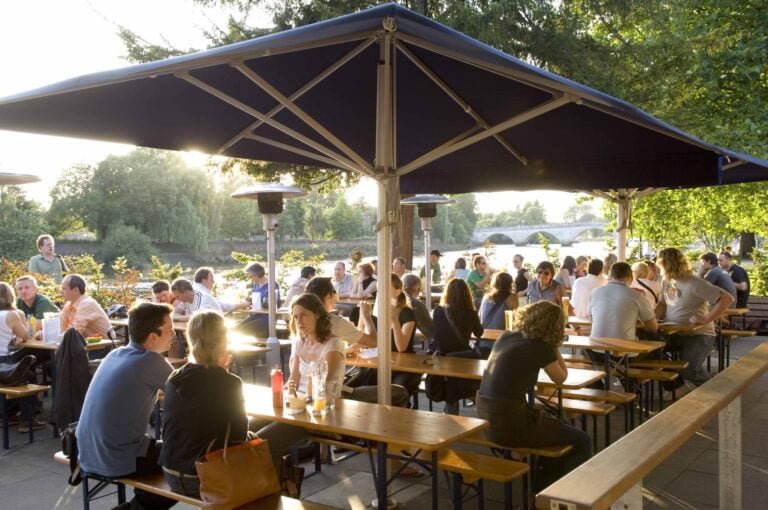 Stein's is all beer garden, with no pub attached. Open only in the summer, it's an all-outdoor affair modelled on the biergartens of Munich, serving brews directly imported from Germany and a banquet of Bavarian dishes to go with them, including pretzels, schnitzel, and a 'Giant Sausage Feast' that feeds up to 10 people.
Details: Richmond Towpath, Richmond upon Thames, TW10 6UX | Book here for groups of 6+, otherwise just walk in
–
The Aeronaut | Acton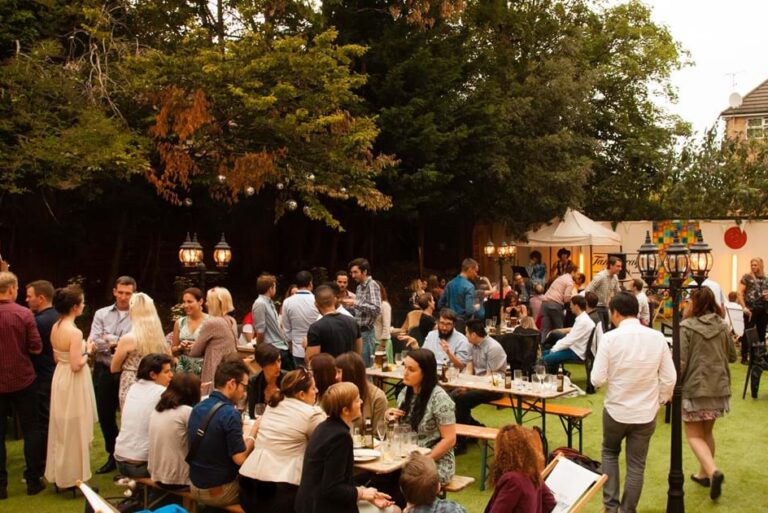 Inside, the Aeronaut is part pub, part circus. There are singing waiters, comedy nights, cabaret and circus performances in a big top tent, and two year-round gardens. One of them is a good ol' traditional beer garden (available for private hire, and sporting its own bar and fire pit), and the other is a slightly less traditional beer garden lined with fairground stalls, which on closer inspection turn out to be private, heated booths ready to host you and your friends.
Details: 264 High Street, W3 9BH | Book here

---
Feeling peckish? Here's London's best restaurants with outdoor seating to boot