Hampstead Heath is genuinely one of the wonders of London – so close to the hustle and bustle of the city, whilst simultaneously seeming so far removed as to not feel like it's in London at all. If you feel in need of an escape; a little fresh air, a country walk or some outdoor swimming; a bike ride or a kite flight; a place to sunbathe or take a long autumn walk; a place to throw frisbees in spring, or spend a couple of hours walking off Christmas lunch… Hampstead Heath is the place to go.
The first written record of it appeared in 986 when Ethelred the Unready – in what must be the greatest Christmas bonus of all time – gave one of his servants 600 acres of land at "Hemstede". And since that point in time, this vast expanse of countryside in the heart of London has attracted many fans – Karl Marx would wander around Hampstead Heath whilst plotting the downfall of bourgeois society; Keats took up residence here to write odes; and Bill Oddie came to eye up the birds… During this time it's changed hands (and size) many, many times but today, preserved by the City, it exists in all of its glory as a thoroughly English oasis for servants, poets, bird watchers, lovers, families, friends and dog walkers to enjoy together. 
There's a lot to do, both on Hampstead Heath itself and in the area surrounding it (Hampstead, funnily enough), so we've taken the liberty of breaking it all down into what we believe to be relatively logical sections….
Enjoy!
---
JUMP TO: THINGS TO DO | SWIMMING | HAMPSTEAD PUBS | HOW TO GET THERE
---
THINGS TO DO ON HAMPSTEAD HEATH
WALKS
Hampstead Heath is a very, very large outdoor patch of greenery, so rambling here is THE LAW – and luckily there are numerous walks you can do across, through, and round the Heath, which take in its many sights. The City of London suggests three different trails (find the maps here):
Parliament Hill and the Tumulus, a 1.5 mile amble that starts, and finishes, at the Parliament Hill cafe (near Gospel Oak tube). It takes in, predictably, Parliament Hill, in addition to the southeastern area of the Heath including the Tumulus, and Highgate Ponds.
Sandy Heath and the Pergola, a 1.7 mile stroll through the opposite northwestern side of Hampstead Heath where you'll catch coatis and butterflies in the Golders Hill Park animal enclosure before heading off to the Hampstead Pergola (a stunning Georgian arbour and terrace), Sandy Heath, and a finish up just a short hop away from The Old Bull & Bush.
For ravenous ramblers there's the full, supersized, 10km Heath Circuit which similarly starts and ends at the Parliament Hill café, but takes in every listing you could hope to find in the Hampstead Heath i-spy book. It's one of the finest walks in London: you'll get the views of London's skyline from Parliament Hill, both sets of bathing ponds, the model boating pond, the stately Kenwood House, Golders Hill Park, the fancy Vale of Hampstead, and even the Hampstead Heath extension – a sort of extra downloadable add-on introduced after the initial release. The Inner London Ramblers have their own version of the Circuit which starts and ends at Hampstead Tube station, for those who want the Northern line, or a post-walk pint in one of Hampstead's many pubs.
–
Tucked along a residential Hampstead street, Keats' old abode sits just to the south of Hampstead ponds and is now part museum, part literary centre. Original manuscripts and artefacts from the period seek to tell the tale of his time in North London, penning poems and falling in love with the girl next door. Admission to the garden is free but, should you wish to get up close and personal with the poetry, then you'll have to stump up the princely sum of £7.50. Next door isn't open to the public.
Details: 10 Keats Grove, Hampstead, NW3 2RR | Open Wed-Sun, 11am-5pm | £7.50
–
Not just the setting of a scene from Notting Hill, Kenwood House is also an English stately home-turned-museum. Standing proud at the northern crest of the Heath, it's free to all and has been refurbed to look like the 'artistic home of a gentleman of the 18th century.' This means there's some cracking furnishings on display and you can romp about the place pretending you own it. Having admired the architecture you'll naturally want to take a turn through the grounds which include ancient woodlands; a dairy; and numerous sculptures by artists such as Barbara Hepworth and Henry Moore. If your tastes are more traditional, head back inside – for the house itself holds pieces by Rembrandt, Van Dyck, Gainsborough and Reynolds.
Details: Kenwood House, Hampstead Lane, Highgate, NW3 7JR| Open daily, 10am-5pm | Free Entry
–
PARLIAMENT HILL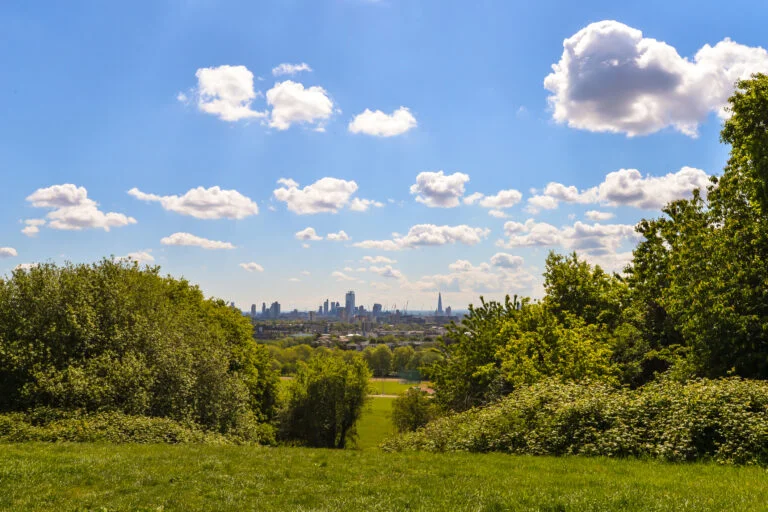 Image credit: Olivier Guiberteau
For many, the focal centre of the heath. At 98m it's one of the highest points in London and offers excellent views of the city's skyline. You can even see The Houses of Parliament on a good day, and legend has it Guy Fawkes' chums had intended to watch his handiwork from this very spot. Because of its height, it's popular with kite flyers and has the informal moniker of Kite Hill. Just below it is the Parliament Hill running track and one of the Heath's many swimming spots…
---
SWIMMING ON HAMPSTEAD HEATH
Swimming on Hampstead Heath is a bit like tennis: there's women's, mixed, and men's.
And a good chance you'll see some balls flying about.
HIGHGATE & HAMPSTEAD PONDS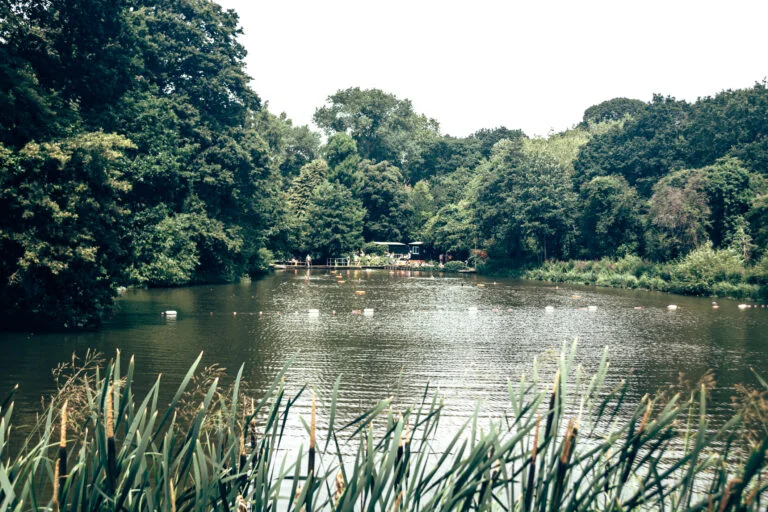 Image credit: phaustov
In all there's over 25 ponds dotted across Hampstead Heath, but most of them are clustered in two distinctive areas; Hampstead ponds (where you'll fixed the mixed bathing pond) and Highgate ponds (where you'll find the two single sex bathing ponds). Taking a dip is a back to basics affair. If you sink to the bottom you'll feel the billow of silt between your toes, and if you swim across to the banks you'll likely encounter some feathered friends as bathing companions. With nature on all sides, and the townhouses of Hampstead on the horizon, the ponds really are the perfect place to indulge your inner Austen – at least until a child splashing around on the rubber rings (which they dot about the water in lieu of a traditional poolside) wrenches you from your Darcy-esque daydream.
Details: The ponds' hours of operation vary with the seasons, but are essentially open whilst the sun is in the sky and cost £2 per dip.
–
THE PARLIAMENT HILL LIDO
If you don't fancy natural swimming then there's always Parliament Hill Lido, a grade-II listed art deco outdoor pool with stainless steel beneath the water and concrete sides for lounging in the sun. Still unheated, it does at least have indoor changing rooms, hot showers, a supervised left luggage area, and, in the winter months, a sauna.
Details: The lido is open all year round, and a single day ticket is £7.

---
PUBS IN & AROUND HAMPSTEAD HEATH
THE SPANIARDS INN
An old tollgate-turned-tavern, this white brick boozer sits to the north of the heath, not too far from Kenwood House, and is full of history. It's believed Keats penned Ode to a Nightingale here and rumour has it notorious highwayman, Dick Turpin, was born upstairs. The only highway robbery you're likely to encounter these days are the prices, but their roast dinners are legendary in the area and make the perfect ending to a Sunday stroll, either by a crackling fire or in their spacious beer garden.
Details: The Spaniards Inn, Spaniards Road, Hampstead, NW3 7JJ | Open Mon-Sat 12pm-11pm and Sun 12pm-10:30pm | Find out more
–
THE FREEMASONS ARMS
Half-in, half-out, this Hampstead inn's beer garden practically neighbours the Heath, which is fortunate for those who don't wish to travel far for their post-walk liquid refreshment. It's a stylish and modern affair, unlike its more historic local counterparts – but with Sunday roasts, midweek lunches, children's options, and even a dedicated vegan bill of fare, they cater for all occasions and all comers.
Dogs are welcome too, but sadly, they don't get their own menu.
Details: The Freemasons Arms, 32 Downshire Hill, Hampstead, NW3 1NT | Open Mon-Sat noon-11pm and Sun 11am-10:30pm | Find out more
–
THE HOLLY BUSH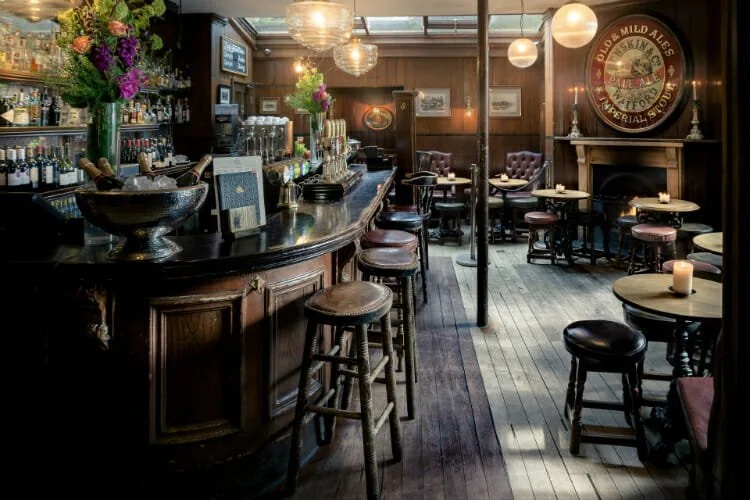 This Grade II listed oak wood panelled pub is nestled in Hampstead village, making it a great watering hole pre, or post, your Heath excursion. It's a Fullers establishment, so you know what you're getting – but the interior sets this one apart, taking you back to a time when Hampstead really was a village. Once you're settled the cosy fireplace, and occasional celebrity sightings, will make it hard to leave.
Details: The Holly Bush, 22 Holly Mount, Hampstead, NW3 6SG | Open Mon-Sat 12pm-11pm and Sun 12pm-10:30pm | Find out more
–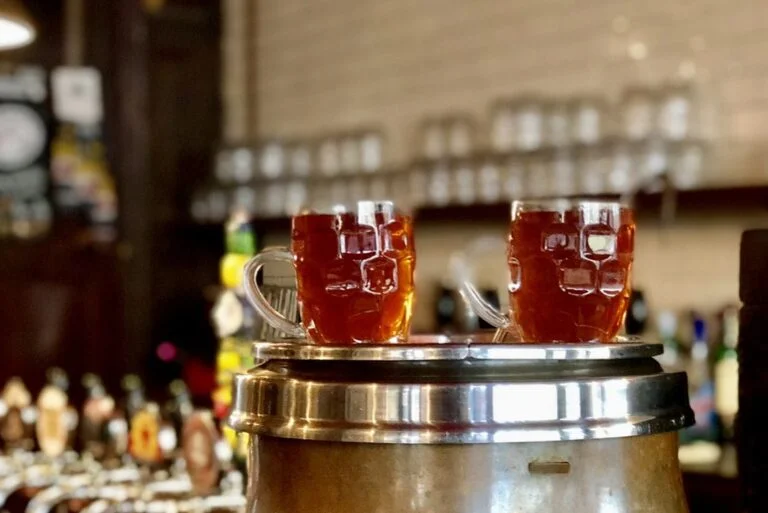 As traditional as they come, this plucky taproom near Gospel Oak makes a great destination for visitors of Parliament Hill. Serving only beer from independent brewers, including several cask ciders, The Southampton Arms has won CAMRA's London Pub of the Year and North London's Cider Pub of the Year on numerous occasions. With old fashioned piano nights every Tuesday and a sound system delivering purely vinyl, a pub of this ilk is a rare find.  The kitchen is old-school too, so expect pork pies, scotch eggs, and plenty of scratchings. Their long held policy of being a cash-only bar has recently succumbed to the modern era, so you'll never be caught short when it's your round.
Details: The Southampton Arms, 39 Highgate Road, NW5 1LE | Open Sun-Thurs 12pm-11pm and Friday-Sat 12pm-12am | Find out more
–
THE OLD BULL & BUSH
This red brick bar sits opposite Golders Hill Park and is perfect for anyone visiting the northwest part of the Heath. It's a bit of a mash of old and modern, but everything you'd want from a London pub resides within its walls (or without, on its terrace). It's also the instigator of the most consecutive ands in a sentence when the landlord historically told the sign painter "Can I have more space between Bull and & and & and Bush".
Details: The Old Bull & Bush, N End Way, Hampstead, NW3 7HE | Open Mon-Sat 11am-11pm and Sun 11am-10:30pm | Find out more

---
HOW TO GET TO HAMPSTEAD HEATH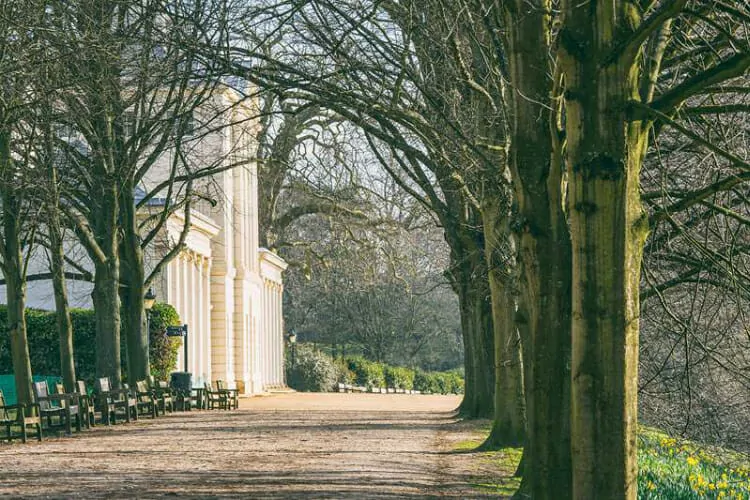 It's large, it's green, and it's somewhere in North London. For most of us, that's about the best attempt at directions to Hampstead Heath we can make. Citymapper isn't much more helpful, sticking its final destination as somewhere "right in the middle". Your best bet is generally to pick a quadrant to explore, head to one of the tube stations listed below and follow the signs. So, for all your navigational needs here are the many stations you'll need for the many points of interest:
Hampstead (Northern Line): for Hampstead Ponds, Vale of Heath, East Heath, The Holly Bush, The Freemasons Arms.
Hampstead Heath (Overground): for Hampstead Ponds, East Heath, Keats House.
Golders Green (Northern Line): for Golders Hill Park, The Old Bull & Bush, The Spaniards Inn, Heath Extension, Kenwood House.
Gospel Oak (Overground): for Parliament Hill, The Southampton Arms, Walks, The Lido, Highgate Ponds.
Kentish Town (Northern Line): for Highgate Ponds, The Southampton Arms.
Whichever station you start at, you'll find your way pretty quickly.
Enjoy your walk, enjoy the weather and have great time!
---
If you're a Nudge Member, explore our full Guide To Hampstead