"Ale. Cider. Meat."
That's the sign painted on the side of the Southampton Arms in Gospel Oak. And in many ways, it acts as a little microcosm of the pub itself – It's smaller than you might expect, but charming in its own right. It doesn't beat around the bush. And it's filled with ale, cider, and meat.
Perhaps the most important thing you should know about the place is that they only serve beer & cider from independent UK breweries & producers. It's very much one of their core values, and it's enough to make many people mentally label them as being a standard 'craft beer pub', to the point where they can almost smell the barman's beard oil.
But this is very much not a craft beer pub.
This is simply a pub that embraces the old-fashioned way of doing things, and is run the way ALL pubs were run not too long ago. There are no bare brick walls, or exposed lightbulbs. It's a simple pub with a simple wooden bar and a few tables. There's an open fireplace and a piano in the corner, where they have live music a couple of times a week. There are no bookings and no wifi ("We expect you to contribute to the gaiety of the atmosphere" they say, with radical candour). There's a small beer garden with an actual outhouse and a sign informing patrons that it closes at 10pm ("the leopard is unleashed at 10.02" it further warns). There's even a pub cat, the worryingly named 'Scratchings'.
Behind the bar they have 18 lines pouring all-UK based ales & ciders. Nothing brewed by Belgian monks or American obsessives. And the lineup seems to change with the weather. There's even a little suggestion sheet for you to throw in a recommendation yourself, such is their thirst for new brews to try out. Tell the barkeep what you like, and they'll be able to fire off two or three near-perfect beers without blinking (as well as offering you a taste before you buy). The cider likewise comes purely from small-batch producers – they're one of the few places that serve the much vaunted Crones Cider which is delivered by Robert Crone himself in his "battered old truck".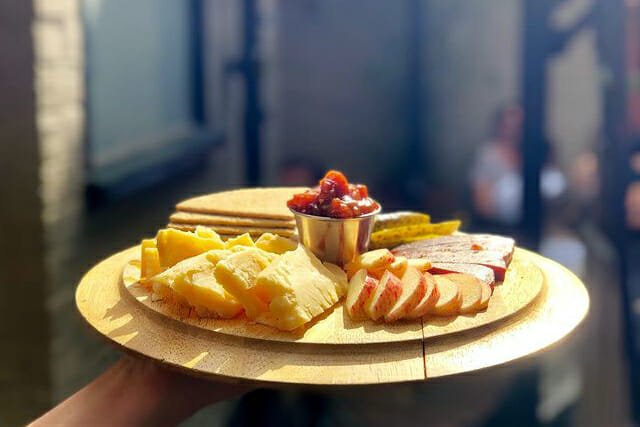 Then there's the meat. Again, it's simple but satisfying; just a potato roll stuffed with hunks of roast pork with apple sauce & mustard, all topped with a satisfyingly crunchy wedge of crackling. They've recently ventured into curdy territory too, with cheese plates from Neal's Yard, and you can also get a house-made vegetarian Scotch egg, too.
Oh, and another old fashioned thing about this place? The prices. It's £3.40 for any of their gloriously varied pints.
We'll drink to that.
NOTE: The Southampton Arms is open now, from midday to 11pm daily. There are no bookings, and they have no phone. You can find out more at their website HERE.
The Southampton Arms | 139 Highgate Road, Kentish Town, NW5 1LE
---
Fancy making a day of it? Have a wander around Hampstead Heath beforehand…