Great pubs with open fires…
Sometimes it can be – ahem – difficult to extinguish one from another.
So, with the frigid winter months ever close, we've pulled together a list of what we'd consider to be the best & cosiest pubs in the city, and what makes them so. Which means all you need to do is sit back, crack the spine on a good book, and order a hot toddy.
Behold, the best London pubs with open fires…
---
JUMP TO: NORTH | EAST | CENTRAL | SOUTH | WEST
---
NORTH LONDON
The Albion | Islington
A relic from when Islington was fields and farmland, The Albion boasts a wisteria-filled beer garden for summer; and low hanging chandeliers, wood-panelled walls, and log fires for the frostier months. On Sundays they serve five different award-winning roasts (including a nut roast for veggies), whilst the rest of the week sees a whole roast suckling pig on offer.
Details: Open daily from 11am (11.30am Sundays ) | 10 Thornhill Road, N1 1HW
–
The Southampton Arms | Highgate
After a long winter walk across Hampstead Heath you might find yourself here – at the South-Eastern corner – and should that happen to be the case, you'll also find a guaranteed minimum of 18 British craft beers and ciders, as well as an upright piano and open fire by which to enjoy them. READ MORE.
Details: Open daily from noon | 139 Highgate Road, NW5 1LE | No reservations, no cards (no nonsense)
–
The Island Queen | Angel
Boasting all the charms of a Victorian gin palace, the Island Queen is an eclectically designed spot just up from the canal – perfect for warming up by the fireside after a brisk walk. Or, you know, spending a whole Sunday holed up with chicken katsu burgers, warm chocolate brownies and craft beers.
Details: Open daily from noon | 87 Noel Road, N1 8HD
–

The Spaniard's Inn | Hampstead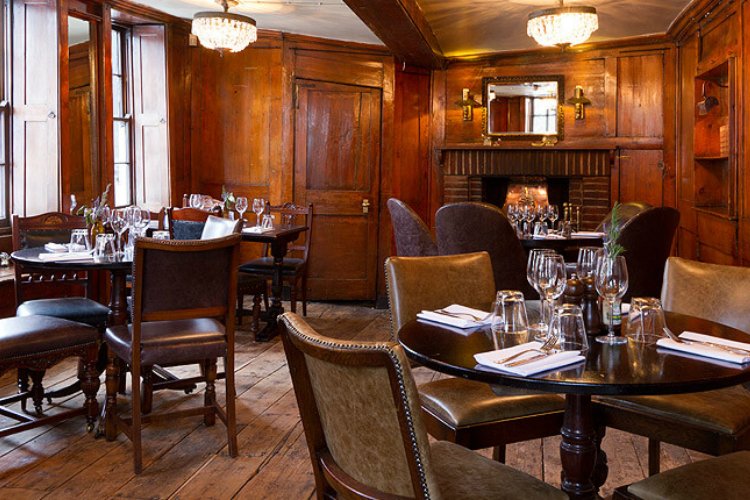 This 16th Century pub wears a lot of badges: not only is it one of London's oldest drinkeries, it was also immortalised in Dickens' The Pickwick Papers, Bram Stoker's Dracula, AND is thought to be where Keats wrote Ode to a Nightingale. It has a beer garden, roaring fires and mulled wine in the winter, plus a daily changing food menu to suit every occasion. Literally.
Details: Open daily from noon | Spaniards Road, NW3 7JJ
–

The Wells | Hampstead
Think deep sofas, log fires, and board games. The beer list is big, the wine list is long, plus they'll even knock you up a cocktail if you fancy it. And they'll do it wells.
Details: Open daily from noon | 30 Well Walk, NW3 1BX
–

The Queen's Primrose Hill | Primrose Hill
A stone's throw away from Regent's Park, The Queen's offers up a large selection of craft beers and wines, as well as an impressive food menu. In the summer time you might opt for the terrace (overlooking Primrose Hill itself) but in the winter you'll more likely be fighting for a spot by their fire. There's a weekly pub quiz on Mondays, and on Sundays they do a roast, with live music in the evening.
Details: Open daily from 11am (12pm Sundays) | 49 Regents Park Road, NW1 8XD
–

The Old Queen's Head | Islington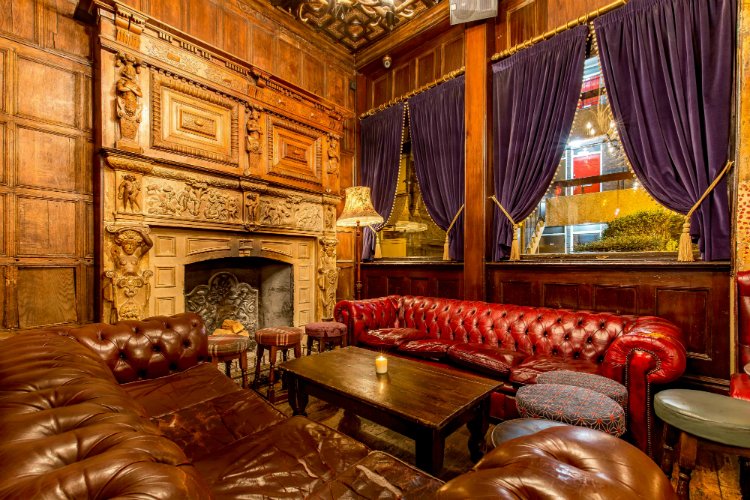 How do we love thee? Let us count the ways. 1. Booze. 2. A weekly quiz night. 3. A carved stone fireplace. 4. Hot dogs, Under Dogs, and Chilli Cheese Dogs. 5. The rammed club nights upstairs. 5. Sunday Socials with roast dinners, Bloody Marys, live music, board games, and free use of the karaoke room. 6. The Karaoke Room. 7. The Karaoke Room.
Details: Open daily from noon | 44 Essex Road, N1 8LN
–

The Pineapple | Kentish Town
This pub is a true local favourite, as proved when it was threatened to be turned into flats – the locals rallied round and petitioned so hard the decision was not only overturned, but the bar actually got listed with English heritage to boot. As well as the usual hard stuff, they serve pretty decent Thai food all days of the week. Plus there's a pub quiz on Mondays, plenty of cosy fireplaces, and cats.
Details: Open daily from noon | 51 Leverton Street, NW5 2NX
–

The Flask | Hampstead
Like every good flask, they'll keep you both warm & watered, with a healthy drinks list, pub grub, and a crackling fire seven days a week – and every Monday, they'll even give you free cheese with your wine.
Details: Open daily from 11am (12pm Sundays) | 77 Highgate W Hill, N6 6BU
–

The Drapers Arms | Islington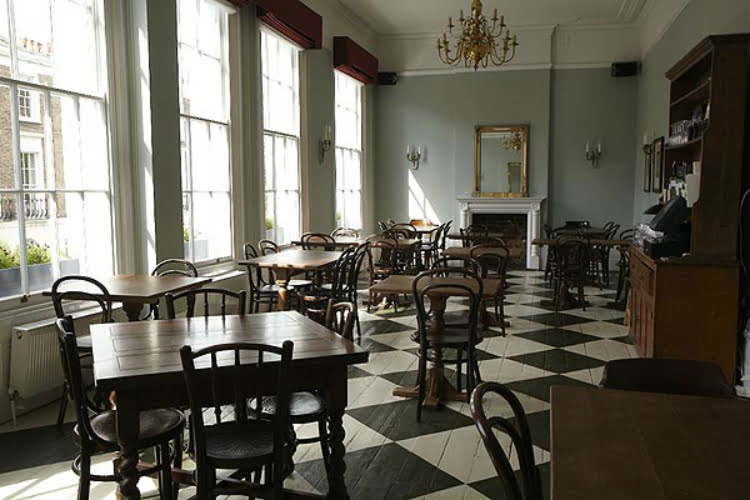 Every Valentine's Day, owner Nick Gibson donates the entire day's earnings to charity. Which is almost as heart-warming as the log fire crackling away in the corner.
Details: Open daily from noon | 44 Barnsbury Street, N1 1ER
–

---
EAST LONDON
Chesham Arms | Hackney
Tucked away on a Hackney side street, this is the cosy kind of place you'll come and lose an afternoon to (in the best way). Low lit, with exposed brick walls, a huge beer garden and two brick fireplaces for winter, they offer up a wide selection of real ales, from all over the country.
Details: Open from 4pm Mon-Thurs, 12pm Fri-Sun | 15 Mehetabel Road, E9 6DU
–
The Owl and Pussycat | Shoreditch
…went to sea and came back with a boatload of booze. They've been storing it in an East London pub since the since the 1600's, serving it up alongside a decent menu of British food, including a great Sunday roast with a vinyl soundtrack. There's a cocktail-focussed area upstairs, the Jago, and they have a gorgeous terrace for summer, too.
Details: Open daily from 11am | 34 Redchurch Street, E2 7DP
–

Clapton Hart | Clapton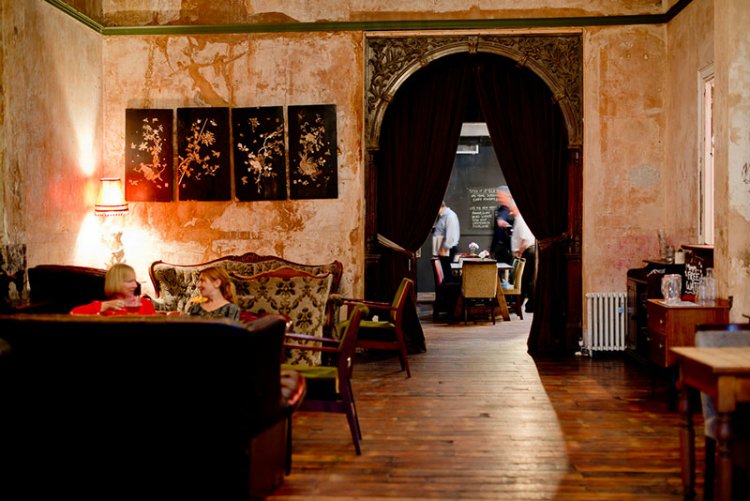 It's a bright and spacious place, the type you'd head to with a group of friends confident you'll find a table – although there's also a few nooks and crannies for playing board games (or footsie) if that's what you're in the market for. They have an open fire to cosy up to in winter, live jazz every Sunday evening, and out the back is a large beer garden where you can knock back one of the many craft beers, real ales, or wines on offer.
Details: Open weekdays from 4pm, weekends from noon | 231 Lower Clapton Road, E5 8EG
–
People's Park Tavern | Hackney
Not only is this place a pub, it's a brewery too – which means alongside a food menu boasting dishes like free range BBQ chicken with sweet potato fries and slaw, and goat's cheese burgers with green pesto and red onions, they serve up a whole load of house-made booze which you can either enjoy wrapped up in their massive fairy-lit beer garden, or next to their toasty open fire.
Details: Open daily from noon | 360 Victoria Park Rd, E9 7BT
–

Prince George | Dalston
We've heard Will and Kate are big fans. Which is unsurprising, seeing as it's another East London boozer promising warmth in winter. Hidden down a backstreet, you can drink and dine to the tune of an old jukebox, with a notable number of stuffed animals to keep you company.
Details: Open weekdays from 5pm, weekends from 12.30pm | 40 Parkholme Road, E8 3AG
–

The Carpenters Arms | Brick Lane
It's a warm and welcoming place, with only a touch of excess hair. Headline qualities are a heated roof terrace, their Sunday Roast, and beer from all over the big wide world.
Details: Open Mon-Wed from 4pm, Thur-Sun from noon | 73 Cheshire Street, Brick Lane, E2 6EG
–

---
CENTRAL LONDON
The Jerusalem Tavern | Clerkenwell
The Jerusalem Tavern feels like something lifted straight out of a Christmas Carol, with 19th century bay shop windows out the front begging for a twee dusting of snow. Inside, it's a ridiculously cosy and intimate spot, with real ales and fruit beers from Suffolk brewery St. Peter's headlining the offering.
Details: Open weekdays only | 55 Britton Street, EC1M 5UQ
–

The Grazing Goat | Marylebone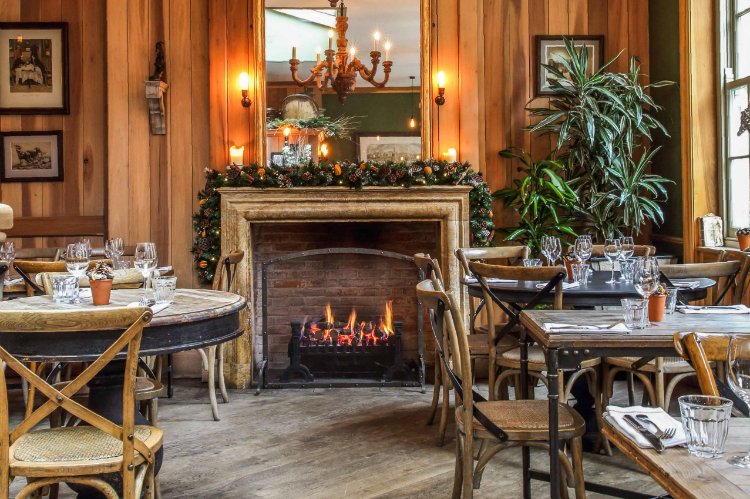 You can feast in the downstairs bar decked out with wood panelling and large French doors, or alternatively the dusty green, warmly-lit, first floor dining room might be more your thing. Either way there's beer, wine, and plenty of cocktails to help ease it all down, not to mention a conveniently located hotel one floor up should things get a little grazy.
Details: Open daily from 7.30am (kitchen from 12pm) | 6 New Quebec Street, W1H 7RQ
–

The Princess Louise | Holborn
Like every good princess she's elegant, lined with oak and drenched in booze. And she's been going strong since the Victorian era – even the men's urinals are Grade II listed. You'll want to visit if you're after a cosy spot with jaw-droppingly beautiful decor – frosted glass booths, original tiling and wood panelling – or just a place to play hide and seek with your friends.
Details: Open weekdays from 11am, weekends from noon | 208 High Holborn, WC1V 7EP
–

---
SOUTH LONDON
The Antelope | Tooting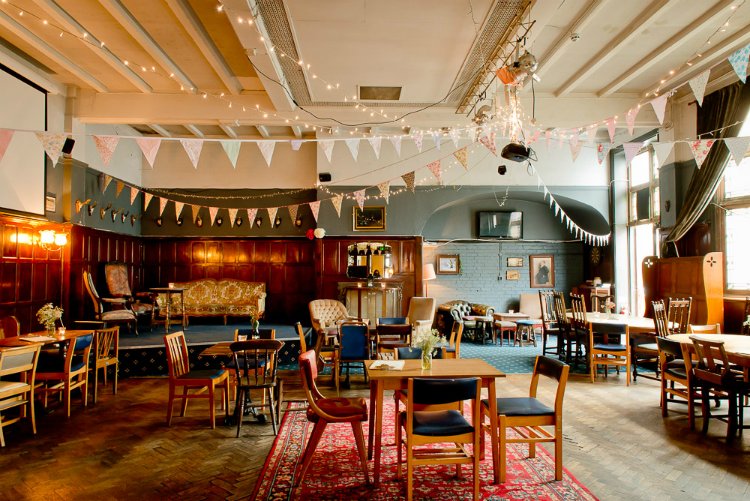 Did you know before banking Barclays dabbled in beer-brewing? The Antelope did. In fact it was Barclays who founded it in the 1800's, and it's been offering up booze, great food, drawing classes, pub quizzes, and banjo lessons ever since. There's a beer garden out back, and just in case one fire wasn't good enough they went and got three.
Details: Open weekdays from 4pm, weekends from noon | 76 Mitcham Road, SW17 9NG
–

The Sun | Camberwell
A quick skip from Camberwell Green and you'll come across this locals' local, loved for its shabby chic decor – exposed brickwork, textured wallpapers, and quirkily recycled furniture – two huge beer gardens, excellent food and cosy open fire.
Details: Open Mon-Thurs from 4pm, Fri-Sun from noon | 61-63 Coldharbour Lane, SE5 9NS
–

No.32 The Old Town | Clapham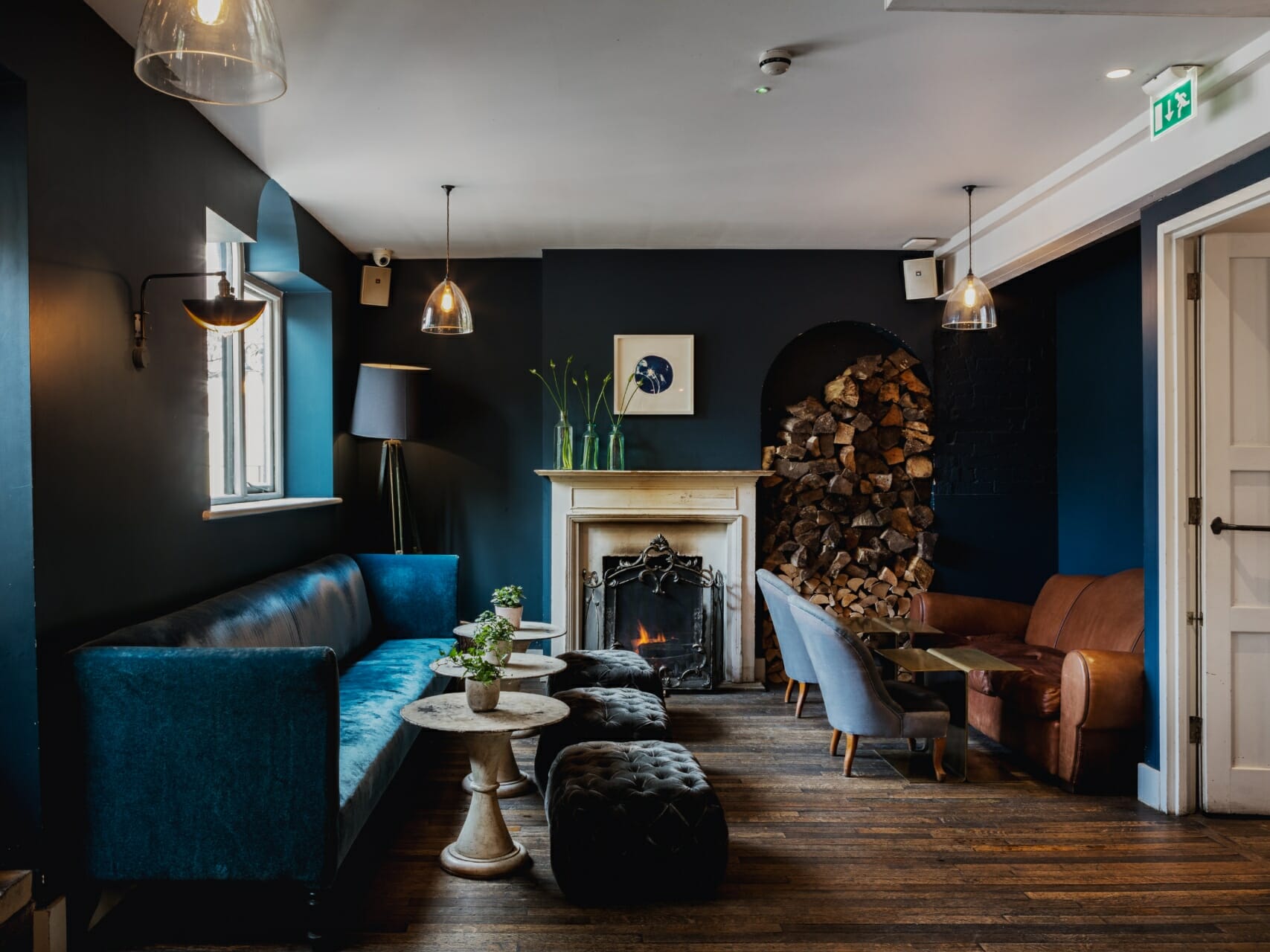 One of the reliably sleek Darwin & Wallace venues, this particular all-day bar & restaurant overlooks Clapham Common. And included in its many charms is a roaring fireplace next to a couple of cozy sofas…
Details: Open daily from 9am | 32 The Pavement, SW4 0JE
–
Watsons General Telegraph | Forest Hill
Telegraph stations are terrible at taking compliments. STOP. But this one, now fully renovated into a pub, is a beauty. With its 20 beer tap wall, vinyl-only music policy, giant all-weather-permitted beer garden (filled with sofas and fire-pits), it's almost enough to literally write home about.
Details: Open daily from noon | 108 Forest Hill Road, SE22 0RS
–

Half Moon | Herne Hill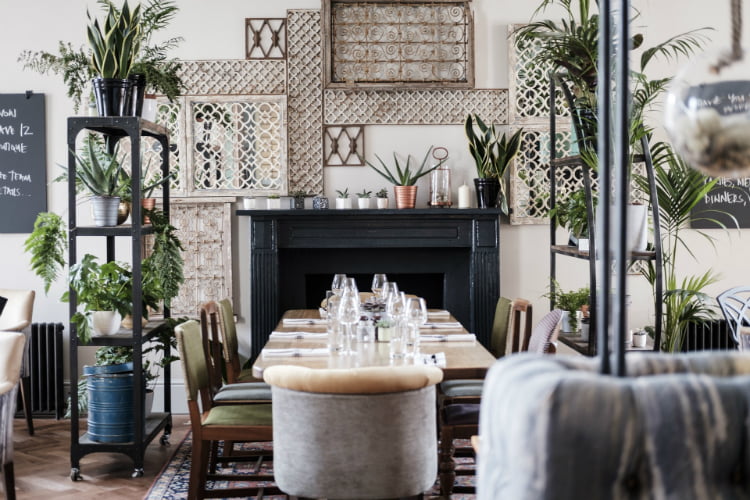 Once upon a time U2, the Police, Van Morrison, and Frank Sinatra all played in the Half Moon's back room. Sadly in 2013 it had to close due to flooding – and although it's open once again, music is much less of a focus. However it does boast four bars, beautiful antique interiors, and a beer garden filled with fire pits fit for late night, winter hangs. Throw in enough beer and/or wine and who knows… you too might start singing after all.
Details: Open weekdays from 7am, weekends from noon | 10 Half Moon Lane, SE24 9HU
–

---
WEST LONDON
The Orange | Pimlico
Some West London pubs are unapeeling, but The Orange certainly isn't one of them. In fact it's a particularly beautiful place loaded with aged stuccoed walls, wooden furniture, and vintage artwork. Like every decent pub does it serves a long list of cocktails, wines, and draught beers, all of which can be enjoyed downstairs in the ground floor bar or by the fire, overlooking Orange Square, in their upstairs dining room. And if that's not won you over there's still the food menu to discuss: wood-fired pizzas, plus a whole load of classic British dishes including toffee cheesecake with grilled banana, and peanut parfait for dessert.
Details: Bar open daily from 8am, food from 6pm Mon-Wed and noon Thurs-Sun | 37 Pimlico Road, SW1W 8NE
–

The Drayton Arms | Kensington
Booze, food, big sofas, and board games. Go back to where you came from Twitter, 140 character's plenty.
Details: Open daily from 11am (10am weekends) | 153 Old Brompton Road, SW5 0LJ
–

Lass O' Richmond Hill | Richmond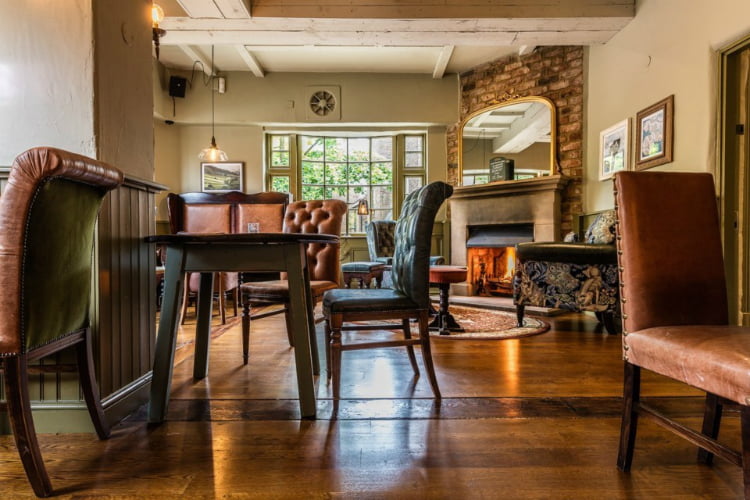 The perfect resting place after a long walk in Richmond Park. The walls are lined with thick wooden beams, the skirting's painted dark olive green and there are big leather armchairs pulled up close to open fires. Plus if the weather's right for it/you haven't already overdosed on fresh air for the day, there's a big, leafy garden out back.
Details: Open daily from 11am | 8 Queen's Road, TW10 6JJ
–

Duke on the Green | Parsons Green
If you're a Parsons Green local this one's for you, particularly if you're into your craft beer. And if beer's not your thing? They've also got plenty of fine wines & cocktails for the taking. Setting-wise think patterns (a lot of them) but in a genuinely tasteful way; there are striped sofas with floral cushions, pendant lighting, wooden tables, and painted mustard chairs. Food is an all day affair made up of traditional pub grub, like slow braised beef, ale and root vegetable pie, creamed mash, and buttered kale.
Details: Open from 11am daily (10.30am Saturdays) | 235 New King's Road, SW6 4XG
–
The Elgin | Notting Hill
You know that time-old phrase 'never judge a pub by its cover'? Well, they definitely hadn't visited The Elgin before writing that. Its white, tiled counters, distressed wooden floors, and exposed brick walls illustrate beautifully just how good their beer tastes and how glorious their food is, too.
Details: Open daily from 11am (noon Tues & Sun) | 96 Ladbroke Grove, W11 1PY
The Fox And Pheasant | Chelsea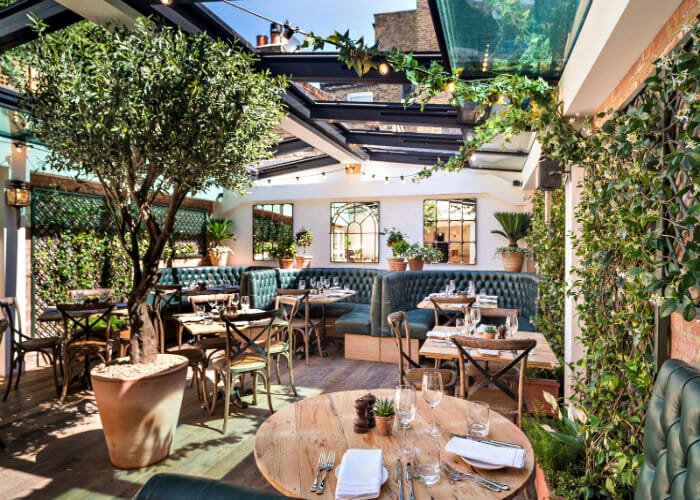 You'll find it down a picturesque, pastel-coloured mews in Chelsea; a handsome 17th-Century boozer, owned by none other than James Blunt himself. Blunt and his wife Sofia lived down the road from the pub when – hearing it was at risk of closure (after nearly 170-years in business) –  they decided to take it over themselves. They gave it a little refresh – a lick of olive-coloured paint and a leafy conservatory filled with green leather booths and strings of festoon lighting  – although, still, it's got a cosy, laid-back feel, helped along by three roaring fires in the winter. Food wise you can expect a mix of mostly British dishes, crafted with seasonal, locally-sourced ingredients, whilst for drinks it's, well, the usual… to put it bluntly.
Details: Open Mon 4-11pm; Tues-Sat 12pm-12am; Sun 12-11pm | 1 Billing Road, Chelsea, London, SW10 9UJ
–

The Alfred Tennyson | Belgravia
Named after Britain's first poet laureate, this is a fittingly refined spot. Set over four floors, you'll find pink velvet booths, leather sofas, oak tables, open fires, and large sash windows. Drinks-wise there's a long list of beers both bottled and on tap, as well as a healthy wine list and cocktail selection to bolster an all-day food menu, from smoked ham hock with poached egg, to Hebridean lamb with Jerusalem artichokes, savoy cabbage and rosemary jus.
Details: Open from 8am weekdays, 9am weekends | 10 Motcomb Street, W1X 8LA
Last Updated: 29th December 2020
---
Happily nestled in one of the best London pubs with open fires? Then it's the perfect time to plan dinner with our guide to the best restaurant in every London neighbourhood