If we had an award for the most iconic London market, Portobello might be the Champignon…
As well as being one of the world's largest antique markets, boasting over 1,000 stalls, it's also known for its abundance of fruit & veg, global street eats, clothing (both old and new), plus a whole load of inauthentically British souvenirs.
So, Where Is Portobello Market?
Portobello Market takes its name from its home street in Notting Hill, Portobello Road. Best known for its pastel-coloured terraced houses, as well as some pretty great foodie spots, Portobello Road runs from Notting Hill tube station to just past Ladbroke Grove. Although, if the pavements could talk, they'd tell you it's not always been gin palaces and Michelin stars…
The History Of Portobello Market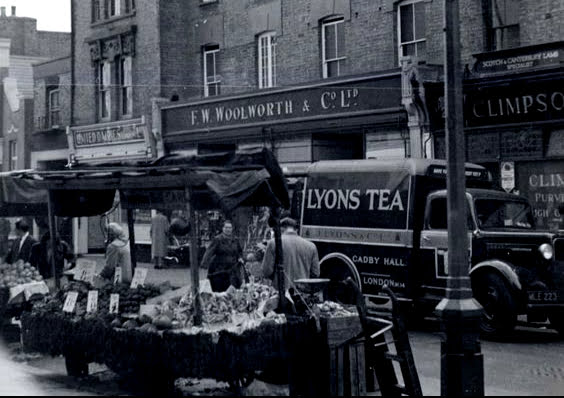 Back in post-war London, until the late 20th Century in fact, Notting Hill was very much a working class area, known for its grimy streets, and overcrowded, slum-like flats. In the 1950s it also found itself at the centre of major race riots.
It wasn't all bad however. In 1910 the Electric Cinema opened – now one of the oldest cinemas in London –  and in the late 1940s so-called 'Rag & Bone' men started selling their wares, quickly joined by bric-à-brac traders and antique sellers, all drawing in a new artsy crowd. Then Island Records set up a recording studio nearby in the 60s, which in turn attracted musicians, as well as spurring on the opening of various live music venues and records shops, really transforming Portobello Market into what it is today.
Is Portobello Market On Every Day?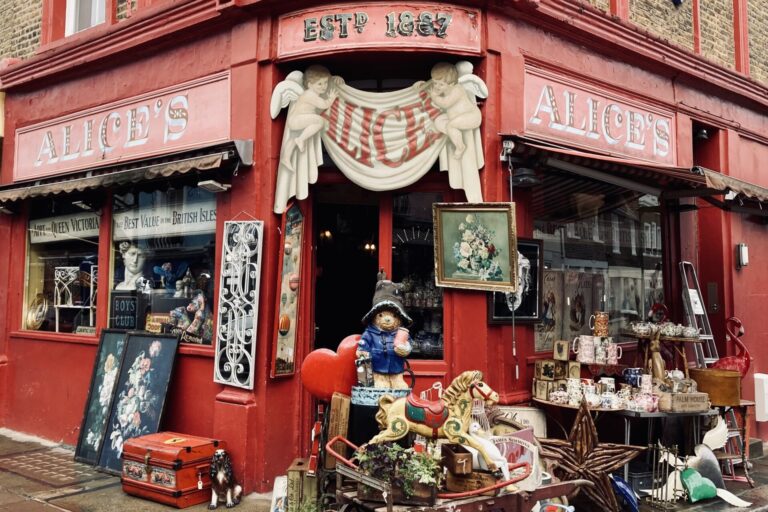 Portobello Market's main day is Saturday, although most spots are open on Fridays too. Monday – Thursday you'll find some of the food and clothes stalls, whilst on Sundays it's completely closed. But apart from the pop up stalls, Portobello Road's also lined with antique shops – like Alice's, which famously featured in Paddington 2 – and arcades which are open on Saturdays and crammed with tiny independent vendors hawking unusual bric-a-brac.
And Is It All Just….Stuff?
No. The atmosphere at Portobello Market is worth the trip in itself. Especially on a Saturday, when not only does it come alive with market vendors flogging their goods, you'll also find street performers and live musicians – everything from reggae to acoustic pop from a couple of fresh-faced kids on guitars.
If you get peckish, head towards where Portobello meets Golborne Road. Here you'll find a whole load of street food traders slinging everything from Spanish paella to German bratwurst baps (as well as a couple more stalls, mainly geared towards midcentury furniture). Portobello Market itself is also a goldmine for delicious Caribbean and North African food – Jamaican patties, jerk chicken and fried dumplings.
Restaurants And Bars Near Portobello Market
If street food's not your thing, or your feet hurt from walking and you fancy more of a sit down affair then Portobello Road is also full of a whole load of restaurants, bars and pubs.
Notting Hill's got its fair share of fancy fine dining with famous Michelin-starred restaurants like Core by Clare Smyth and The Ledbury. But for something more laid-back, check out the stuffed pitas at Miznon, eat some great value grub at Books for Cooks, or head up to Golborne Road to enjoy the flame-kissed delights at Caia and Turkish grill spot, The Counter. Fancy the kind of lunch that could turn into dinner? Head to Orasay for seafood.
You can find all our recommendations for great Notting Hill restaurants here.
Other Interesting Things To Do Near Portobello Market
1. Have a mosey at George Orwell's old house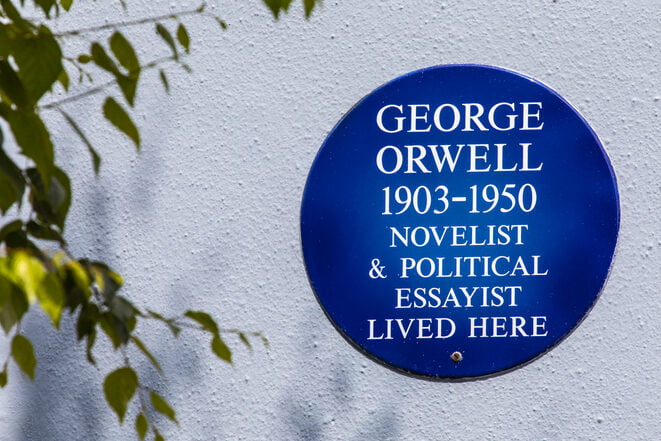 Chris Dorney
Back in 1927, English novelist George Orwell – author of Animal Farm and 1984 – lived at number 22 Portobello Road. Today the pastel blue house is marked – conveniently – by a coordinated blue plaque, which you can easily spot if you're travelling down from Notting Hill station.
–
2. Go And Visit The Claudia Jones Blue Plaque
Head to the corner of Portobello and Tavistock Road and you'll find another important plaque. This time it's commemorating Claudia Jones, the activist and feminist famous for organising both the first African Caribbean Carnival, and Notting Hill Carnival.
–
3. Catch A Film At The Electric Cinema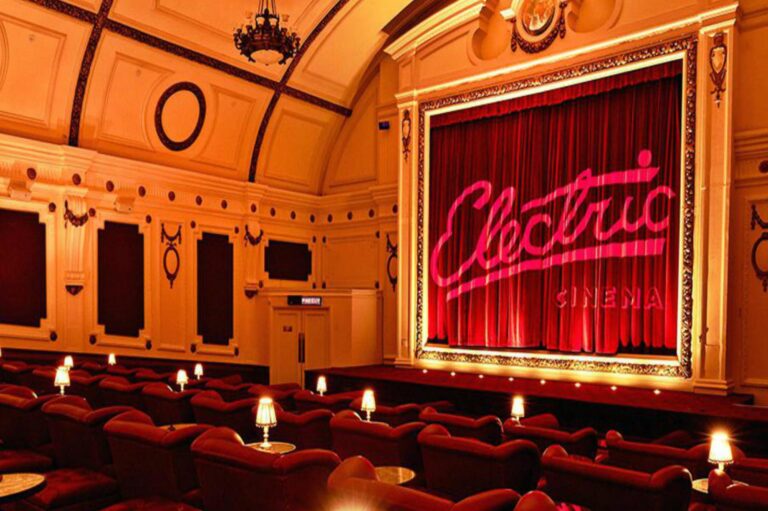 Owned by the uber trendy Soho House group, the Electric Cinema might be one of London's oldest, however thanks to a plush refurb, it's also one of the most luxurious. Not only does the vintage-style auditorium include sumptuous velvet armchairs, king-sized sofas, and front-row beds, they all also come with your own fancy side table and lamp – perfect for an ice-cold, gin & tonic –  cashmere blankets, and seat-side service…
–
4. …Or The Portobello Film Festival
Running since 1996, Portobello Film Festival is held every summer (and some winters) in a whole range of venues in and around Portobello Road. It was set up in reaction to what the organisers claim to be 'the moribund state of the British film industry', showcasing independent films, by brand new filmmakers, in a whole range of formats, something they continue to do today.
–
5. Get Dressed Up And Dance At Notting Hill Carnival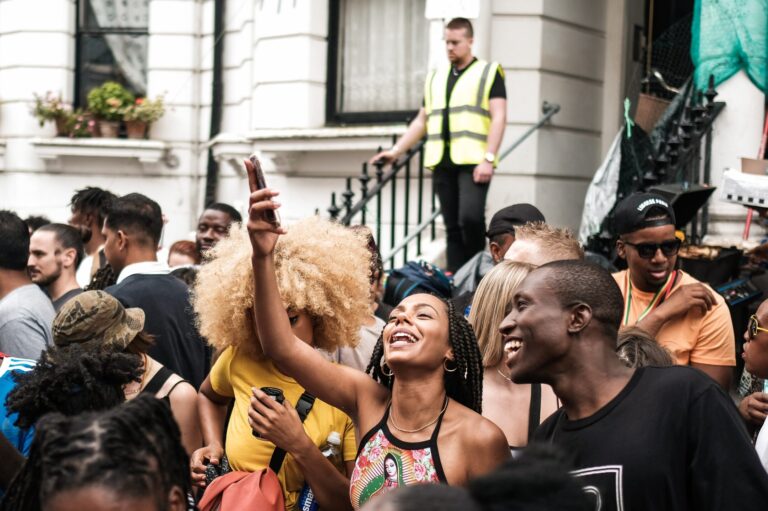 Every August bank holiday, thanks to Notting Hill Carnival, a flurry of colour, sound and movement bursts onto the streets of Portobello and Notting Hill. It's a festival that's been going strong for over half a century, and is perhaps one of the most significant and widely attended celebrations of Black British culture in the city. With around a million people heading along every year, the streets get jam-packed with parade performers, floats pumping out reggae, samba dancers, street food stalls, and, of course, the great British public coming together.
NOTE: Portobello Market runs on Portobello Road Monday-Saturday, with Saturday being the main day. You can find out more HERE.
Portobello Market | Portobello Road, Notting Hill, W11 1LJ
---
Second-hand treasure hunter? Check out London's best flea markets and second-hand bookshops