The guys behind Fallow have opened a pop up chicken restaurant…
…and they haven't cocked it up.
It's called FOWL, and you'l find it quite literally around the corner from Fallow itself – which, it should be noted, is one of the best and most creatively sustainable restaurant in town right now. And which, it should also be noted also started life as a pop up… and then won itself a Bib Gourmand as a pop up. So, chicken shop or not, expectations have been firmly jammed up to 11.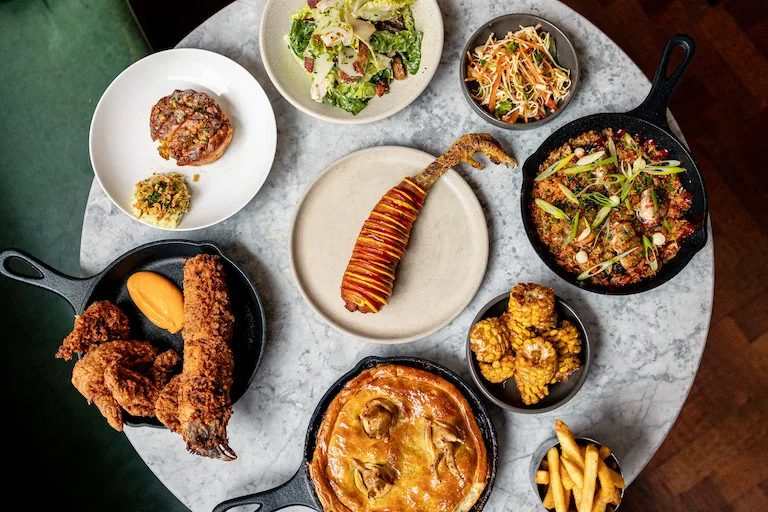 The venue itself is ridiculously chic space for what is ostensibly supposed to be an ephemeral eatery. FOWL has taken over a former gastro called the Beau Brummell, which features a gorgeous curved swell of floor-to-ceiling windows that throws light onto racing green leather banquettes and a handsome parquet floor. It might even be better looking than Fallow.
The menu of this chicken restaurant consists mostly, you'll be amazed to find out, of chicken. But not just any chicken – they've sourced theirs from The Ethical Butcher & Rare Breed Meats, who pasture-raise their birds for twice as long as standard, on farms that use regenerative agriculture. And being so heavily into sustainability, they're leaning into the 'beak to feet' philosophy here, making sure no part of those birds goes unused.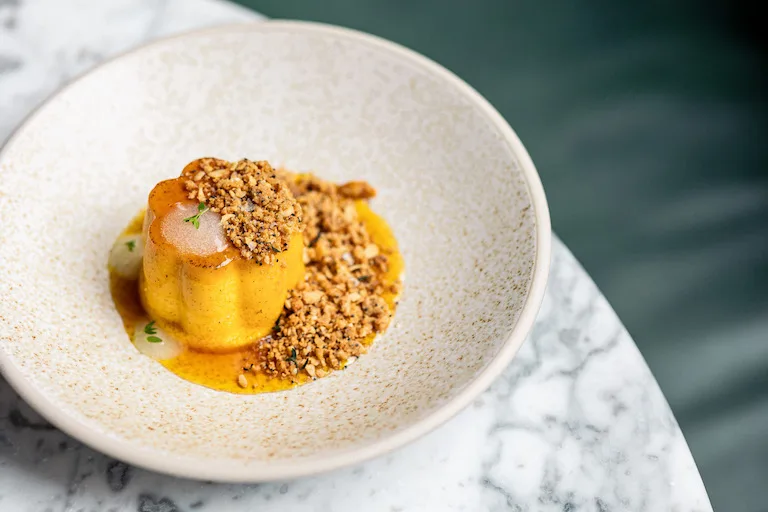 The upshot? Is that literally everything on the menu includes some form of poultry – even dessert. Thus things start with cornbread topped with a chicken & herb butter, or some chicken liver parfait with black cherry & sourdough. Then, you'll get the likes of the delightful sounding "triple crisp" chicken fillet buns, or a Caesar salad with pickled lemon & anchovy, all sided by chicken fries. And as for that dessert? It's a chicken fat crème caramel.
And just to add one more feather to their hen-topped cap, they're also enlisting guest chefs to add their own one-off menu items, kicking off with none other than Pierre Koffmann (a Three Michelin Star legend), who has put together a 'Chicken Leg Corn Dog with Aleppo Pepper' and 'La Grande Coque Pie' for two featuring confit chicken hearts, livers and cockscombs.
Frankly, they've got a lot to crow about.
NOTE: FOWL is open now, with no current end date. There are no bookings. You can find out more at their Insta right here.
FOWL | Norris St, St. James's Market, SW1Y 4RJ
---
Like temporary restaurants? Here are the best pop-up restaurants in London…