It looks like success isn't the only thing that the people at Bonnie Gull are hoping to repeat.
Their Chelsea restaurant is called The Sea, The Sea, named for Iris Murdoch's Booker-prize winning novel, and you'll find it on Pavilion Road, the avenue of independent restos & shops just off Sloane Square. And taking themselves into slightly uncharted waters, the place is a fishmonger by day as well as a restaurant by night.
The space is genuinely quite impressive, and not just because they didn't dress it in the standard bare brick restaurant uniform that – we can only assume – has put the wallpaper industry into deep recession. Instead they made their brick wall into something that actually evokes the sea itself, turning it into a slice of stratified cliff-like rock with soft underlighting lapping at its base. Laid out before it are counter-seats, and a long raw bar filled with ice & oysters (which during the day is where you'll find the fish they're slinging).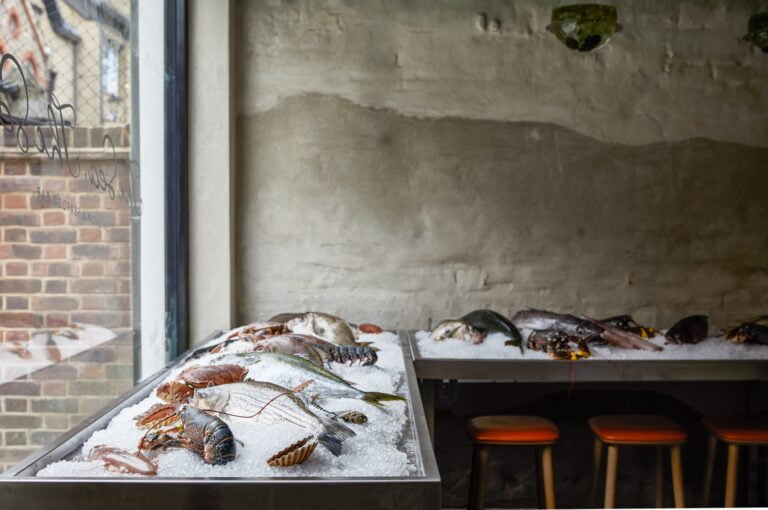 The menu's been put together by Portuguese rising star head chef Leandro Carreira. He's put together Japanese/Portuguese-inspired small plates like poached scallops in toasted rice milk with creamy sour peas (they're better than they sound); squid with sake & beach herbs; steamed mussels with smoked seaweed butter; and something called 'clams chawanmushi', which is a Japanese dish made using eggs to create a light, umami-packed chowder.
If you're in the market for something larger than a small plate, they have whole seafood platters, packed with oysters, white crab meat, crab claws, lobster, three types of sashimi (turbot, bream, cured mackerel), and of course waffles. And if you want all those it all to feel a little more at home, you can submerge them …in wine from their long list of grower champagnes.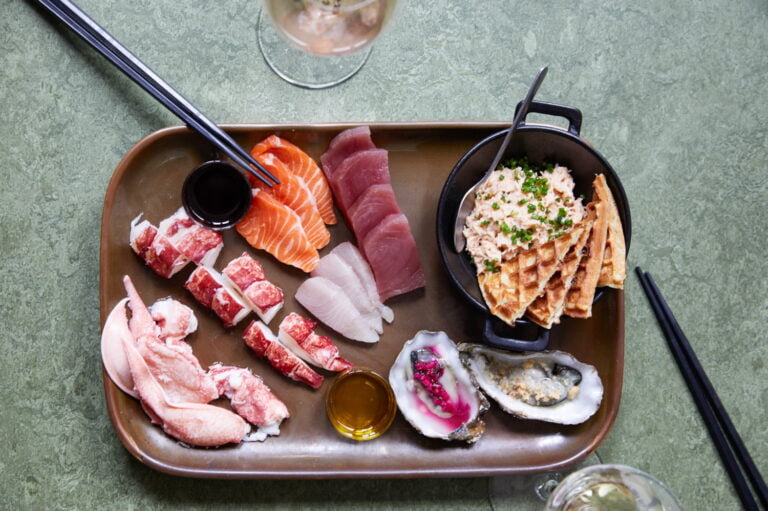 As we mentioned, it's a fishmonger during the daylight hours, so you can expect to take a lot of these briny treats home with you, along with stocks, sauces, marinades, pies, and more. They have a few day boats looped into their operation, delivering daily net-fulls of swimmers and you can buy them either raw or cooked, or check out some of the fillets they're dry-ageing inside special glass cabinets.
Ironically, it sounds like there is no catch.
NOTE: The Sea, The Sea is open daily as a fishmongers, and serves dinner from 6pm, Tues-Sat. You can check out their website, and book ahead, right HERE. You might also like to know that they have another restaurant over in East London, The Sea The Sea Hackney.
The Sea, The Sea | 174 Pavilion Road, Chelsea, SW1X 0AW
---
Like seafood? Then you should get to know our list of Top Seafood Restaurants in London