Seafood snobs will tell you it's essential to visit the coast for a decent seafood restaurant.
Which poses a problem, in that you'd need to leave London to do so.
Luckily, those aforementioned snobs are completely wrong: London's home to a large number of creative, ambitious and all-round delicious seafood restaurants, complete with freshly delivered catches of the day, unusual flavour combos and any number of weird and wonderful species served up on your plate.
Sure, you could take a trip to the Cornish coast. Or you could find something just as tasty without having to leave Zone Two [Oyster card joke pending]. We'll let you decide.
–
Cornerstone | Hackney Wick
As soon as Tom Brown launched his debut solo restaurant, Cornerstone looked like the foundation of something big. This Hackney Wick restaurant is the antithesis of your typical Michelin starred joint: a pared-back, industrial setting; surprisingly affordable tasting menus and a laid-back atmosphere. The menu here – usually entirely pescatarian – is refreshingly varied, with each course taking flavours and inspiration from around the world, from the piquancy of the kimchi crab bun to the luxurious hake Kyiv with café de Paris butter. Every dish is outstanding, and, simply put, it's a must-visit for any seafood fan.
Details: 3 Prince Edward Rd, London E9 5LX | Book here
–
The Sea, The Sea | Chelsea & Hackney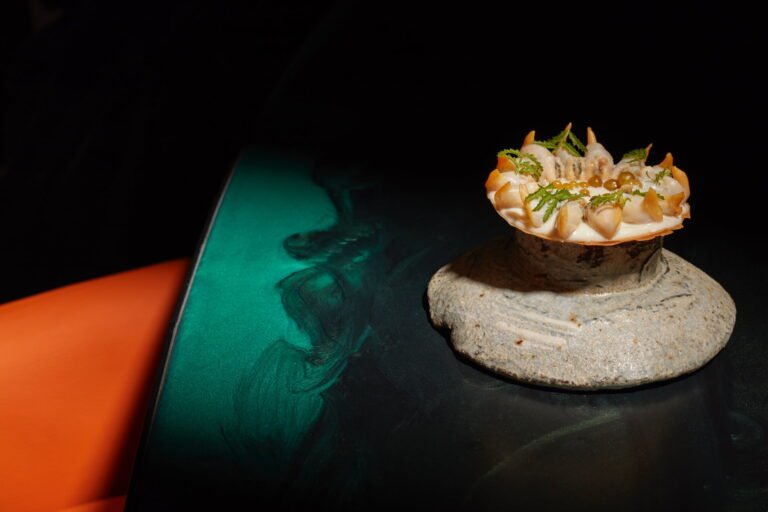 Everyone knows a dry-aged steak just tastes better. More tender, more flavourful. And over the last few years, there's been a quietly growing movement for dry-ageing fish, too. There's a reason that top-shelf omakase spot Maru uses it, and it's also why you'll spy a load of fish hanging up in glass cabinets when you come into The Sea, The Sea.
Fishmonger by day, suave seafood restaurant & Champagne bar by night, The Sea, The Sea's menu showcases the best of what was caught in day-boats around the UK in the past 24 hours, alongside standouts from their in-house ageing and pickling projects. That could include anything from smoked langoustines, through to less familiar hauls like gooseneck barnacles. And if you really want to push the boat out, their sophomore branch – a moody railway arch in Hackney – has an intimate, 12-seater chef's table experience, where you can try the likes of kingfish meringue and skate wing crackling with savoury toffee…
Details: 174 Pavilion Rd, London SW1X 0AW | 337 Acton Mews, E8 4EA | Book here
–
Lyon's | Crouch End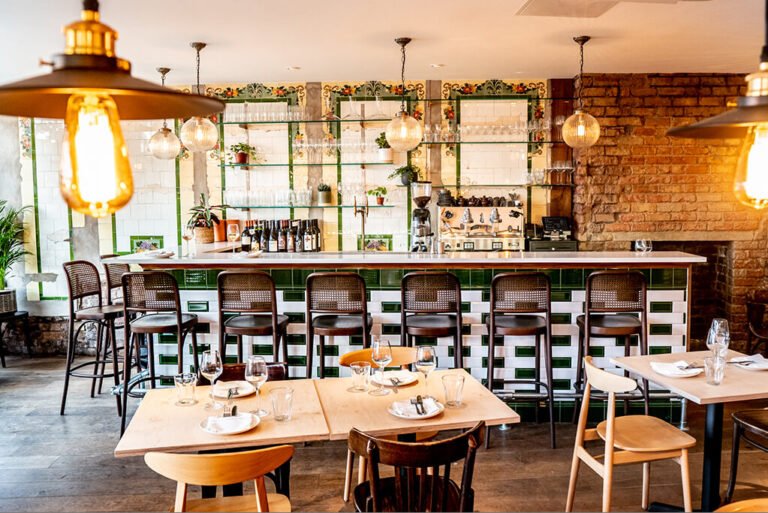 With its chipped vintage tiling, Lyon's old-school decor might look modest – but it's actually an elaborate ploy to win diners in with low expectations, and then wow them with Penang fish collars and jerk sea bream. Lyon's is big on colour and flavour spiked with an international edge. Bonus points: it's also got an extensive, well-travelled wine list (from London's urban wineries all the way to Oz), as well as bracing cocktails and apéritifs perfectly designed to pair with seafood.
Details: 1 Park Rd, London N8 8TE | Book here
–
J. Sheekey | Leicester Square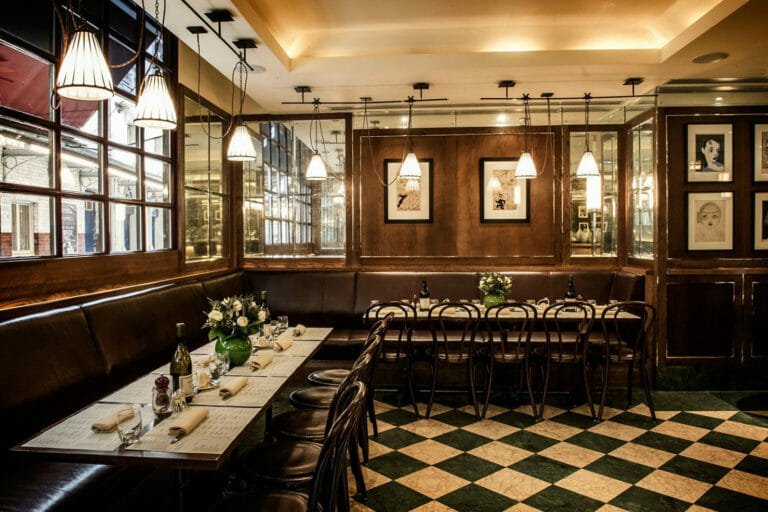 J. Sheekey is a stone's throw from the West End: something you'll notice as soon as you walk in, with its variety of theatrical photos framed on every square inch of wall. As you might expect from a seafood restaurant in Covent Garden, things here are… fancy. Iconic red doors, marbled floors and expensive-looking wine glasses in every direction are only the beginning. And to answer the next question that's undoubtedly on your lips, yes there is a "central crustacean bar".
Dishes are classic and comforting: huge golden crusted chunks of white fish, perfectly tender squid brushed with aromatic oil, and soft bites of tuna tartare. And, in case you forgot you're in one of London's most glitzy neighbourhoods, you'll find thick tartan monogrammed blankets over the edge of each outdoor seat.
Details: 28-32 St Martin's Ct, London WC2N 4AL | Book here
–
Kima | Marylebone
Yes, that is fish. Specifically, it's the tail end of a 3kg yellowfin tuna, rear-ended in a mouthwatering lemon & wilted green fricassee, with smoked mashed potato. It's one of the ways that new Greek fish restaurant Kima makes the most of every part of the catch, from 'fin to gill', and quite frankly if this is what zero-waste dining looks like then what the heck have we been throwing in the bin all these years?
Details: 57 Paddington Street, W1U 4JA | Book here
–
Seabird | Blackfriars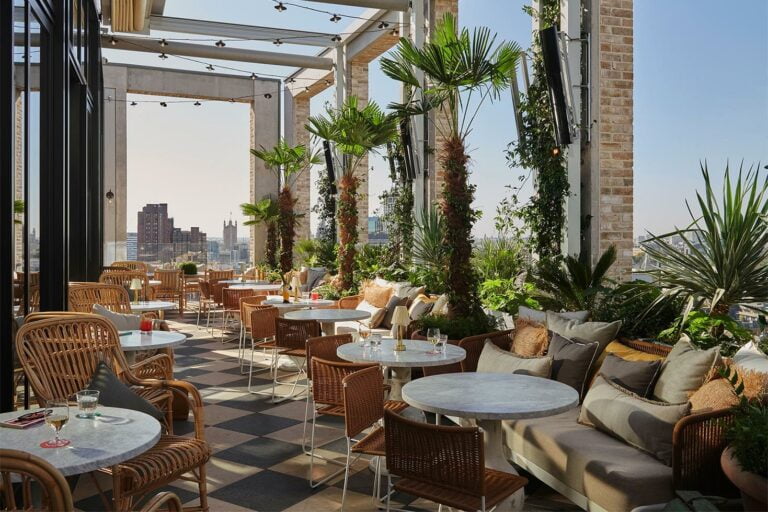 Seabird researched what Londoners wanted the most from dining out, and pulled it all together in one location. Or at least, that's what it seems like. Rooftop terrace with panoramic skyline views? Yep. An impressive marble-fronted raw bar? Done. Consistently brilliant happy hour complete with London's longest oyster list? Boom.
There's nothing stopping you from visiting Seabird for a quick drink on the terrace, amongst the fairy lights and greenery. But when you glance over at the next table's charcoal-grilled lobster and paella-esque prawn rice, you'll reconsider.
Details: 14th Floor, The Hoxton Southwark, 40 Blackfriars Rd, London SE1 8NY | Book here
–
The Seafood Bar | Soho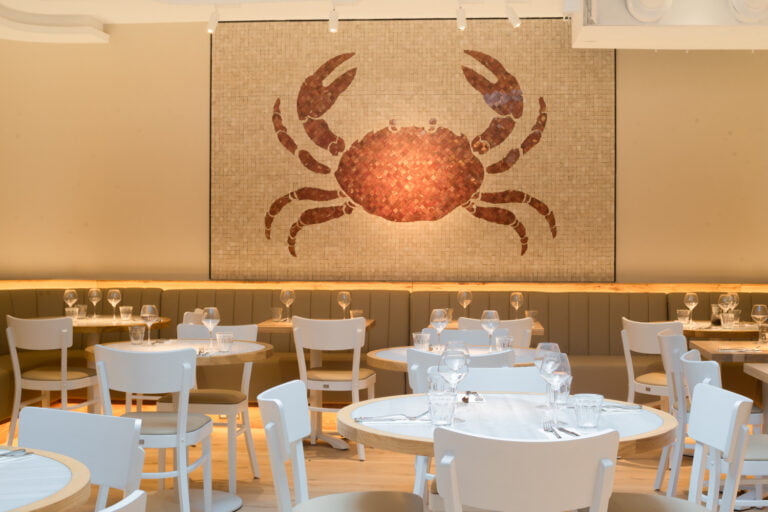 Amsterdam offshoot The Seafood Bar is a haven for pescatarians – and a challenge to anyone who fancies themselves as having a big appetite. It's almost a given that you'd order the mixed seafood platter here, complete with scarlet lobster, gently glimmering oysters and pastel-toned crab. It's an experience of a dish, served with a variety of dipping sauces designed with a sort of "make your own adventure" appeal. Visit on an empty stomach, and maybe do a few laps of Soho beforehand for best results.
Details: 77 Dean St, London W1D 3SH | Book here
–
The Oystermen | Covent Garden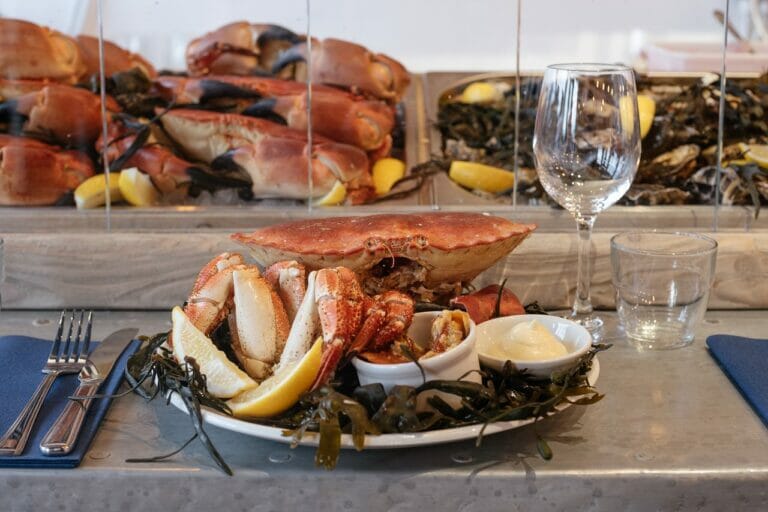 Take a seat at The Oystermen's dining bar (crafted by an actual shipbuilder) and watch as er, the oystermen and women behind it shuck shells before your eyes. It's a theatrical performance that's right at home in Covent Garden, but this time the show comes complete with bare brick walls and an eclectic wine list.
As you'd expect, the menu's rife with both raw and cooked oysters, sourced from Essex through to Ireland and plenty of spots in between. Then there's the hefty mains of squid ink risotto; octopus ragout or giant shellfish-loaded platters. The Oystermen almost doesn't look like it fits in Theatreland: its prices a little too reasonable and its portions a little too large for what you'd traditionally expect when someone requests your presence at a seafood restaurant in Covent Garden. Ask no questions: just enjoy it.
Details: 32 Henrietta St, London WC2E 8NA | Book here
–
Wright Brothers | Borough Market, Battersea, South Kensington
You'll the Wright Brothers' seafood restaurants dotted across London, which means you're never too far from a shellfish blowout or a steaming hunk of seafood pie. Each restaurant has a little something extra up its sleeve, too, from Battersea's festoon-lit riverside verandah, to South Ken's moody basement cocktail bar.
Wright Brothers picks and chooses its select menu based on supply and season, so one day you'll be feasting upon lemon sole with potted shrimp butter, and another, on fresh lobster and firm mussels. There are, however, a few consistencies: the Full Platter is a winning lottery ticket of a dish, one that should be ordered with an open mind and enjoyed with full attention. BOROUGH MARKET | BATTERSEA | SOUTH KENSINGTON
Details: Borough Market, Stoney St, London SE1 9AD | 26 Circus West Village, Battersea Power Station, SW8 4NN | 56 Old Brompton Road, SW7 3DY | Book here
–
Prawn on the Lawn | Highbury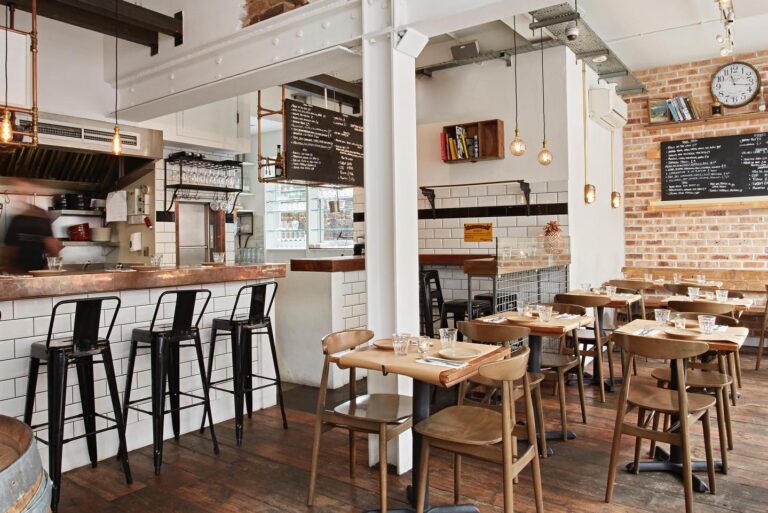 Let's be honest: seafood in London can be a pretentious affair. Prawn on the Lawn counters that with a daily changing menu; a casual, bustling space and impressive prices to match. That ever-changing menu is wonderful, except on those occasions when you're dreamily thinking back to the tuna tartare you dribbled your way through last Wednesday and arrive to see it's nothing but a distant memory.
But variety is the spice of life and that's what you'll love best about Prawn on the Lawn. A range of tapas-style dishes and larger plates ensure you're free to deliberate between an entire planet's worth of flavours. Dishes come accented with everything from 'nduja butter or Szechuan spice to Thai marinades and kimchi. And funnily enough, they all seem to pair very well with a Cornish Negroni…
Details: 292-294 St Paul's Rd, London N1 2LH | Book here
–
London Shell Co. | Paddington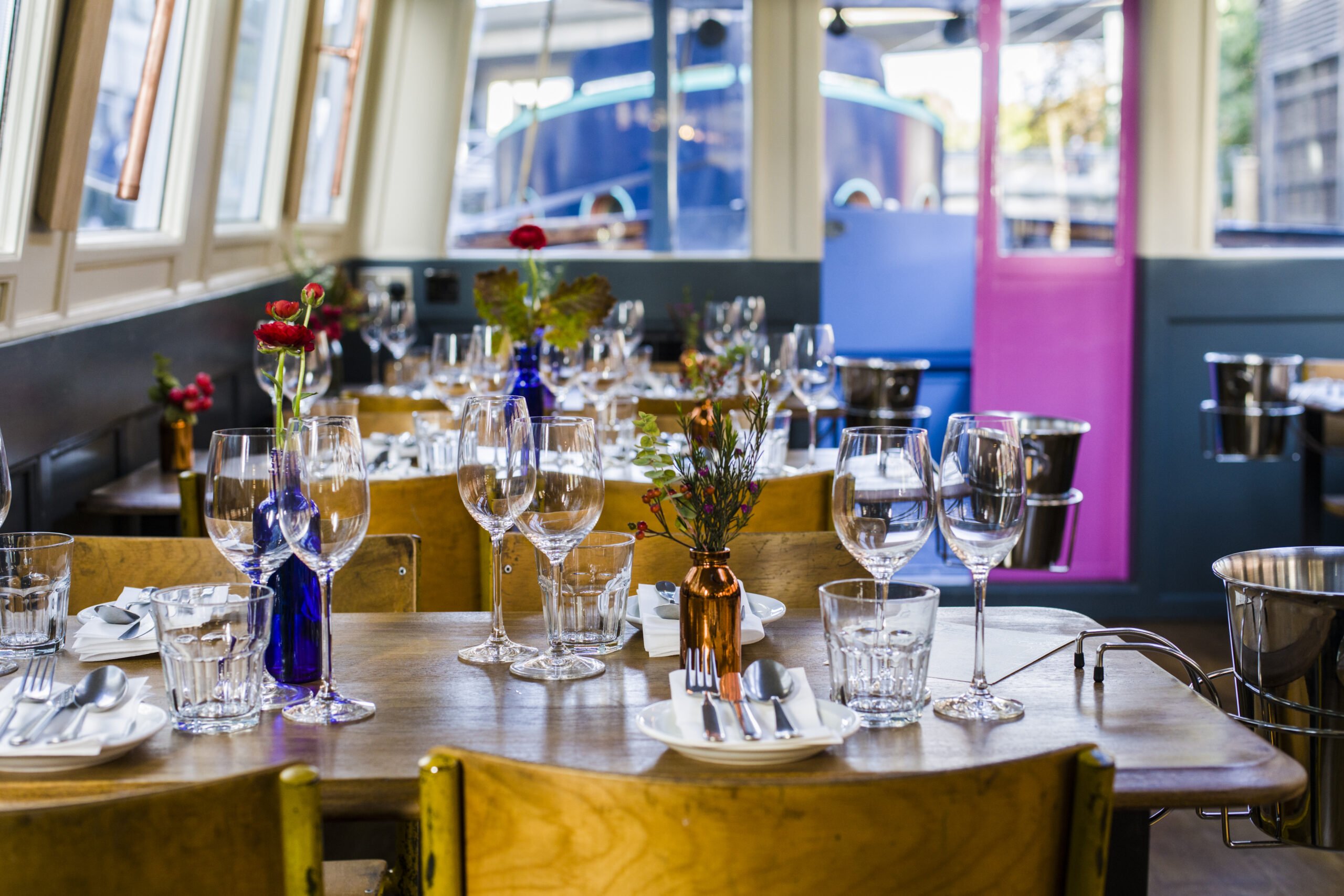 London Shell Co floats. As in: it's literally on the water. More of an experience than just a simple meal, London Shell Co serves up smoked salmon, dressed Carlingford Loch oysters and crab cocktails as close to the water as is physically possible without getting your toes wet.
As you sail along London's waterways, you'll be lavished with an exquisite five-course menu that changes every month or so – but those prone to seasickness might want to opt for their stationary sibling, The Grand Duchess instead. The chips here are considered some of the best chip shop chips in London. High praise, absolutely justified.
Details: Moored at Sheldon Square, London W2 6DL | Book here
–
Sharkbait & Swim | Deptford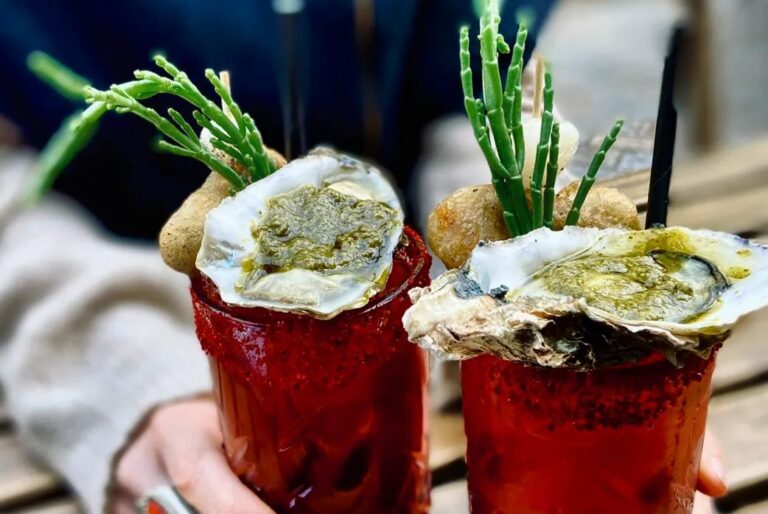 Sharkbait & Swim: not something you want to hear when dropped in the middle of the ocean, sure, but in relation to the restaurant in Deptford Market Yard, it's more about the special and thoroughly unique seafood dishes chef-owner Steve McClarty puts together (a chef who's honed his craft all over Europe). They range from dressed oysters to barbecue mackerel skewers in a pool of spiced tomato butter, and a whole crispy sea bream served with a Bangkok shallot sauce. Seating often spills out into the courtyard, and the Bloody Mary goes down, well, swimmingly…
Details: Arch 11, 4 Deptford Market Yard, London SE8 4BX | Book by emailing [email protected]
–
Randall & Aubin | Soho
Soho's classic seafood restaurant of 25+ years serves up hearty portions of rich, garlic-glazed prawns, chargrilled Cornish squid and grilled scallops with a French-styled backdrop. Fusing together traditional pub fare with a seafood-infused touch, it keeps things classic with crunchy golden chips (or pommes frites, if you're French-styled too) and London's finest mayonnaise.
Five different types of oysters, a caviar menu and some staple side dishes ensure Randall & Aubin works just as well for a fancy dinner with your parents as it does for a weekend seafood craving with your friends. Check out the specials menu for daily surprises.
Details: 14-16 Brewer St, London W1F 0SG | Book here
–
Parsons | Covent Garden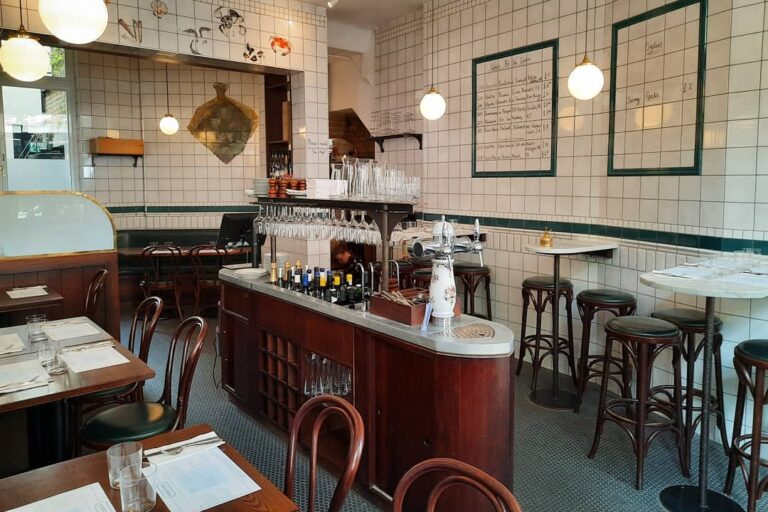 Fish arrives at Parsons twice a day, taking the phrase "fresh from the boat" to a whole new level and utilising under-appreciated kinds of seafood at the same time. And while it may describe itself as an "unassuming little fish restaurant", one glance at its perfectly-crispy whole fish and you'll never describe it as "unassuming" ever again.
But that's all part of the charm: paired with the hand-written wine list and ever-so-friendly service, you'll feel more like you're eating at a family restaurant than a typical Covent Garden spot. Come for a quick glass of wine and a few oysters in an afternoon (they offer £1 oysters all day Tuesday to Saturday), or settle yourself down for a whole evening's worth of plates verging on hedonistic.
Details: 39 Endell St, London WC2H 9BA | Book here
---
Love fresh fish? Check out our pick of London's top sushi restaurants while you're at it.