You don't go to Maru for a meal.
That is, you don't go here to satisfy hunger. Of course, it helps, but it's not the main purpose of the experience. The main purpose of the experience is to show you just what's possible with food.
The restaurant comes to us from chef Taiji Maruyama who runs the whole operation, top to bottom. He sources the ingredients, creates the dishes, cooks the food, serves it up, talks you through it, and even makes some of the crockery. That should give you a good sense of the attention to detail being paid here.
The man himself is a third-generation sushi chef, born in the northern Japanese city of Fukushima. There, he essentially grew up in a sushi restaurant, before moving onto Tokyo, and working in the Three Michelin Star Ginza Koju. After that, he took stints at acclaimed restaurants in Norway & Barcelona, then NOBU, until he finally became king of his own domain here in London.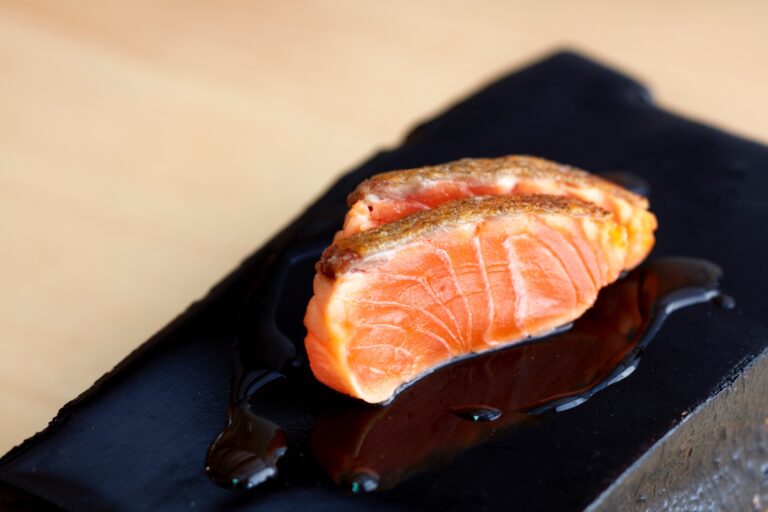 That domain has just six seats. There's space for ten along the simple wooden bar, but Maruyama thought that would be too much to give everyone adequate attention. Pulling up one of the comfortable leather seats, and to your left, you can see the fish hanging patiently in the dry ageing box. In front of you is Maruyama, taking centre stage at a chopping block so big it would probably be allowed to ride rollercoasters. He'll introduce himself and his team (that is, his sommelier and his assistant), and thus the experience begins.
You won't see a menu. If there's anything you can't eat, it's best to say so, otherwise you're just getting whatever Maruyama has prepared for that day. This is, after all, omakase. As Maruyama explains, he's taking the best produce that the British seas & soil have to offer (there's a lot from Cornwall) and pouring it into a 20 course dinner that changes every night.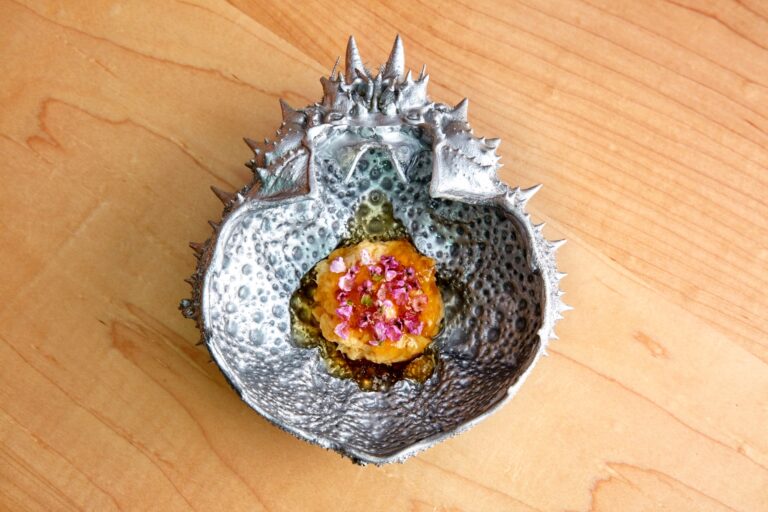 Obviously we can't therefore say what will or won't be on the plates on any given night, but there are a few signatures which are likely to stick around. You may well find yourself presented with a stunning bullet of 8 day dry-aged, hay-smoked Hampshire trout with trout egg sauce. The Cornish king crab is served in a silver bowl made from the cast of a king crab shell, which they make themselves. And thanks to an infusion of crab stock jelly, it tastes like the most intensely rich crustacean flavour you've ever had. A Japanese turnip dish is made with a soil stock – yes, soil – pulled from the ground the turnip grew in, here in the UK. It's thick, nourishing, rich, and an idea that simply wouldn't occur to almost any other chef.
One of his other highly creative notions is the garden salad, which comes as a white plate dotted with small dollops of puree, each representing one of the cardinal flavour profiles – there's sweet (carrot), sour (raspberry), etc. Next to it is a bowl of vegetables that you can lay onto the plate yourself with the help of kitchen tweezers, meaning you can create literally hundreds of possible flavour combinations, stretching through every flavour your tongue is capable of tasting. It's truly ingenious.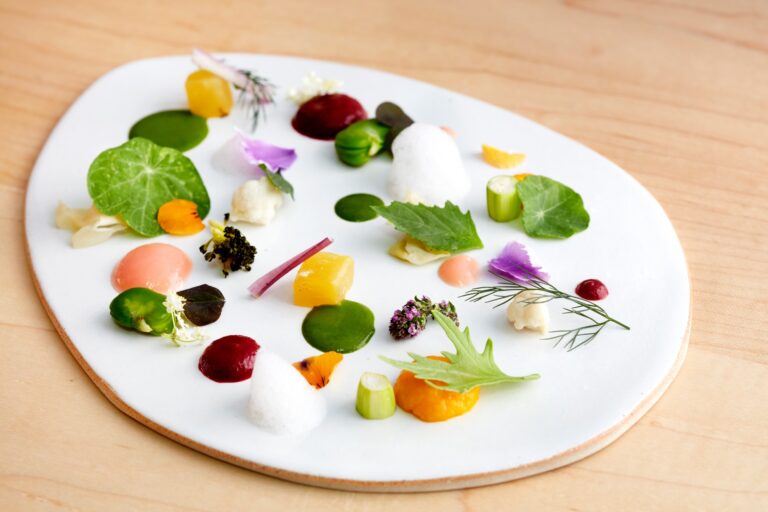 Of course, this being a sushi restaurant first & foremost, there are plenty of raw swimmers. You'll get to see the day's tuna (the one thing impossible to source from our waters) arranged in its different cuts, before Maruyama delicately slices them up. You'll get everything from fatty o toro, to mineral-rich akami, all laid on a bed of golden rice with a soprano note of wasabi singing through it. That wasabi, by the way, is real wasabi (rarer than you think) grown right here in Dorchester.
Finally, things finish off with some dark chocolate 'monaka' paired with white egg ice cream, and all sprayed with a sea salt mist. Maruyama recommends you take one bite of one, and one bite of the other, alternating the darkly rich, and creamily sweet flavours. Your chopsticks will then be cleaned and wrapped up for you to take home, along with some other goodies.
Then you see the menu.
NOTE: Maru is open now. Dinner is served in two sittings, at 5.30pm & 8.30pm, and costs £170pp. You can find out more, and make a booking (3 months in advance max) at the website right HERE.
Maru | 18 Shepherd Market, W1J 7QH
---
Like sashimi? Here are some of the best places in London to get sushi.